The FIFA World Cup Qatar 2022 is just around the corner, with the opening match kicking off on November 20. Around 1.2 million excited football fans are ready to descend on Qatar to watch the tournament.1
To help marketers get a better understanding of who these in-person visitors are and what they're looking for, Euromonitor and Google conducted a study featuring 1,500 leisure travellers from 13 countries, including the U.K., the U.S., Brazil, China, and more.
About half of the 1,500 respondents plan to attend this year's event in-person, with Middle Easterners topping that list at 81%, and Asia Pacific and Latin American participants coming in second and third.2
Below are four stand-out findings from the study to help marketers better connect with the Qatar World Cup's unique in-person visitors:
1. Visiting travellers want to shop on the sidelines
This year's FIFA World Cup takes place over November and December for the first time, coinciding with a number of end-of-year shopping moments. Think Black Friday, Cyber Monday, American Thanksgiving, and Christmas.
Our research shows that 83% of respondents would be interested in taking advantage of shopping sales during the Black Friday season. In fact, 86% are researching before shopping, and 59% are turning to search engines to do so.3
As for where they'll be shopping, 55% of respondents said they plan to shop online, or online and in-store. And of course the burning question: what are they interested in buying? Seventy seven per cent are keen on fashion products, 64% on beauty and health, and 54% on small consumer electronics.4
With global consumers researching future purchases well before they arrive,5 marketers have a once-in-a-lifetime opportunity to connect with a large audience as they search online.
2. They're budget-flexible, with different buying styles
Our study suggests that the average global leisure traveller's budget is $3,500 USD. To get more specific, leisure travellers from the Asia-Pacific region tend to spend around $4,300 USD, North Americans $3,900 USD, and Middle Easterners $3,400 USD. But our results also suggest that most markets are willing to shell out a little extra.6
This is great news for brands who may have missed out on connecting with consumers during the planning phase. They'll still have an opportunity to capture shoppers' attention in-country by offering add-on purchases and last-minute deals.
Once their budgets are set, travellers scope out their bigger holiday picture. Thirty seven per cent of European and 31% of Latin American travellers prefer to stay seven or more nights in a foreign country, while 49% of Asia Pacific travellers and 37% of North Americans choose a shorter stay of around three to four nights.7
Ticket purchases are next on the list. Fifty five per cent of leisure travellers say they always buy flight, transport, and entry tickets separately from other trip arrangements. Meanwhile 36% are less sure, saying they sometimes buy separate tickets, and sometimes purchase packages.8
What this suggests is that consumers want to be able to choose how to buy as they go. Marketers can meet this need by offering shoppers flexible purchase options.
3. They're open to exploration, from cultures to countries
While researching a destination, 66% of respondents are interested in tourist attractions.9 We see this carrying through in searches, with a 1.3X increase in search interest for "places to visit in Qatar". When they finally arrive, 65% usually visit one to two tourist attractions per day.
But tourists are also looking to peel back the layers and get to know a country on a deeper level, with search interest for "Qatar history" on the rise by 45%.
The World Cup is taking place during a Middle Eastern winter for the first time, making climate one of the biggest considerations for respondents. Fifty seven per cent of leisure travellers want to understand the region's weather, with a 60% increase in search interest for "Qatar weather" backing this up.10
While Qatar is the star of the show, it isn't the only hot topic. Nearby countries also feature heavily on travellers' bucket lists.
Our study shows that 38% of respondents are willing to explore neighbouring countries, with geographic proximity and affordability being key deciding factors.11 A 50% rise in search interest for "distance from UAE to Qatar" confirms nearby travel is a possible consideration for people visiting for the World Cup.
4. As the tournament unfolds, FOMO kicks in
When stadium selfies start streaming in and football teams advance to the final, those who didn't originally plan to travel to the tournament experience a fear of missing out (FOMO).
We saw search interest for "World Cup tickets" grow by 40% as the quarter-finals, semi-finals, and finals unfolded at the 2018 FIFA World Cup in Russia. "Last minute flights" search interest grew by 35% as the tournament ramped up, with "last minute hotel" increasing by 90% as the event's end neared. Interestingly, that figure peaked on July 15, the date of the final match.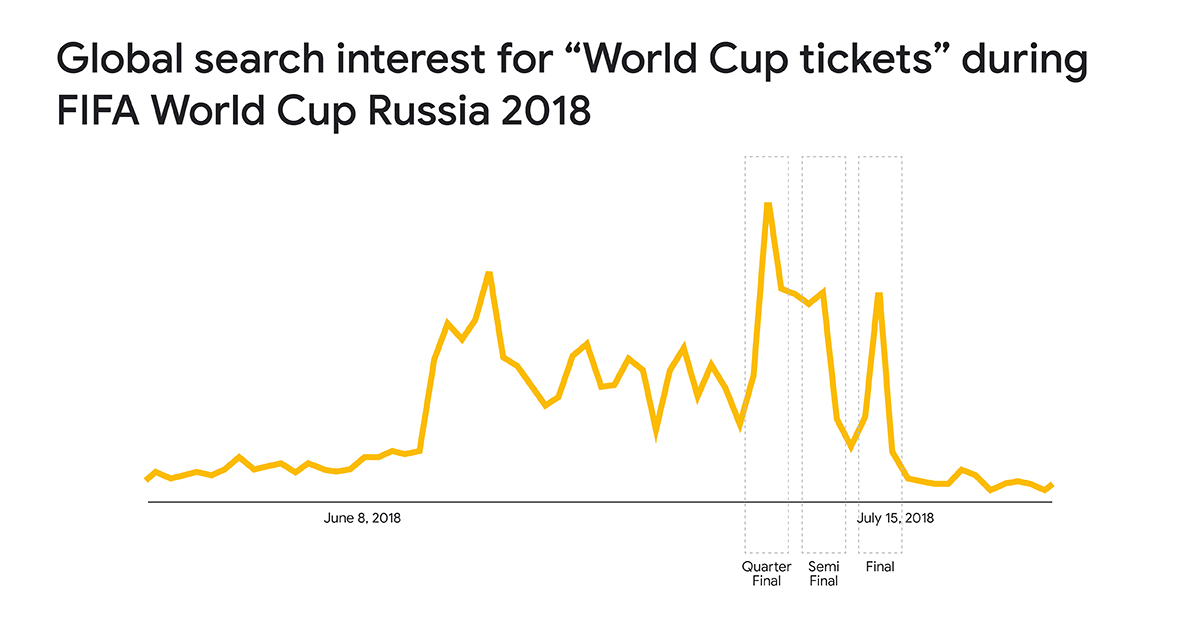 Excited last-minute consumers offer marketers an unexpected extra layer in which to showcase offerings. But to ensure success with these FOMO fans, it's important that communication is simple, accessible, action-driven, and visible on a variety of platforms.
How to connect with the Qatar World Cup's unique in-person visitors:
1. Find your perfect audience
As World Cup excitement hits overdrive, it's time to find your ideal audience. YouTube's Football and Sports audiences can help you tap into users specifically related to the moment. Custom Audiences, meanwhile, chooses users that best fit the needs of your campaign to capture people outside of your usual audience. Think visitors searching for hotels, restaurants, or even SIM cards in Qatar.
2. Activate automation to communicate better
Harness the power of machine learning and Search to drive scale and efficiency. Broad Match paired with conversion-based bidding can help you reach relevant and emerging queries during the World Cup season. This not only helps you meet your performance objectives, but also saves you time to focus on planning.
3. Personalise ads to appeal to one-of-a-kind audiences
Discovery and video action campaigns are simple and cost-effective, driving more conversions in your automated campaigns. They add a layer of personalisation to creatives, ensuring they appeal to every traveller.
4. Get your message out on as many platforms as possible
Performance Max uses automation to help you meet interested World Cup customers across all Google channels from a single campaign. It delivers conversions and value by optimising in real-time, based on your specified goals.