The World Cup gets plenty of attention in the Middle East and North Africa (MENA). FIFA World Cup Qatar 2022 — kicking off in November — will see the sporting spectacle taking place in the Middle East for the first time, with interest likely reaching fever pitch.
New Google and YouTube insights suggest regional football fans are already pumped, getting the ball rolling on 2022 World Cup-related searches since 2021: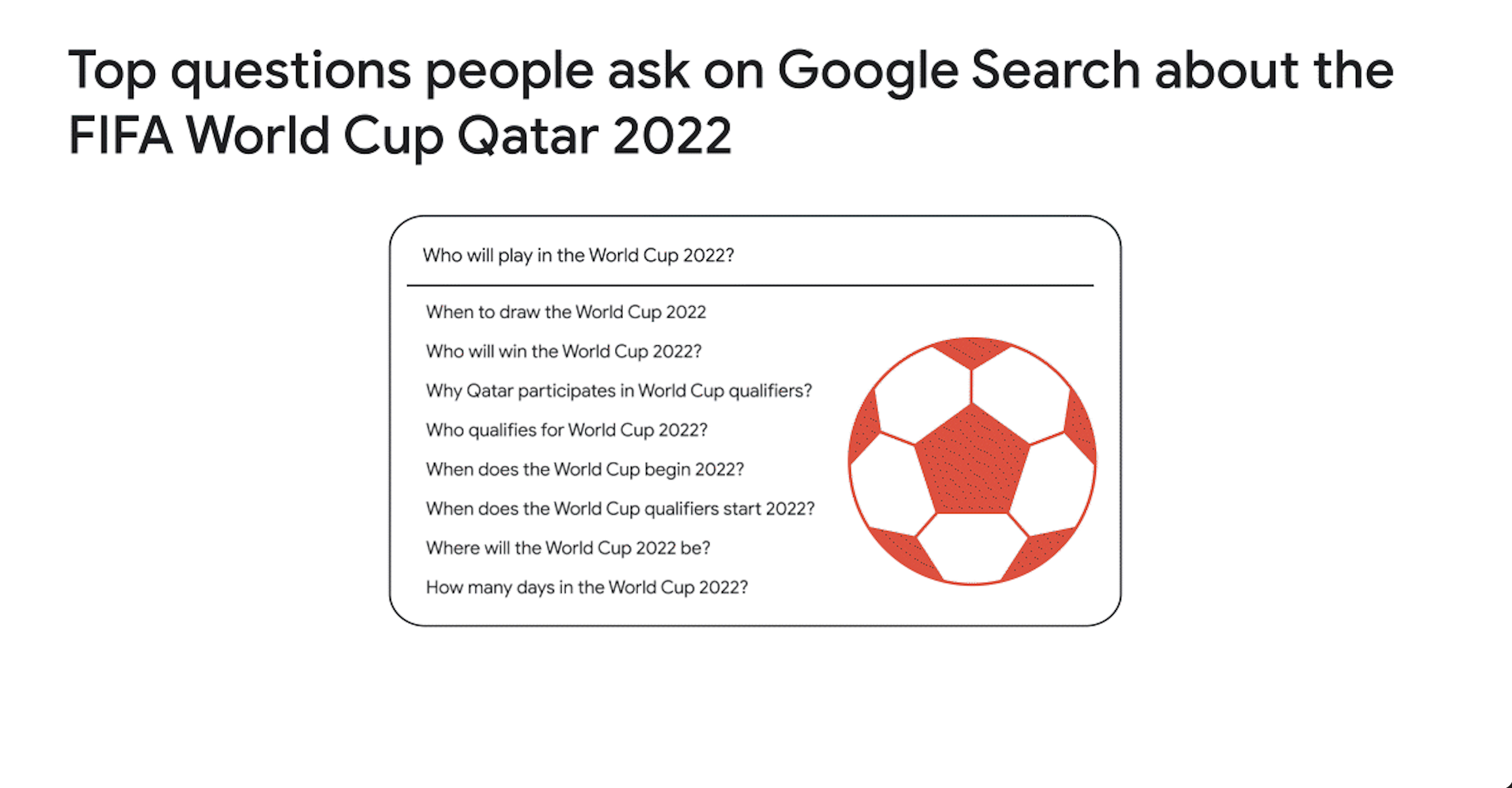 Source: Google internal data, Saudi Arabia, Egypt, UAE, 2021.
Interest on YouTube around the FIFA World Cup continues to grow too, with search interest around this year's event already surpassing 2018's by 80%.1 And more searches mean more viewing. In fact, the 2022 event could see watchtime soar by more than around 30%, reaching about 300 million people.2
Here are three need-to-knows to help your brand kick off for what is looking to be the most digital World Cup ever:
1. The World Cup is played offline, but experienced online
After years of not being able to watch sports in-person, people are itching to get back to live matches. While this may also be true for World Cup Qatar 2022, historical data suggests a growing rise in online versus offline interest.
The online offering of the 2018 FIFA World Cup far surpassed its offline one, for example. While the event welcomed three million in-person match attendees, it saw three billion Google searches3, and five billion World Cup-related views on YouTube4.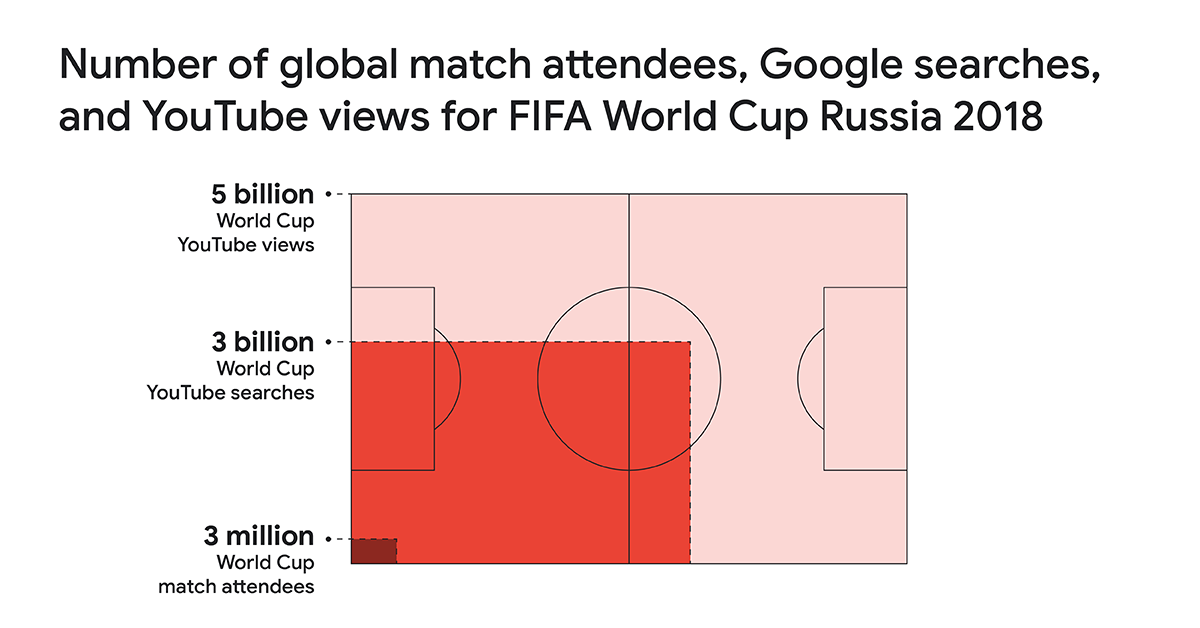 Source: FIFA World Cup Russia report, and Google and YouTube internal data, Global, 2018.
Marketing tip: Connect with fans while they're searching
Curiosity around this year's World Cup is high, so being present on Search is important.
For Search campaigns, Broad Match keywords put you where your fans are searching. This keyword match type covers high-performing and emerging queries on top of your exact/phrase keywords, allowing your ad to appear on searches related to the meaning of your keyword. Paired with Smart Bidding, these keywords help you maximise reach and performance.
Responsive Search Ads, meanwhile, automatically identify the best headline and description combinations, ensuring your brand delivers the right ad to the right person.
2. World Cup fans want an all-access pass beyond the 90-minute game
This year's event will likely stockpile a massive amount of digital content, if previous World Cups are anything to go by. The month-long 2018 World Cup, for example, showcased 64 live matches, generating around 110 hours of match content, equal to about five days of watchtime. That match content, however, generated 230 million hours of YouTube watchtime, equal to 26,000 years' worth.5
People in the Middle East and North Africa contributed to 7% of that watchtime, particularly those in Saudi Arabia and Egypt.6 In fact those two countries ranked among the top ten globally when it comes to football viewership,7 boasting the highest watchtime between 2018 and 2022.8
And data from the 2021 FIFA Arab Cup — which was watched online 29 million times9 — reveals that while a match lasts offline for an hour and a half, it lives on YouTube for more than 15 hours that day.10 That's because supporters are watching and rewatching matches, as well as before and after moments.
Marketing tip: Know where fans are and connect early
Football supporters in the United Arab Emirates (UAE), Egypt, and Saudi Arabia show up about four weeks before a match to watch football content on YouTube.11
Google's robust signals can offer a precise understanding of exactly where they are, and when, with YouTube's Masthead — a premium placement that drives visibility and reach — helping you 'own' fan-favourite moments.
Video reach campaigns, meanwhile, let you choose how to reach people in your target audience, while Trueview for Action formats are ideal for driving leads and conversions.
3. World Cup fans want content variety
Seventy-eight percent of viewers in MENA say YouTube offers sports content that can't be found anywhere else.12 This is particularly true for football, famous for its guarded official coverage. It's no surprise then that Arabic football creators, like Saba7o Kora and Mohamed Adnan boast some of the highest-viewed videos:
Standing out among catchy content means understanding what your audiences watch. But not all content is born the same. MENA fans get their football fix from:
Highlights: Recap moments with interviews and behind-the-scenes adding to the buzz.
Creator and partner content: 59% of football-related content is made by creators, players, or clubs.13 This format is authentic, allowing football aficionados to feel close to the action.
Archive content: Legendary football and player moments that allow fans to dip their toes into nostalgia and relive past excitement.
User-generated content: Songs, commentary, and celebratory football content made by other ordinary people who share the same passion.
Marketing tip: Be present across content formats
Eighty-one percent of YouTube viewers in Saudi Arabia, and 83% in the UAE, say YouTube is the number-one platform with the world's most extensive content library.14 And the football section looks set to balloon this year.
Content sponsorship allows your brand to run on the biggest football-related channels on YouTube during key tournament moments. This helps you capture viewers' attention across all content types.
YouTube Select, meanwhile, offers lineups that target the exact content your audiences are most passionate about. You can connect with football fans in the most relevant environment, offering a smoother and more personalised experience.