Think it's too early to start planning your Ramadan marketing campaign? Ramadan is just four months away and, being the busiest ad season of the year, it's an optimal time to capture people's attention – and keep it. Google research shows that standout Ramadan content that connects with audiences can boost viewership and drive decisions for the rest of the year. But planning a great marketing campaign alone won't cut it. For exceptional results, brands need a well-rounded marketing strategy. This includes understanding their customers through data mining and insights; coming up with a creative idea based on those insights (one that works well across media platforms); taking that idea through to completion; and – finally – assessing their campaigns' success so they can plan for the following Ramadan.

1. Understand your audience
What exactly do consumers like to watch on YouTube before, during and after Ramadan? Through data mining and insights, Google research shows that one month before Ramadan, YouTube cooking videos increase, peaking 30% higher than average in the first week of the Holy Month. Searches for recipes, meanwhile, spike 50% higher than the annual average, especially at the start of the month. Check out Maggi's marketing campaign that took advantage of key cooking video insights. During Ramadan, people continue to watch YouTube videos, with video completion rates increasing. Cooking videos and TV drama series prove very popular, with viewership of the latter increasing by 151% during Ramadan, likes by 447%, sharing by 228%, and subscriber sign-up by 490%. After Ramadan, air travel and hotel searches surge by 20% to 25%, with Eid seeing the busiest search period in the year, second only to New Years.

2. Get creative

A constant challenge for advertisers is creating content that builds personal connections, excites viewers, and makes them want to tune in. This is more important during Ramadan than any other time as people watch more YouTube, perform more searches, and access the Internet on their mobile devices more often. We often talk about authenticity on YouTube, and in a time dedicated to introspection, altruism, celebration and togetherness, it's an ideal moment for brands to create unique Ramadan-themed campaigns for their customers. Be inspired by Coca-Cola's Remove Labels this Ramadan campaign and Vimto's clever campaign that invited audiences to write a customized message on a Vimto bottle on a YouTube masthead.
Tell a story – Use the art of storytelling to connect through increasingly popular multipart stories or web series, as was done successfully by MakeUp Forever's all star Ramadan YouTube seriesMakeUp Forever's all star Ramadan YouTube series that truly engaged audiences. 
Create Eid-specific stories - Use Ramadan as an opportunity to build an engaging story, and Eid as a chance to polish your campaign with Eid-specific content that connects with people. Viva Kuwait, our Lantern Award winner in 2017 for best Ramadan ad on YouTube, accomplished this with compelling bumper ads that lifted spirits with song and dance.
Be inspired by brands who've done it well - The Lantern Award celebrates Ramadan and Eid al-Fitr creative campaigns that move audiences on YouTube. Take a look at submissions and winners' campaigns on The Lantern Awards' YouTube channel.
3. Develop a speedy, mobile-friendly site

In the last five years, smartphone penetration reached 60% across MENA (91% in UAE). During Ramadan, people spend more time online on their phones than any other period, with internet usage in the UAE sitting at 94%, and Saudi Arabia 98%. With this in mind, it's clear that your site needs to speedy and mobile friendly for optimal marketing results.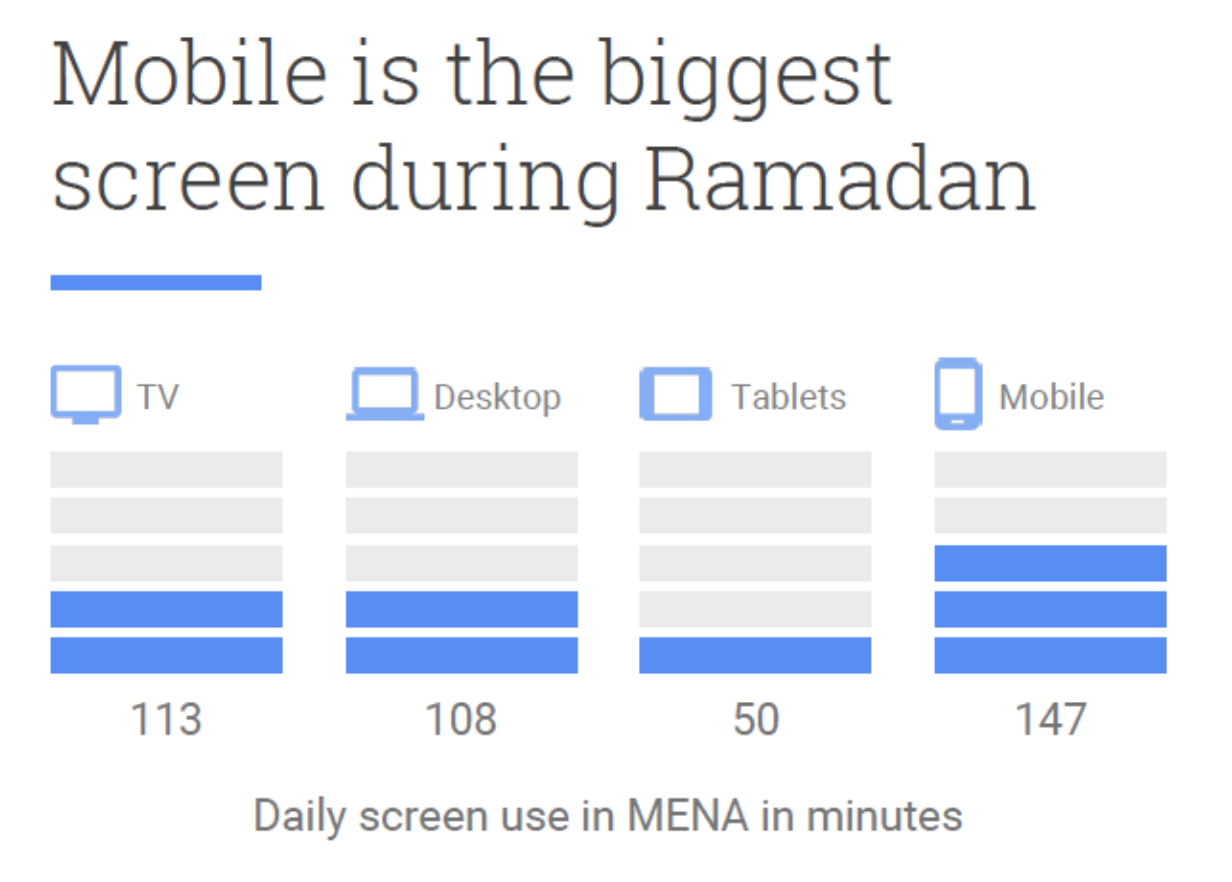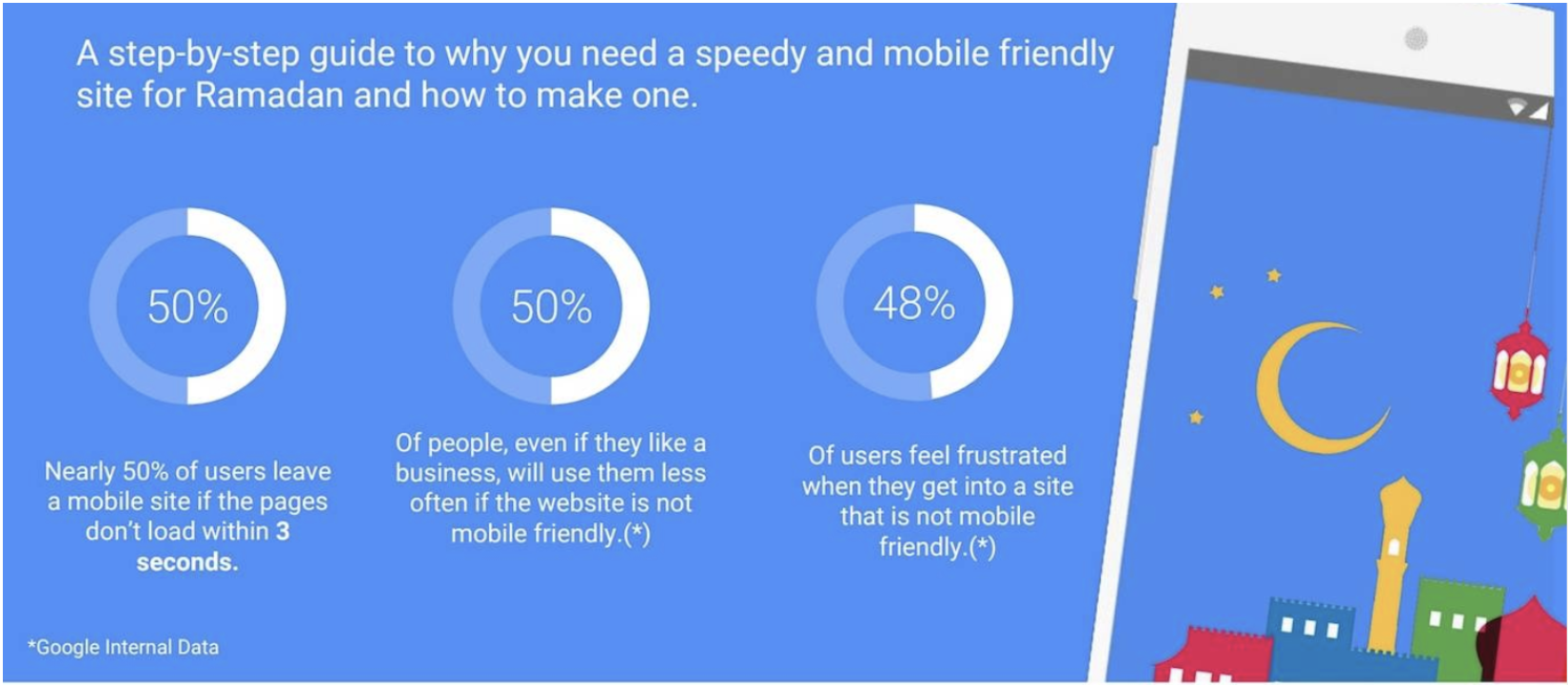 4. Get to know YouTube better

YouTube is the largest ad-supported digital platform, working across mobile, desktop, tablet and TV. Did you know that during the holy month, viewers often tune in to YouTube specifically to watch popular Ramadan ads, with viewers in Saudi Arabia and Egypt preferring ads on YouTube, rather than on TV? Interestingly, Ramadan viewership on YouTube has increased three-fold over the last three years in comparison to TV, which remained flat. That's because YouTube puts the power to select content and scheduling in the hands of the user. According to Ipsos and Google data, TV viewership in Saudiis centralised around the five hours around Iftar, while YouTube viewership is present throughout the entire day.
5. Measure success
You can easily measure the success of a video campaign by analysing four key metrics in the WAVE framework: 
WATCHTIME – Video platforms must first reach a sizeable audience that consistently spends a significant amount of time consuming video. YouTube viewership rises during Ramadan, whereas TV experiences an overall drop. 
AUDIBILITY - Videos work through a combination of sound and motion. Without audio, a big chunk of the message and emotional impact is diluted. 95% of YouTube video ads are audible.
VIEWABILITY - Video ads cannot work if they are not actually viewed; at best, video ads that are not viewable are reduced to unintentional radio ads. YouTube ads exceed industry averages for viewability of digital videos.
ENGAGEMENT - To deliver impact, videos must reach users at a moment when they are paying attention, showcasing a message that is relevant to them. Users value the flexibility and convenience of YouTube over the rigidity of TV.
You can easily optimise your campaign and measure its performance using our free and simple-to-use tools. Alternatively, feel free to get in touch with our team for advice on creating your next great campaign.