We have taken you through the full journey of designing a standout digital marketing campaign during Ramadan, the most important ad season of the year. You've done the hard work of generating data-driven insights, identifying specific target audiences and dreaming up the ideal creative plan. Now it's time to unlock the final, crucial element: a strategic media plan to disseminate your message to the right people in the right way. Welcome to the final installment of our Ramadan series.
Speak to Your Audience
We uncovered 6 key Ramadan audience personalities to better understand their reasons for engaging with specific content in the Holy Month. Delving into specifics such as what, how and when they watch videos online - and determining what matters most to them - is key to engaging them at different stages of the marketing funnel.
Based on these nuances, we have developed the following framework for a media strategy that relies on an advanced audience analysis: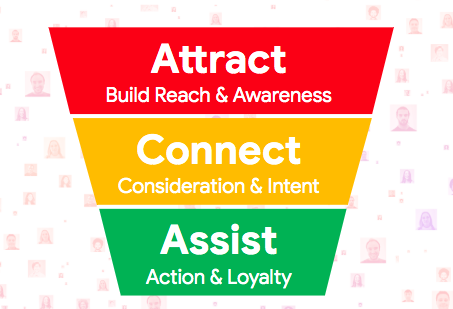 Let's explore each of these categories that, together, form the basis of a holistic media strategy.
Attract
The first step of a consumer engaging with your brand, product or service involves building reach and awareness. At this stage, it is key to focus on a user's interest and passions in order to connect with them when they are immersed in online research, reviews and making comparisons in the marketplace. This is where reliance on advanced audience insights easily comes into play; for example, those who are identified as beauty mavens are likely to visit beauty salons often.
When we dug a little deeper, we discovered that audiences should actually be targeted at different times during Ramadan in order to get maximum impact when it comes to building reach and awareness.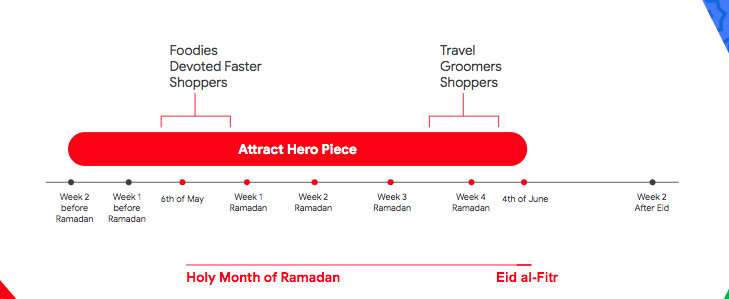 Foodies, devoted fasters and shoppers were ideally targeted in the first week of Ramadan. At this stage, people are connecting to their spiritual side: beginning the month-long fasting journey, shopping for 'suhoor' fashion trends and preparing for iftars.
During the 'attract' phase, shoppers can also be effectively targeted again in the final week of Ramadan as they prepare for Eid festivities, along with travellers and groomers. This is actually the time of year when searches for fashionable clothing trends and makeup looks peak, as well as searches for air travel and hotels as people prepare for vacations.
Connect
At the consideration and intent stage, a consumer is aware and interested in your brand, but still open to other suggestions. How do you lock them in? The key here is to focus on a user's intent to influence consideration. It is highly effective to move away from demographic targeting to understand real people, beyond age and gender to passions, intent, consumer behaviours, life stages and more, stronger signals.
Utilizing specific targeting based on the 6 Ramadan audiences we explored in part 3 we can create solid coverage throughout Ramadan.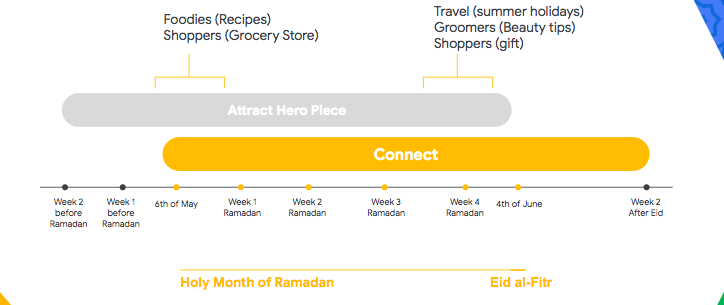 For the 'connect' stage, foodies and shoppers should be targeted at the start of Ramadan, when researching recipes for iftars and shopping for suhoor looks are top of mind. An example is a consumer who is searching for airline tickets. This person could be engaged for hotel and car opportunities to complete their travel experience. Meanwhile, it's a good idea for brands to communicate with travellers, groomers and shoppers towards the end of Ramadan, when people are finalizing summer holiday plans and looking for makeup tips and gifts to celebrate Eid. An example could be someone in the market for facial scrubs. This beauty lover may also be interested in perfumes and other grooming products in order to look the part during Eid festivities.
When a brand successfully engages with and ultimately targets a consumer based on their passions, the results can be symbiotic.
Assist
The final piece of the puzzle is targeting a consumer who will take action and who has demonstrated loyalty or particular affinity to a brand.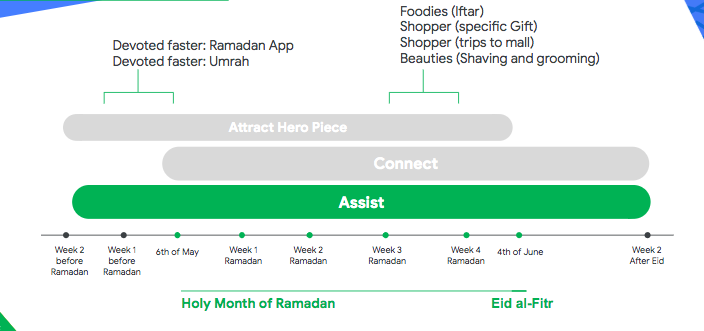 At this stage, foodies, shoppers and beauty mavens are ideally targeted closer to Eid, when final iftar gatherings are organized and people shop for gifts for one another.
Activating Your Media Plan
Once you've identified your target audiences and at which stage of their purchase journey they should ideally be targeted, you have a plethora of products and tools to reach them in the right way.
For example, YouTube enables viewers to engage with their interests remotely whenever they want, from wherever they are. Short bumper ads before a video or a masthead on YouTube are a great way to attract these specific consumers in order to build awareness and reach for your brand.
At the connect stage, when a consumer is familiar with your brand but still considering other options, working with content creators they love provides a deeper connection and a note of authenticity. You could also opt-in to Google Preferred, where an ad can feature alongside the top 5 percent of channels that vary from comedy and gaming to cooking and traveling, viewed by your target audience. For example, an identified foodie can be effectively targeted for luxury chocolates to gift (or consume themselves!) for Eid using TrueView for Action or Display Ads. This method has resulted in up to 90 million impressions in Saudi Arabia and 60 million in the UAE last year.
Finally, consumers who have shown intent to purchase for your brand at the assist stage can be hyper-targeted through TrueView for Shopping Ads on YouTube.
Making The Most of YouTube during Ramadan
TV is popular during Ramadan for their 'mosalsalat' or shows, which is appealing to advertisers, but the reality is that viewers tend to tune into YouTube to watch TV series at any time and place. Examples of content on YouTube include Turkish series such as Tatar Ramazan and Binbir Gece as well as the main broadcasters' shows. MBC Group, for example, has 6.1 million subscribers on YouTube, and Al Haya TV, has 4.8 million on YouTube.
Knowing the habits of this audience can make skippable and short YouTube ads effective because the customer already trusts and appreciates your brand.
Finally, creator sponsorships are also a new format that can help you reach your audience with a note of authenticity throughout the different stages. For example, Abdulla and Abdulaziz, twin brothers from Saudi Arabia known as The Saudi Reporters have a very popular weekly YouTube show consisting of comedic sketches, challenges, Q&A sessions, food tasting, science experiments, and travel vlogs. To date, they have 4.7 million subscribers and 738 million total views.
A Holistic Plan
Plans for a media strategy should be considered during each stage of a digital marketing campaign: from analyzing data and identifying insights that lead to audience profiles and the development of a spot-on creative strategy. All of this effort comes full circle when the right message is distributed to the right people in the right way. We hope you found this in-depth series informative and useful and we look forward to the high quality ads that this year's Ramadan ad season will bring!