Noelia Fernández Arroyo is Director of Sales at Google Northern Europe. In this article, she shares the local insights retailers should know about to make the most of the upcoming holiday season, along with three recommendations for success.
With 22% of Swedish Christmas shoppers researching gift ideas from as early as August1, the retail peak season starts earlier than most people might think. But that's not the only reason the consumer journey is becoming increasingly complex: holiday purchases are now also made across a wider range of channels, over a longer timespan, and based on more rigorous product research.2
One way retailers in the Nordics and Benelux can adjust to these changes is by having an always-on attitude — and this year in particular, that means being ready to change course at any point of a campaign. We already predicted that consumers will be thinking — and buying — with a digital-first mindset this year, but what else should retailers know ahead of a holiday season unlike any we've seen before? Noelia Fernández Arroyo, Google Northern Europe's director of sales, shares three recommendations for success.
One way retailers can adjust is by having an always-on attitude — and this year in particular, that means being ready to change course at any point of a campaign.
The right time: Serve early-birds and late shoppers alike
80% of in-store purchases across the Nordics and Benelux regions had been researched online last holiday season — a trend only likely to increase this year as people are spending more time at home. But while shoppers may start their research over the summer months, they often hold off on a purchase until they can bag a good deal. In fact, "waiting for a sale" is the biggest reason Danish shoppers don't immediately buy a product after they researched it.3
Shoppers in the Nordics and Benelux share many similarities, but there are also differences. While 33% of Dutch consumers leave their Christmas shopping to the last minute, only 19% of Swedes do the same as they prefer to spread their purchases throughout the season. In both countries, however, a notable amount of shopping is left until after the holidays, with 12% of Dutch and 8% of Swedish consumers continuing their purchase journey in January to buy what they had hoped to get for Christmas, or to start hunting bargains for the following year.
Christmas shopper types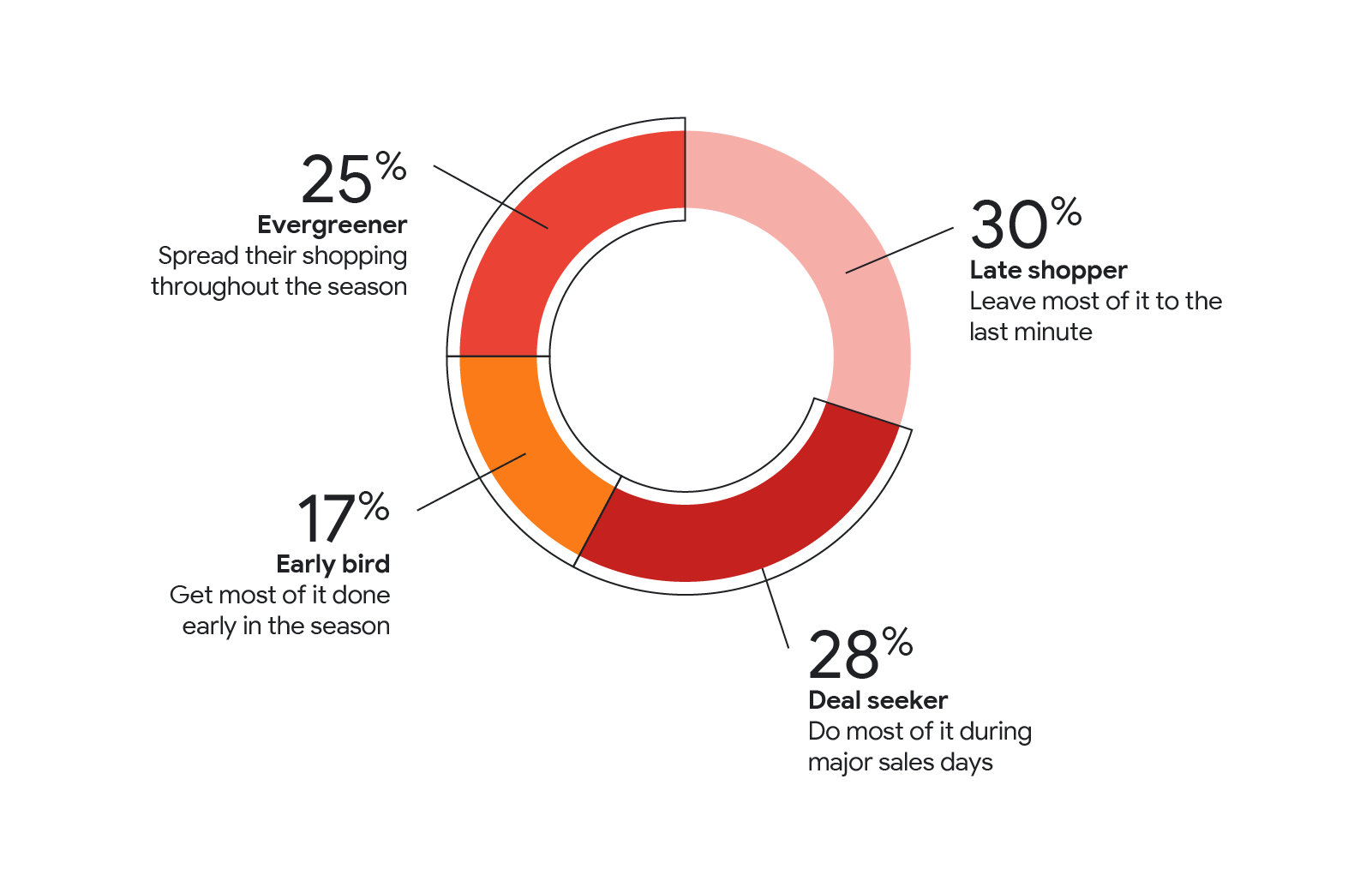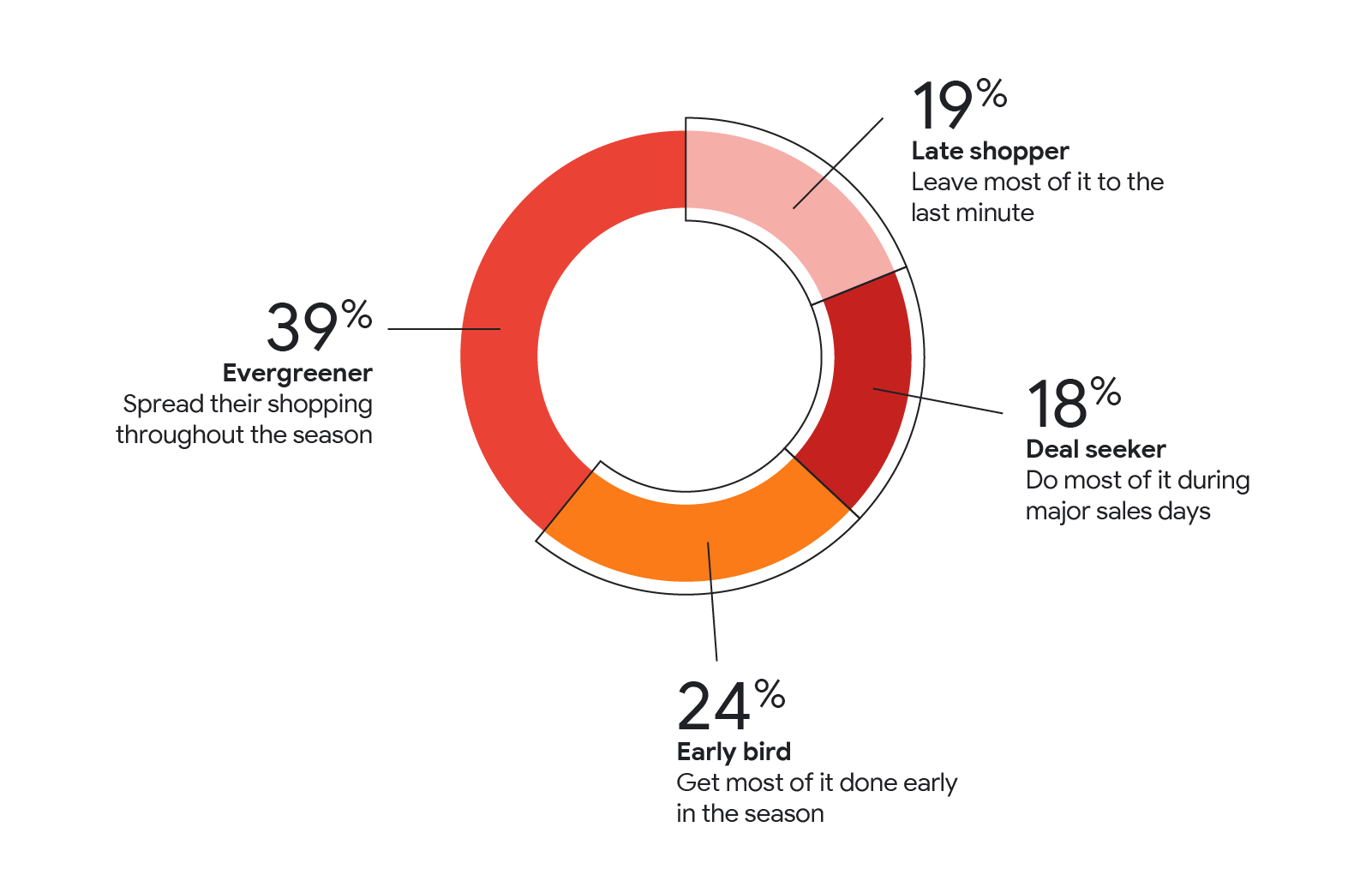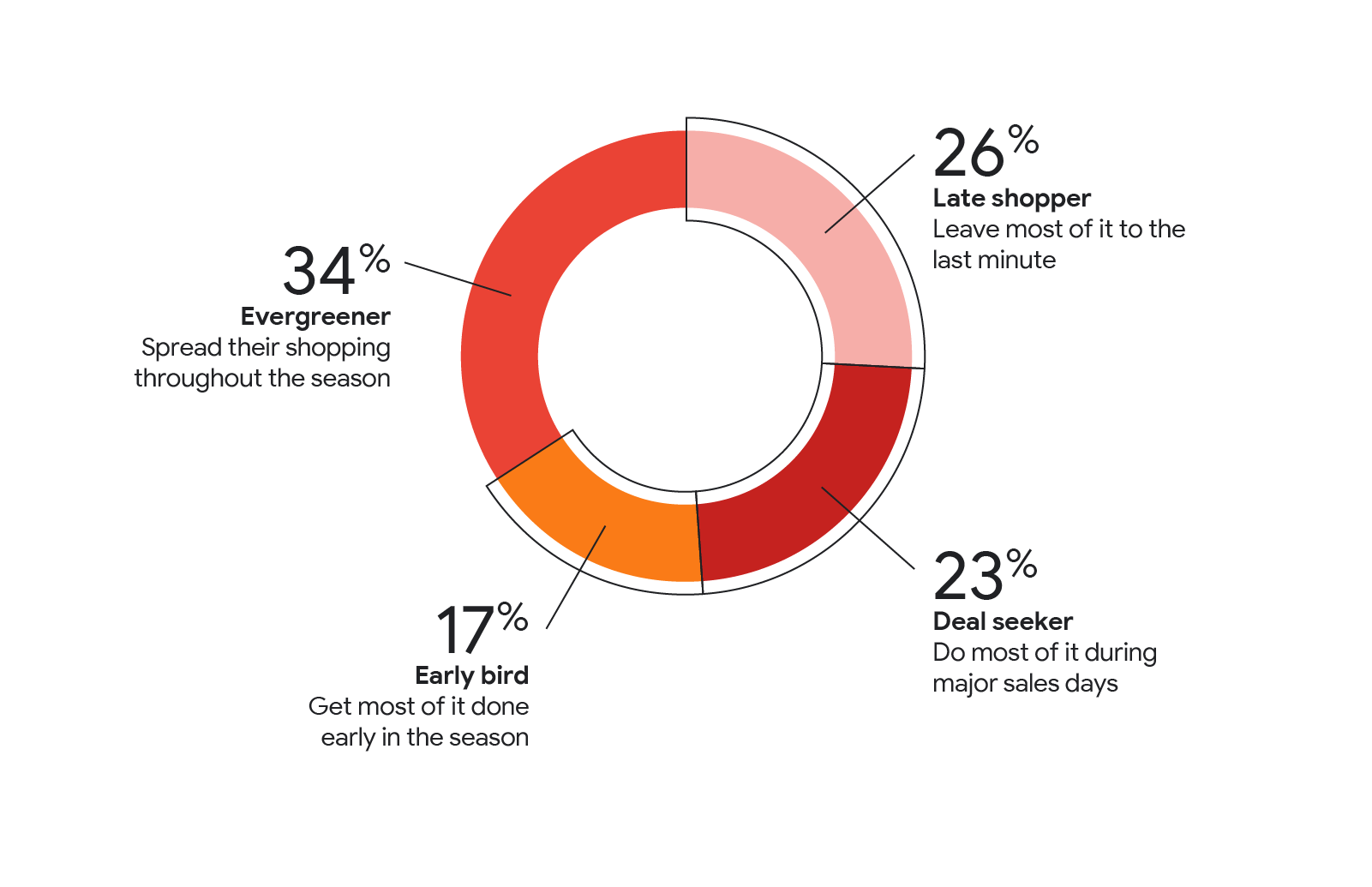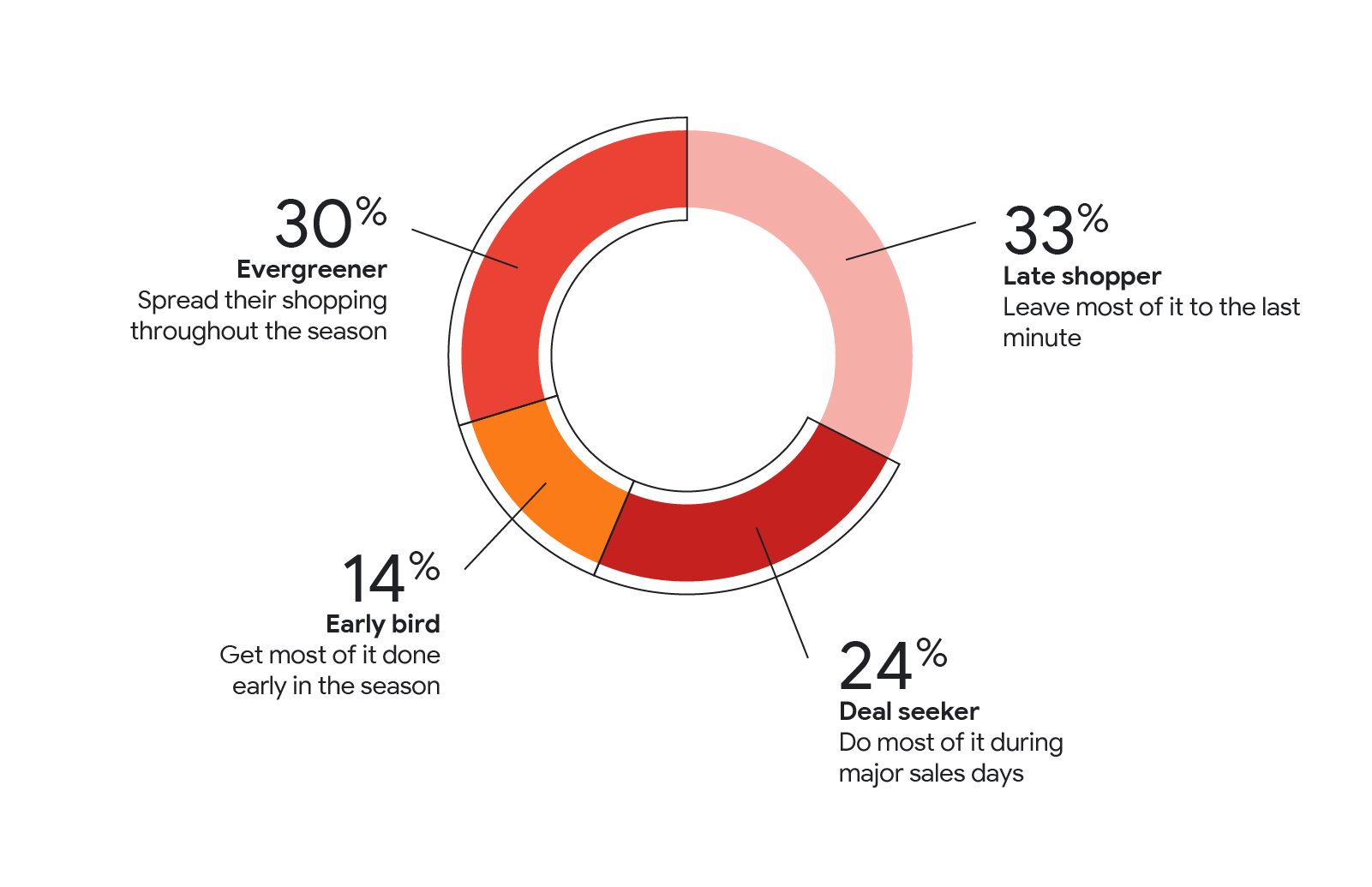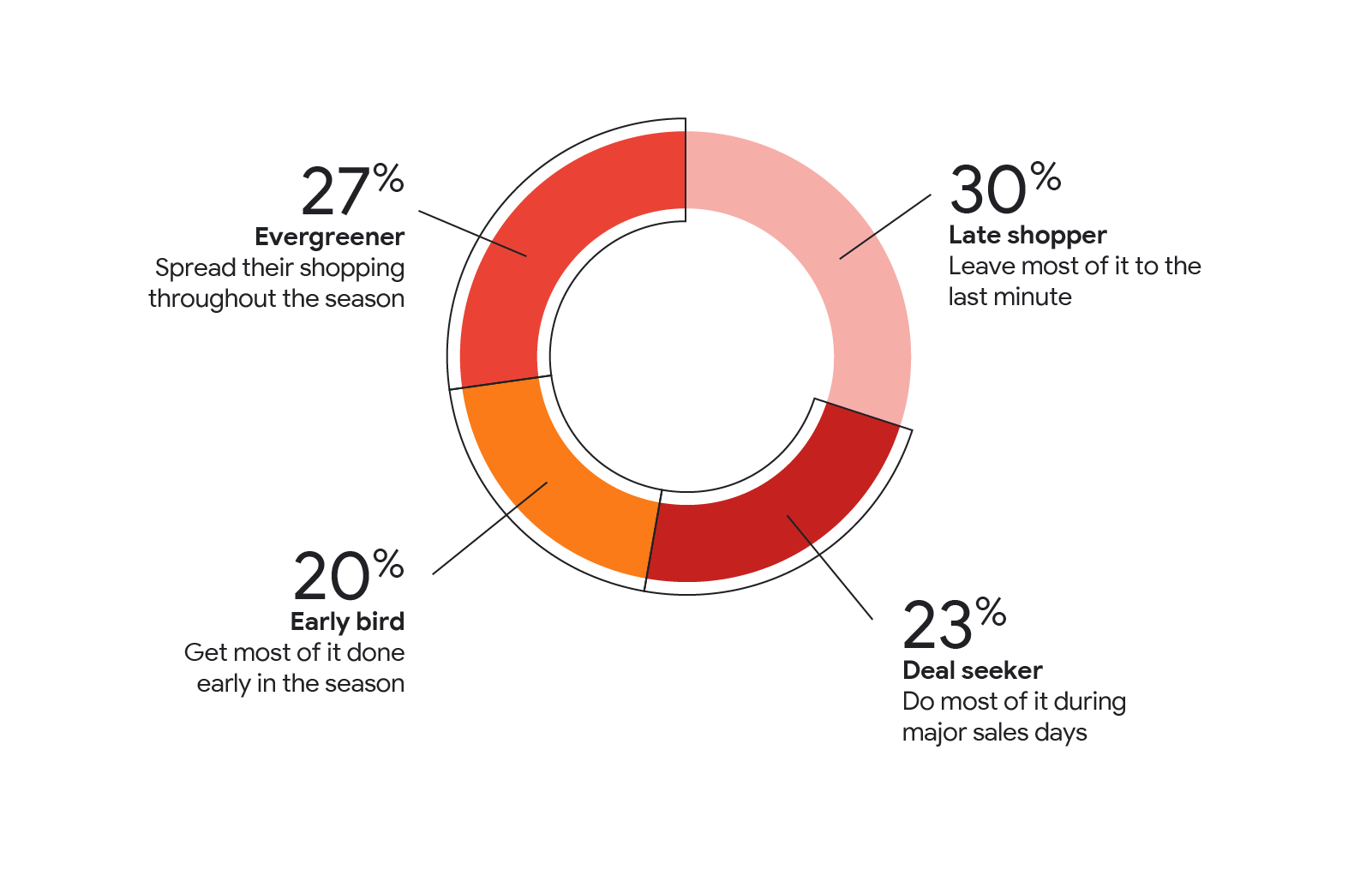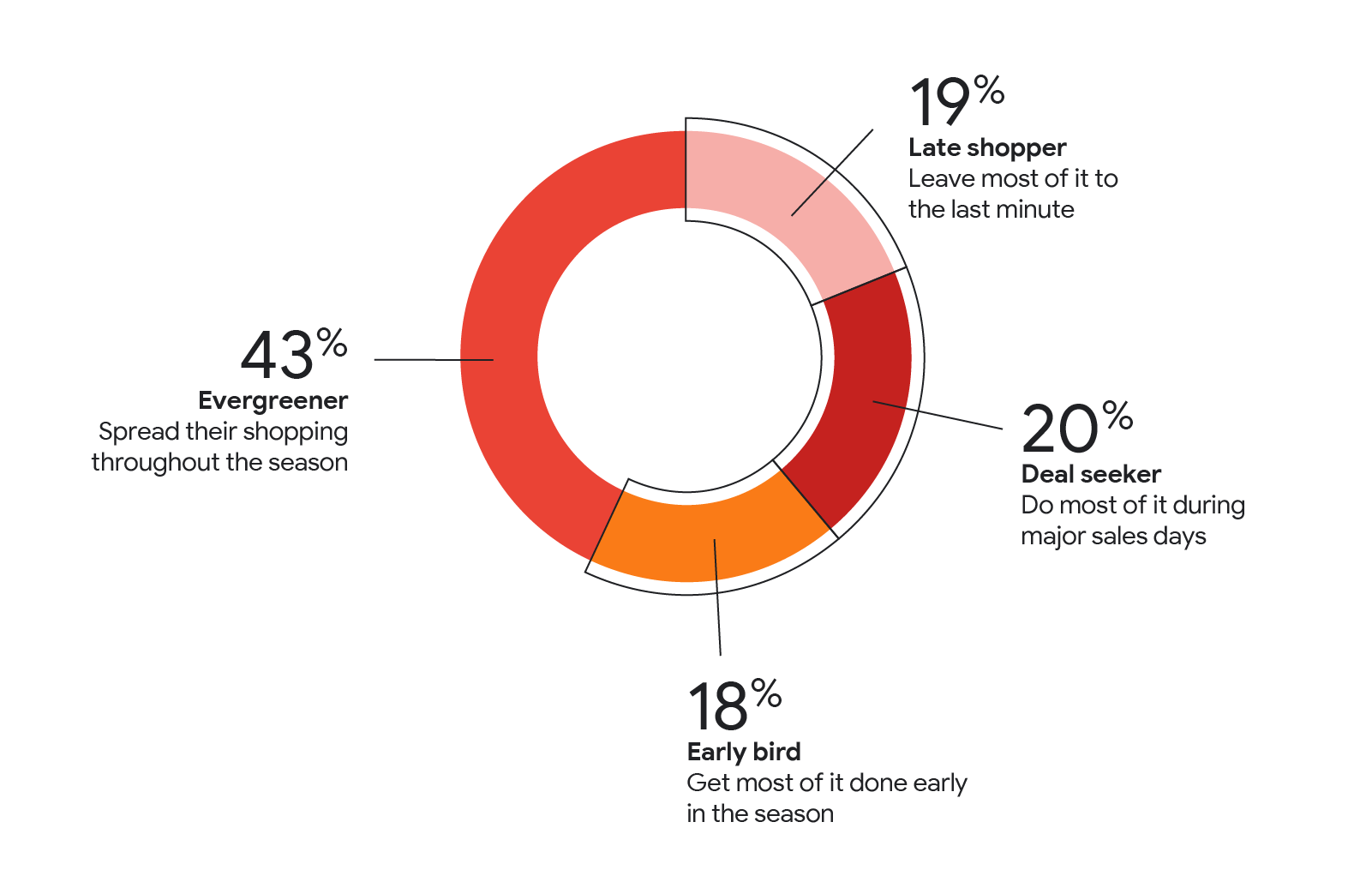 What retailers can do: Be available to your customers at every touchpoint, regardless of when those moments occur. Make sure your products are discoverable by implementing Shopping Ads and deliver your customers a personalised, relevant shopping experience with the help of Grow My Store.
Example: Web2Media, a Danish digital consultancy, helped one of their clients respond to the ever-changing demands of holiday shoppers by implementing automated bidding as well as budget flexibility. "Being able to adapt quickly is key to success in a period like this, and automation is the answer to that," confirms Allan Jørgensen, founding partner at Web2Media.
The right place: Meet your customers across all channels
While 59% of Norwegians and 54% of Belgians preferred to buy their Christmas presents in-store last year,4 many European consumers have said the pandemic will affect how they shop this holiday season. More than ever, online product research will impact offline purchases, with consumers likely to carefully plan out their shopping trips from home to limit the amount of physical store visits.
As the pandemic has accelerated digital adoption, multichannel purchase journeys will be even more common this year than they were in 2019, when a majority of shoppers used three or more shopping channels within a two-day period.5 Mobile devices are particularly prevalent in today's shopping journey. In Finland, 51% of online holiday purchases were made on mobile last year, and a further 44% of consumers reported to have used their mobile phones for research while browsing in-store.6

What retailers can do: As many of your customers will be researching online and purchasing offline, help them by keeping product details in check through local inventory ads, show your nearest store branch with Local Campaigns, and optimise for mobile speed with our free Test My Site tool.
Example: Looking to optimise both their online and in-store sales last holiday season, Kjell & Company, a Swedish electronics supplier, asked digital agency, Beet, for help. "We implemented Local Campaigns to reach potential customers while they were researching products online. Automatically pulling the most relevant store information depending on a user's location, we focused on driving store visits, and as a result, 31% of all store visits that season were new," explains Kevin Wahlström, senior SEM specialist at Beet.
The right way: Help consumers stay on top of their shopping
Last year, 61% of holiday shoppers in the Nordics and Benelux reported to plan ahead for their Christmas shopping, making most purchases within a two-day period.7 As the coming season will see COVID-19 restrictions such as limited opening hours and social distancing measures put in place, consumers are likely to be even more organised this year.
Product research is a key part of this, and as purchase decision-making becomes more messy, consumers expect to have helpful information to make their own decisions, including competitive pricing and helpful personalisation. Consumers will decide whether to make a purchase online or offline based on the details retailers provide, with key drivers being convenience, price, and availability.
What retailers can do: As shoppers will have a lot on their mind this holiday season, only communicate the information that is most relevant to your customers — whether that concerns social distancing measures, delivery policies, or product offering.
Example: Keen to reach new customers for Mother's Day, Dutch retailer My Jewellery decided to try YouTube 4 Action and utilise custom audiences based on intent. "We built one custom audience for jewellery and another one for Mother's Day gifts, and made sure that each ad group represented one of these target audiences, while excluding the other, less relevant one," explains the brand's head of advertising, Floortje Jansen. And it paid off: partly due to this, the campaign had a cost-per-action (CPA) that was 4 times higher than their non-brand Mother's Day search campaign.
As the pandemic has accelerated digital adoption, multichannel purchase journeys will be even more common this year than they were last.
3 ways retailers can win the 2020 holiday season
Be visible to customers whether they're grabbing a last minute gift or planning for 2021.
As customers are both online and offline, giving shoppers a seamless experience across both is crucial.
Empower shoppers to make their own decisions by providing only the information they need.