Customer behaviour generates an enormous amount of valuable data and insights for marketers. But with ever evolving tech, expectations and demands — the goal posts are constantly moving and it can be difficult to pinpoint actionable insights. By looking at Search trends marketers can unravel consumer intent and reveal business challenges and opportunities for brands.
A range of economic and political factors have impacted tourism in Greece in the last few years. But the tourism sector seems to be withstanding the downward trend — searches for Greece experienced a 1% growth in the first half of 20191.
By diving into Google Search data the Greek tourism sector can pinpoint where interest is rising and falling — helping tourism professionals determine how to reach travellers that are more likely to visit the region and engage with them through targeted messaging.
Economic and political factors
In the first half of 2019, Searches for Greece as a travel destination from the UK have dropped by 13%. In fact British travel intent has decreased across Southern Europe as a whole. The Greek government believes that this drop is due to Brexit and a weaker British sterling. And with the UK being the second largest source of Greek tourism, the government is considering maintaining visa-free status for UK nationals to combat potential effects.
The devaluation of the Lira has also made Turkey a strong competitor — giving more purchasing power to Euro denominated countries. Italian users searched for Turkish destinations 65% more compared to only 6% for Greek destinations in 2019. Likewise in Spain, searches increased 73% for Turkey and 20% for Greece. And French search volume for Greece dropped 7% while searches for Turkey increased 16%.
Changes in Search volume for European travellers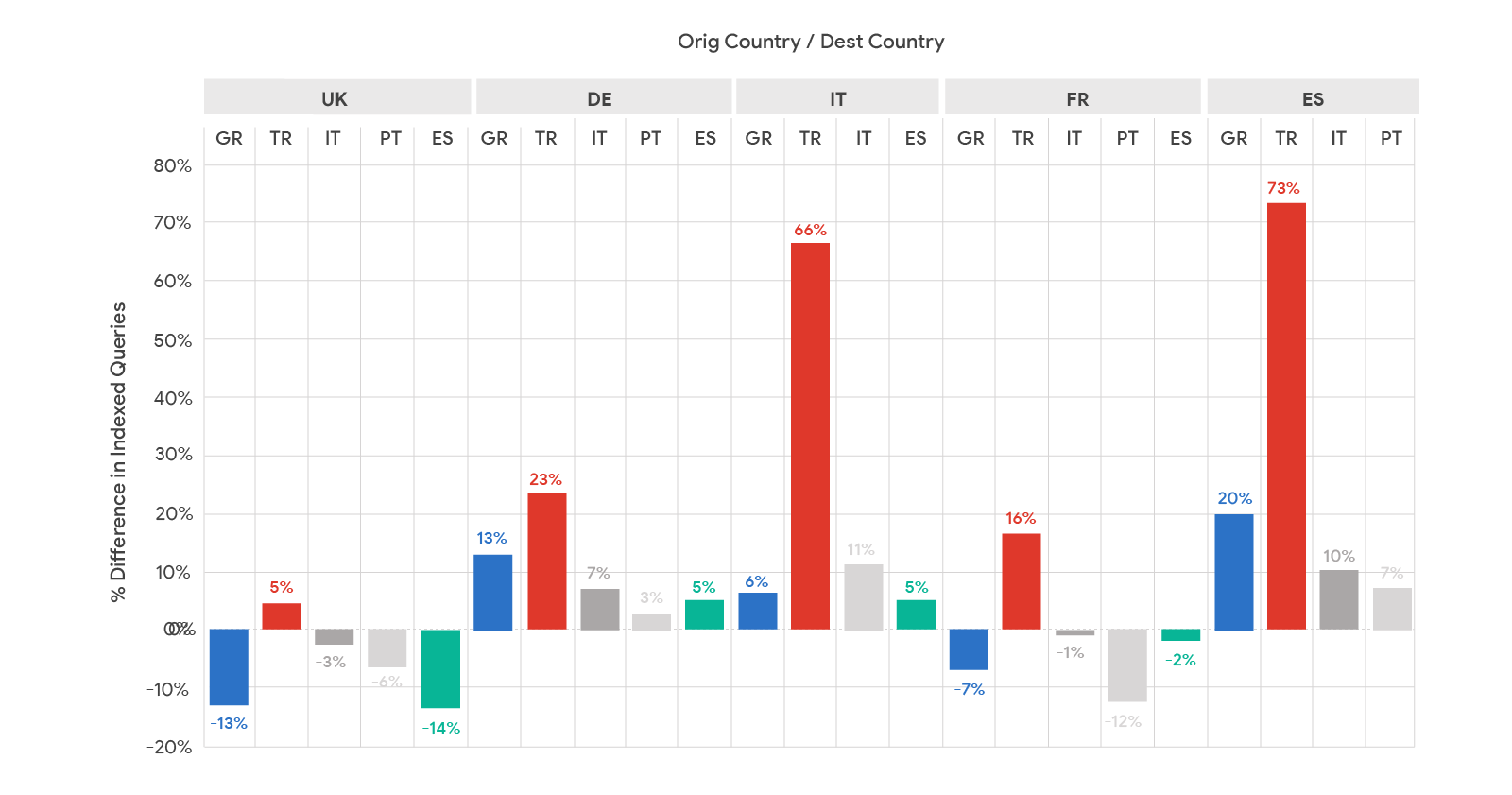 Search intent
Data reveals that most travellers tend to use generic queries when researching Greece — rather than specifying accommodation or flights. This provides an opportunity for businesses to impact the decision-making process and persuade potential customers early on in the Search funnel.
Travellers from France and the UK to Greece searched more specifically for package-vacations, inviting competition among these offerings. With these insights, geotargeting can help brands reach customers across various regions with personalised, relevant messaging.
Travellers' Search intent for destination Greece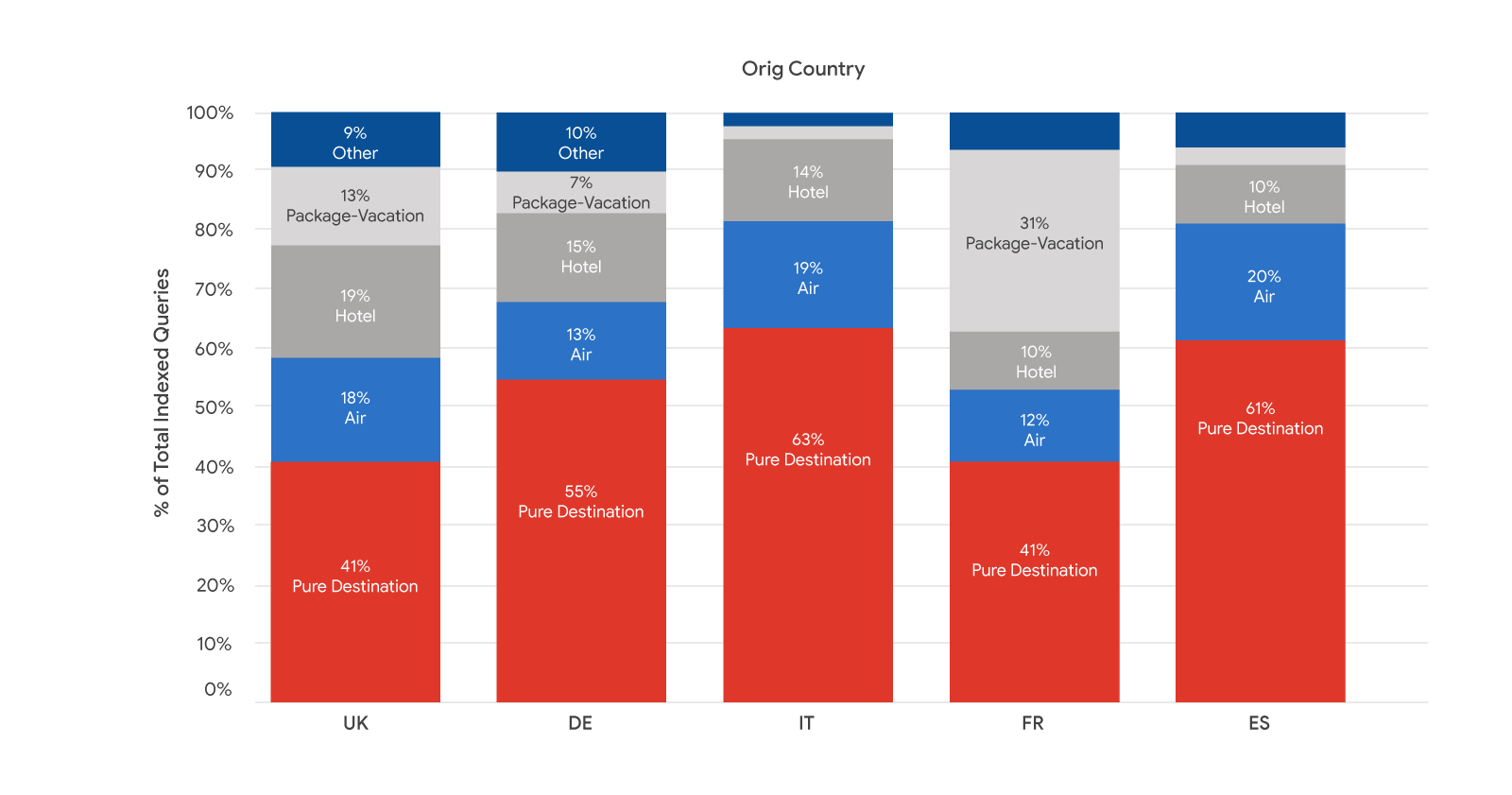 Device usage
It's not only about what users search, but how they do it. Data shows more than 50% of travellers using mobile devices or tablets to research Greece across the UK, Germany, Italy, France and Spain. With 62% of people less likely to buy from a brand if they have a poor mobile experience2 — businesses that offer an expert user experience are in a better position to drive engagement and sales.
Responsive websites, quick load times and easy transactions are a clear way to step up your game. And Test My Site provides website benchmarks to help measure progress, which can be narrowed down to the travel industry and region.
Devices used for Greece-related queries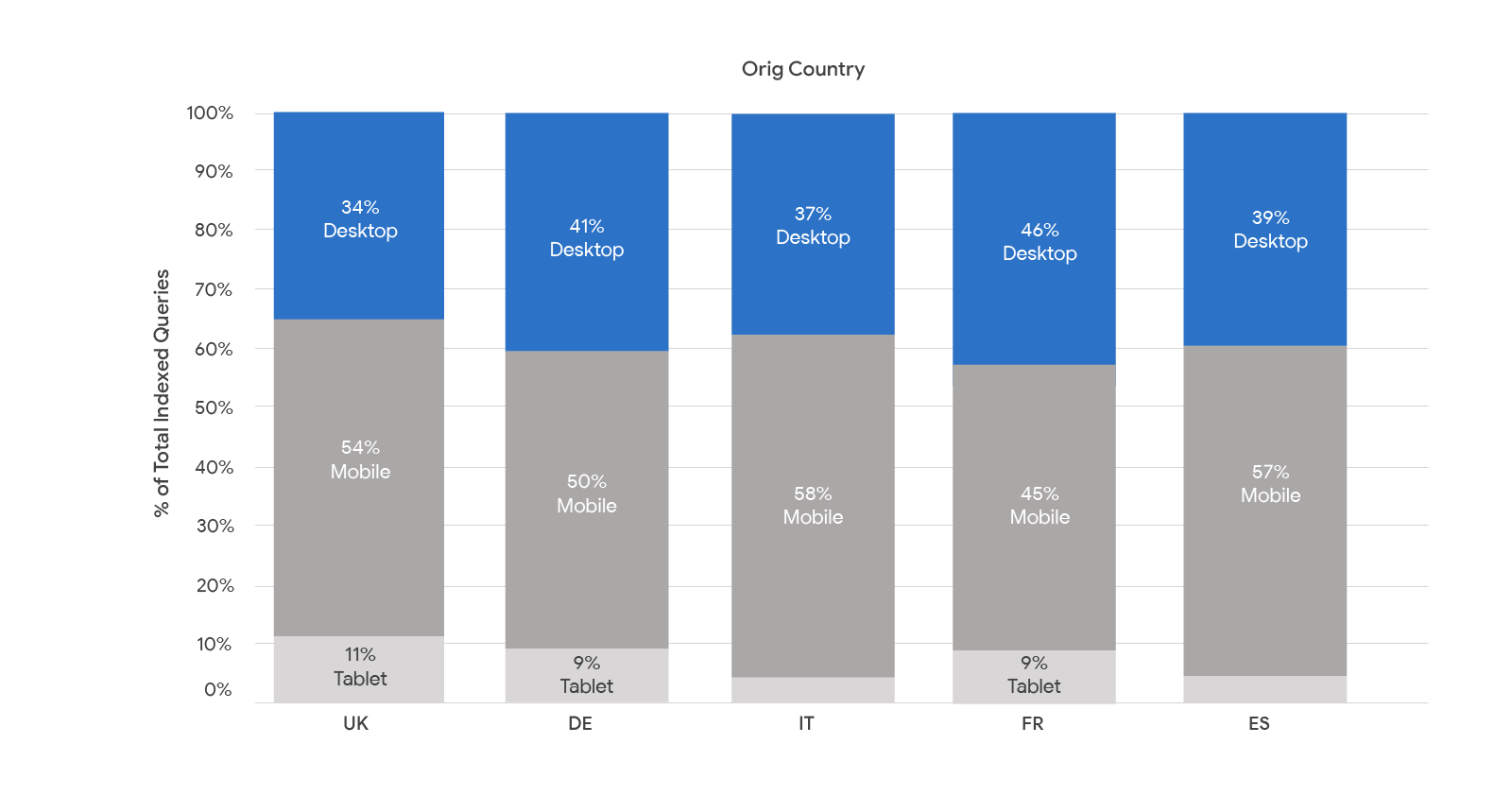 Luxury & Short Stays
Search behaviour reveals unique opportunities for targeting and personalisation as travellers look to indulge in high-end experiences. Queries like "athens luxury hotels" and "athens luxury suites" increased by 70% in 2018 — more than 8x compared to the total travel searches for Athens. There is also a rise of wealthy Middle East tourists in luxury hotels in Athens and high-profile islands like Mykonos and Santorini3.
Queries for short stays and city breaks — two to three nights — experienced double-digit growth of 13% YoY4. This growth has had an impact on the average length of stay, shifting the metric over the years from nine nights in 2013 to seven in 20185.
What's ahead for tourism
Several initiatives are underway that look promising for Greek tourism. The European Commission has approved co-funding to evolve Athens Airport into a high performing hub within the European Air Traffic Management Network. This year, Athens air-travel searches have risen more than 6x compared to the total travel search volume6. With enhanced operational efficiency, the Greek airport is expected to increase interest in the destination.
Off season tourism seems to be picking up steam. In April, May, October and November arrivals have increased and search volumes are consistently above the benchmark. The Greek National Tourism Organization has a mandate to boost 365-day tourism, launching the "Greece, A 365-day Destination" campaign and promoting Athens and Thessaloniki as year-round travel destinations.
YoY increase in off season Searches for Greece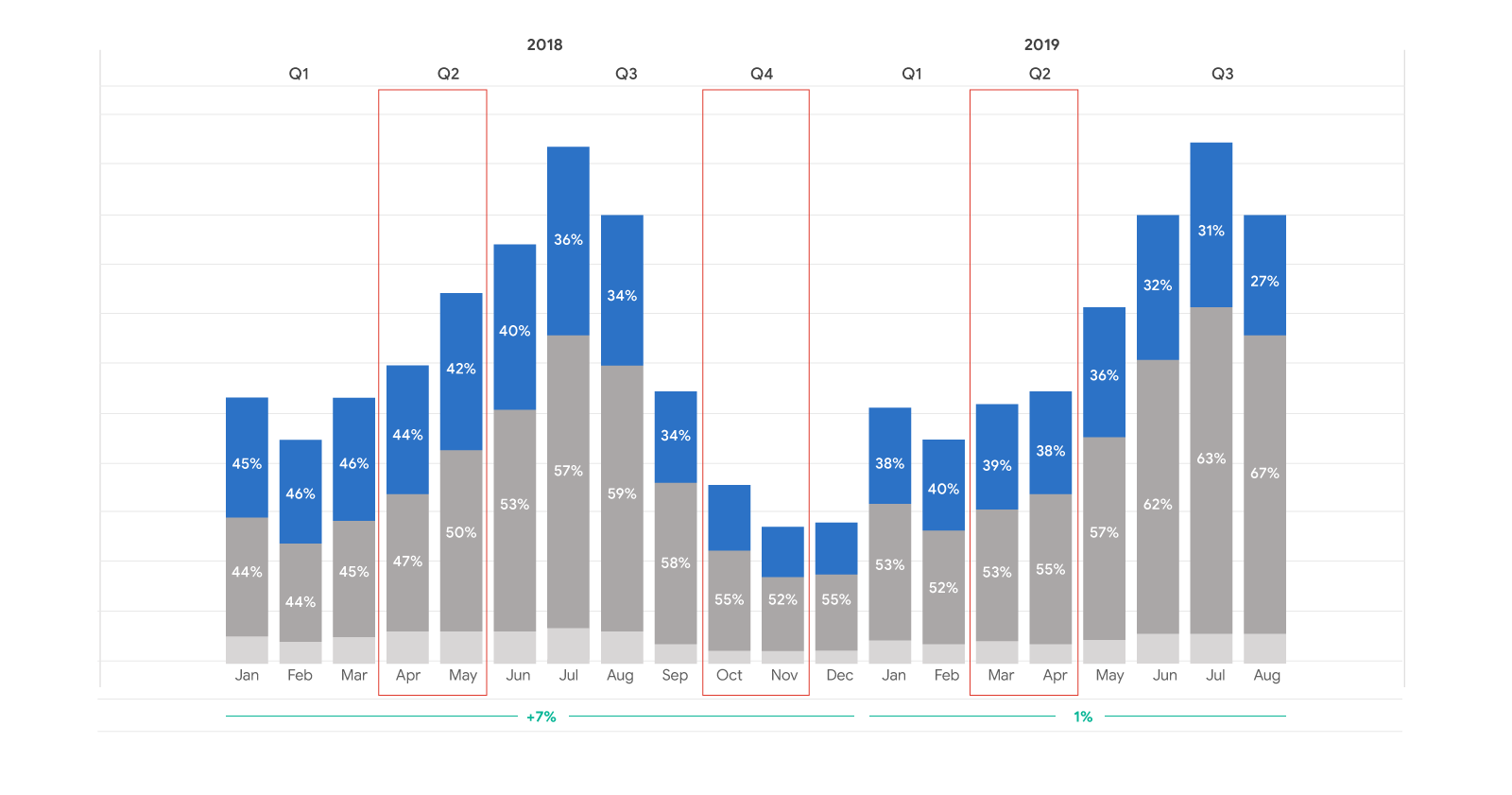 The Elliniko investment — a major redevelopment project that had been put on pause — is back in motion and expected to regenerate the Athens coast by attracting more than one million tourists.. To draw a comparison, the Marina Bay Sands Development in Singapore increased the city's tourism by 20%7 — and was much smaller in scale.
The many initiatives on the horizon to encourage Greek tourism leave much to be explored within the travel sector. Combining these forward-looking plans with the insights gleaned from Google Search data, marketers can take advantage of the range of opportunities available in Greek tourism to find and engage with the right customers.