If you're like me, you've stopped some of your early pandemic behaviours, like scrubbing down groceries or finding pandemic-friendly outdoor or in-home workouts. However, one thing I'm continuing is knocking out all my shopping online, whether it be for grocery delivery or for new workout gear. As the global lead for commerce research and insights at Google, I see behaviours like mine play out at scale across the hundreds of millions of people shopping across Google each day.1
For many businesses, it's hard to know which of these consumer shopping behaviours are fleeting and which are here to stay. To help retailers navigate that, we examined Google search data to create our 2021 shopping shifts guide and identified four key trends all retail marketers should be ready for. Here's what we found.

1. Digital inspiration powers the journey
Shopping online is no longer just a more convenient way to get goods delivered to your door. It's also where shoppers are discovering new products and finding inspiration. When shoppers roam the virtual store aisles, they're hoping to be excited by what they see, and they are looking for or stumbling upon inspiration in surprising places, sometimes when they aren't even looking.
We see that on our platforms, where 70% of consumers purchased from a brand after seeing a video on YouTube.2

2. Shoppers' values steer supportive spending
Increasingly, shoppers are putting their money where their values are — whether it's sustainability, corporate responsibility, or racial equality. Not surprisingly, search interest for "ethical brands" and "ethical online shopping" grew 300%3 and 600%4 year over year in 2020, respectively. Additionally, the number of global searches seeking out "black owned shops" grew by 9X year over year.5

3. Consumers count on convenience more than ever
With so many retail operations closed or operating under limited conditions, curbside pickup and same-day delivery became staples for many people. Global searches for "along my route" (+1000%)6 and "curbside pickup" (+3000%)7 both soared year over year. Convenience became a key differentiator for retailers who were able to quickly pivot.
Consumers have grown accustomed to having shopping options and will likely continue counting on them even as pre-pandemic behaviours return, creating a new post-pandemic shopping norm.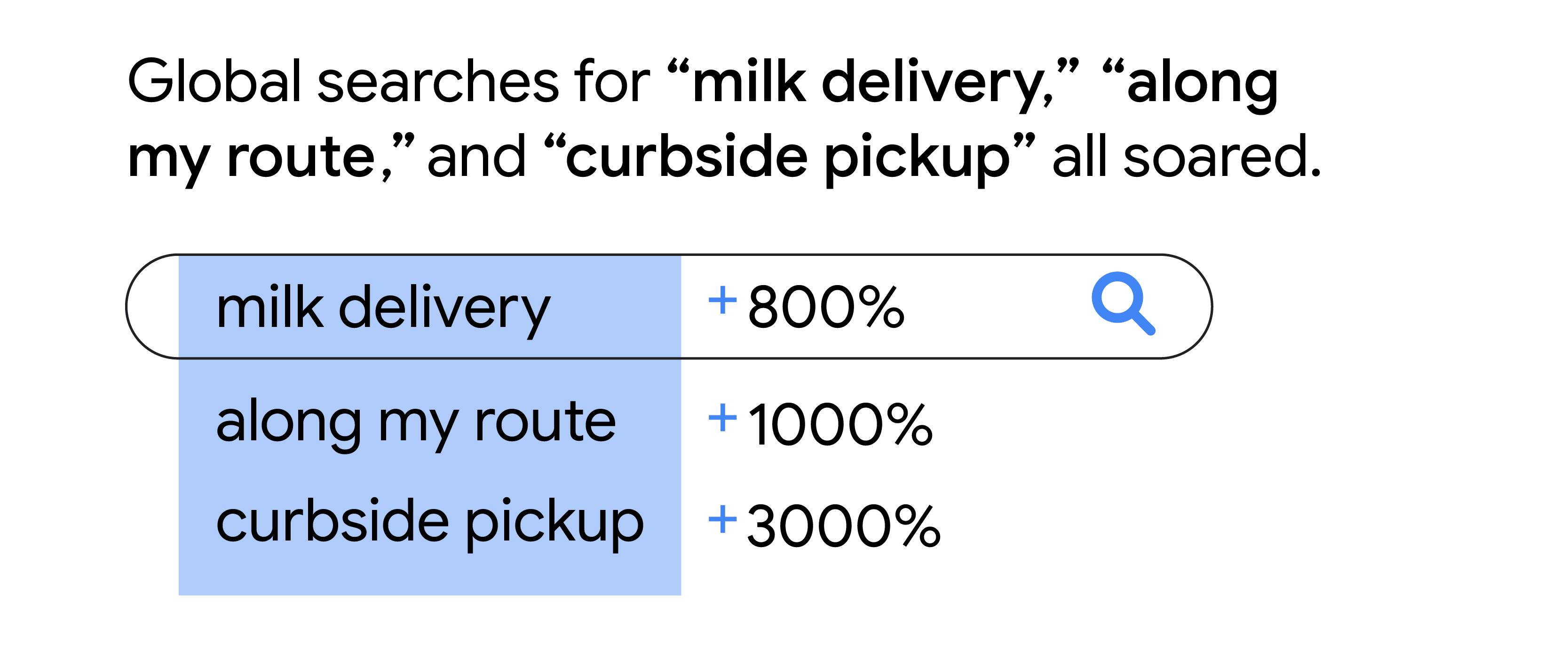 4. Unpredictability drives dynamic demand
One thing we can definitely predict is that the world will remain unpredictable. As governments around the globe adapt to local changes and work to safely reopen, what shoppers need will adapt with it. We saw this during lockdown, as people rediscovered old hobbies and adopted new habits. For example, year over year, searches for "candle making kits" were up 300%,8 while searches for "patio heaters" increased by 600%9 as people moved to eating outdoors.

So how should you act on these insights? Check out our guide with more examples and best practices.