In the last few years, people have become more thoughtful, conscientious, and even creative in the way they buy products. With shopping behaviour shifting rapidly, how do retailers know which trend to react to and which is just a short-lived fad? Let's look at three new shopping trends that are here to stay and how businesses can craft retail marketing strategies to meet shoppers on their terms.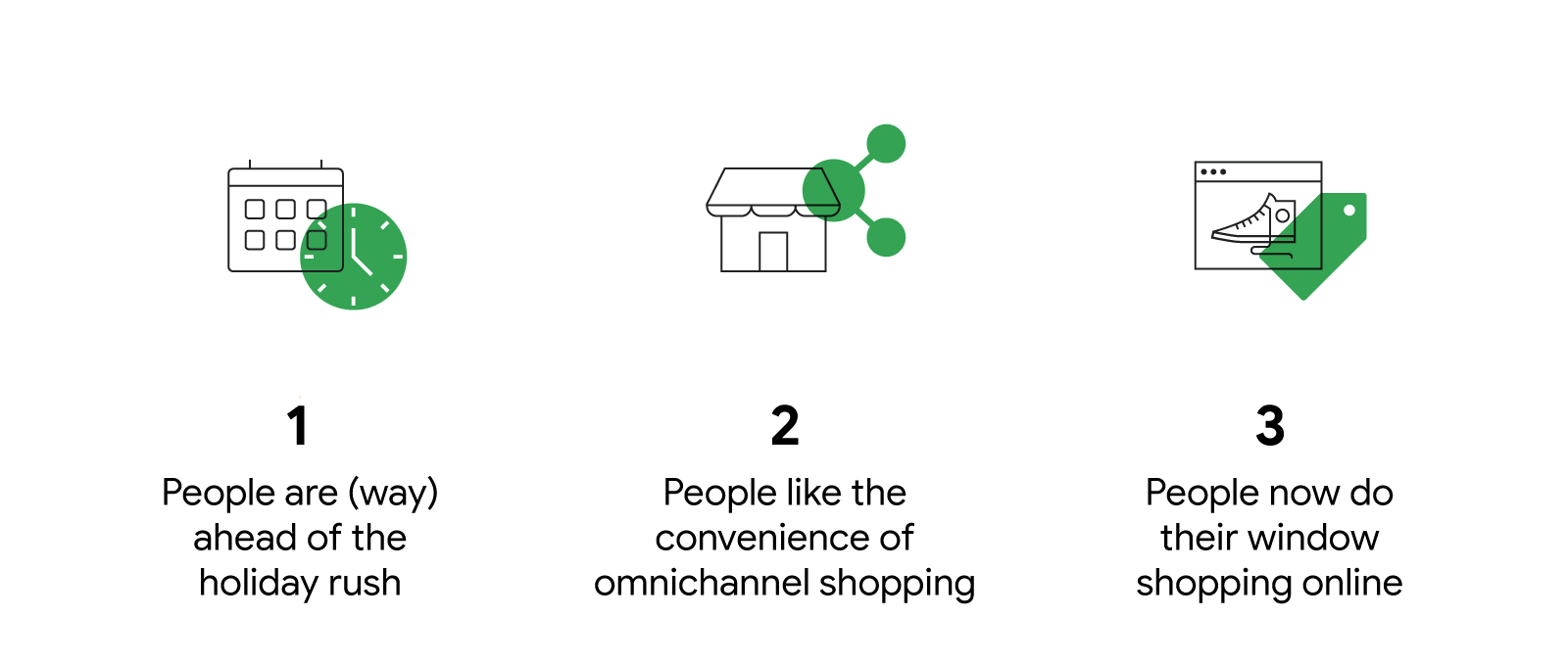 1. People are (way) ahead of the holiday rush
The summer holiday shopping season used to kick off on Black Friday. However, savvy shoppers have learned that they can find summer holiday gifts much earlier if they shop online instead of in a store. In 2021, many started their holiday shopping all the way back in winter. And, between June and August of last year, global online searches for "how many days until christmas" grew by more than 60% year over year.1
It's important for businesses to pay attention to this trend, because the 2021 holiday shopping season proved to be the biggest yet, with 14.1% year-over-year revenue growth and a record $886.7 billion in sales. And this isn't just about the summer holidays: 53% of holiday shoppers in South Africa say they're considering shopping much earlier for other major seasons and events, like the start of winter or their children going back to school.2 Additionally, 72% of South African consumers want to plan their holiday shopping earlier to avoid items being out of stock.3

The lesson is clear: To attract and keep the attention of these early-bird shoppers, businesses need to launch their holiday retail marketing strategies much sooner in the year and to rethink their product assortment planning across both physical and online shelves.
2. People like the convenience of omnichannel shopping
People now feel free to shop wherever it's easiest for them, whether that's in a store, online, or from an app. They're also using a mix of channels to make sure their shopping trips are hassle free and convenient. Last year, 69% of holiday shoppers in South Africa said they check online to make sure a product is in stock before going to the store to buy it.4 And Google Maps searches for "shopping near me" have grown globally by more than 100% year over year.5
Businesses can benefit from this trend by adopting an omnichannel or hybrid marketing strategy that promotes a seamless experience for shoppers. For example, Best Buy discovered many of their shoppers wanted to know in-store product availability before they headed out the door. "So we made changes to our online advertising to showcase curbside and in-store pickup," says Keith Bryan, president of Best Buy Ads and SVP of media strategy and CRM. "We also updated our measurement strategy to understand the full impact of this change. As a result, Best Buy increased in-store revenue from Google Ads by 34%." Like Best Buy, businesses can run local inventory ads to tout products that are ready for purchase in their stores, and then use store visit conversion tracking to measure the full value of their online ads by accounting for the additional conversions that happen offline.
3. People now do their window shopping online
Shoppers often have an idea of what they're looking for, but they don't necessarily know what specific product or brand they want. So they look online for new ideas. In a recent survey, 53% of South African shoppers said they use Google to find out about new products.6 And in a Talk Shoppe survey, 75% of shoppers in the U.S. said YouTube enhanced their experience by offering surprising inspiration.7 This online discovery phase gives retailers a big opportunity to inspire people earlier in their path to purchase.
Businesses can turn their video ads into virtual storefronts, effortlessly leading people from inspiration to purchase.
Online destinations like YouTube offer a new type of "window shopping" that's more visual and immersive than on a traditional shopping site. For example, someone might visit YouTube to learn how to play their favourite song on guitar and see a musician wearing a pair of colourful, sustainable sneakers. And, without leaving YouTube, they could watch a creator recommending the shoe brand on a live stream, or see an ad featuring those shoes and buy them on the spot.
To take advantage of this trend, businesses can turn their video ads into virtual storefronts, effortlessly leading people from inspiration to purchase. For example, Nordstrom Media Network added browsable product imagery below their video ads, which encouraged viewers to visit their website and make a purchase. This strategy proved a huge success, with one of their brand partners achieving double-digit omnichannel return on ad spend.
To learn more about these trends and how digital marketing is reshaping commerce, watch this keynote interview with Allan Thygesen, president of Americas and global partners at Google, from Shoptalk 2022.