Looking into the future will always be an uncertain endeavour. While we can't make any definitive predictions, we can make choices that help the people our work affects on a daily basis.
Data and insights from Kantar's latest #AfricaLife research examines the evolution of lifestyles, consumer behaviours, and emerging trends in Kenya, Nigeria, Senegal, and South Africa.
For the 150 million people represented by this research, the picture is clear: ubuntu still defines a lot of what it means to be African, and marketers need to lean in to remain relevant.
Put the values of ubuntu first
Many of us are ready to be outside again and the main motivation is to socialise. We simply can't live without connecting with other people.
When asked whether a well-rounded family leads to happiness, more than 89% of respondents across the surveyed countries agreed, with Nigeria coming in at 97%.1 And love (78%), loyalty (77%), and trust (77%) topped the list of most important values for Africans2 — all core aspects of a healthy relationship.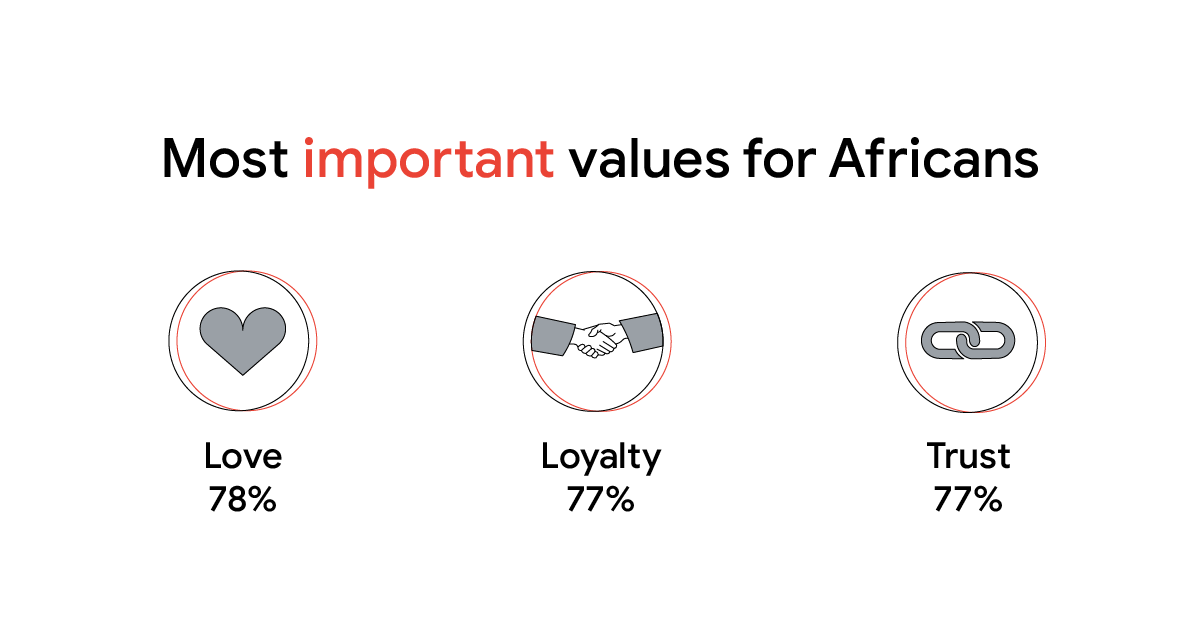 This all ties back to ubuntu — the concept that "I am because you are". When the family unit (or any type of relationship) shares the same values, they are united and feel connected.
People want that same human connection with a brand. The best way to convey this message is to lean into storytelling. The core tenets of storytelling are to hone in on what people are feeling and develop a human-centric tone based on this. You can identify your audience's unique values with Google Ads Audience Insights, which in turn can inform the story you're telling.
Personalisation at scale is the best way to ensure that all your customers feel that human connection in your storytelling in a way that speaks to each of them as individuals.

When you're creating video ads, you can use YouTube's Director Mix for that individualised approach. It helps to develop multiple iterations, personalised to the different types of people in your audience.
We can never be certain about the future but if we stick to the principles of ubuntu, we can build lasting relationships with customers
Build and maintain the relationship with your customers, offline and online
Staying connected online as much as offline is paramount. The average mobile penetration across the countries surveyed is 99% and average smartphone penetration is 73%.3
Thanks to this high concentration of connected devices, more people are online than ever. On average, 85% of Gen Zers in Kenya, Nigeria, Senegal, and South Africa have access to the internet compared with an average of 79% of millennials.4 Not to be outdone, more than two-thirds of Gen Xers, on average, also report having internet access.5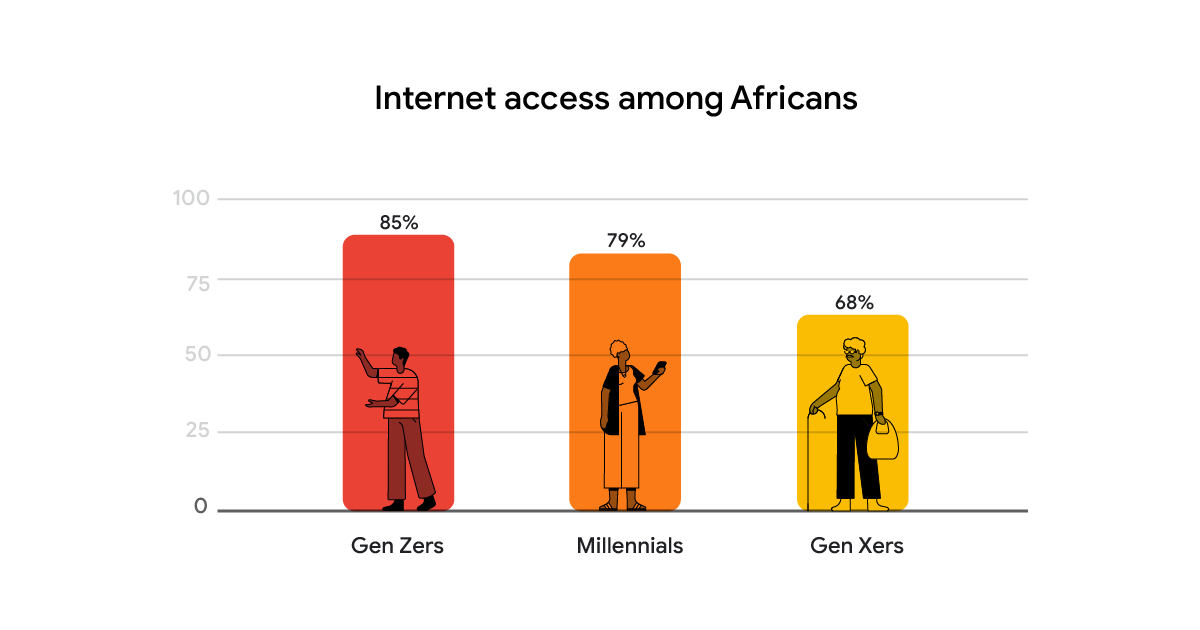 These high levels of connectedness translate to real spending power when you consider that an average of 62% of respondents in Kenya, Nigeria, Senegal, and South Africa say that the internet plays a significant role in their purchase decision-making.7
There's no better place to create a relationship with customers than on a device as personal as a smartphone. It's important to establish an open dialogue with your customers using the values of ubuntu. That way you can co-create helpful features and solutions, leading to a trusting relationship.
Sparkle, a fintech startup in Nigeria, opened a dialogue by hosting listening sessions with local small business owners. They wanted to understand their (potential) customers' challenges when opening a business account and discovered that the biggest pain point was getting the right tax accreditation.
This insight led the team to partner with a tax and regulatory provider to automate the process and make it easier for customers to get their tax accreditation. After implementing this solution, their app campaign conversion rate grew by 20% among existing customers and they also achieved 30,000 new app installs.
When in doubt, come back to ubuntu
Ubuntu sits at the heart of what it means to be African.
The values and needs of people in the region spell this out very clearly. They long for a human connection and want the same relationship with brands. And as they strive to maintain those relationships by staying connected, they face a number of pain points that can only be solved through dialogue and co-creation.
While we can never be completely certain about what the future holds, we can rest assured that if we stick to the principles of ubuntu, we can build lasting relationships with customers.