People with 20/20 vision are able to see with complete clarity. This is something that has proven more and more difficult in the current, opinion-heavy climate, which is why Farah Dib, creative director, and her business partner, Thomas Bjerg, decided to start a diverse agency that does just that. With Twenty, they seek out what needs to change, rewrite tired narratives, and lean into the power of community.
"Community and diversity is what gives us a competitive advantage," Dib explains. "In the old model, agency teams dedicated to thinking about brands and how they behave in the real world weren't necessarily representative of the audiences they were trying to serve."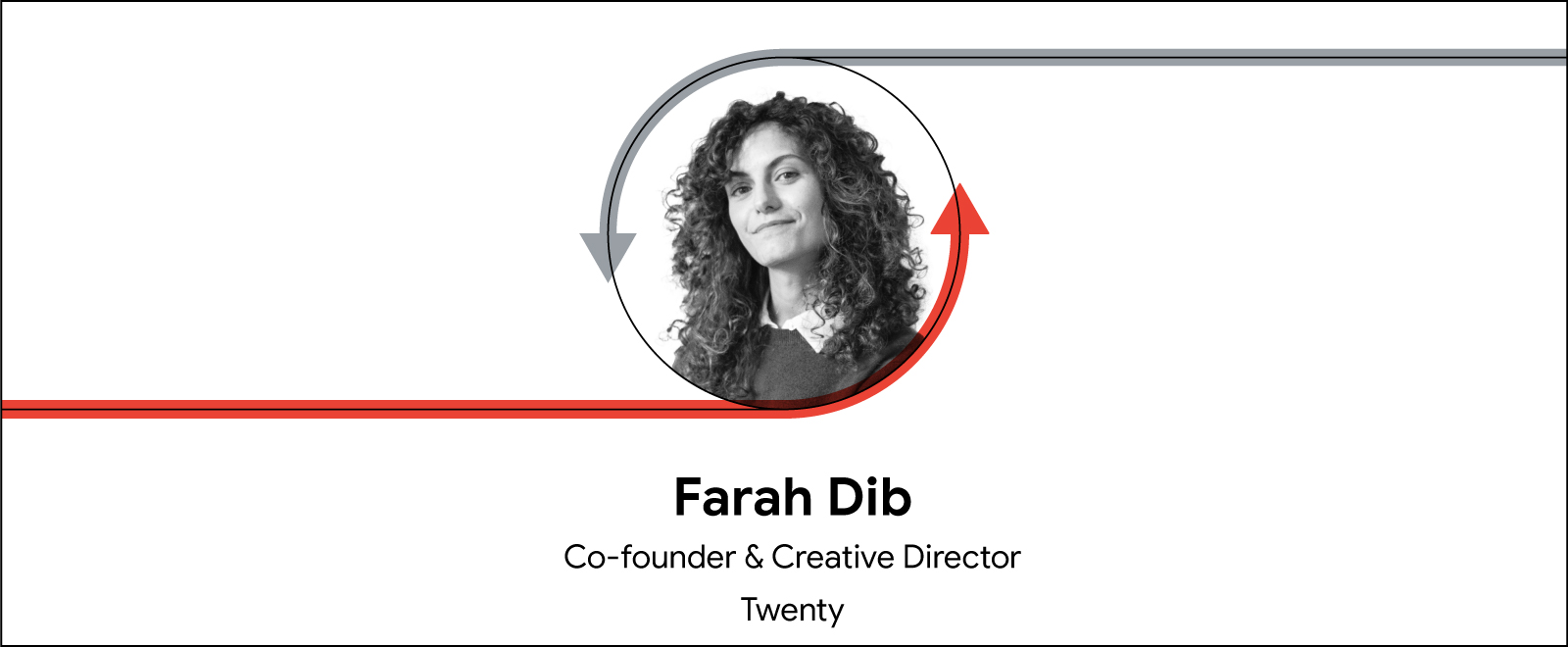 With Dib's own family fleeing from the civil war in Beirut, Lebanon, to Sweden in the 80s, her diverse background has always been important to her. This heritage became a huge part of Twenty's philosophy as Dib felt a responsibility to reflect the values of the agency in everything from harnessing a strong community framework to not being afraid to challenge the status quo.
"We want to build a diverse agency, with structures that allow different people to thrive because of who they are, not in spite of who they are. We do that by tailoring job titles and work hours to the individual, to give people who might otherwise pass on a job in advertising a safe space where they can excel."
Why agencies are uniquely positioned to impact diversity and inclusion
Twenty's vision is to help brands connect their storytelling to their strategic potential, and anchoring their work in diversity and inclusion (D&I) and community is the agency's way of ensuring the work they do connects with their clients' audiences. "This means brands have entrusted us with a degree of creative control," explains Dib. "But in our view, it's the best way to make sure we end up with something that's sensitive to subcultures, diverse people, and communities."
There's always going to be a lot of fear and anxiety involved in trying to do and say the right things. It's a thorny area.
As agencies have an overarching insight into different types of businesses and brands, they are in a unique position to advise and steer their clients into a more inclusive direction. "Whether it's advising start-ups or Fortune 500 companies, we can impact the strategy by working directly with top management," says Dib. "Our work as an industry ends up influencing behaviour at scale, which is a huge responsibility. If we do our job properly, we can shape public opinion and create change for the better. In that sense, we are incredibly well-placed to positively impact the way brands approach diversity."
For Dib, this can be about shifting perceptions of what people can and cannot be in the world. She recalls a recent campaign Twenty created for Sun Lolly, an iconic Scandinavian ice-lolly brand, which pulled focus on the father/daughter relationship: "We've had feedback from fathers that can really see themselves represented in a role that otherwise tends to be dominated by a focus on women."
But many companies are still hesitant to embrace the discussion around diversity and inclusivity. "There's always going to be a lot of anxiety involved in trying to do and say the right things. It's a thorny area," explains Dib.
How to respond to campaign backlash
Anything you do has potential to create debate, but while the negative voices may be loud, they're generally the minority. "The worst thing we can do is be vanilla in fear of a reaction," Dib continues. "People reacting means you've hit a nerve and that's a good thing. Indifference is our biggest enemy."
Dib recalls one particular campaign for Honey Maid developed by her previous agency. The ad featured a gay couple. "It was called, 'This is Wholesome' because that's Honey Maid's payoff," Dib explains.
The campaign had huge backlash online, with people saying it was 'un-American' and 'definitely not wholesome', but a PR response to negative feedback had already been part of the creative development. "The team knew that we'd need a response that was louder and more demonstrative, despite all the negative comments."
That response manifested in the negative comments being printed on paper, rolled into tubes and used to spell out the word 'love' surrounded by the positive feedback, which by far outnumbered the negative sentiment. "As a result, the campaign was able to demonstrate that while negative voices are loud, love always wins," Dib affirms.
Ensuring decision-makers take action on diversity
Dib believes putting a diverse agency team in front of decision-makers is crucial to having constructive discussions with clients on the topic. "We're conscious about not just having representation in leadership or client-facing positions, but to also offer strategic recommendations directly from lived realities through our community framework," she says. "It's hard to ignore the truth when it comes from the mouths of the people you want to sell to."
The worst thing we can do is be vanilla out of fear of a reaction. People reacting means you've hit a nerve. Indifference is our biggest enemy
Dib is aware of why brands hesitate when it comes to making strong statements – whether it's the fear of cancel culture or the concern of overstepping. With increased transparency around advocacy – which brings the ability to encourage brands to do better – comes an increased risk of backlash.
"I think we're, unfortunately, living in a world where there's a hive mind, and people can attack and destroy anything based on a snapshot taken out of context. We have this cancel culture, which holds back the brands who are actually doing the right thing for fear of being misunderstood."
The term 20/20 sounds reminiscent of an unforgettable year. But it's actions that matter and not just words, which is why Dib is taking in the whole picture and looking forward when it comes to D&I. "We need to focus on rewarding only those who actually take action, not those piggybacking on hot topics. Intent without action isn't enough anymore," she concludes.