This article has been updated to reflect ongoing evolutions in Google's Privacy Sandbox initiative. Topics, a new proposal for interest-based advertising, has replaced the FLoC proposal. 
The digital advertising ecosystem is in the midst of a significant overhaul to deliver a more private web than ever before.
This comes as individuals around the world rightly demand more online privacy and control. Searches for "online privacy" grew by more than 50% globally in 2020 compared to the previous year. It's time to evolve to serve people better and foster greater levels of trust.
Google's Chrome browser is responding to this demand with plans to remove support for third-party cookies and overhaul the way it operates to deliver a more private user experience.
A majority of advertisers use third-party cookies in their digital campaigns, which means it's time to act to be ready for this privacy-forward future. Here's what you need to know:
The new browser reality
Since mid-2019, Google's Chrome team has been working to develop a new set of open standards — the Privacy Sandbox — to enhance online privacy in collaboration with the wider industry. We're working with hundreds of stakeholders in advertising, publishing, and web infrastructure to create new solutions that will improve online transparency, choice, and control.
Other browsers began blocking third-party cookies in recent years to prevent unwanted consumer tracking. We've seen this can lead to unintended consequences and sometimes undermine people's privacy, encouraging opaque tracking techniques such as fingerprinting. That's why Google is exploring a fuller range of solutions with industry input.
This month Chrome shared an update on progress in the Privacy Sandbox, outlining new proposals that are being tested this year, which are showing promising results. The proposals include privacy-safe ways to find the right audiences for ads, measure ad campaign effectiveness, and predict and protect against fraud.
This Chrome post was published alongside an update from the Google Ads team explaining how the advertising industry has been evaluating and testing these proposals to ensure digital marketers are ready for the changes.
As Chrome and the wider industry continue to test and learn, we know brands and marketers need actionable solutions now to prepare for the upcoming changes. Here are key priority areas to address in 2021:
Build direct relationships with your customers
Keep your data connected and clean
Consider Google's global site tag for more effective measurement
Take the long view
1. Build direct relationships with your customers
The old approach of depending upon an external company (and third-party cookies) to get closer to your customers is coming to an end.
As the industry mindset shifts and the Chrome overhaul approaches, it's important for brands to establish direct relationships with their customers. A first-party data strategy is crucial.
At its core, first-party data signifies a direct relationship between a person and a business, with data shared knowingly and with permission. At key moments along the customer journey — whether during an account creation, a purchase, or a subscription sign-up — people share information about themselves and trust that the other party will protect it and use it responsibly.
Brands can take steps to learn more about customers through loyalty programmes, exclusive offers, and coupons. Over time, as people engage regularly with their preferred providers, these businesses gain deeper insights into their customers or audiences, and can ultimately serve them better, with personalised and customised offerings. This give-and-take process is called the "value exchange".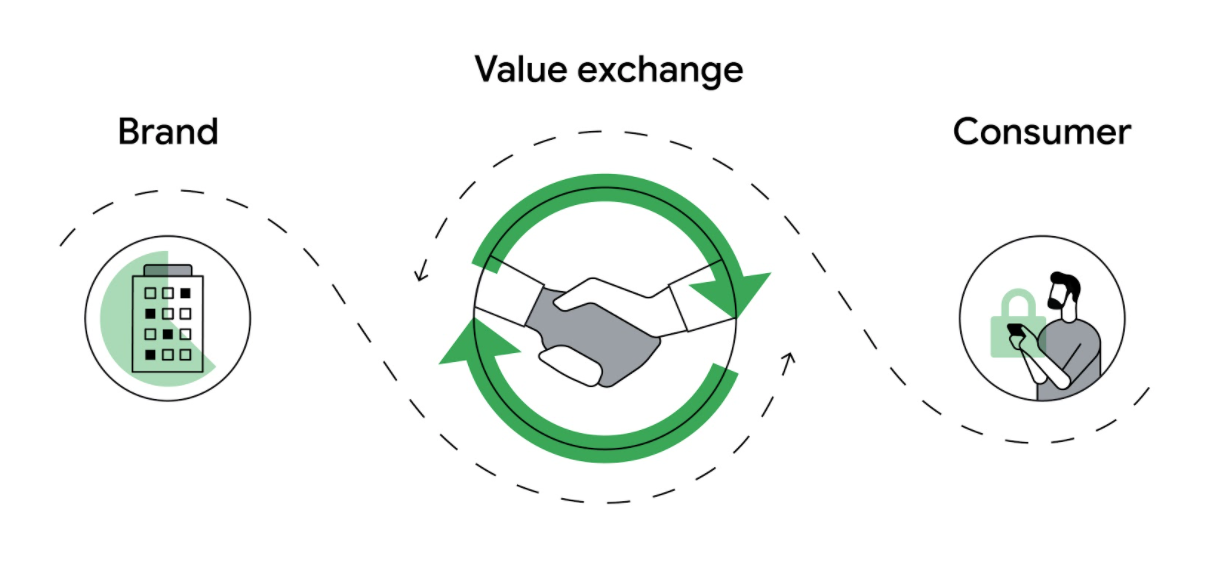 As brands develop this relationship, it's important to keep privacy top of mind and clearly communicate what customers are agreeing to. Make sure your privacy policy is easily accessible, easily understandable, and up-to-date with your latest practices. Be transparent about how individuals can exercise control over their data, including how to opt-out or submit a request to have information deleted. These practices build long-lasting trust, with the World Federation of Advertisers (WFA) recently noting that a 1% increase in brand trust leads to 3% growth in value. This particularly benefits top-tier brands, which see faster growth in market share.
2. Keep your data connected and clean
To get your business in the best possible shape, you need to ensure your first-party data is cleaned up, well maintained and connected within your internal systems. This will help you avoid any operational hiccups as third-party data is phased out.
According to a 2020 Boston Consulting Group study commissioned by Google, marketers that use all of the first-party data available to them can generate double the incremental revenue from a single ad placement, communication, or outreach.
The Dutch retailer HEMA, which sells clothing and household items, made a big push in 2020 to consolidate their website performance data to get the most from their first-party information. With their agency Merkle, HEMA created a privacy-safe, anonymised database along with a unified dashboard to display audience-based conversion metrics. This was used across different marketing departments and saved six hours per week in manual analysis. This system is built for the future and will thrive even as third-party cookies are phased out.
3. Consider Google's global site tag for more effective measurement
It's time to consider using Google's global site tag if you advertise online with us.
Adding this tag to each page of your website is a simple way to improve the accuracy of your online conversion measurements and give you insights to help optimise your digital marketing campaigns.
The global site tag will help you better manage future shifts in the measurement ecosystem:
It sets first-party cookies within your site, which measure traffic and conversions across users who provide their consent.
It allows businesses to integrate the latest features and add-ons as they become available.
This will help provide a more holistic view of customer actions across Google properties using your own proprietary first-party data.
4. Take the long view
A recent international survey by Cisco found that more than 70% of organisations reported significant business benefits from their privacy investments, with improved operational efficiencies, reduced sales delays and increased customer loyalty. This requires taking a long-term view.
It may be tempting to pursue short-term actions like buying data sets or using identity-based device advertising tools such as fingerprinting. However, marketers should consider whether this is the right choice. Is the shortcut worth violating people's expectations of privacy? Marketers should ask themselves: how could this reflect on our brand?
Now is the time to take the long-term view: invest in building trusted customer relationships, invest in a strong first-party data strategy, and invest in a privacy-forward online experience.
A privacy-focused future is coming. This is the direction of travel in the industry. This is the path forward for Chrome. And this is what you need to do to stay close to your customers.
Learn more about how the industry has evolved its approach to third-party cookies over the years.