In 2020, as the world adapted to a new digital paradigm shift, the adoption of mobile boomed as consumers globally shifted more of their physical demands to mobile. In EMEA the average daily hours spent in apps grew by +30% since 2019, making a difference in how people navigate through this unprecedented time. This rapid change in consumer behaviours during the pandemic presents businesses with new opportunities. And media agencies can be at the forefront.
Current mobile trends can benefit the agencies in multiple ways. "This is a golden era for apps. It presents exciting opportunities for agencies to not only expand their expertise in a rapidly growing business but also to enhance their service offerings to customers. Agencies will act as the accelerators for the next wave of growth for the apps industry," says Samarth Sharma, head of EMEA apps partnerships at Google. This trend can help media agencies to capitalise on the growth of the mobile apps and unlock new revenue streams.
Benefits from the growth of app usage globally
As user trends boost the growth of the mobile apps industry, it opens new opportunities for media agencies in the three key areas; client retention, new commercial opportunities and talent development.
Agencies can grow the client retention of existing portfolios by helping their web-first advertisers leverage the whole customer journey through their deep expertise of the web & app strategy. Additionally, growth of the app promo industry opens new commercial opportunities for traditional media agencies and helps to evolve the added-value of their services in the field of digital marketing that is moving towards automation and machine learning. Building out new app capabilities within the agency can also provide more opportunities for internal career progression for the employees, while also attracting new talent from the industry. "Today the key e-commerce companies are using mobile apps to communicate with their existing and prospective customers. It's important for media agencies to stay aligned with the trend and develop necessary capabilities to consult them on the mobile app strategy," says Oleg Sukhomlin, agency development manager for CEE at Google.
Agencies will act as the accelerators for the next wave of growth for the apps industry
Explore new commercial opportunities on a fully automated app product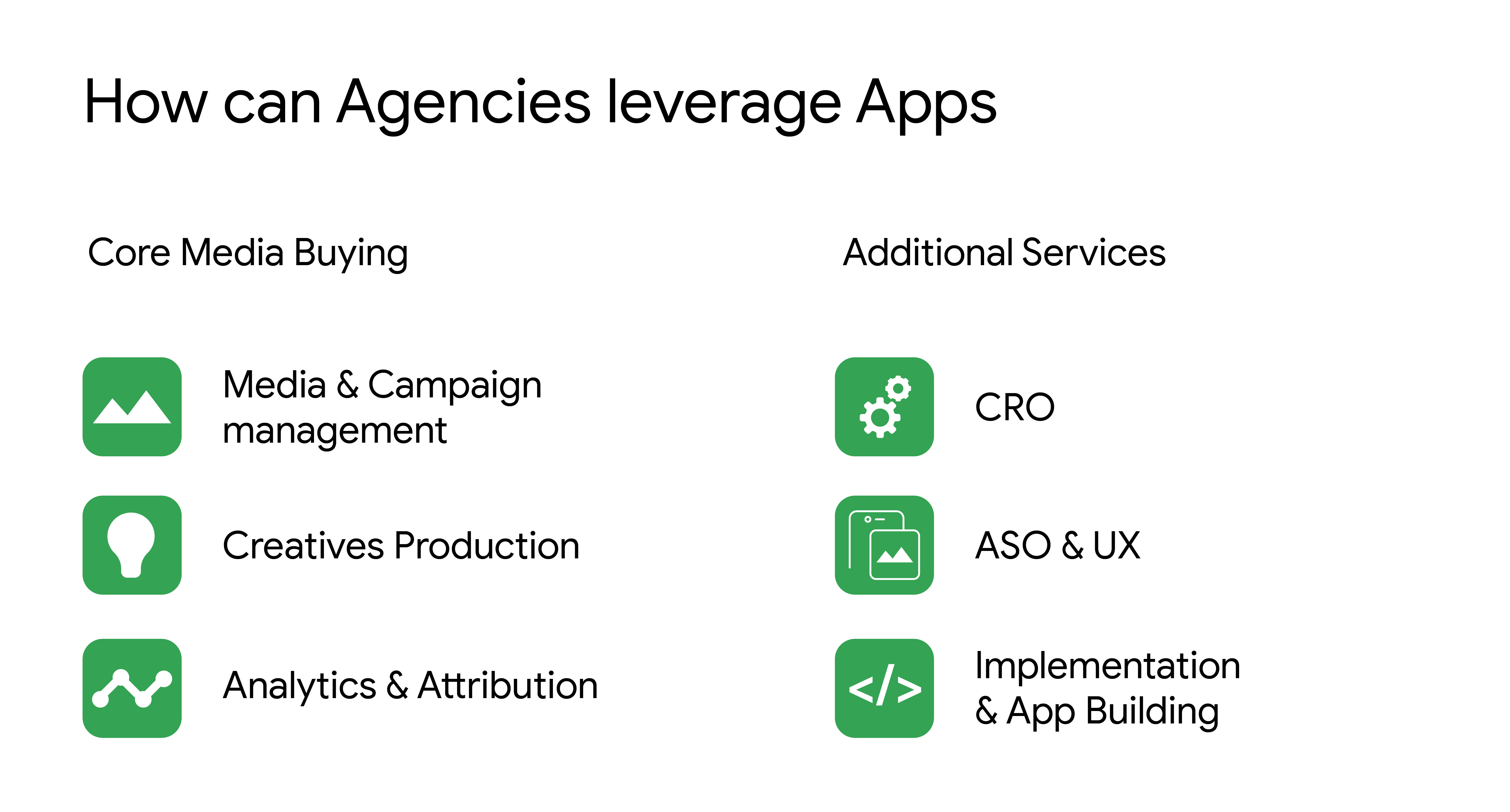 As app marketing and user acquisition become increasingly competitive, a number of value added services are in high demand. There are four key ways in which agencies can leverage the growth of the Apps industry:
a. Media & Campaign management
Over the past year, customers are using apps to meet their demands in the traditionally web-first services. For example, the retail app installs in 2020 grew by 59% in Poland, 102% in Ukraine and 55% in Romania1. With 45% of shopping sessions including >1 transition between a site and an app, the lines between web and app continue to blur positioning app promo into a must-have solution in companies' performance marketing plan. Alignment of the clients' fully automated Google App Campaigns activity with the broader search strategy can improve both the marketing return-on-investment (ROI) results and help grow customer satisfaction from working with an agency.

b. Creatives Production
Creatives are one of the main key levers for app promotion. On average, according to comScore, creatives can drive over 50% of the sales impact of a media campaign2. Given the high degree of automatization in app campaigns, creative asset strategy becomes even more important to succeed in app marketing. Agencies can take the lead in helping their web-first advertisers to both create the new and adapt the existing video assets to multiple copies of different format and length to drive the optimal performance.
c. Analytics & Attribution
In the new world of measurement with user privacy, platform changes and data regulations, helping advertisers to set up and measure the effectiveness of their app investments will be instrumental to achieve success in the ad industry that is moving towards automation. The agencies can build capabilities by using Google's existing free measurement solutions to provide consulting services on areas such as Google Analytics for Firebase and web to app measurement which are crucial to all web-first advertisers who use their app for acquiring new customers and growing loyalty across the existing ones.
d. App-specific complementary services
In addition to media-related services relevant for most app-first and web-first advertisers, agencies that see apps as one of priority growth areas can provide more advanced and niche complimentary app services. Some of these services are conversion rate optimization (CRO), App Store Optimization (ASO) and App Development to meet the increasing demand for apps coming from brick-and-mortar and web-first customers.
Define the role apps can play in your agency strategy to unlock new growth
It's worth to discuss internally how the growth of the apps fits into your agency's medium-to-long term growth plan and define what app services you would like to offer as part of your portfolio.
"We've noticed that more and more of our clients have started to transfer their customers from mobile sites to apps," says Yuri Gruzynsky, head of enterprise at Netpeak. "And this is creating new channels and possibilities for customer acquisition," he concludes.
Review your book-of-business to see if any of your clients are missing out on growing their business through an app. Help your app journey by upskilling your digital specialists on working with app campaigns through existing Google App Ads Certification.