Most people would agree that the world is a complex place.(1) There is growing uncertainty about the economies of the world, and the status quo does not appear to be accepted anymore. There are studies(2) that show that curiosity can help people deal with the complexity and uncertainty of the world. Our research shows that 80% of people want to understand the world around them(3), which is leading to a more attentive audience for brands.
At the same time as the complexity has been increasing, technology has also been speeding up. Google and Ipsos have conducted over 600,000 interviews in the last 5 years across the world, tracking technology usage, and have found that the smartphone is now the primary device for accessing the internet.4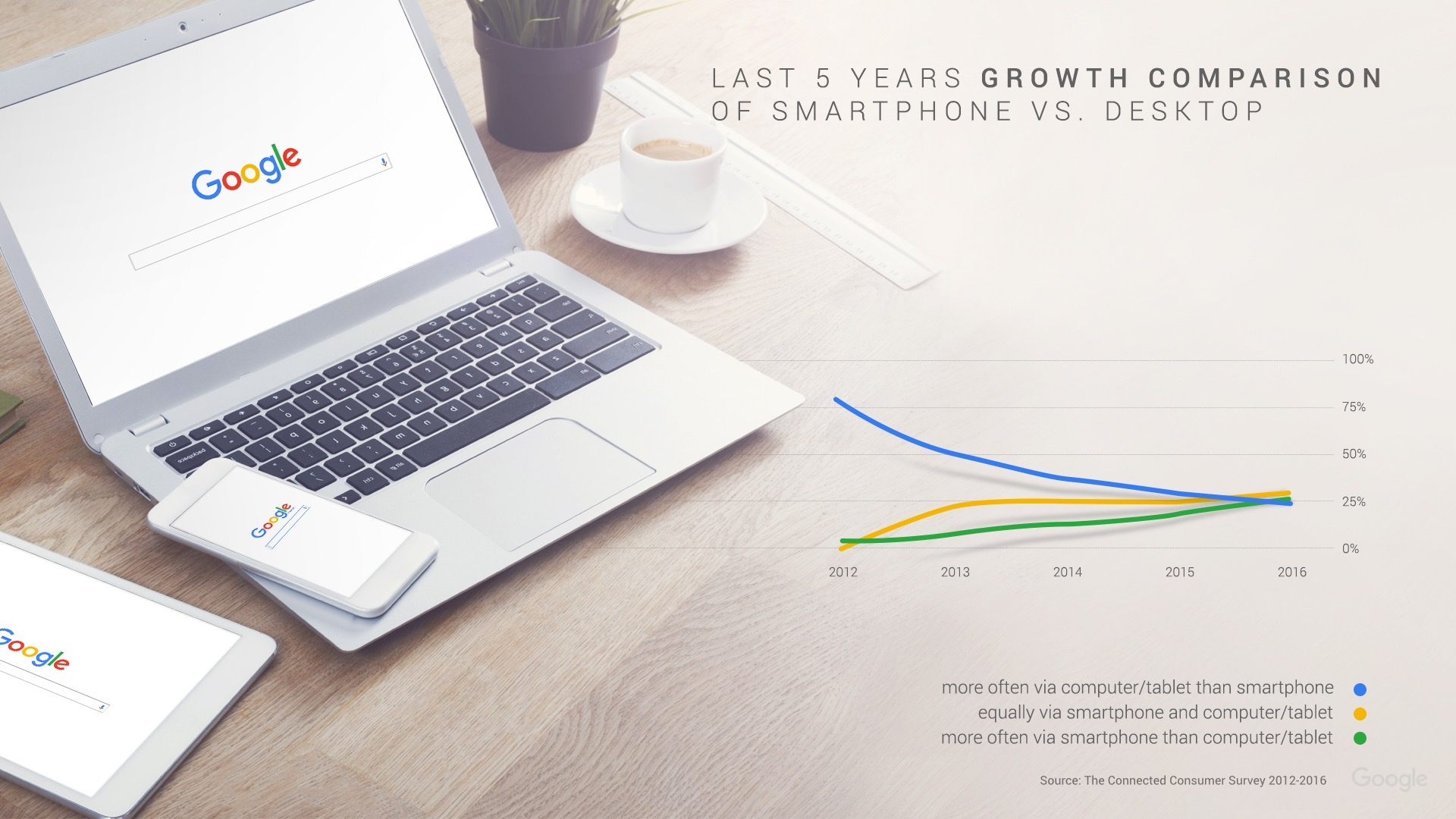 In fact in the past four years, smartphone ownership has doubled. Across the Nordics smartphone usage is very high with 73% in Finland, 80% in Denmark, 83% in Sweden and 85% in Norway.5 This has led to people accessing the web far more often, around 60% of people now access the internet several times a day.6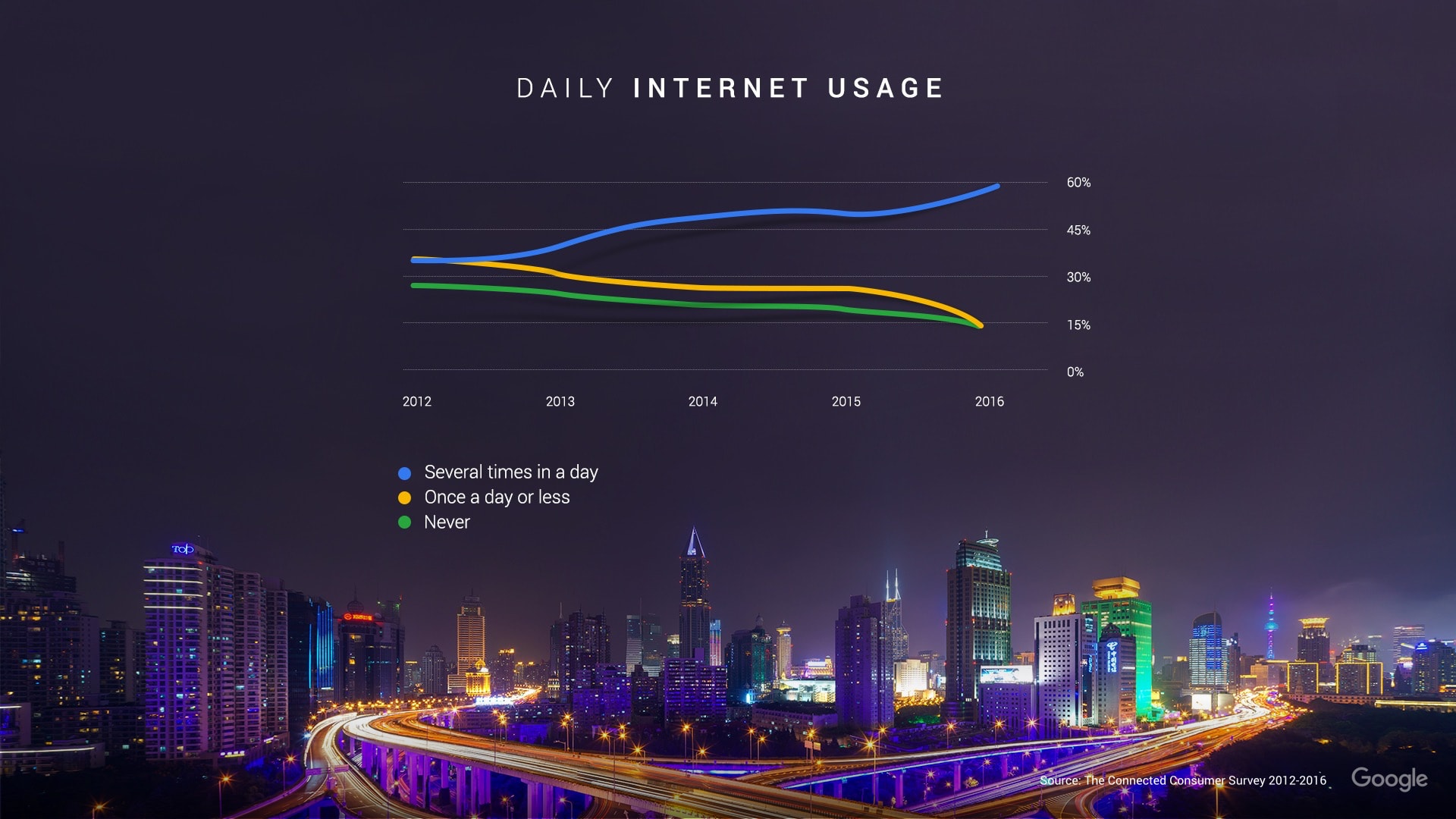 In this complex world where people have devices, 73% of people agree that they search more on their mobiles than they used to7. They turn to search to find out a lot of things, with search being the most popular place on the web to: answer a question, explore how to do something, to research a place or location, to research a product or service and discovering something new8. They value search as it fulfills two critical expectations - it is very fast and it allows them to get accurate information9.
It is these expectations that are important for brands when they are marketing to people. Mobile has raised these expectations and as technology and the internet becomes embedded in many more devices, brands need to think more about assisting people than pushing messages on them; brands that are helpful are rewarded in this new age of assistance.
Google is using machine learning to help people in the age of assistance through many of our products, like recognising voice (which now accounts for 20% of searches in the Google app) or allowing people to search for anything from hugs to dogs in their photos - with no categorisation needed, or helping people communicate with the Google Translate app which allows people to converse with each other in 103 languages. It now reaches over 500 million users worldwide; every day Google processes over a billion translations.10
To market in the age of assistance there are three ways brands can prepare themselves. Be seen, be smart and be speedy.
Be seen
Brands need to understand all of the signals available from customers, it isn't enough to use demographics alone, brands need to use data on who their customers are, where they are, what they have done before and most importantly their intent. For example, Komplett were able to show up relevant people by using DoubleClick's full suite of tools.
Be smart
The old method of optimising digital campaigns is now too slow. Pulling a report, doing the analysis and then making changes takes too much time to respond to customer demands. iZettle took a data-driven approach with Responsive Ads, which delivered 278% more incremental clicks and 280% more incremental conversions than standard ads.
Be speedy
As people's expectations have risen, mobile websites have not kept up. Google partnered with CX partners to do UX studies and speed tests of the most popular (by traffic) 318 mobile sites in Travel, Retail and Finance across EMEA. Shockingly 30% of Finance sites relied on desktop pages whilst travel sites had the best usability. There was a huge range across all the sites. On speed, the average for all of the verticals was above the two seconds that is considered good, with Retail performing the best with an average of 3.8 seconds. Only 14 out of the 318 sites loaded in under 2 seconds. Brands should think like a consumer and use their own sites on mobiles - to see if they would be happy. A simple next step is to use the Test My Site tool to see how your site performs and what you should fix first. Then work with a good UX agency - to make your site great for users.
By getting mobile right, brands will be prepared for the next step in consumer behaviour, when there are a range of connected devices to work with and voice is an important way of communicating with the web.