As the UAE's leading online marketplace, Dubizzle helps an average of 1.6 million unique users every month to buy and sell cars. Thanks to this significant reach, Dubizzle is ideally suited to support banks that offer car finance. To help find valuable customers for their advertising clients, Dubizzle created a new offer using the power of custom creatives together with Programmatic Guaranteed.  
One such client was ADIB – one of the largest and most recognised car finance lenders in the UAE. Aiming to generate business and improve lead quality, ADIB came to Dubizzle with a challenging brief. The ADIB team wanted to show their no-VAT offer to people who were actively looking for cars that were being sold by private sellers, cost more than 100,000 AED, and were less than five years old.
Dubizzle and ADIB worked together to develop a compelling custom creative. The idea was to catch the user by surprise and let them visualise the car they had looked at alongside the cost to finance it, driving both relevance and lead quality. So when a user searched for a specific car on Dubizzle that met the criteria, a dynamic banner ad would depict that exact car alongside an accurate calculation of the financing costs based on a predefined set of lending rules.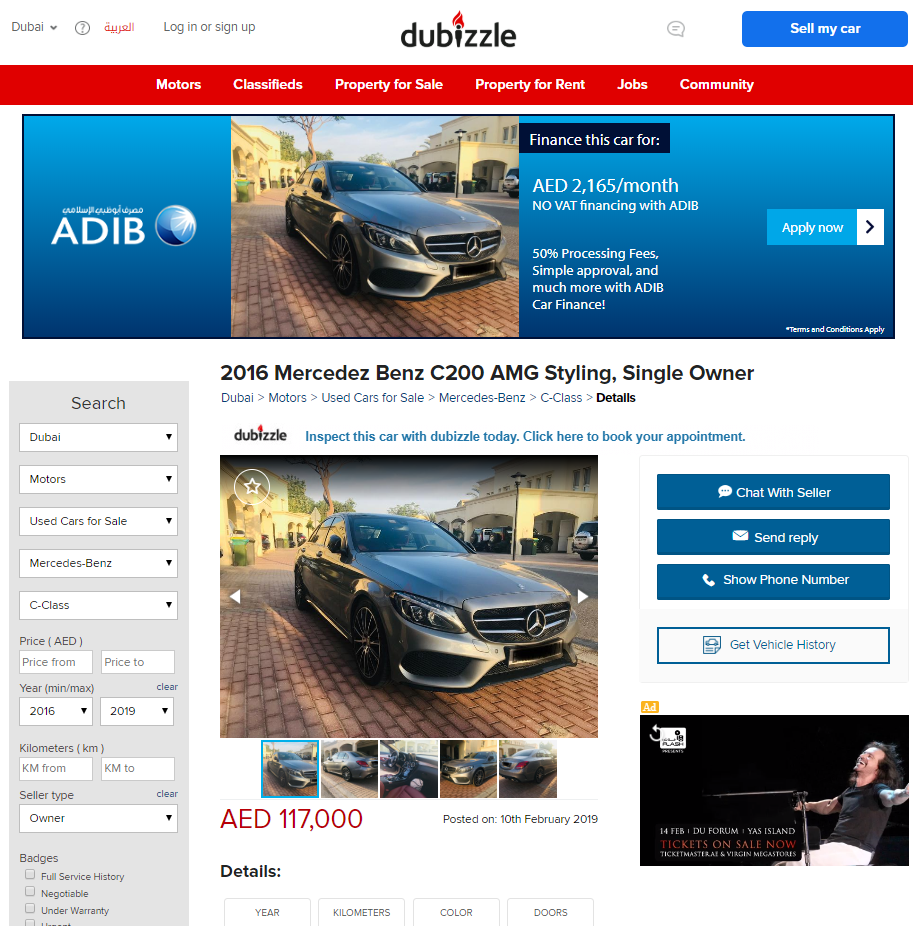 "The calculation supplied by ADIB enabled us to convert the car's listed price into the finance cost per month, which was set by the client's lending criteria. We were also able to extract the image of every car, making it relevant every time." – Neil Camenzuli and Adel Saadi, Client Partnerships & Programmatic, Dubizzle
From a time perspective, the Programmatic Guaranteed approach gave both publisher and client a huge efficiency advantage. In terms of administering the deal, they simply built and tested the creative. The campaign then ran with no reported problems.
Both Dubbizle and ADIB were delighted by the results. By combining creativity and data points, ADIB was able to offer users an accurate cost of financing their next car. And with conversion measurement, Dubizzle was able to quantify which manufacturers were getting leads, making it possible to accurately understand the cost per lead throughout the campaign.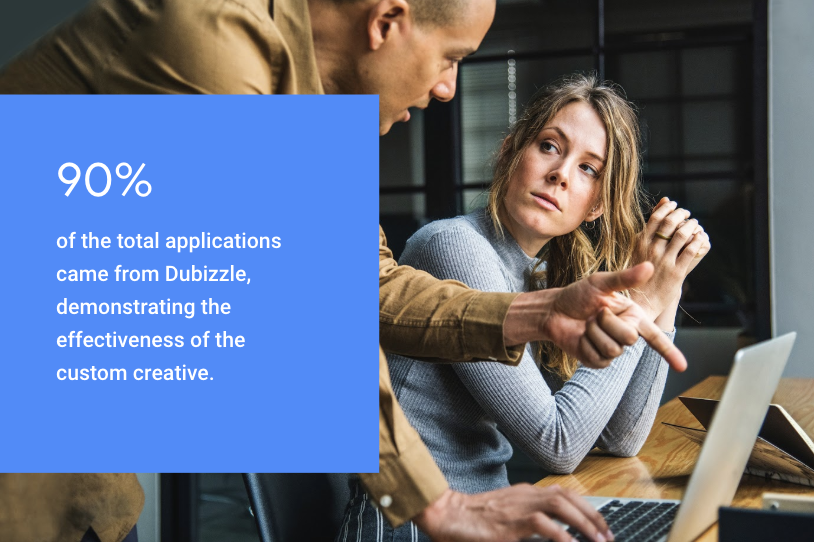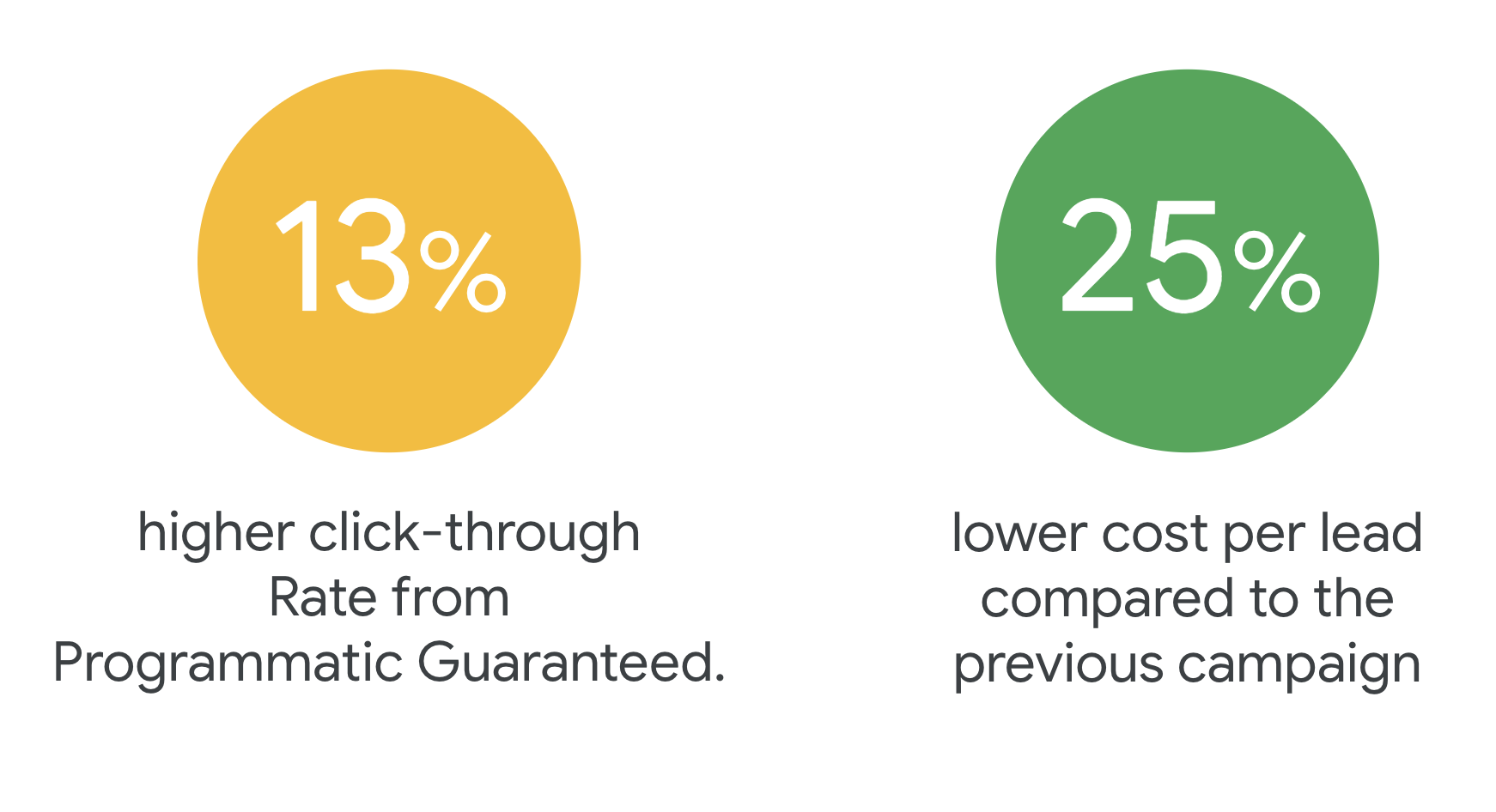 Results
The ads consistently drove an average of 10 leads per day. The click-through rate from Programmatic Guaranteed was 13% higher and offered a cost per lead that was 25% lower than the last campaign they run.
Future
ADIB is considering launching an always-on approach for car finance and developing a mobile solution. Meanwhile, Dubizzle is looking to leverage its reach of 4.6 million unique users and replicate this format for home finance and credit card promotions.
Thanks to Programmatic Guaranteed with custom creative, Google enabled us to run the most relevant dynamic advert for our needs. Dubizzle's expertise and guidance enabled us to access to their key values. The outcome was a bespoke banner exactly aimed at our needs and financing criteria. – Usama Zafar, Head of Digital & Direct Marketing, ADIB