Philips wanted to increase market share and grow sales of its air purifiers in the Czech market. It used dynamic creatives that raised public awareness of localised levels of air pollution through targeted banner ads.
About Philips
Founded in 1891
Health tech retailer
Headquarters in Amsterdam, the Netherlands
About Adexpres
A digital media agency based in Prague, Czech Republic
Marketing strategies for global clients
Part of the Dentsu Aegis Network
Goals
Increase awareness of Philips air purifiers
Expand market share and boost sales
Raise understanding of air pollution and its effects
Approach
Used dynamic banner ads to display localised air pollution levels
Ran A/B test to prove dynamic banners were more effective than static banners
Results
232% increase in ROI
42% YoY increase in air purifier sales
>28% increase in market share
Headquartered in the Netherlands, Philips is one of the world's leading health technology companies, with approximately 77,000 employees in over 100 countries. The company was keen to boost sales and increase its market share of the air purifier category within the Czech Republic.
It recognised that the key to this would be raising awareness of air pollution among the Czech population, an issue particularly prevalent in the country's large cities with economies reliant on heavy industry.
Enlisting the help of digital media agency Adexpres, they worked together to come up with a strategy for a custom-made campaign that would make an impact in this extremely competitive category.
Increasing awareness of air pollution
The team quickly came to realise that air purifiers were a relatively complicated product to introduce successfully to a wider market. Additionally, based on analysis of previous display campaigns, Adexpres identified that banner engagement and CTR had been consistently disappointing, ultimately resulting in weak web traffic.
To address these issues they decided that the campaign would need to create a sense of urgency as well as reframing of the product as an essential purchase. To achieve this, they first had to instill an understanding of the quality of air in the local area where each individual target audience member lived. 
A dynamic strategy

Drawing inspiration from a recent Philips campaign in Poland that featured dynamically changing content to communicate differing levels of air pollution, the team chose to utilise dynamic banner ads. Following this campaign's lead, Adexpres used data from pollution measurement stations to provide accurate readings of air pollution levels in each targeted region. To get the applicable data, Philips established a collaboration with Čisté nebe (Clear Skies), a non-governmental, non-profit organisation founded to enforce the right of citizens to breathe clean air.
This partnership provided access to figures gathered by the ČHMÚ (Czech hydrometeorological institute), which runs 137 measurement stations across the Czech Republic. 77 of these stations are capable of measuring the levels of the dangerous PM2.5 (a value for particulate matter (PM) with a diameter of under 2.5 micrometers) particles that are filtered by Philips air purifiers. Adexpres segmented this into 3 categories — a PM2.5 of 01-12 = Good, a PM2.5 of 13-35 = poor, a PM 2.5 of 36+ = alarming — to indicate the current quality of air in a given location.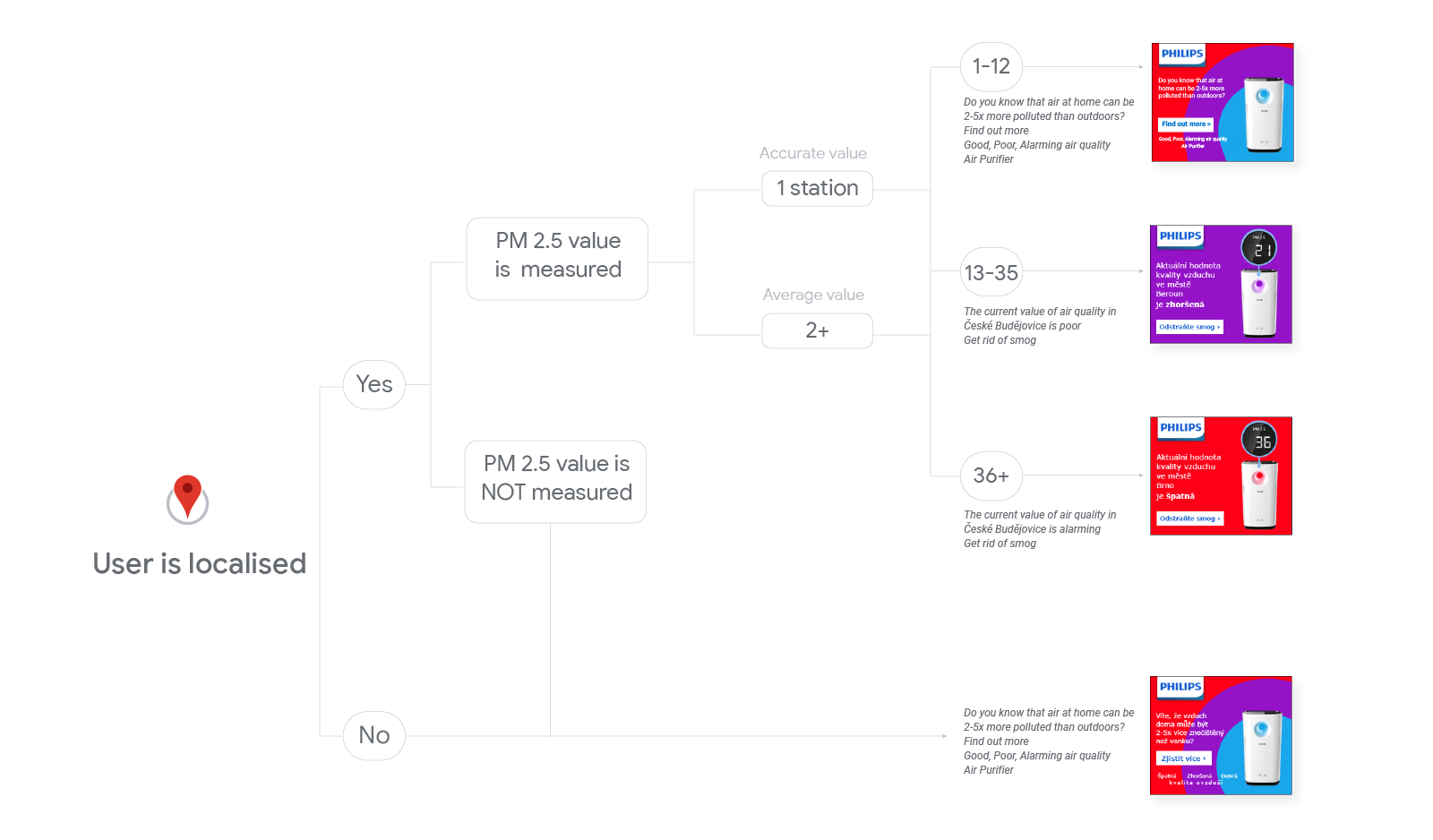 Armed with this data, which is updated on an hourly basis, Adexpres set about building the dynamic banner ads with creatives produced by Spectra and Isobar agencies. Working together with Google, the team created the various dynamic elements including PM2.5 numerical value, background colour based on category (good, poor, and alarming), location, to allow the relevant banner to be served up to the right targets. The dynamic banners were then pushed to Campaign Manager and connected with the campaign in DV360.
To properly measure the performance of the dynamic banner ads, Adexpres used static banners as a benchmark for the study, using CTR as the primary metric and Visit Rate (campaign visits from web analytics) and Cost per Visit as secondary metrics.
The results
The campaign results were above all expectations delivering more than twice the clicks and visits for half the cost. "Between the campaigns Q4 2017 and Q4 2018 the sales increased by 71% and the volume by 94%. Between the campaigns Q1 2018 and Q1 2019 (during the month of January and February), the sales went up by 103% and the volume by 18%. From this point of view, the campaign was very successful," says Marta Kaczmarczyk, Business Marketing Manager Coffee and AIR, Personal Health Central Europe for Philips Czech Republic.
The team conducted a controlled A/B testing with static and dynamic banners running in DV360 for a four week period. The results showed that the dynamic banners delivered 22% higher CTR and 16% higher Visit rate in comparison to static banners.
As the experiment did not take into account the key variable - the level of air pollution - Adexpres compared the banner performance only on the days when the impression ratio of dynamic banners communicating deteriorating or poor air quality against default creatives was higher than 50%. On these days, CTR took a 27% uplift and Visit Rate saw a 30% uplift. At the same time, Cost per Visit was 19% lower compared to static banners.
Due to the success of the campaign in the Czech Republic, it was extended to run for the rest of the quarter. In addition, the same dynamic campaign was expanded and rolled out in Slovakia.