Mitsubishi Motors wanted to drive leads to independent Mitsubishi dealers in Poland by matching display marketing to each stage in the customer's decision journey.
Goals
Drive leads
Increase campaign efficiency
Help consumers progress through decision-making path
Approach
Used Google Analytics to measure onsite interactions
Implemented measurement tags through Google Tag Manager
Created dynamic ads in DoubleClick Studio
Used DoubleClick Ad Exchange to reach target audience
Optimised media costs with DoubleClick Bid Manager
Results
150% higher average time on site
40% lower bounce rate
90% more pages visited
862% higher number of users moved to next stage of sales funnel
Choosing a car is potentially a very long process, so it was crucial for Mitsubishi to be able to communicate effectively with customers from beginning to end. The aim was to reach users with a message tailored to their needs at each stage in their path to purchasing a new car.
Data-driven personalisation
Using real-time bidding and programmatic techniques enabled through the DoubleClick platform, Mitsubishi's agency Hitspot Media set about reaching users with precise, relevant messaging tailored to their needs.
First, the team relied on customer journey modelling to better understand and respond to customers' decision-making paths. They also created a relational database to collate on and offline data. This was the basis for a campaign in which messages would direct users towards the next step in their journey with a dynamic ad according to his or her stage in decision making and the choices he or she had previously made.
At the beginning, users were directed to register for a test drive. When they were waiting for a test drive, the campaign delivered video content that showed them the strength points of their preferred model. To help customers make a decision after the test drive, they were directed to articles and materials about their car on reliable independent online sources. Once the car had been purchased, the campaign was immediately turned off.
Communication was also tailored according to the user's preferences. Using combined web and CRM data, it was possible to automatically display an ad to a given user including a specifically configured car model with the preferred colour, engine type, and extra equipment, then direct that user to his or her chosen dealer.
"Using the DoubleClick platform allowed us to communicate more effectively and at the same provided us with a better understanding of the customer."
Personalisation boosts relevance
In the personalisation campaign, the average time spent on site was 150% longer than visits generated by other marketing channels, while the bounce rate was 40% lower. Users also visited 90% more pages. Compared with other channels – including organic traffic – the number of users who moved to next stage of the sales funnel was 862% higher.
"DoubleClick provided us with a unique opportunity to reach each customer with a tailored ad", says Aneta Mondry, Performance Marketing Director at Bluerank. "That made a big difference in our campaign for Mitsubishi Poland, which is now suited to every stage of customer journey. Thanks to this solution, we could transform clients' test drive centred communication to one that helps customers on every step of the decision-making path."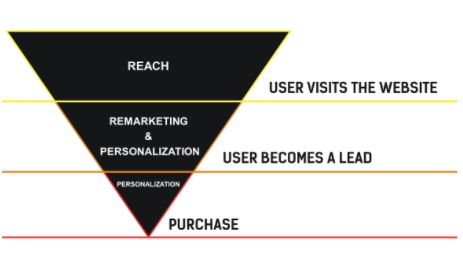 Overall, taking steps to align messages to users' needs has made Mitsubishi's marketing more useful and relevant to users, and therefore more powerful. "Analysing user behaviour helps us improve the experience and effectiveness of our campaigns", Jacek Tkaczuk, Chief Technology Officer at Hitspot Media affirms. "DoubleClick gives you the opportunity to create next generation remarketing. The advertising stops being annoying and starts to help users – it's the future."