Assessing the effectiveness of digital versus traditional media sets the foundation for future marketing.
Goals
Understand effectiveness of different media channels
Maximize efficiency, reach and brand impact of future campaigns
Approach
Conducted research by collecting data from 800 online consumer panels before and during campaign
Results
YouTube and display drove greater reach than out-of-home media
Display delivered highest reach efficiency of all platforms
Google channels proved to be greatest contributors to brand health and message delivery
Founded in 1854, Cairo-based Telecom Egypt is Egypt's oldest telecommunications company. Their full-fledged mobile network WE – which launched in 2017 – offers prepaid, postpaid and mobile internet packages. The company has approximately 3.6 million mobile customers in Egypt today.
WE was keen to understand the effectiveness of all of their media channels in order to maximize the efficiency, reach and brand impact of future campaigns. Having spearheaded comprehensive digital transformation initiatives across their business, they were looking for ways to position themselves as the leading and first-to-mind telecom operator in the market.
"A successful digital marketing transformation strategy is based on understanding the value and impact of each marketing channel. We want to be strategic in our media planning to remain relevant to our users and effective in driving business," says Nasser Kanafani, Communications Director.
Showcasing a willingness to innovate in a difficult space entrenched in traditional media, WE conducted an extensive study rooted in measurement and data to establish the impact of digital media – in particular YouTube and Google Display – versus out-of-home advertising. The research also aimed to establish each channel's value alongside TV in driving incremental reach, as well as message delivery and the impact on brand equity. The team hoped the study would show what works best for their business KPIs so future campaigns and investments could be optimized accordingly.
The research was conducted by Kantar, a leading third-party data and insights company, which leveraged their CrossMedia research solution to collect data through 800 online consumer panels through self administered interviews. The target population focused on local Egyptians equally divided between males and females aged 15 to 35. The sample was distributed across Cairo and other cities.
The results allowed WE to substantiate digital media's advantage over out-of-home advertising. While television used around 54% of the media budget and out-of-home took up 17%, YouTube and display used 11%, YouTube and display cumulatively drove 44% reach, however, second highest after TV at 60%. Individually, both digital channels produced higher reach (34% YouTube, 23% display) than out-of-home media at 14%.
The research also showed that digital channels provided excellent efficiency. In contrast to television and out of home – where everyone sees the same content and ads – the number of exposures to any given ad can be controlled through frequency capping on YouTube and display. This means that when a person is exposed to an ad a specific number of times as decided by the advertiser, they will no longer be shown the ad. Advertisers can minimize wastage because they can control exposure at an individual level, as opposed to non-digital channels where a brand may have to show their ad at high frequency in order to reach incremental audiences.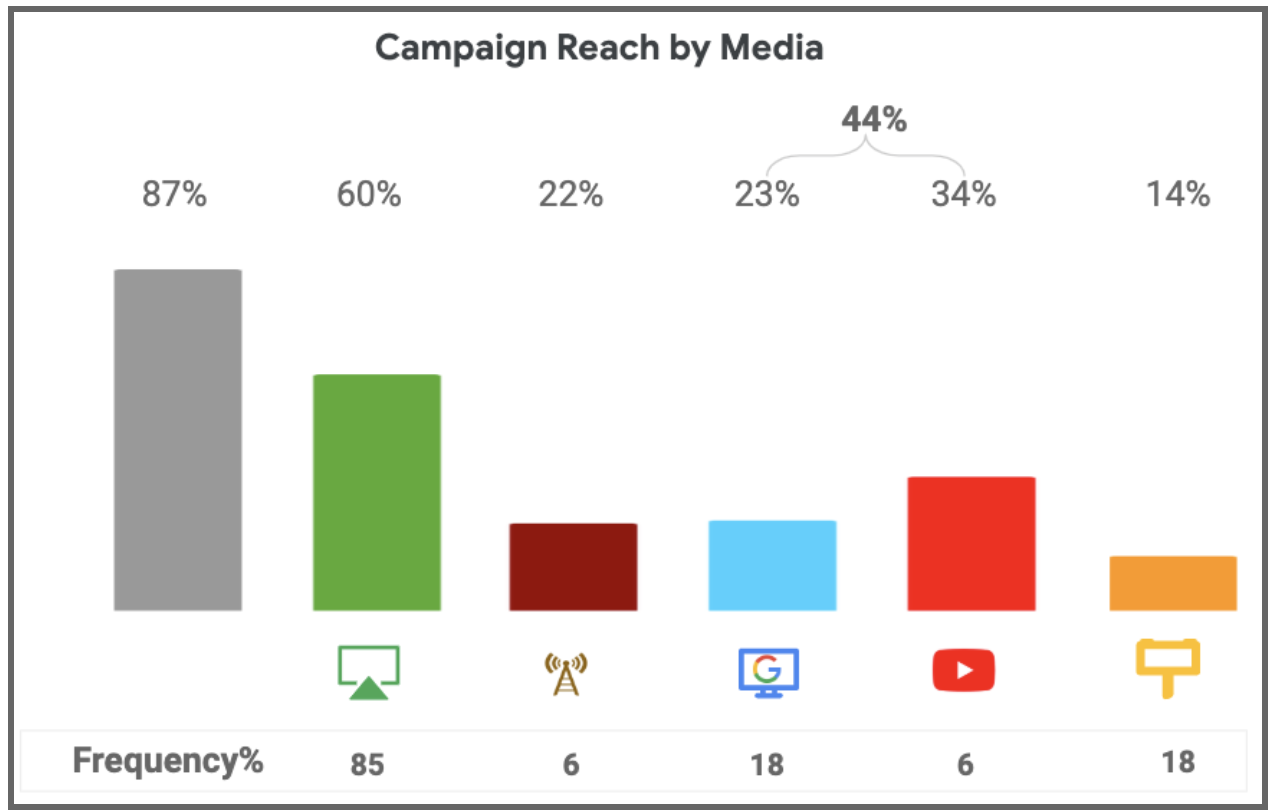 Display formats on the Google Display Network and YouTube drove 7.6% unique reach (compared to 2% achieved by out-of-home media), complementing each other to drive the highest unique reach behind TV. Display generated 8% incremental reach over TV. In comparison, out-of-home media only generated 5% incremental reach over TV.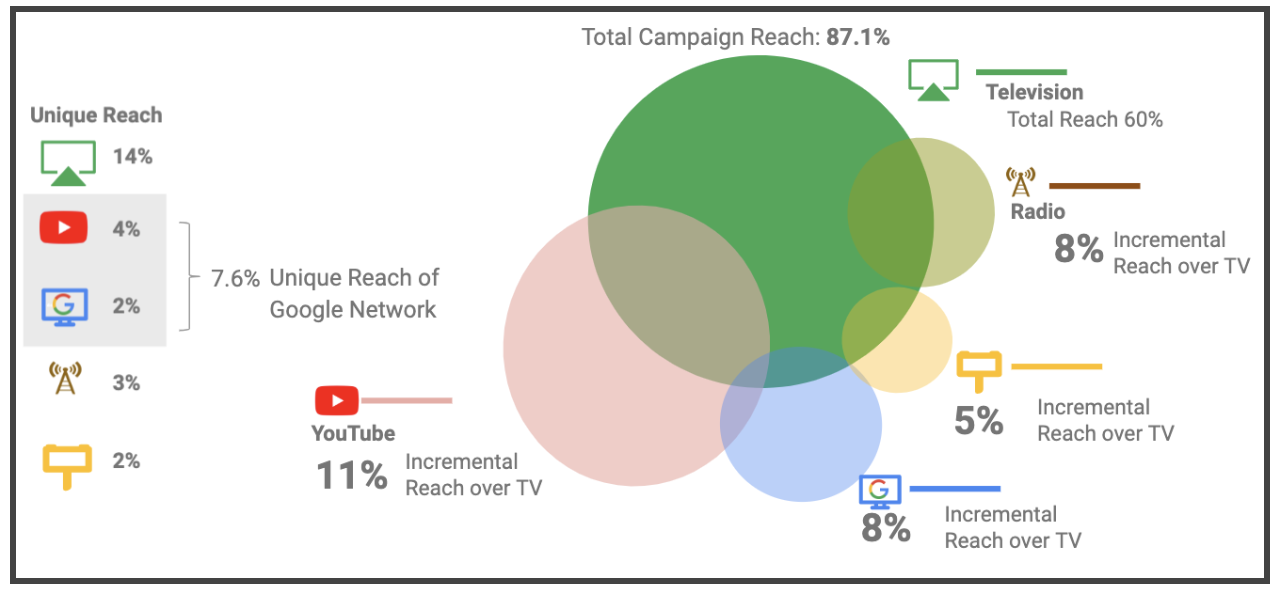 Display delivered the highest reach efficiency across platforms, with a reach efficiency index of 2,300 compared to 82 for out-of-home media. "This metric in particular stuck out to us, as being cost efficient with our media investments is always key, and display was by far the most effective in that regard" noted Ahmed Naguib, Digital Advertising Manager at Telecom Egypt.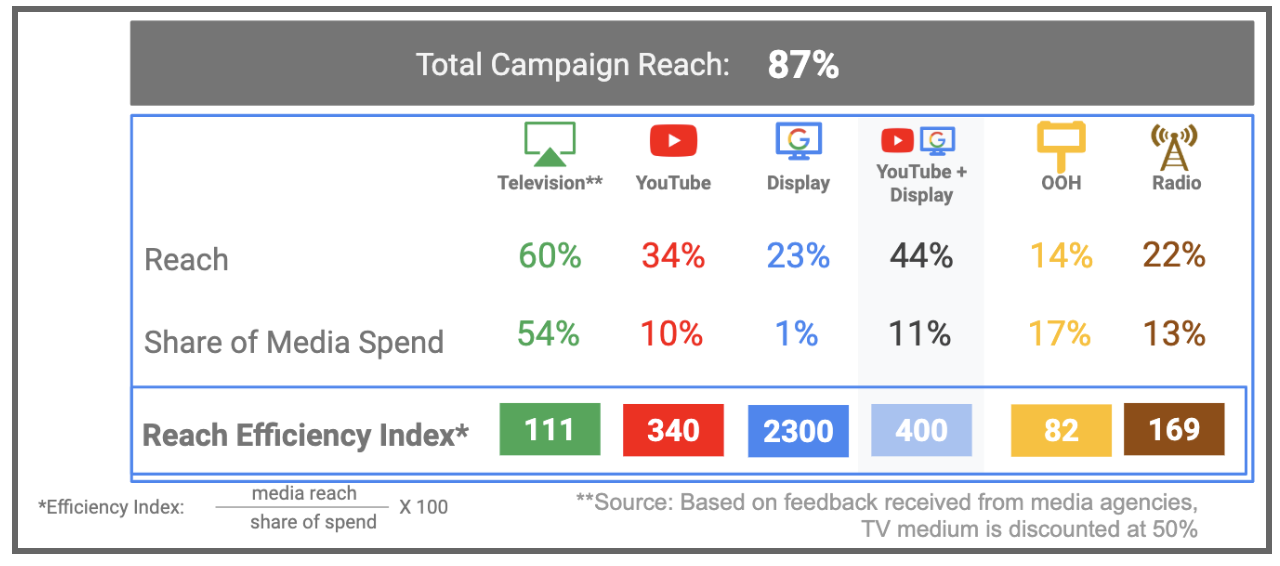 Google media was the single largest contributor to brand health, driving the highest percentage share contribution towards brand impact compared to other channels. Google media also delivered the highest contribution towards message delivery, with YouTube leading as a standalone channel in delivering intended brand messages.
Taking the results of the study into consideration, WE has established that Google media provides a clear advantage over out-of-home media. "The efficiencies, impact, and synergies achieved are impossible to ignore, and truly showcase the value that display advertising brings, particularly compared to out-of-home advertising," affirms Eslam Nassar, Digital Marketing GM at Telecom Egypt.
These findings do not signify the end of the line for traditional media, which undoubtedly still provide value. However, they bring to the fore the clear advantage Google media provides over them with regards to the aforementioned metrics.