In the lead up to Black Friday, MENA's biggest online shopping moment, the pressure is on for e-commerce sites to keep up with rapid consumer demand for products and services in a post-COVID world. Since the beginning of March to date, search queries for 'online shopping' rose 38% across MENA.1 As a result, interest around Black Friday deals is expected to be higher than ever this year.
So how do you plan an activation that will truly stand out online? In our previous article on Black Friday, we unveiled new consumer insights around shopping habits, taking into account the implications of the pandemic on the online purchase journey in 2020. Most notably, we showed that the Black Friday shopping season lasts for much longer than a single day; it spans 10 weeks of consumer research, purchase, and discount-hunting behaviour in three distinct stages.
Based on these insights, part two of our Black Friday series offers a three-step guide to help you develop a marketing activation to engage consumers throughout the Black Friday shopping period.
Step 1: Adapt your communication across the consumer journey
There are some general themes to keep in mind in communications this year as more shoppers shift their shopping and research behaviour online. Furthermore, consumers have displayed heightened price-sensitivity during the pandemic, with a 35% year-on-year growth in search queries for coupons and rebates.2
Taking it a step further, there are three distinct stages in the 10-week Black Friday period and the trick is to keep in mind that audiences fall into different consumer funnel stages throughout this period. Tailoring your messaging accordingly across awareness, consideration, and purchase stages will have a stronger impact with consumers.
The build up
In the weeks ramping up to Black Friday, it is important to generate awareness about your brand and upcoming offers.
The craze
During the week of Black Friday, shift focus to activate users' interest and close the deal with live discounts and offers.
The last call
The two weeks that follow Black Friday provide an opportunity to win over last-minute shoppers and engage new users leading up to the holiday season.
Consumer behaviour may alternate throughout the phases. This means that a well-crafted marketing strategy must evolve to cater to consumers at the awareness stage, to those that have progressed to the consideration stage, and finally, to the ones in the purchase stage who are ready to make a conscious decision to click buy. By adapting your communication at various stages of the funnel, your brand can cultivate a relevant connection with consumers. Here is a generic example: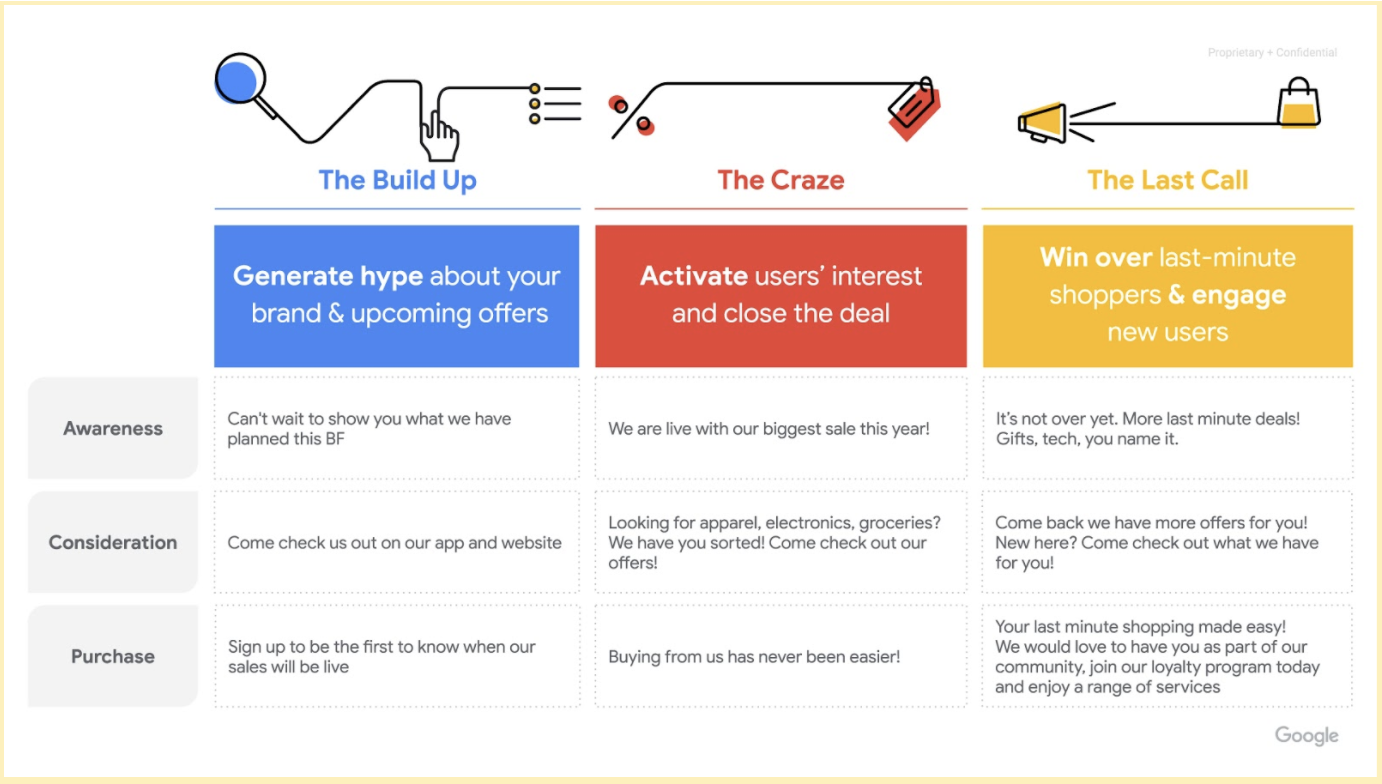 Step 2: Reach out to the right person at the right time
As you finesse your communication, different products are available to effectively serve ads at each stage of the marketing funnel.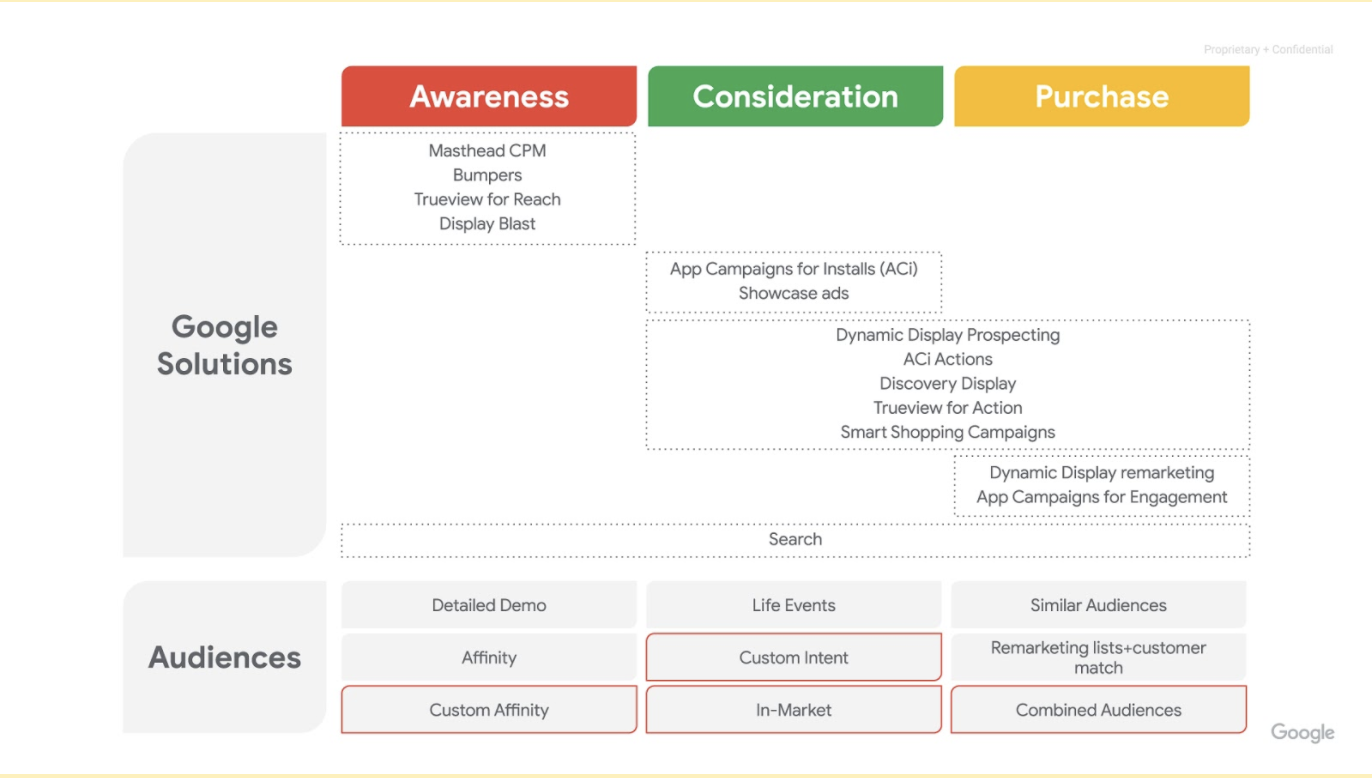 The awareness stage
At the uppermost stage of the marketing funnel when consumers begin to research products, a Display blast offers the chance to reach the maximum number of people in a short amount of time. The use of Display ads provides an optimal way to cement the interest of consumers in the consideration stage to a brand's deals and offerings. MENA e-commerce player The Landmark Group effectively utilised smart display ads to drive product views and ultimately acquire new users.
The consideration stage
At this stage, consumers have narrowed down options of interest, but can still be swayed by a better deal or offering. Trueview for Action is a video campaign that allows brands to turn prospects into customers ideal for capturing intent at this stage. Here is a practical guide on how to create performance videos that resonate with your audience.
The purchasing stage
A consumer may have been alerted to your brand in the awareness stage, then seriously considered it after reviewing specific offerings. Next, it's time to seal the deal. GCC eyewear brand Eyewa maximised conversions with a smart shopping campaign, an automated approach to bidding, and ad placement that combined the best of both standard shopping and display remarketing campaigns.
By using data and insights to understand your audience profile, you can tailor a marketing strategy to deliver the right message at the right time — and at the right stage of the marketing funnel.
Step 3: Evaluate and measure your success
The industry is evolving quickly in these unprecedented times and user expectations around privacy around rising too. We are witnessing sharp decreases in browser support for third-party cookies, making it difficult to track user sessions.
In such an evolving ecosystem, it is important to adopt a holistic measurement strategy. Especially during a key shopping moment like Black Friday to answer marketing objectives and improve business outcomes. To maximise success, Use this the following three-stage approach.
1. Enable first-party data
Putting tags in place that enable first-party data collection, integrating this data, and then leveraging it to power ad campaigns helps advertisers tie results to their bottom-line and improve overall accuracy.
2. Measure across the digital and traditional ecosystem
Actionable measurement is top of mind for marketers because this encompasses the unification of marketing efforts across a customer's organisation. Setting clear KPIs to monitor results online as well as through traditional channels is the key to a holistic approach.
3. Maximise data insights
In a constantly changing landscape — whether due to a pandemic or other industry changes — machine learning is key to automating and activating campaigns. Iterations can improve results, even when measurement is fragmented or imperfect.
Using these suggestions, ongoing measurement is possible and necessary to understand the effectiveness of your marketing efforts around Black Friday. The metrics used to measure success differ at each stage.

Build a customer connection throughout the holiday season
The consumer shopping journey online is 'messy', with many twists and turns. The key is to identify evolving consumer needs at various stages of the marketing funnel during the 10-week Black Friday season and tailor your advertising accordingly. By fine-tuning communications, serving ads to the right person at the right time, and measuring results, you will resonate with audiences and build a connection that lasts through to the holiday season — and beyond.