Premier Inn has seen its investment in Hotel Ads deliver substantial, measurable results. In particular, Hotel Ads have proven a powerful tool in reaching new customers.
Approach
Used Google Hotel Ads to market to travellers in key global markets
Opted-in 100% of the Premier Inn hotel portfolio across desktop, mobile and tablet
Tailored bidding to maximise traffic on placements driving incremental bookings
Goals
Reach new customers
Capture users actively looking to book accommodation
Increase direct bookings via PremierInn.com
Results
Bookings from new customers were 40% higher than paid search ads
300% stronger return on ad spend than non-branded paid search ads
60% lower cost per acquisition than non-branded paid search ads
Premier Inn is part of the Whitbread group, and with over 680 properties and 58,000 rooms, it is the largest hotel chain in the U.K. The brand appeals to customers looking for consistent quality and great location at an affordable price.
Keeping up with travellers
New digital channels like social and mobile are becoming increasingly important in travellers' purchase decisions, making it challenging for hotels to keep pace with changing digital consumer behaviour. For Premier Inn, securing presence across new and emerging digital channels is of great importance. As the company's Head of New Channel Development Aurelia Noel puts it, "Wherever customers want and need us, we're going to make sure we're there."
Hotel Ads make it easy for the customer. They are more relevant, location-specific and include the right data points. We have a shared objective with Google in that we both want to make the lives of our customers easier, and Hotel Ads deliver that value for us.
- Sarah Del Corral, Director of eCommerce, Premier Inn
The challenge for Premier Inn is to achieve this in an increasingly fragmented user path to purchase. "The hotel landscape is forever changing and if you don't adapt, you'll be left behind. As new channels emerge and evolve, we are constantly exploring and testing," says Director of eCommerce Sarah Del Corral. "Users are researching a lot more. There are new ways to explore travel options and many more touchpoints. All of these touchpoints are part of an ongoing relationship, so it's about being there when it matters."
Convenience for travellers, control for hotels
Premier Inn embraced Google Hotel Ads to reach new customers and capture high-quality traffic while increasing direct bookings on its website. Hotel Ads appear wherever people are shopping for hotels _ on desktop, tablet and mobile devices. Within a search, they can easily customise travel dates, examine hotel reviews and photos, and compare available rates. Once they've decided on a hotel, they can proceed directly to the advertiser's website to complete the booking.
Live in more than 100 countries, Hotel Ads are displayed on Google Search, Google Maps and Google+ Local, connecting travellers shopping for hotels with properties that have room inventory matching their search criteria.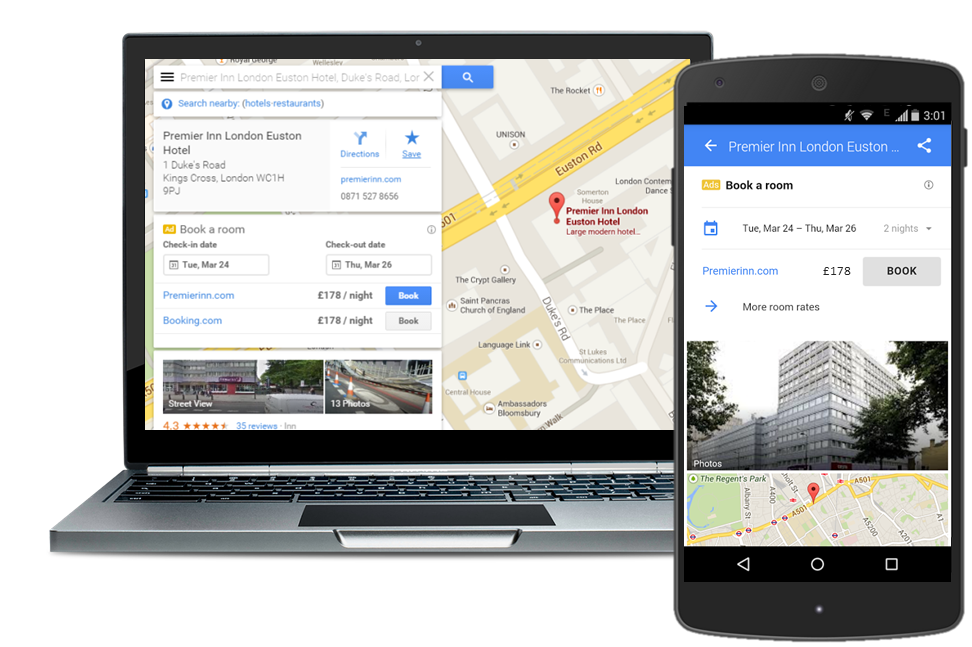 Hotel Ads put both precision and control into the hands of advertisers. "We can be extremely targeted; we have the option to tailor our bids by individual property, length of stay, device and country," Aurelia says. "And anywhere we open a new property, we can go to market quickly by adding this hotel to our Hotel Ads campaign. We don't have to invest a lot, and we can start small."
Straightforward strategic gains
Hotel Ads are already making an impact by supporting Premier Inn's strategy of establishing and maintaining direct relationships with guests. "Hotel Ads allow us to engage directly with highly qualified customers," Sarah says. This ability to interact directly is critical, enabling Premier Inn to reinforce brand values and better understand customer needs over time.
Key insights have also emerged as a result of using this marketing tool. "Hotel Ads give us a better understanding of how customers are searching for hotels and what they are looking for. For example, Google Maps is a great way for people to find a Premier Inn; it also plays to how well-located our properties are."
It's also proving an excellent way to improve search efficiency, especially on non-branded search traffic. "About 30% of the UK population stayed in a Premier Inn last year. Hotel Ads give us a way to reach the remaining 70% of the UK population, as well as the huge number of inbound international travellers who know less about our brand. Hotel Ads have given us an opportunity to make generic queries more efficient for us," Aurelia says.
It all adds up, now and into the future
Premier Inn has seen its investment in Hotel Ads deliver substantial, measurable results. In particular, Hotel Ads have proven a powerful tool in reaching new customers _ the ratio of bookings from new customers is 40% higher than paid search ads. Hotel Ads' ability to facilitate direct relationships with customers has a direct impact on the company's bottom line.
The impact on efficiency has been impressive, with Google Hotel Ads driving a 300% stronger return on ad spend than non-branded paid search ads, with a 60% lower cost per acquisition. "Hotel Ads help us stay relevant to customers and to get the message to the right user at the right time, so we get the most qualified lead," Sarah observes. "We're able to address shifts in customer behaviour by partnering with Google to move us forward."