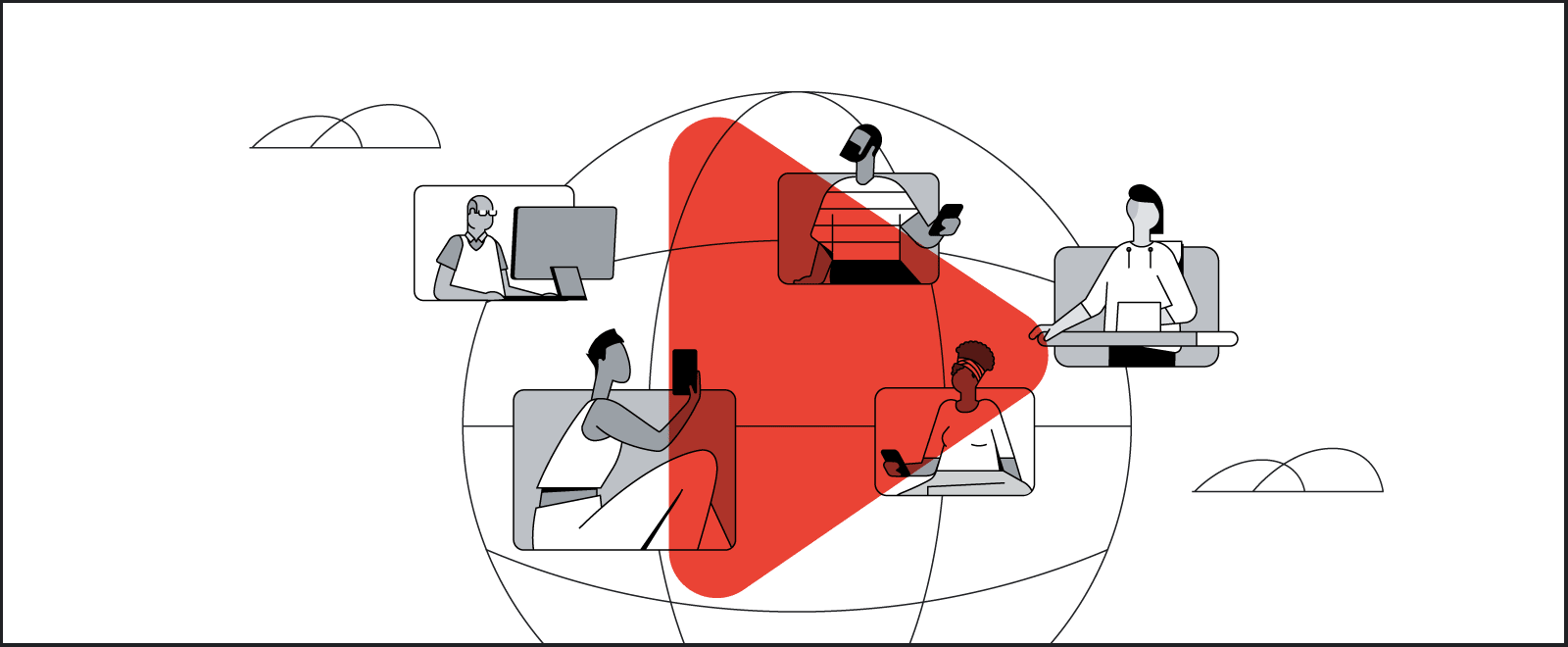 The final weeks of the year provide a natural opportunity to reflect on the world around us and plan for the future. As 2021 has been another year of change driven by disruptive external events, the year's top videos — viewed by 2 billion people across more than 100 countries — reflect that reality.
YouTube's Culture and Trends team reviewed the top videos from creators from around the globe and saw three themes emerge — community, comfort, and creativity — that offer a glimpse into what people are watching and what 2022 might hold. Together these themes not only encapsulate where we are today, but speak to broader shifts in society. From a marketing standpoint, these global insights can help brands understand what people are looking for and how best to reach them.
Audiences seek community and storytelling through gaming
"Gaming" used to be a subculture, but with 2.9 billion people expected to play video games by the end of this year, today it's clearly pop culture. The $175 billion industry also has a diverse consumer base, with women making up 46% of gamers and 10% of gamers identifying as LGBTQ+.
Gaming's primacy is reflected in this year's Top 10 lists. Players from around the world have taken gaming to the next level, using game elements to craft narratives that spark viewer obsession akin to a must-see TV series. YouTube's most viewed game, "Minecraft," featured prominently in two of the top trending videos, receiving more than 100 million combined views. YouTube's most viewed new game, a rhythm game called "Friday Night Funkin" that's reminiscent of early 2000s craze "Dance Dance Revolution," made the list with an entry from Cory Kenshin. And speaking of nostalgia, another dominant video, Game Night Stereotypes from top creators Dude Perfect, hilariously portrays a cast of characters often encountered playing board games.

For many creators and viewers, engaging with game content offers a way to engage with each other, whether through live streaming or on their own time. With the huge cultural zeitgeist around gaming, marketers are finding creative ways to tap into this community. Nintendo debuted its new OLED model, highlighting different games and ways to play, earning a spot on the 2021 end-of-year YouTube ads leaderboard. Among other brand integrations, Balenciaga collaborated with Fortnite, Lil Nas X performed for Roblox, and Puma and ColourPop partnered with Animal Crossing.
The rise of comfort viewing
The past two years have been defined by global political and social instability with little ability to guess the future beyond next week. Perhaps in response to this extended period of uncertainty, people around the world engaged in comfort viewing by seeking out the familiar.
For instance, some of this year's top trending videos from around the world are newer versions of videos that previously resonated with viewers. Back by popular demand, Sidemen created a third installment of their "Tinder in Real Life" series, while Mark Rober reprised his 2020 backyard squirrel maze with an even more challenging obstacle course.
Just as familiar content brings a sense of comfort, so does comedy. Many of 2021's most popular comedy videos centered on relatable, true-to-life events. This video from Canadian creator Jeenie.Weenie, one in a series about her experience as a flight attendant dealing with different types of passengers, has more than 8 million views.
Other top videos provided a comic twist on the journalistic interview format. Two students interviewed German rapper Shirin David about her lyrics, and U.K. creator Niko Omilana cleverly convinced BBC News to interview him, while also encouraging people to vote. Taking note of the types of content people are engaging with and looking for — both comfort and comedy — can help marketers meet consumers where they are with messages that resonate, which is important in times of uncertainty.
People around the world engaged in comfort viewing by seeking out the familiar.
Shorts provide fresh opportunities for creativity and comedy
Whereas audiences have embraced long-form videos on familiar themes, short-form video has become a laboratory for new storytelling formats. Hybrid creators who produce YouTube Shorts alongside their long-form videos have illustrated how quick bites can give audiences a novel experience. Chef Nick DiGiovanni's long-form videos resemble the food-porn trend that dominated the first 20 years of this century. But his short-form recipes rely on a quirkier, more playful editing style. By creating for both formats, Nick can bake his cake and eat it too.
Some creators — like Chingu amiga, a Korean woman living in Mexico — use short-form videos to highlight cultural nuances. And others share motivational messages and interesting facts. We see this with Indian creator A2 Motivation, whose bite-sized videos and channel have collectively garnered over 6 billion views. By giving us another view of their worlds, Shorts offer an expanded way for creators to connect with audiences.
For marketers, sometimes short and sweet works well, whether that's giving people a look behind the scenes or demonstrating a new way to use your product. Japanese restaurant Horumon Shimata went viral with a warning video showing that dangerously hot car temperatures are capable of cooking raw meat. The brand regularly posts behind-the-scenes food videos that subtly promote the restaurant to diners.
How these trends impact marketers
As we reflected on 2021, themes of community, comfort, and creativity popped up repeatedly in the videos YouTubers around the world chose to watch. These are not fleeting trends, but broader indicators of the kinds of content consumers need and the creators they love. Marketers who embrace these themes in their video and ad creative will evolve with their viewers and connect with key audiences in the moments that matter.