As more and more people cut ties with traditional linear TV, we're seeing continued growth in over-the-top video services and streaming platforms. This provides ample new opportunities for marketers. But advertisers must understand that, while streaming video services have some things in common with linear TV, what worked for legacy media doesn't necessarily work for these newer experiences.
If you haven't started shrinking the divide between your media, creative, and content strategy, you should start immediately
So how can brands get the most out of these digital platforms, using video not only to attract consumers but to engage them and deliver results at scale? Dentsu launched its Attention Economy research, of which Google is a critical partner, to understand how teams can use data and technology to help answer those questions. The first thing any marketer needs to know is that the key drivers are your own creative and the content in which it lives. If you haven't started shrinking the divide between your media, creative, and content strategy, you should start immediately.
Through our Attention Economy research, we are redefining the way we measure, plan and buy media. Working with Google and YouTube, we've identified three key elements to drive attention and, ultimately, video performance.
Start with creative intelligence
There is no denying a direct correlation between campaign performance and creative effectiveness. But how do you figure out what makes your creative effective? Today, brands can leverage AI, machine learning, and data science to understand the creative elements driving media performance and optimise their assets accordingly. What is considered "effective" creative will evolve in parallel with consumer demands and marketers must learn to navigate this evolution against their own media activity in real time.
How to make your video creative more effective?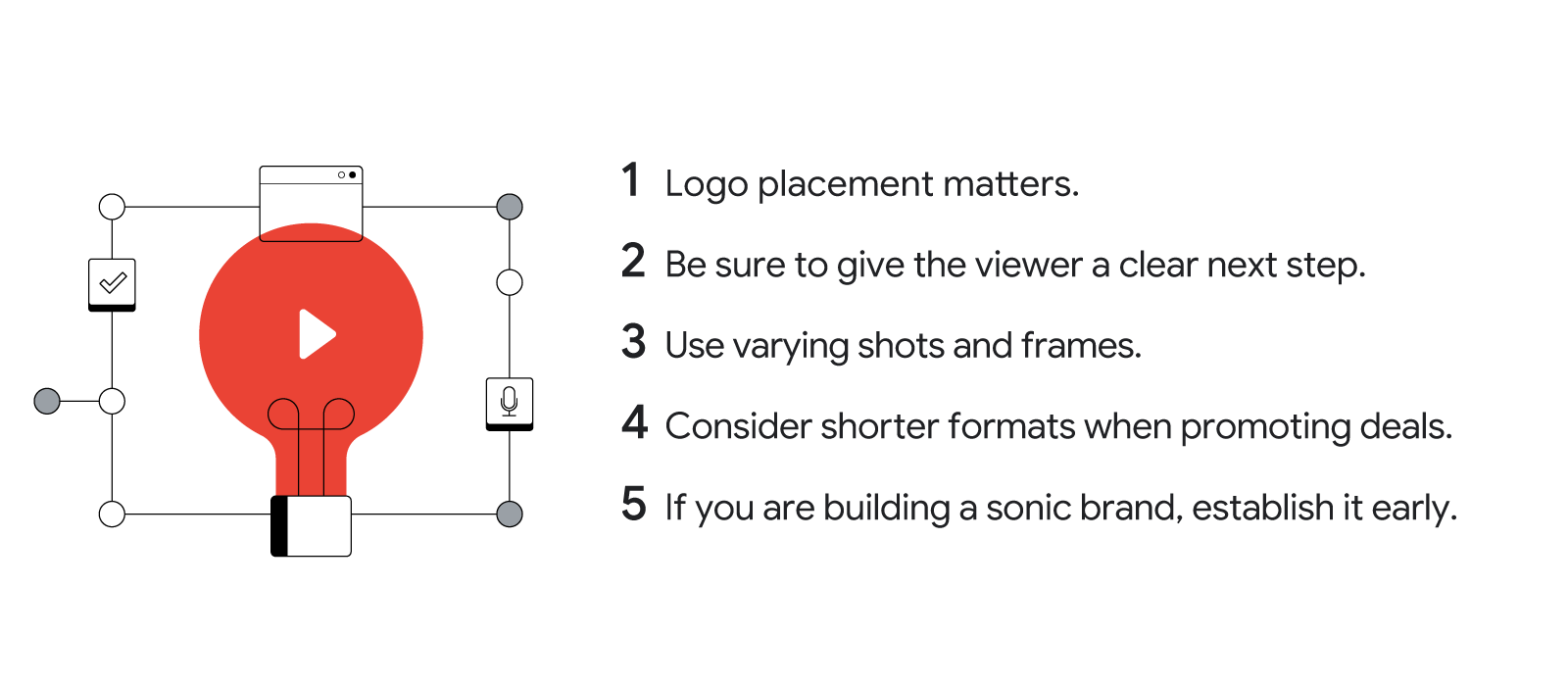 Pairing the outputs of Google's Video Intelligence API and YouTube campaign performance data from select clients, Dentsu's data scientists were able to uncover five tips for more effective creative:
Logo placement matters. If you are developing skippable assets, avoid placing your logo or brand name near the "Skip Ad" button and instead in a more prominent, viewable position.
Be sure to give the viewer a clear next step. Simple CTAs will ensure viewers remain on the intended path.
Use varying shots and frames to keep attention levels high. Dynamically shot videos, voice-overs, and text capture attention and drive action.
Consider shorter formats when promoting deals. Once a discount or deal is mentioned, viewers tend to stop watching and take action.
If you are building a sonic brand, establish it early. If you're using a jingle or some other sonic tagging, feature it early in the ad, when you're most likely to have people's attention.
Embrace creative tests
As it becomes easier for consumers to skip, ignore, or block ads, employing creative tests to understand how ad quality impacts sales, purchase intent, and ROI have become even more critical.
On behalf of a consumer packaged goods client, Carat was challenged with driving purchase consideration within a crowded vertical and leveraged Google's Video Experiment tool to identify opportunities to optimise and refine the video creative to maximise results. Through this experimentation, the team found that
Videos touting the "softness" of products drove 6.9% higher purchase consideration among women.
Creative featuring the product as "premium" drove 6.1% higher purchase consideration among men and drove the highest lift (6.3%) in overall purchase consideration among all audience demographics.
From a frequency perspective, exposing a viewer to an ad twice drove the highest lift in purchase consideration and brand-lift results were strongest across mobile devices.
Actionable testing results like these are only a snapshot of what is available when brands make experimentation a part of their process. Regardless of brand vertical, a test-and-learn approach equips media teams with real-time lessons that empower them to have informed conversations with creative teams around what works, what doesn't, and how they can collaboratively leverage those insights to drive incremental ROI.

Think like a creator
Ad spending will always be a key element of making sure a brand is in the right place at the right time with the right message. But for some brands, there could also be a great opportunity to further engage with viewers by showing up as a creator within their own channel.
For some brands, there could also be a great opportunity to further engage with viewers by showing up as a creator within their own channel.
To that end, Dentsu and YouTube developed Project Green Screen, a program that educates, inspires, and empowers brand marketers to develop content much like a YouTube creator would. Some of the key points we emphasise are
YouTube is a relationship platform, whether a brand elects to create, curate, or collaborate on video content. A certain level of commitment is needed to develop and produce effective content and ensure ongoing engagement with fans and commenters, which is crucial to continued success.
To create authentic relationships, a brand's YouTube content must be aligned and deeply consistent with its values. Be definitive about what you want to say, and the value that you bring to your desired audience. This also plays into collaborating with the right creators in the right way.
Content SEO and discoverability are huge components to the success of winning in video. It's crucial for brands to dig into audience insights and trends to inform content themes, creator partners, in-market opportunities, demographic impacts, and more.
COVID-19 has reinforced the need for marketers to be flexible and able to quickly alter creative based on the needs and demands of consumers. Sticking to legacy principles just won't cut it these days. With consumers flocking to OTT and streaming platforms like never before, it's imperative for marketers to understand how to best earn attention and drive engagement through leveraging the innovative, data-driven benefits these channels provide.