What can brands learn from beauty video creators? A lot, argues YouTube's Head of Fashion and Beauty Derek Blasberg, who came to Google after hosting CNN Style on CNN International and working as a contributing editor at Vogue, Harper's Bazaar and Vanity Fair.
Few trends move as quickly as beauty in the style space. With every fashion show or red carpet, a new lipstick colour or hair style instantly becomes a look of the moment. While traditional print publications and word of mouth chartered beauty trends in past generations, today trends are established and discovered with a few flips on a keyboard. According to a recent survey we at Google did in collaboration with Kantar, U.S. beauty consumers say that YouTube is their number one digital source for beauty content, followed closely by Google Search.1
Platforms like YouTube are chock-full of inspiration from people across the industry – designers, makeup artists, brands and publishers – as well as a new generation of beauty influencers. Here's the really interesting part for marketers: that same survey found that US beauty consumers turn to videos produced by brands and publishers nearly as much as product review videos from other users.2 This means that there's a massive pre-established community that wants to hear from you and is ready to engage.
So how do you connect with them? It's simple: think like a creator.
Make what the creators make
Seek inspiration from the variety of content that beauty creators are producing. My team recently analysed all of last year's beauty content on YouTube, and we found that 95% of it fell into one of three buckets: inspiration, education and access.3 If you're wondering what kind of videos to make for your channel, these are good places to start.
95% of last year's beauty content on YouTube fell into three buckets:

1. Inspirational content
Inspirational content is story-led, aspirational, and less product-focused – think transformational makeover videos or travel diaries. This type of content has a clear narrative, with a beginning, middle and end.
A great example of how this can come to life is the collaboration between Dior and beauty creator Jackie Aina, who went behind the scenes at Paris Fashion Week to create a day-in-the-life video that brings viewers inside the inspiring world of Dior.
2. Educational content
Educational videos are an opportunity for viewers to learn tips, hear reviews and receive advice. Beauty fans are hungry for these videos, and will proactively search for them on YouTube, which is something that you'll want to consider when giving them a title.
A favourite example of mine is Jen Atkin's wedding hairstyles and makeup tutorial with Negin Mirsalehi and Mary Phillips. The concept is simple but effective: Jen and Mary provide fans with a step-by-step guide to how they can get fashion influencer Negin Mirsalehi's bridal hair and makeup look. It's casual, helpful and a perfect use of the medium.
3. Access content
This type of content takes the audience somewhere that they wouldn't be able to go on their own or introduces them to someone that they wouldn't otherwise be able to meet.
There are lots of formats at your disposal, including behind-the-scenes videos, live streams of big events, Q&As with celebs and making-of videos. Intimacy goes a long way here, so don't worry if your videos aren't shiny and polished or the lighting isn't perfect. Victoria Beckham's new series "On the Road" is a great example of access content. In the first episode, Victoria gives her audience an intimate look into her trip to New York to launch her collaboration with Reebok.
Do what the creators do
If you pay close attention to your favorite YouTube channels and creators, you'll notice that they all do a few of the same things.
First they establish a regular cadence for uploads, because in our digital world, absence does not make the heart grow fonder. Top creators upload regularly – several times a week for some. Developing a consistent schedule is critical for building your channel and establishing an engaged audience. While you may not be able to upload weekly, remember that consistency is key.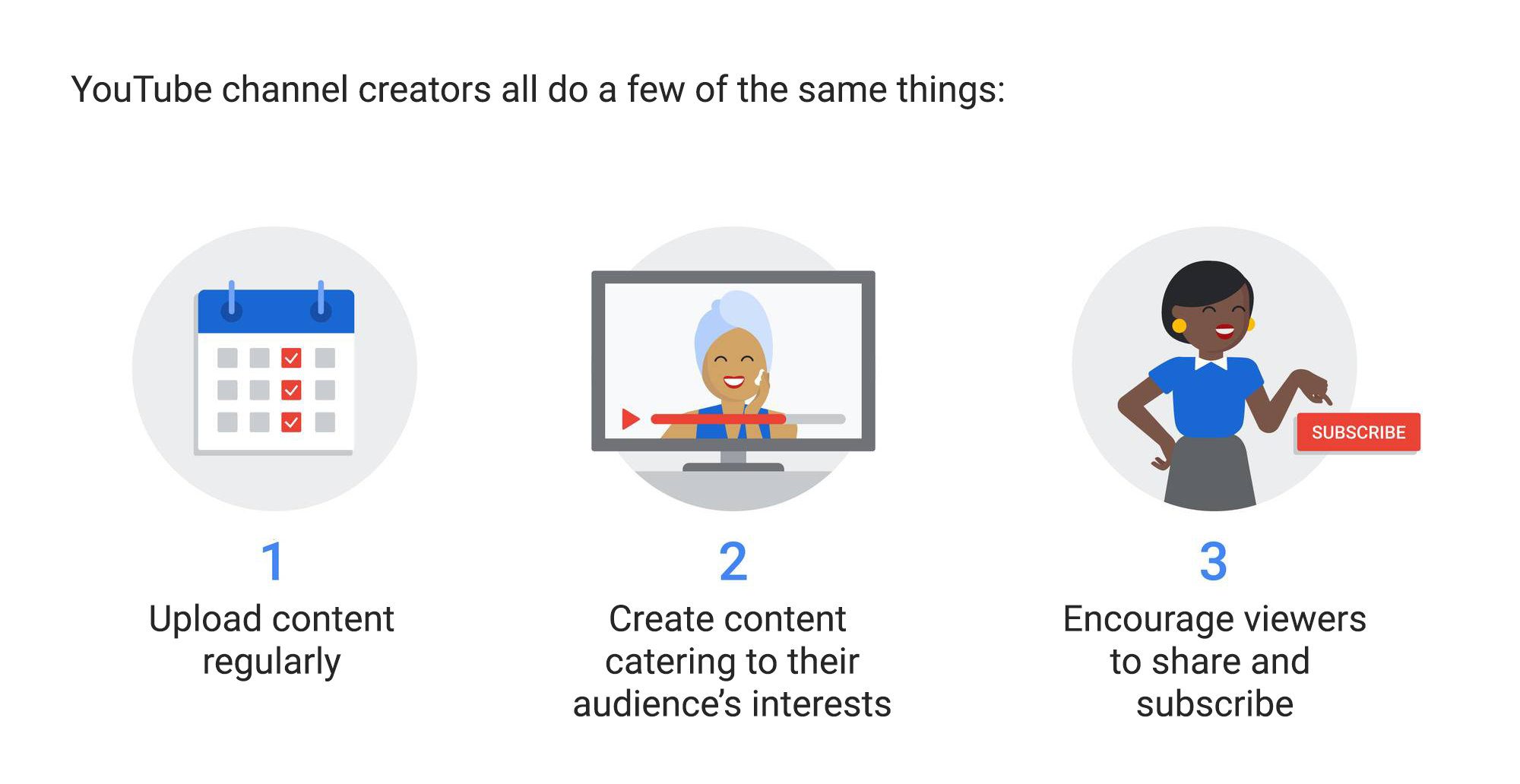 Next they become experts in what their audience finds interesting, and they create content that caters to those desires, which brands can also do. Use Google Trends, YouTube Analytics data for your channel, and social media listening tools to figure out what your audience is curious about and what they need help with. In fact, the interactive nature of YouTube means that you can even directly ask questions of your audience, which creators are great at doing. Invite viewers to submit their own tips and ideas, and respond when they post questions.
Once you're clued in to what your audience wants and what they're searching for, include those key words and phrases in your video metadata. Titles, keywords, thumbnails and descriptions all matter. Ensure that you're making it easy for viewers to find what they're looking for.
Lastly, most creators are persistent in asking their viewers to subscribe and to share their content, featuring prominent calls to action in their videos. You should be too.
Brands as creators
Beauty and fashion brands have a leg up when it comes to tapping into established communities of fans. But all kinds of brands and industries can learn from the creators in their space.
Look to the fans for signals – the most passionate communities all have creators, brands and celebrities that they coalesce around. If you want to create content that resonates, follow their lead.