The Super Bowl is a cultural phenomenon that drives massive engagement. And YouTube helps transform the big game from a three-hour night in front of the TV into a month-long extravaganza across multiple screens. With this year's game about to kick off, we reveal insights about how interest is increasing and becoming earlier each year on YouTube, presenting advertisers with ample opportunities to connect. Commercials released on YouTube before they aired during the game drove approximately 2.5X more views on average than commercials that were released on game day. Big game ads are still what drive the biggest engagement, but a variety of other Super Bowl related content is also engaging consumers.
Super Bowl XLIX is about to kick off. For millions of people, the biggest football game of the year has long been an iconic, cultural moment. For advertisers, it's also come to represent a huge opportunity to connect with audiences. Yielding both memorable ads produced months in advance and real-time digital moments that define the zeitgeist (best epitomized by Oreo's "Dunk in the dark" tweet), the Super Bowl is a phenomenon that drives massive engagement. So how can brand advertisers make the most of this unique occasion?
Super Bowl attracts roughly 110 million people (roughly 46% of American households) during game time on TV, and this number of viewers has remained roughly the same, year over year.1 On digital platforms, however, engagement with the event is expanding dramatically. More and more people are not only watching the game on TV but also turning to platforms such as YouTube to search for a huge variety of Super Bowl— related content. For example, we see 5X the growth in worldwide search interest for the Super Bowl on YouTube in the month of January.
The hype starts early and grows every year
Searches for "Super Bowl" on YouTube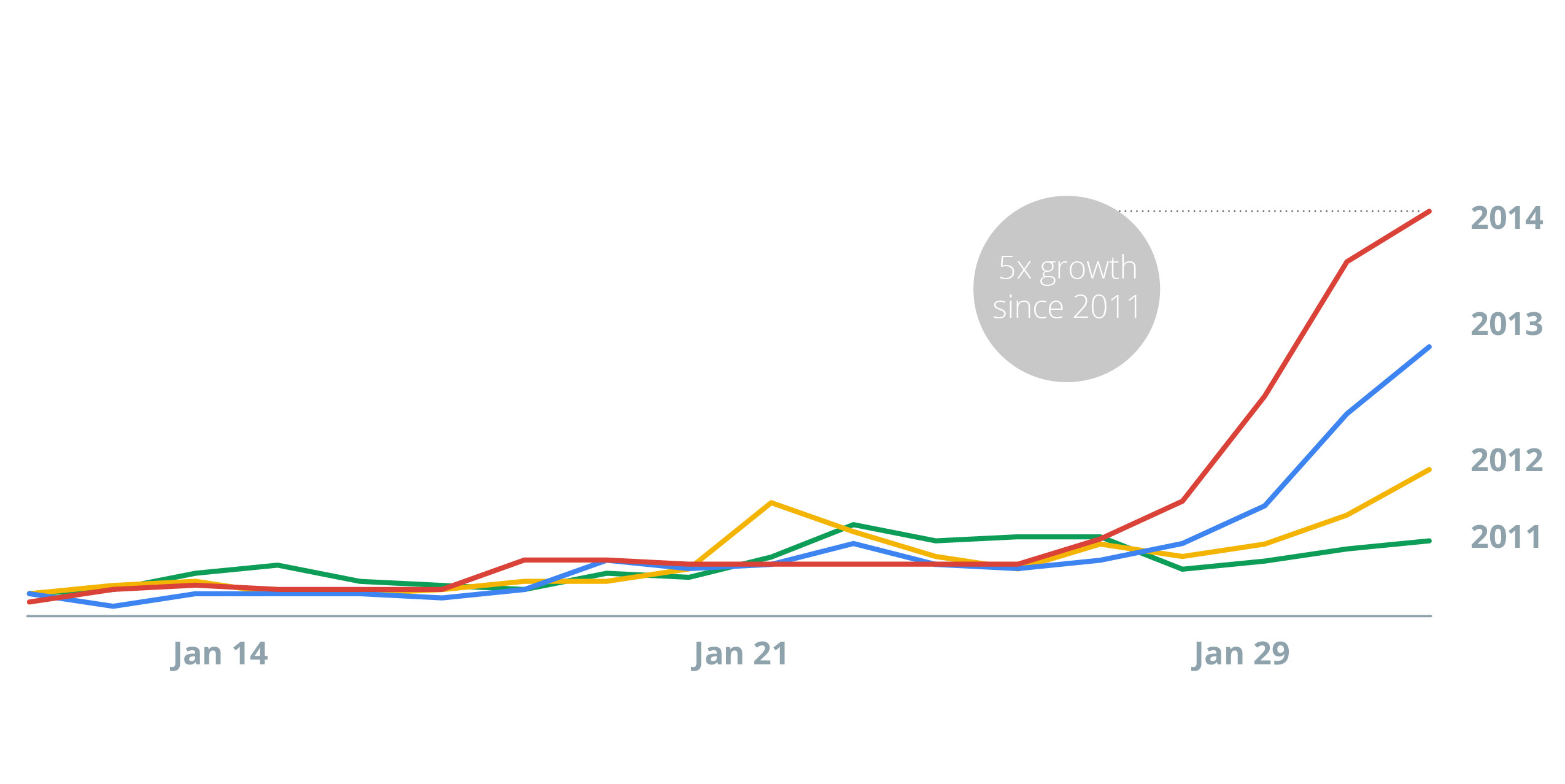 Where Super Bowl excitement used to be confined to three hours gathered around a TV in your living room, America's biggest sporting event has now become a month-long extravaganza. Super Bowl fever now begins long before kick-off and lasts long after the winning team leaves the stadium, presenting advertisers with exciting new opportunities to reach consumers that now extend even beyond the phenomenon of big-game ads themselves. This dynamic shift in Super Bowl engagement has key implications that advertisers should keep in mind as they develop campaigns.
Consumers turn to YouTube for big-game ads
The Super Bowl might be the one instance in which the ads are anticipated just as much as the event itself. Consumers see Super Bowl ads as part of the entertainment— and they're turning to YouTube to find them. According to Google Data, in January through December 2014, people watched more than 6 million hours' worth of Super Bowl XLVIII teasers and ads released on YouTube.2
Not only do consumers agree that YouTube is one of the top places to search for game ads they want to watch,3 but their appetite for them is growing fast: We see 14X the growth in worldwide search interest on YouTube for Super Bowl commercials in the month of January.
Consumers are increasingly searching for big-game ads on YouTube
Searches for "Super Bowl" commercials on YouTube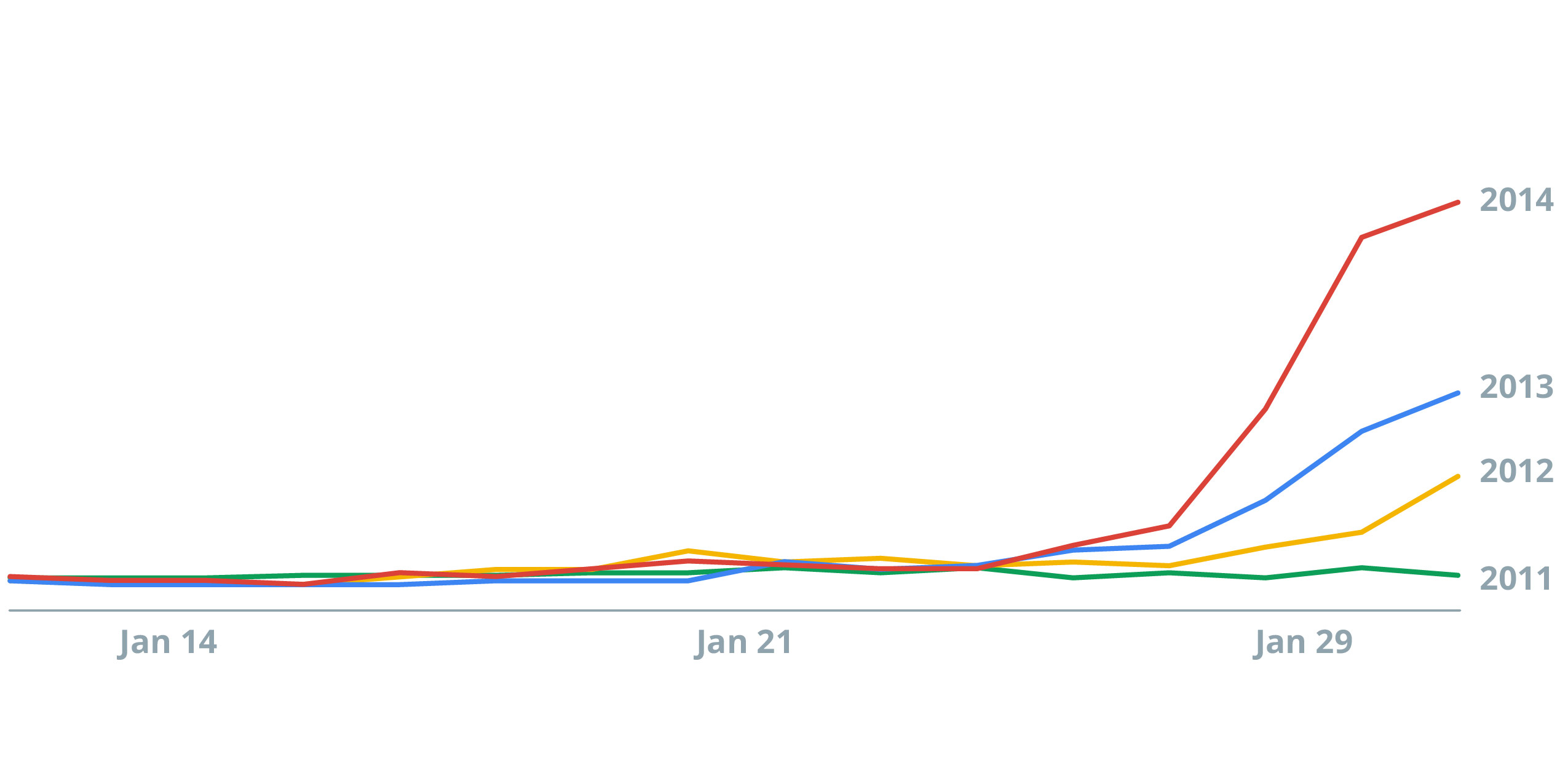 People are so eager to see the new commercials as soon as they come out that they're not waiting for the game. In the past four years, searches for Super Bowl ads have begun increasing before the game, with a surge ahead of kick-off. And some brands are leveraging this anticipation. Newcastle Brown Ale, for example, while not an official advertiser of the big game, has been using digital and YouTube to get in on the conversation early for a second year now.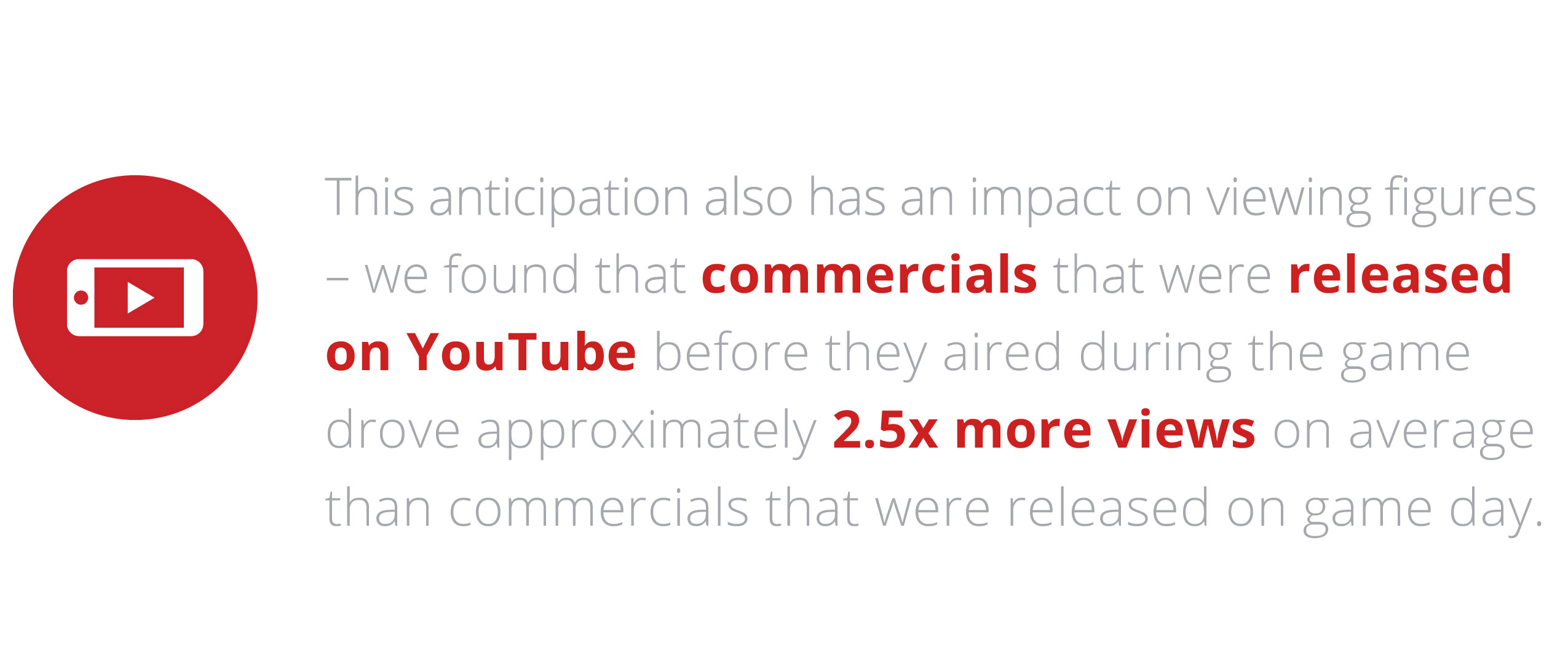 Consumers love big-game content as well as ads
For millions of fans, the Super Bowl doesn't just mean football; it also means parties, food, and fun. We can see this on YouTube in a variety of other Super Bowl— related content that's engaging consumers, and it certainly isn't limited to large brands. With 400K videos posted about game ads, it's clear that the big-game ads are still what drive the biggest engagement, although they are certainly not alone.
A wide variety of videos drive big-game engagement
Types of Super Bowl videos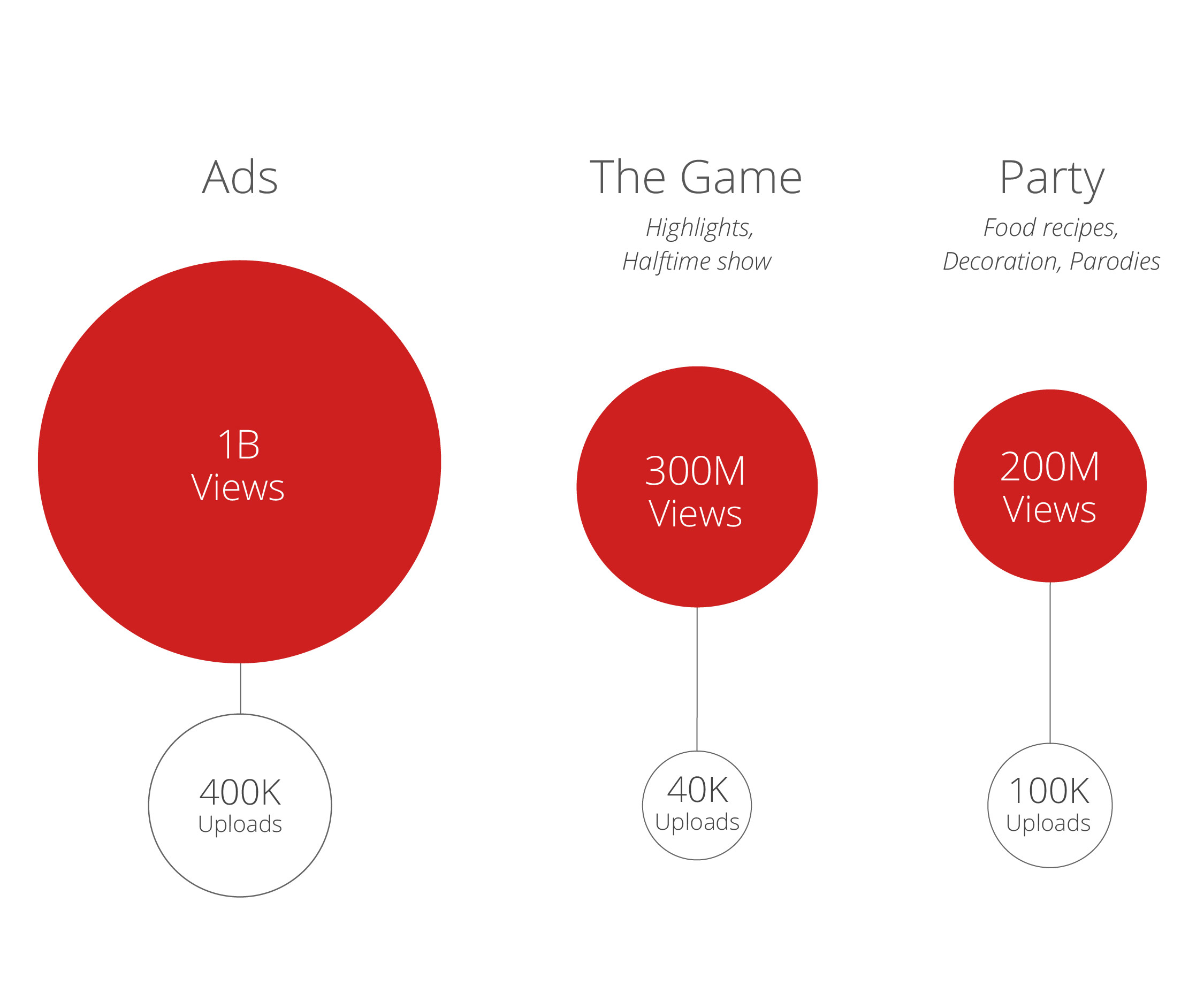 How to win before the game starts
For advertisers, the Super Bowl is now much bigger than three hours and a single screen. Here are two ways advertisers can make the most of big-game season:
1. Play the long game
Game time might still be peak time for engagement, but you can begin building buzz days before the first kick-off. Think of ways to stretch out the impact of video content on YouTube: By driving engagement with your audience early, you can create a snowball effect that may continue even after the event is over. See how Budweiser found success in the case study below.
How Budweiser Won Super Bowl 2014 Early With "Puppy Love"
Budweiser's adorable "Puppy Love" campaign took advantage of YouTube to connect with millions of consumers before the game. Six days before the Super Bowl kicked off, Budweiser released the "Puppy Love" spot on YouTube to generate a wave of buzz. By the time football fever was subsiding, it had achieved more than 50 million views. Find out more here.
2. Think bigger than the game 
It isn't just football that captures people's attention around the game. From parties to food to humor, what does the event mean to your audience? Think beyond big-game ads and use this season to produce a variety of game-related video content that drives engagement by tapping into people's passion points around this iconic, cultural event.
Good Inspiration From "A Bad Lip Reading of the NFL"
Bad Lip Reading's spoof clip-reel showed how peripheral content around the big game can shine on YouTube. Taking a montage of football footage and then overdubbing it with perfectly synced, perfectly silly dialogue, Bad Lip Reading put hilarious words into the mouths of players, coaches, and interviewers. Its imaginative use of big-game fun scored a huge 27 million views. Find out more here.