Despite the current situation, purchase intent for cars in India has not slowed, and in some cases, it has even accelerated. In an uncertain and ever-changing environment, the need for dealer digitization and omnichannel presence has hastened as the auto industry looks for alternative ways to connect with customers online and future-proof its recovery.
Digital consumption is at an all-time high in India, with people spending an additional two hours more online per week.1 The uptick in consumption is uncovering changes in consumer search behavior, such as an increase in time spent researching cars. The COVID-19 pandemic has accelerated trends in the automotive industry that were already underway but had not yet been widely adopted. As people continue to spend more time online, these trends will likely become the new normal when operations reopen — underscoring the idea that most opportunities to influence consumers through touchpoints are now digital.2
Consumer behavior shifts suggest that automotive brands that further digitize the car-buying experience are better poised for post-pandemic success. Expectations are changing, and now more than ever, people want the ability to buy and engage with the brand from the comfort of their home. To help auto brands apply the right strategies to their recovery roadmaps, here are three key trends brand marketers and dealer principals should consider as they shift gears for the future.
Customer intent is steady despite market concerns
As a result of the pandemic, we're starting to see a rise in consumers' desire for their own personal mode of transportation. The personal spaces where people find comfort include their homes and their own automobiles.
Online intent for automobile purchases in India is back to pre-lockdown levels after a 30-35% drop.3 The India Auto Pulse Report also found that over 45% of consumers have plans to buy a new car sooner, despite some markets reporting a recession.4
India-based search interest for 'Autos & Vehicles'

Customers want the dealership brought to them
Over the years, the window to influence purchase decisions through offline efforts has gotten smaller. The average number of visits to dealerships in India fell by 50% over the last three years from 2016 to 2019.5
And now, with lockdowns and strict travel bans in place across India, COVID-19 has made some consumers reluctant to visit car dealerships, and as a result, walk-ins are even fewer. To aid business recovery, businesses are encouraged to take their dealerships to customers online.
Four out of every five people living in India who are considering buying a car said they would use an online purchase option if it were available.6 Moreover, nearly a third of all potential buyers would buy a car sooner if they had an online option and could avoid visiting a dealership.7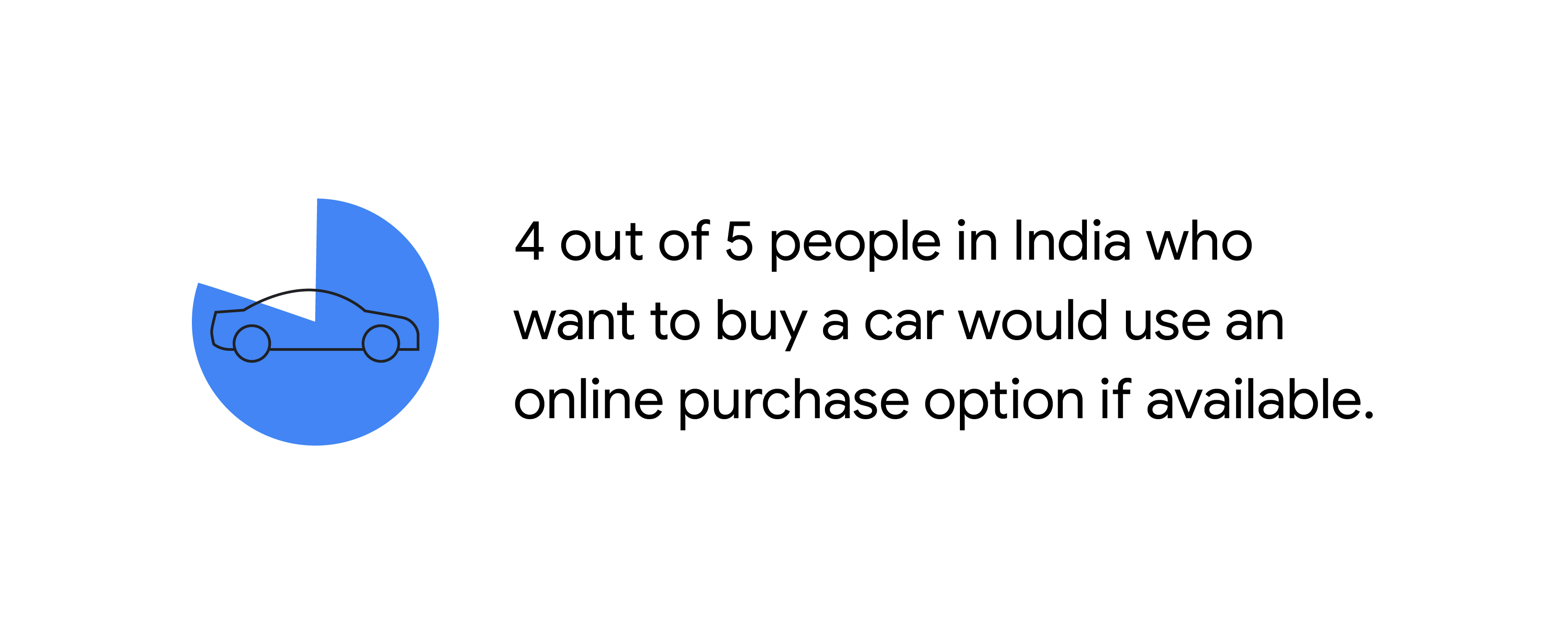 Shashank Srivastava, Maruti Suzuki's executive director of sales and marketing, says web-based sales inquiries have risen from 3% to 39% over the last three years, a finding that suggests car buyers want auto dealers to make it easier for them to purchase from home.
"As walk-ins to showrooms have significantly reduced, we are working with auto dealers to engage with customers on digital platforms," says Shashank.
"Today, we see 21 out of 26 touchpoints of the consumer's journey with the dealerships are digital."
Customers want a seamless personalized purchase experience
More than 90% of car buyers turn to online search seeking information from carmakers and brand websites, YouTube, and professional and consumer reviews.8 Among their expectations are a seamless online experience, including a faster turnaround to their queries. In fact, 56% of car buyers say they visit a dealer's website during their research journey, which is up from 40% in 2017, while 60% of car buyers research online to find their local dealership — an increase of more than 10 percentage points from 2016.9
Tarun Garg, Hyundai Motor India Ltd's director of sales and marketing, says online car research has gradually increased over the last two years.
"Digital sources are now contributing close to 30% to Hyundai India's sales inquiries."
Social distancing requirements make online discovery even more attractive to car buyers. Therefore, auto dealers should invest in digital platforms and upskill their sales teams to secure digital consumers.
"It's imperative now for auto dealerships to invest in digital platforms and upskill sales executives to win over today's digital consumer," said Vinkesh Gulati, vice president of the Federation of Automobile Dealers Associations of India.
To start, set up a digital desk at your dealership. Think beyond online bookings and consider personalizing the digital and in-dealership experience for your customers by being helpful and supportive. Include options for virtual consultations, online loan processing, online insurance, or online after-market services for customers who feel more comfortable staying at home. You can also provide links to credible third-party reviews and pre-empt customers' concerns and questions that can be shared via email.
Also, consider alternatives for people who don't want to visit a physical dealership. In India, 24% of auto shoppers prefer a test drive at home, and digital showrooms ranked as the second-most preferred alternative.10 Other options include VR (virtual reality) test drives, review videos, online configurators, and video conferences.11
Today's auto dealers must provide easily digestible information in varied formats to build a successful online relationship with customers.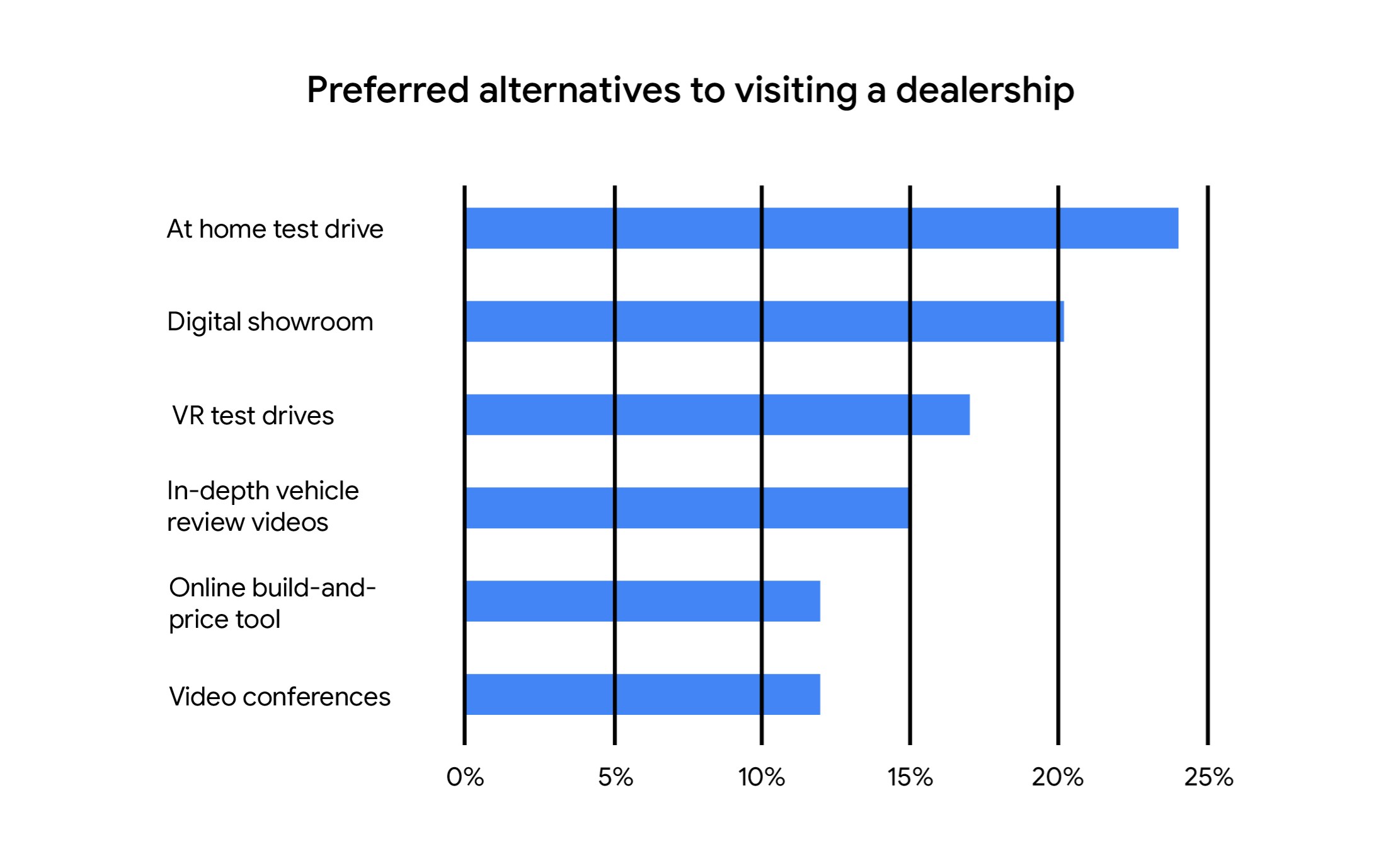 It's about building the dealership of tomorrow and digitizing the dealership. COVID-19 has not inhibited but rather escalated trends shaping a new normal for the auto industry. Car brands that understand and meet customer expectations are more likely to speed up success.
Contributors: Shashank Dudeja, Industry Manager, Automotive; Vibhuti Agarwal, Account Manager, Automotive