As connectivity increases across the country, Pakistanis are using digital in new ways to discover, research, and buy products. Here, Google's Lars Anthonisen unpacks our latest research to see why keeping up with consumers in the digital era means challenging long-held assumptions.
Pakistan's online population has grown 68% in the last three years.1 Marketers have traditionally relied on digital to boost brand awareness or highlight promotions. But as people become more empowered and influenced by technology, it's time for marketers to rethink how, when, and where they engage the country's 74 million online consumers.
Our new study, conducted in partnership with Ipsos and Quantum, revealed there are more opportunities than ever to show up for Pakistani shoppers at every step of the journey. Here are the highlights from our research, as well as some ways brands can encourage Pakistani consumers to take action — both online and in stores.
Connect with shoppers online to win their consideration
We found that brands are 3-4X more likely to reach Pakistani shoppers online than in stores as they get closer to making a purchase.2 Although most consumers end up buying offline, many don't even step into a store until they've made up their minds about what to buy. For instance, 70% of Pakistani shoppers who recently purchased a smartphone never visited a physical store until the point of sale.3

Instead, more Pakistanis are going online to explore the products they have their eyes on. We saw that a growing number of shoppers are searching for retailers that make it easy to research and shop without needing to visit a store:4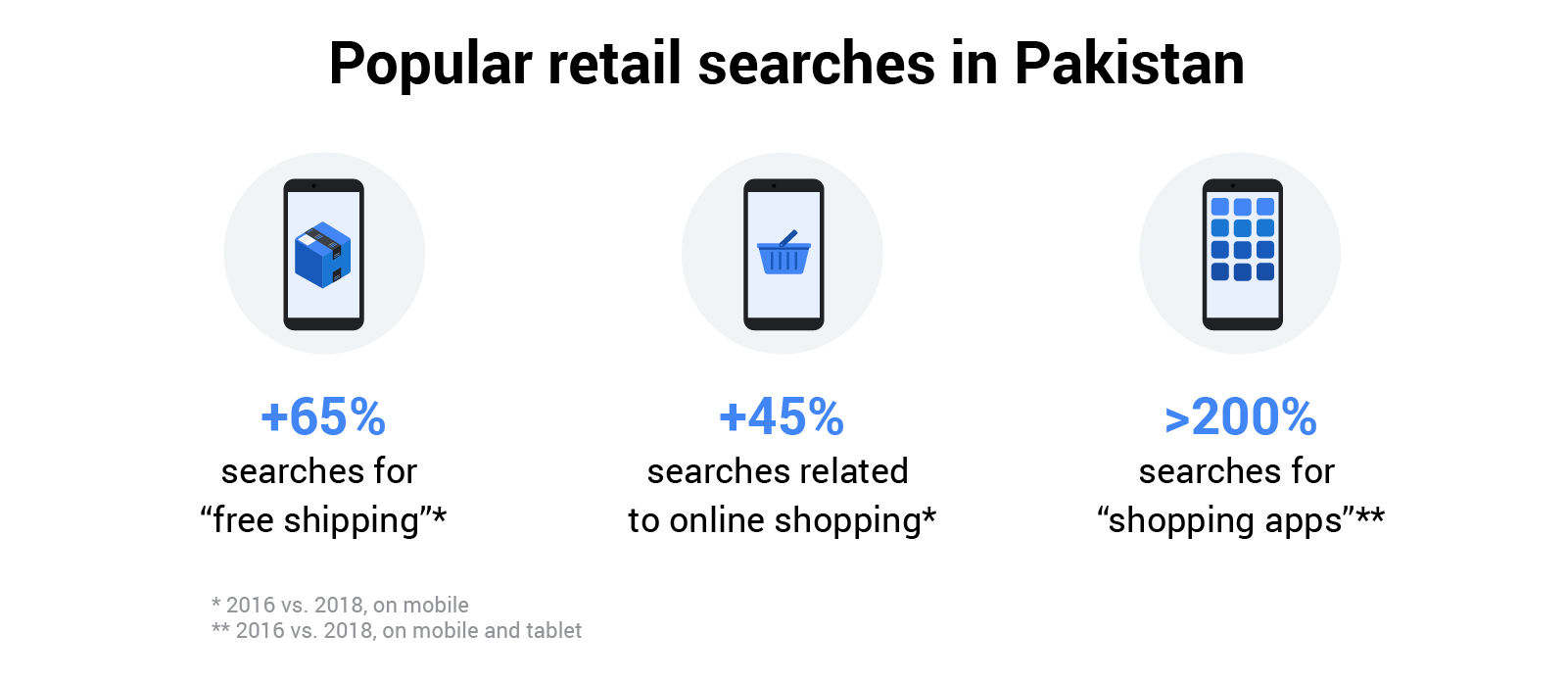 Marketers have an opportunity to turn this online interest into offline sales by showing up early when shoppers are deciding what and how to buy. By being present on Search, brands also put themselves in a better position to be top of mind when shoppers are ready to make a purchase.
Offer Pakistani shoppers more than just promotions
Showcasing the lowest price is rarely the best way to win over undecided Pakistani shoppers — they only spend about 2% of their time bargain hunting before making a purchase.5 More than half of the purchases in our research were made when shoppers were focused on staying loyal to their favorite brands or doing enough research to weigh all their options.6
When Pakistani consumers are feeling especially brand loyal, they dig deeper into two to three brands and aren't easily swayed by competitors.7 But when they're more willing to do heavy research, product quality, accessibility, and popularity are what matters most.8 And as they explore reviews, warranties, celebrity endorsements, and in-store availability, they're more likely to be open to discovering new brands and products.9
As Pakistani shoppers explore reviews, warranties, celebrity endorsements, and in-store availability, they're more likely to be open to discovering new brands and products.
Being helpful in these moments is when brands have the best opportunity to win open-minded shoppers. Given that more than half of Pakistani YouTube users say they've seen ads that help them decide which product or brands to buy, brands can experiment with tailored video creative to engage undecided shoppers. And as Pakistanis use Search and online video to consider their options, marketers can develop cross-channel campaigns to show up where shoppers like to spend their time.
Spark offline visits with online experiences
As more Pakistanis go online, digital's impact on their paths to purchase will only keep growing. Reaching them in key moments of discovery and research comes down to connecting with them where they go to find inspiration and guidance. And by shifting away from assumptions and leaning into data-driven insights instead, you can thrive in one of the fastest-growing economies in the world.
Methodology
Ipsos and Quantum surveyed more than 2,500 Pakistanis between the ages of 18-55 who bought a skincare product, smartphone, or piece of women's fashion at least once between March 2019 and June 2019. One-third of those surveyed lived in rural areas. Shoppers were asked to answer written surveys and follow-up questionnaires, and were also encouraged to participate in interviews and ethnographic observations.