As the sweet aroma of kolak, a traditional Indonesian dessert, fills the air and signals the impending start of Ramadan, marketers across Indonesia will be preparing for one of the busiest periods in the marketing calendar. Even in the pandemic, Ramadan remains the highest spending window of the year for consumer packaged goods, and it continues to be an important time of growth for brands. In 2021, spending on gifts and groceries during Ramadan reached $38.5 trillion, exceeding the $35.6 trillion spent during non-festive periods.1
Brands looking to engage with Indonesians during Ramadan 2022 should start by identifying the latest shopping behavior and Ramadan consumer insights. How Indonesians shop has evolved, and this presents fresh opportunities for brands to connect with people in ways that are timely, personal, and seamless.
Download the Winning Ramadan with Digital 2022 playbook in Bahasa Indonesia here.
Evolving shopping behaviors will affect Ramadan 2022
People in Indonesia have, until recently, been mostly shopping offline. But for Ramadan 2022, brands should be ready to meet consumers online and offer a seamless online-offline shopping experience. The reason for this urgency: 21 million new internet users came online in Indonesia in 2021.2 This rapid digital adoption and significant increase in digital consumption means there'll be more Indonesians shopping online, in addition to offline.

The demand for online shopping in particular is poised to grow significantly in non-metro areas as 72% of new internet users hail from non-metro cities. Already, e-commerce transactions for FMCG products have grown by 2.1X in these areas.3
That said, offline channels remain important to shoppers because they provide ease, convenience, and confidence. Many Indonesians live in close proximity to shops or wet markets, and 40% say they prefer the convenience of shopping at these stores for regular purchases. In addition, 28% say they prefer offline shopping because it allows them to immediately see or purchase an item.4
As Indonesians' shopping behaviors evolve, brands need to make sure their omnichannel marketing strategies are ready to engage with people wherever and however they shop for Ramadan, whether online, offline, or a blend of both. Here are three things marketers can do to unlock brand growth during Ramadan.
Build a timely online presence to aid people in their purchase journey
Indonesians often research a product or service online first to feel confident they're making the right purchase decision. Around 80% of Indonesians say they need a trusted source of information before clicking "buy" and 94% want to read as much relevant information as possible before making a purchase.5 Search engines are often the first place they'll turn to, with 73% saying they use search engines to find e-commerce or brand websites.6
A strong online presence, however, is not enough for brands, it also needs to be timely. Being present when people are searching for information online enables brands to stay top-of-mind in people's purchase journey.
Key moments for brands to engage with Indonesians during Ramadan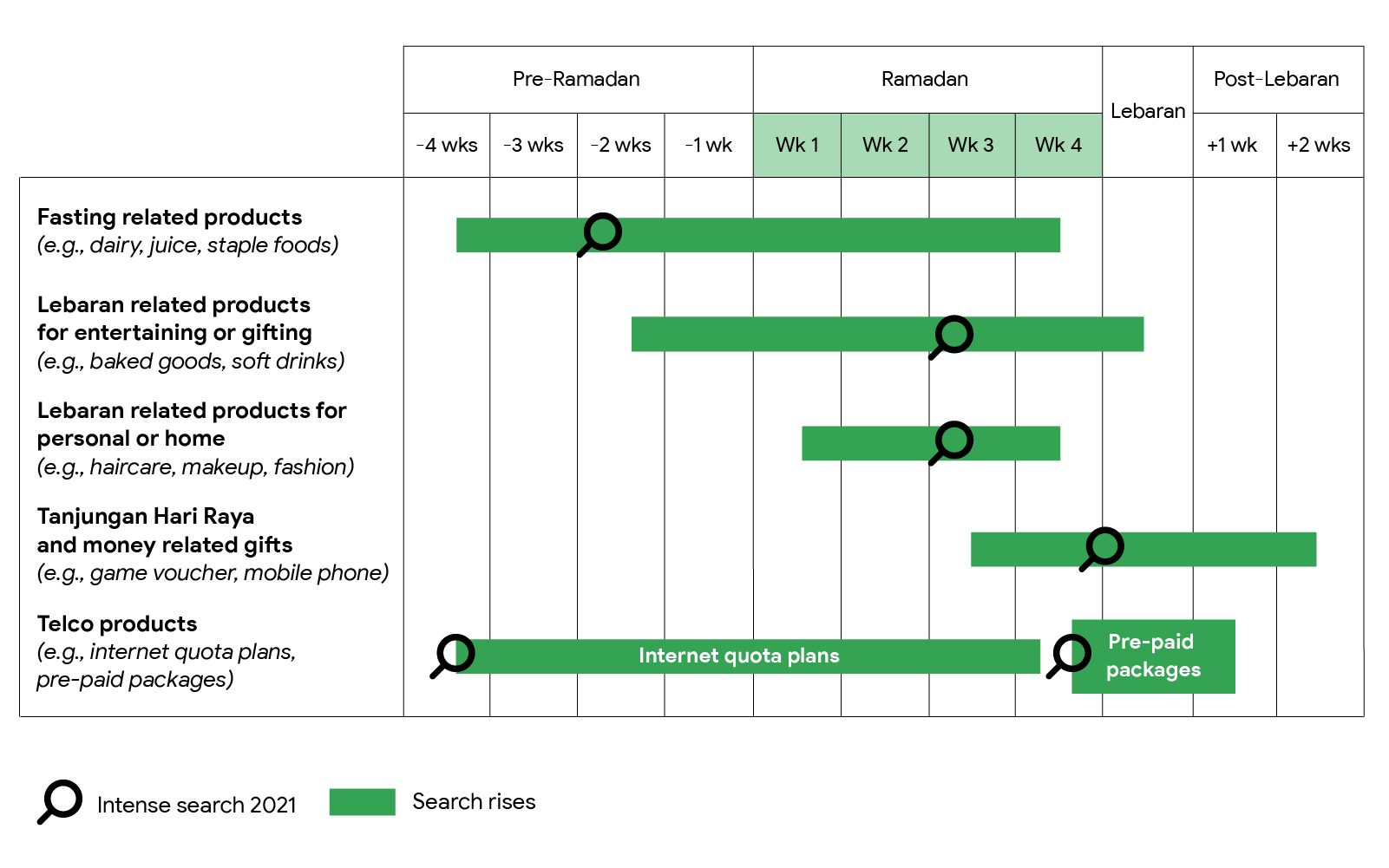 Seed online campaigns when Indonesians start preparing for Ramadan celebrations in the month leading up to it. Search interest for fasting related products or products deemed "good for me during fasting," like dairy, juice, and staple foods, starts to rise two weeks before Ramadan and intensifies two weeks before fasting begins.7
Step up marketing during Ramadan when searches for Lebaran related products for gifting or entertaining, like baked goods and soft drinks, intensify in the first week of fasting and peak two weeks before Lebaran. In the third week of Ramadan, focus on marketing makeup, haircare, fashion, and home improvement goods because Indonesians' interest in these products peaks ahead of home visits during Lebaran.8
Keep campaigns for telco products on throughout Ramadan to meet increased consumption of online content during this period when Indonesians are connecting with loved ones online.9 Searches for data plans intensify in the first week of fasting until Lebaran. Post-Lebaran, as festivities draw to a close, search interest shifts toward pre-paid packages.
Create personalized video content to appeal to local audiences
With more Indonesians in non-metro areas coming online, brands should lean into hyperlocal marketing to ensure their campaigns cater to the diverse needs and shopping behaviors of people across Indonesia.

Online video is one way to achieve hyperlocal reach at scale during the holy month because 70% of Indonesians watch more video content during Ramadan compared with non-festive periods.10 Notably, among Indonesian viewers, YouTube is the number one online video platform that serves content with both mass appeal and deeply personal relevance.11
To produce content that engages diverse audiences across Indonesia, brands can partner with YouTube content creators who have deep expertise and extensive audience connections. They include creators such as Yeni Inka from Central Java, who has attracted more than 23 million viewers, and Denny Caknan from Ngawi, who has 4.6 million subscribers.
Telco Indosat Ooredoo successfully tapped YouTube and content creators for hyperlocal marketing in the lead-up to Ramadan 2021 with its #SilaturahmiTanpaHenti (#UnstoppableConnection) campaign. Its aim was to help customers connect with loved ones while physically apart using its "Freedom Internet" package, which offered significant discounts and increased data quotas.
The telco leaned into the Ramadan consumer insight that people enjoy listening to music as they wait to break their fast or spend time with their family,12 and it collaborated with popular Indonesian musicians, including Sal Priadi and Yura Yunita, to create a series of short- and long-form YouTube videos that connected with people all over Indonesia. It also used YouTube to host exclusive virtual concerts, which encouraged group watch sessions and brought people together to celebrate the holy season online.
The campaign was further bolstered by using Google Display & Video 360 to engage various audience segments during peak periods of online usage. This enabled the telco to reach new users and re-engage existing customers. As a result, the campaign attracted more than 145 million views on YouTube and contributed to more than 550,000 new installs of the telco's app, with around 5.7 million app opens during Ramadan.
Connect with people online and offline seamlessly
Brands should also make every moment and customer touchpoint count, whether online or offline. Popular instant noodle brand Indomie did this in a bold, creative, and thoughtful way during Ramadan last year, both online and offline.
In supermarkets, shelves were stocked with Indomie's Ramadan-edition product where the image of its famous noodles was removed from the packaging in a nod to the fasting period. Online, the brand had two versions of its ads running at separate times during Ramadan using YouTube's time-specific bumper ads. The ad that ran during puasa, the daily fasting period, featured empty bowls on the product packaging. The one that ran after iftar, the evening meal that ends the daily fast, reverted to the standard packaging, which features the much-loved noodles.
Indomie's culturally-sensitive and seamless online-offline marketing during Ramadan became one of the most talked-about Ramadan campaigns on social media in Indonesia, with business results to show for all the buzz. It notched a 2.6X lift in impressions and helped the brand achieve increased sales both online and offline.
As shopping behaviors in Indonesia evolve and digital consumption in the country grows, people will expect brands to meet them wherever they are, online or offline. Brands that establish a solid omnichannel presence and provide people with helpful and personalized content in their purchase journey are well positioned to get ahead and maximize opportunities for growth this Ramadan.