It was my sister's 20th wedding anniversary recently and I was excited to get her a meaningful present to celebrate the milestone. Gifting the perfect present was important to me because I hadn't seen her in almost two years due to the pandemic. So, I sought advice on gift ideas from people and browsed websites, video platforms, and social media for inspiration. But I ended up confused by the various sources of information. How could I be sure I'd bought the right gift? And could I rely on the delivery service to get the gift to her on time or at all? I needed a source of trustworthy information to help me decide with confidence.
As it turns out, I'm not the only shopper who feels inundated with choice and unsure about purchase decisions. Google's latest research shows that people experience a wide range of emotions during their buying journey.1 From curiosity and confusion to clarity and conviction, people often struggle to find trusted touchpoints that will guide them along the nonlinear customer journey.
To make purchase decisions with confidence and assurance, shoppers have turned to Search as their number one touchpoint for relevant information.2 Another critical driver of purchase decisions and customer preference is brand presence. When brands provide relevant and trustworthy content online, they increase consumer preference by more than 70%.
People want to shop with clarity and brands can help guide shoppers toward their purchase decisions. To cultivate consumer trust and shape better customer journeys, brands need to first understand the emotions that drive consumer buying behavior. Here, we share three key consumer insights from our latest research that brands can use to develop Search marketing strategies which help people shop with confidence and ease.
Emotions drive decision-making
The customer journey is marked by emotions and people want to feel certainty and confidence before they make a purchase. When they're skeptical, they want to feel convinced. When they're confused, they want clarity. People search for information to attain that emotional resolution. In our study, 57% of respondents said they research before making a purchase to feel confident in what they're purchasing, and 69% said they research to ensure they get the right product or service they need.3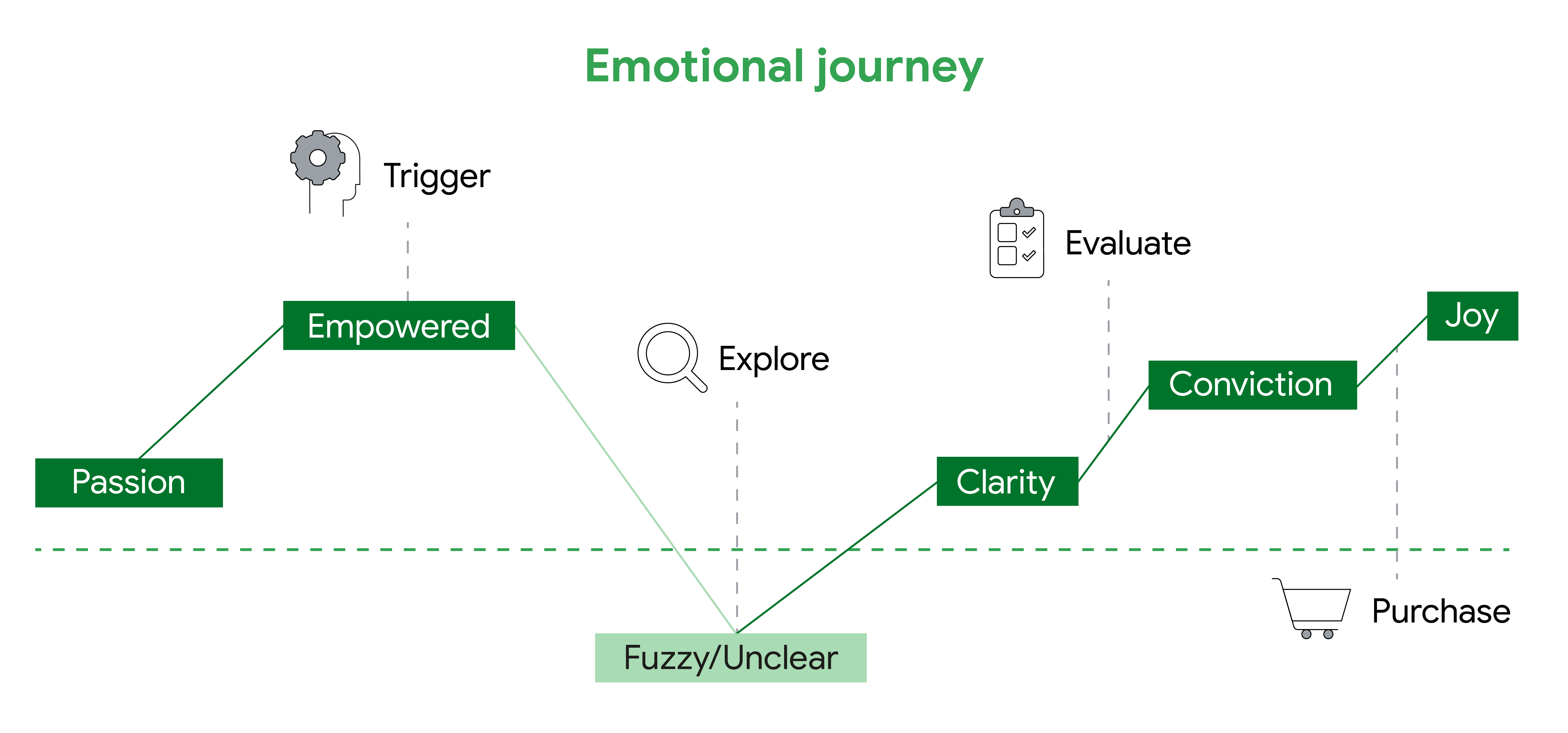 This need for emotional resolution drives people to all sources for information: social media, site aggregators, review websites, stores, or family and friends. It's unsurprising then that 81% of consumers buy products or services from brands that provide information which makes them feel empowered about their purchase decisions.4
Search is the top touchpoint for shoppers in their emotional customer journey. It organizes and contextualizes the information available online, and it connects shoppers to other online touchpoints. Seventy-three percent of those who use online touchpoints in their research access one or more touchpoints via a search engine.5
As people explore and evaluate their options, brands can help them feel empowered by providing them with useful information, such as clear product specifications, genuine product reviews, or information from experts. Responsive search ads can play an instrumental role in this. The Google Ads machine learning solution uses headlines and descriptions provided by marketers to create combinations of ads that match unique Search queries. This speeds up how people find information and increases conversions for brands by an average of 7%.
People want trusted sources
People are also finding it more important than before to have sources they can trust in their customer journey, reinforcing the need for brands to build up their credibility. Compared with before COVID-19, 87% of people say it's now more important to find a trusted source of information.6 Eighty-five percent also say they will purchase from brands that provide trusted information, and 63% won't buy from brands that provide irrelevant information.7

Google's investment in new technologies and rigorous processes over the years has improved the relevance and quality of Search algorithms and results. The improvements make it easier for people to discover what they need and filter for more authoritative sources. Brands can leverage Search to build customer trust by creating reliable and relevant online content, such as informative landing pages and clear product descriptions, which Search then delivers to potential customers.
The paradox of choice
Researching all relevant information about a product or service is important for consumers to attain emotional resolution about their purchase decision, but an information overload in the process can actually impede decision-making. In our study, 94% of people say it's important to research before making a purchase.8 Yet at the same time, 80% of respondents who have difficulty making purchase decisions say it's because they are given too much information or too many options.9 This is where brands can step in to help.

To ease shoppers out of choice paralysis, brands should be present at the right moment to guide shoppers in their search. In our study, 84% of people say they will purchase from a brand that provides helpful information when they're exploring options.10
Brands can use machine learning to provide personalized and relevant information for people researching online. With broad match keywords and Smart Bidding, brands can make sure their ads reach more relevant search queries and drive purchase decisions. Brands that use broad match keywords and Smart Bidding strategies together have seen an increase in conversions of up to 25%.
The purchase journey is an emotional one for customers and brands can support people in their shopping experience. With Search being a top touchpoint in the customer journey, brands can help people feel empowered throughout the process by being present, reliable, relevant, and informative on Search.