Every day, people turn to the search bar with billions of queries. It is the top touchpoint for consumers looking for relevant information.1 They're researching and re-researching for products and services that matter to them. They're on the lookout for the best deals and turning to Search to feel confident and empowered about their purchase decisions.
How can brands tap into the power of Search to connect with people? Four well-known brands from different industries, Kiehl's, Enfagrow A+, Hyundai Marine & Fire Insurance, and Realme, share how they leveled up their search strategy to increase website traffic and drive business growth.
Be present to connect with consumers early on
Simply being present during a consumer's search and exploration phase can help brands drive consumer preference. By broadening your keyword strategy to include both branded and non-branded keywords, you can reach and engage undecided consumers early in their research.
Beauty brand Kiehl's learned that people in Malaysia were turning to Search to discover new ways to care for their skin, after the pandemic disrupted people's daily routines. Year-over-year search interests for "skin care" and "skincare for" had grown by 20% and 50% respectively. Non-branded search terms were also getting 5X more interest compared with search interest for "Kiehl's."2 Based on these search findings, Kiehl's strengthened its Google Search strategy.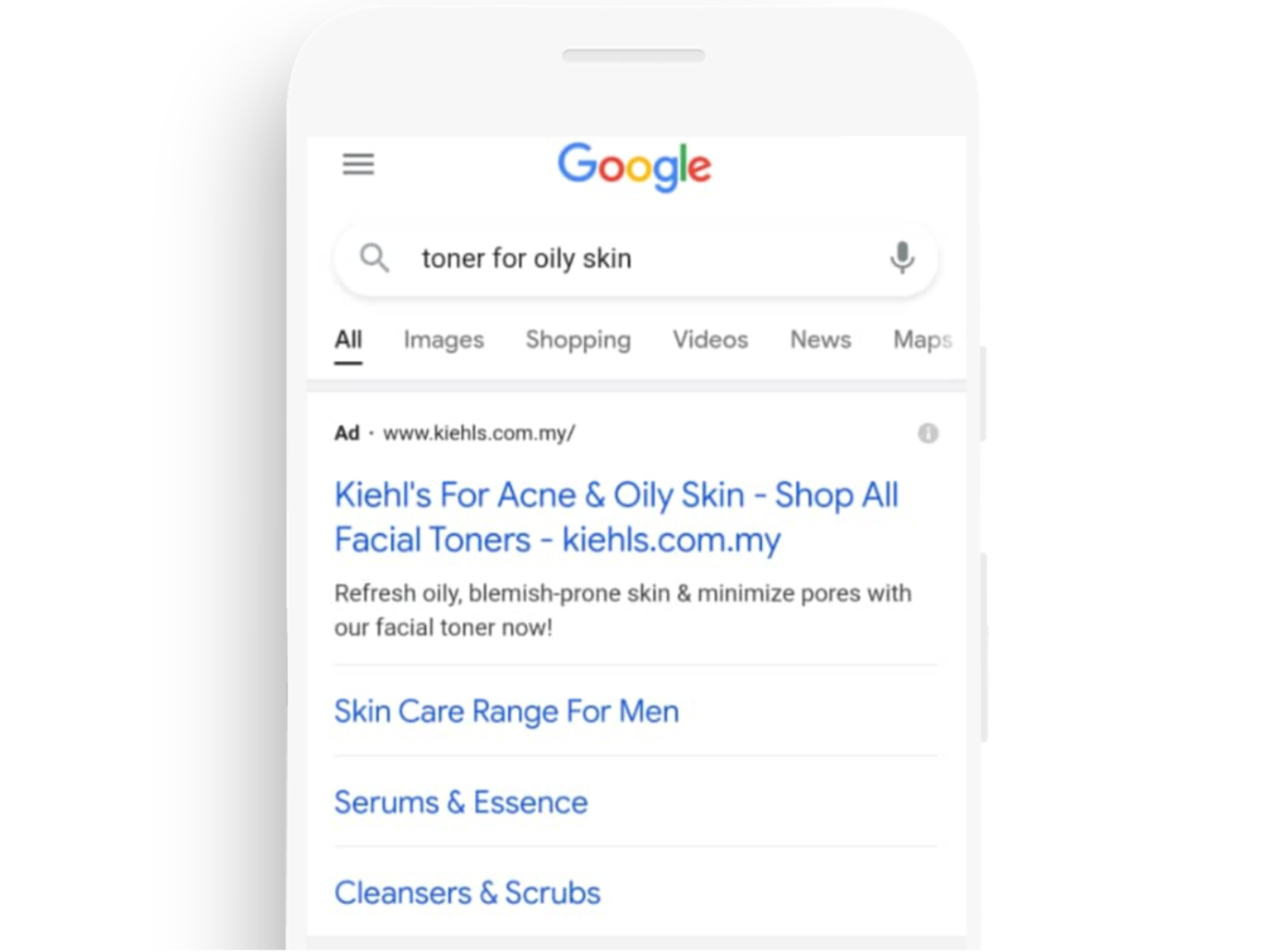 It incorporated more non-branded keywords such as "sunscreen" and "toner for oily skin," in its search campaigns, and saw a 20% increase in website traffic, 80% of which were from new customers. The increase in traffic resulted in a significant jump of 27% in online sales. Non-branded search keywords enabled Kiehl's to expand its reach, drive brand consideration early on in the consumer purchase journey, and gain new customers.

Be the most relevant to what people are searching for
People are searching for new things every day and 15% of daily search queries have never been looked up before. This poses a challenge for brands to consistently meet customers' needs in their search journey. But with the right search strategy and tools, the challenge becomes a growth opportunity.
Enfagrow A+, a children's nutrition brand under Mead Johnson, wanted to connect parents with useful information that would support them in their children's development. The brand opted to use responsive search ads (RSAs), which automatically created ad messages that matched common search queries from parents such as "baby milk powder," "milk formula," and "Enfagrow." This removed much of the manual guesswork that usually comes with creative optimization.
At the same time, by looking at optimization recommendations from Google's Ad Strength tool, the brand increased its number of ad headlines from six to 12, and made sure top suggested keywords such as "Enfagrow," "susu" (milk), and "milk formula" were included in the headlines. The brand also diversified the call-to-action in the headlines with a variety of actionable prompts such as "request sample," "try now," and "learn more."

With this Google Search ads format, Enfagrow A+ was able to generate some 30,000 ad variations and provide relevant answers to diverse consumer queries. It was also able to unlock a 50% higher click-through rate at 34% lower cost per click.
Embrace automation to boost scale and efficiency
People are also making more complex queries on Search every day, and brands have to anticipate that myriad queries will show up. But manually setting up anticipated search terms is inefficient and might not accurately capture customers' intent. That's where machine learning-based keyword features can help.
A leader in South Korea's domestic insurance market, Hyundai Marine & Fire Insurance wanted to acquire high-intent customers for its insurance plans. To do so, the brand tweaked its search keyword strategy by expanding its keyword match type to broad match. This ensured its ads would appear on relevant search queries even if they didn't contain the exact keywords.
Broad match analyzes audience signals, such as users' recent search activities, advertisers' landing pages, and other related keywords, to display ads on the most appropriate searches.
To complement its broad match strategy, the brand used Smart Bidding to automatically set up the right bids at the right time for every auction. This strategy of combining broad match keywords and Smart Bidding enabled the brand to drive 16% growth in insurance quote requests or policy sign-ups, all while retaining cost efficiency.

Collaborative marketing establishes your online store presence
Brands saw a wave of shoppers moving to online stores during the pandemic, propelling a 3X year-on-year growth of retail-related searches. The migration to online retail also pushed marketplace platforms to the forefront, and this presented brands, including smartphone brand Realme, with opportunities for marketplace collaborations.
Realme realized that people were less likely to visit brick-and-mortar stores in a pandemic to purchase new smartphones, so it pivoted to an online sales strategy that ensured the brand would show up for people searching for mobile devices online. It set up an official store with online marketplace Shopee in Malaysia and used Retail Partnerships with Google Ads to reach high-intent shoppers searching for smartphones on Google. The ads enabled shoppers to seamlessly complete their purchase with Shopee, and Realme was able to receive insights on its sales via the online marketplace.
This online sales strategy, coupled with the hype of a mega shopping moment, enabled Realme's 11.11 sale campaigns on Google Search and Shopping to unlock incremental sales by driving 91,000 clicks to its official Shopee store.
It's important for brands to adapt their search strategy as people's online search habits evolve. With an optimized search strategy, brands can better cater to customers' intents and their myriad searches at any moment, while also driving operational and performance efficiency with experimentation and automation tools.