While TV ads have traditionally dominated the auto industry, Aussies are spending more and more time online doing personal research before visiting a dealership. Our new research with Kantar TNS explores the kinds of information new car buyers are looking for as well as how brands and OEMs can engage those buyers from their first search through to the final sale.
Due to tighter lending practices and declining house prices, demand for new cars among Aussie consumers is expected to remain low this year. But there's a prime opportunity for Aussie car brands that think digital-first: consumers are spending more time than ever researching their options online. And while they're spoiled for choice (more than 65 car brands account for approximately 1.2 million new car sales per year in Australia, compared to 17.2 million sales among fewer brands in the U.S.), they're not particularly brand loyal.
In fact, 65% of new car buyers in Australia bought a brand different from their last vehicle. That means Aussie brands have an opportunity to connect and be top of mind for new car buyers at every step of the journey.
"Connectivity and digitisation are the biggest trends disrupting the auto industry," said Richard Wolstenholme, Google's automotive industry director. "Together, they're accelerating the influence of digital touchpoints along the buyer journey. The power is in being able to harness advances in technology so OEMs and dealers can provide a more seamless, relevant, and personalized user experience."
To better understand the research behavior of Aussies in the market for a new car, we partnered with Kantar/TNS for a quantitative study that explored the typical path to purchase for 500 consumers.1 Here, we'll break down takeaways and strategies for engaging Aussie consumers when they go online to research new vehicles.
1. Digital dominates consumers' pre-purchase research
Ten years ago, Aussies visited an average of five dealerships before making a purchase. Today, they typically visit only two. Thanks to digital, the car buying journey is increasingly self-service, and consumers make the majority of their most important decisions before they ever visit a dealership. Nearly half of all car buyers (47%) decide to buy a vehicle after just one test drive, which shows that consumers are confirming their prior research before setting foot on a car lot.
The power is in being able to harness advances in technology so OEMs and dealers can provide a more seamless, relevant, and personalized user experience.
The vast majority of Aussies we surveyed (89%) did their research online. Digital research is even more prevalent among first-time new car buyers, with 95% of whom did research online at some point. And just as we've seen across other industries, search engines are typically consumers' first stop — new car-related searches grew by 26% YoY, electric car searches grew by 28% YoY, and searches for "best SUV Australia" have grown by 26% over the past year.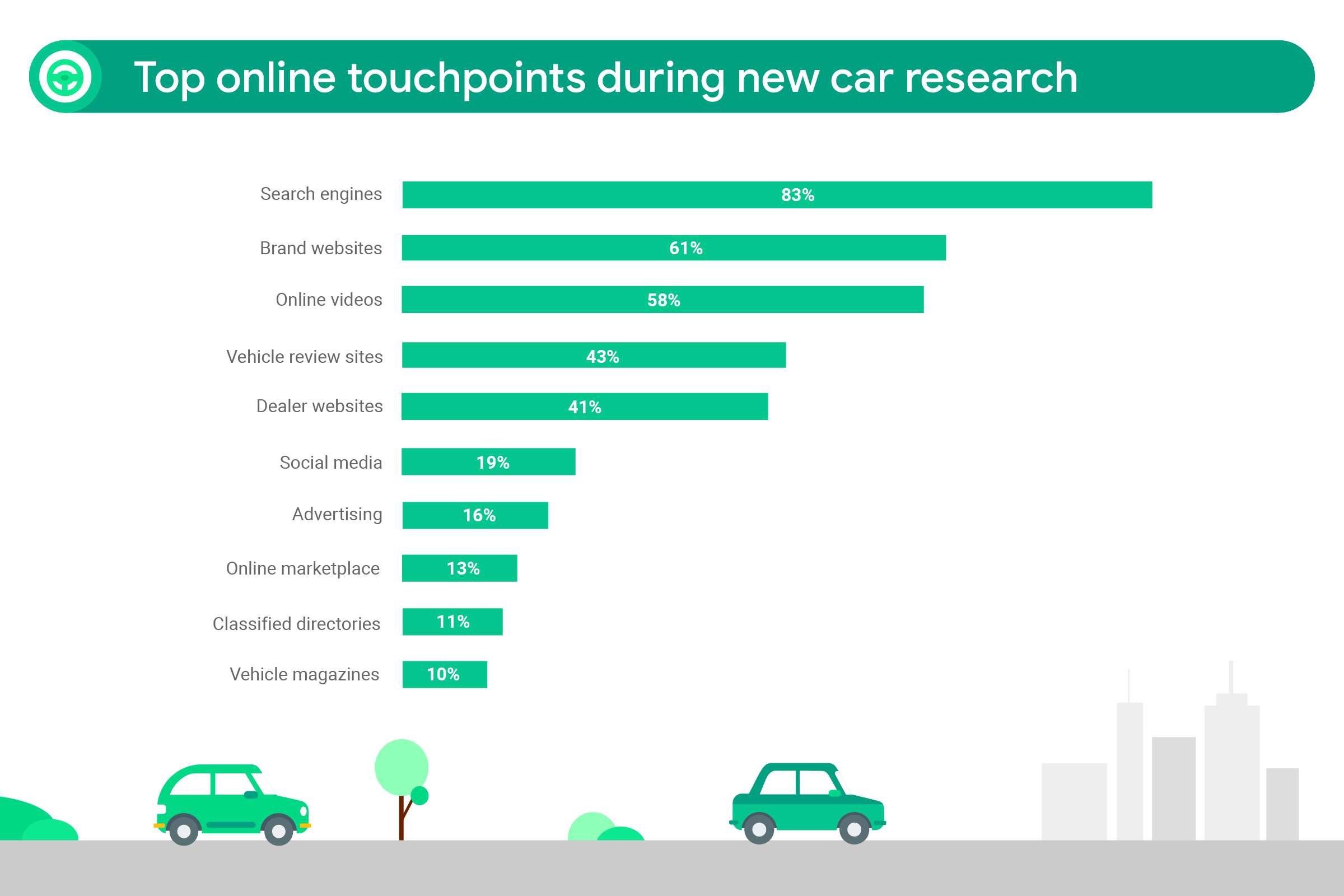 Key takeaway
By the time Aussies visit a dealership, their minds are likely made up. Car brands and OEMs need to maintain a robust digital presence to be visible early when consumers are looking for ideas, information, and inspiration. Search ads are an effective way to guide consumers to relevant site pages where they can learn more about specs and features and discover the right vehicle.
2. Online videos inspire consumers to take action
Online videos have become a crucial resource at every step of the journey. More than half (58%) of all car buyers watched online videos at some point during their research — including three out of four first-time buyers — and 75% said YouTube was their primary source.
By providing drivers a convenient yet comprehensive look under the hood, video content plays an important role in narrowing their options: 70% of consumers said online videos convinced them to think positively about a brand, while 65% said online videos introduced them to a new vehicle they had not considered before.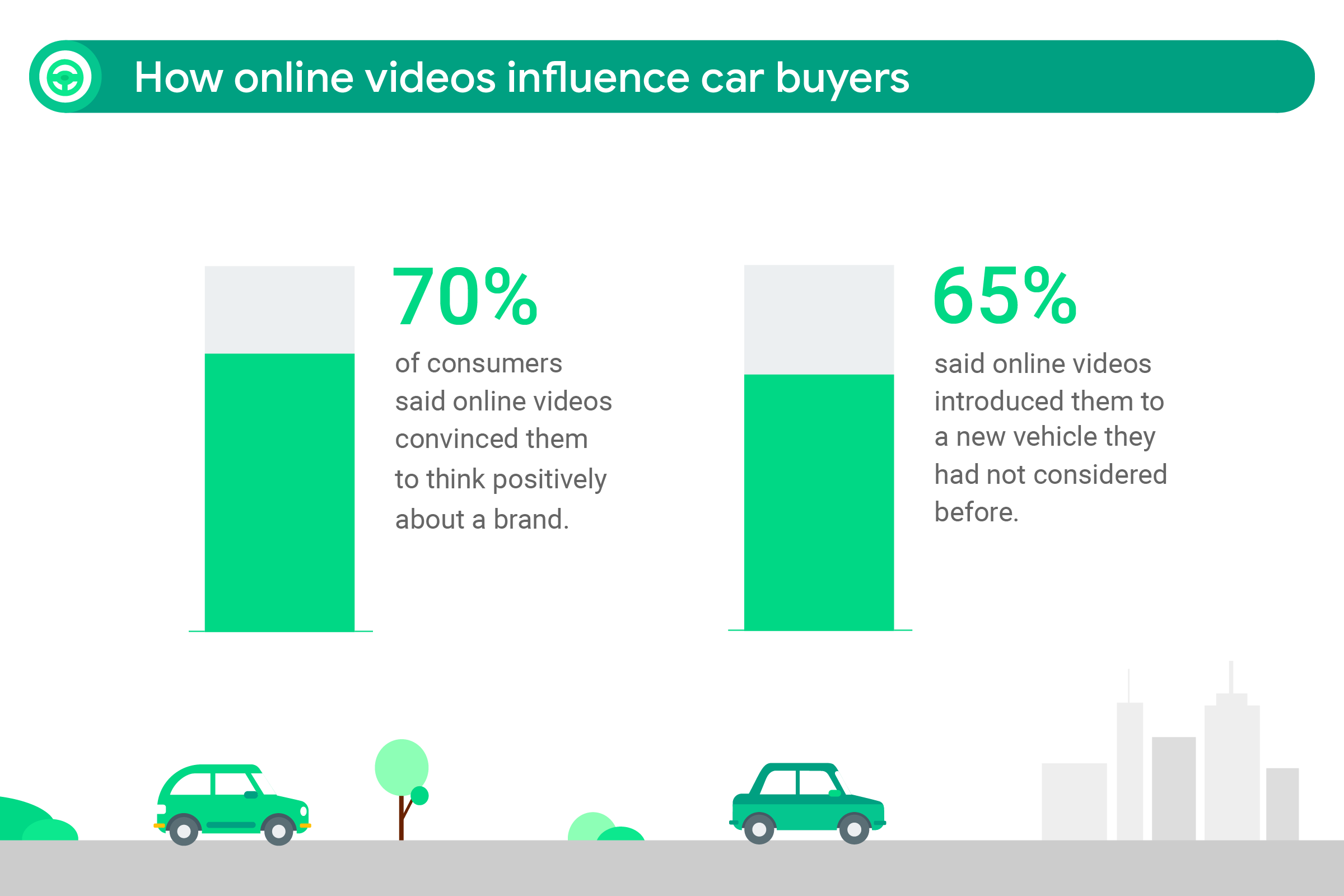 Compelling, professional-quality video content also has the power to spark valuable action, like driving consumers to dealerships. Nearly 75% of consumers who watched an online video during their research followed up by visiting a dealer site, locating a dealer, or requesting a quote.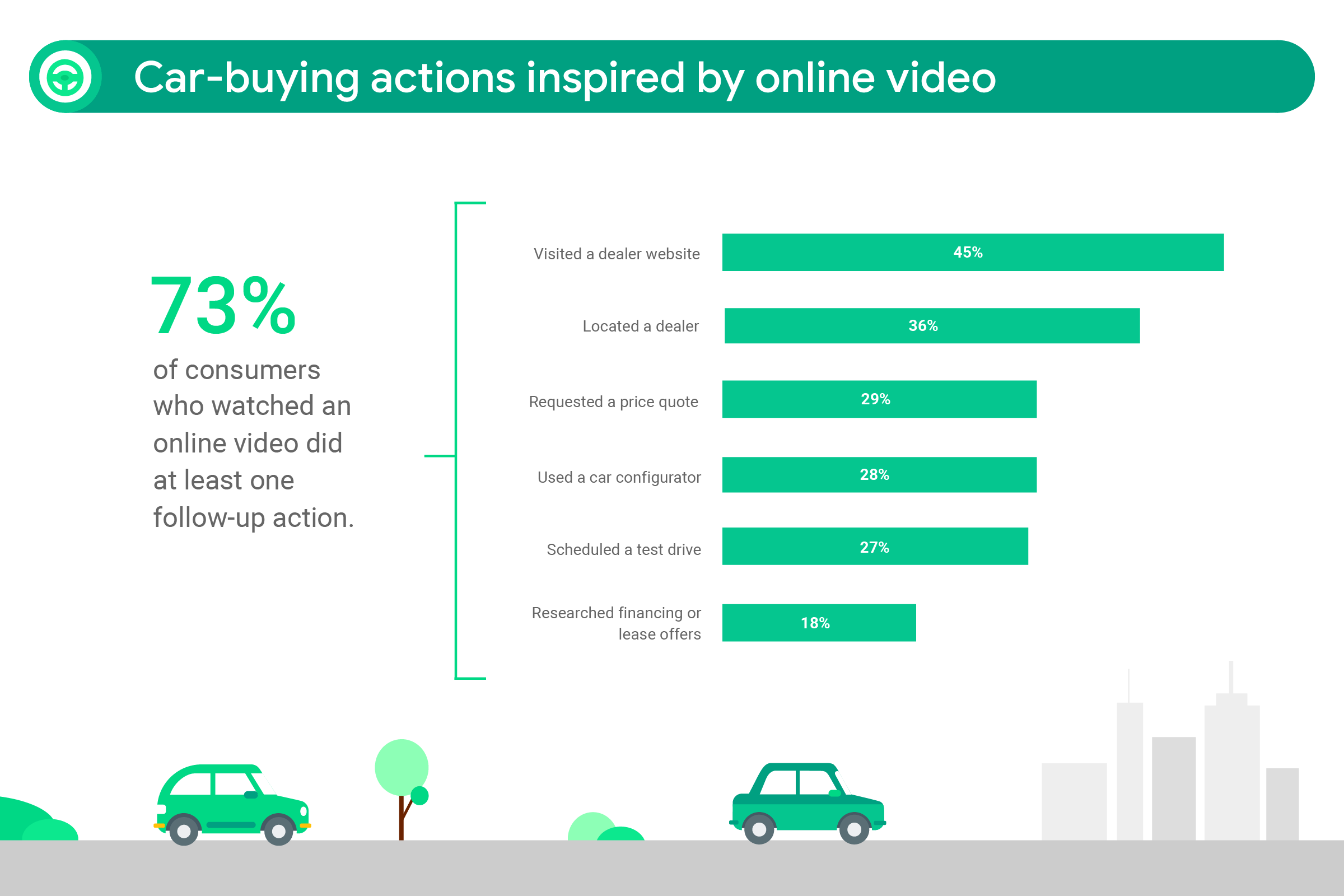 Video ads that showcase vehicle features or promote sales are relevant to most consumers, but context is also key: 28% of consumers said vehicle ads on YouTube were most relevant when they fit with other videos they watched before or after seeing the ad.
Key takeaway
Online video will be crucial to reach the nearly 3.5 million Aussies looking to buy a car in the next year. Half of these consumers are younger than 40, and on average, YouTube reaches more than 90% of that audience every month. Make sure your brand stands out with compelling video ads when Aussies go on YouTube to find relevant content at every step of the journey — including after the final sale. Nearly 33% of consumers used online video even after buying to learn more about their new vehicle.
3. The future of the dealership is digital
While 99% of all car purchases still happen at dealerships, new advancements in technology are setting some interesting trends. In the near future, consumers have shown a clear willingness to bring the entire process online. Two-thirds of consumers said emerging technology (such as augmented reality and virtual reality) can entirely replace the need for a test drive. And 45% of consumers said they'd consider buying a car online if given the option.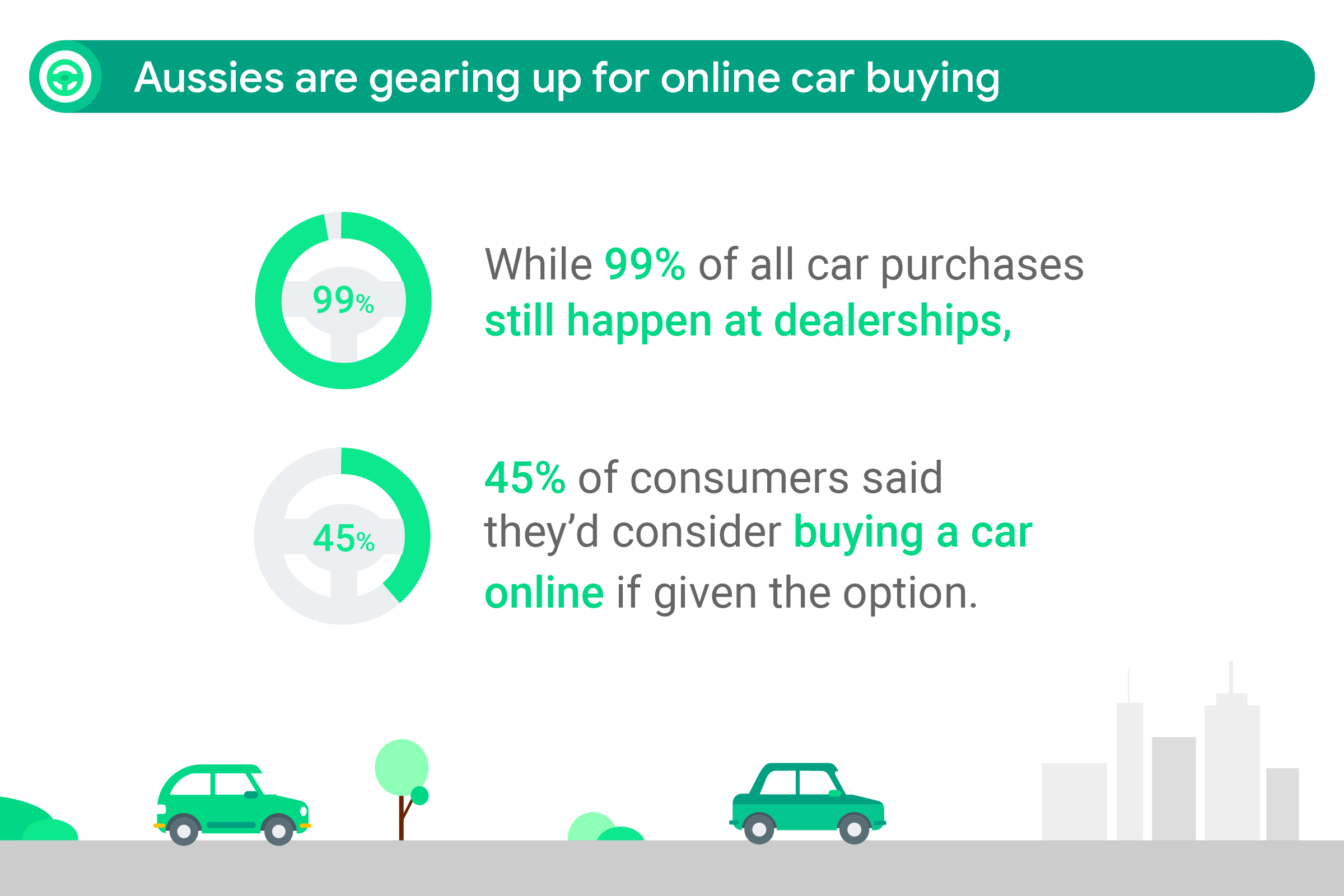 Until those features are more prevalent, online search will be a key conduit to dealership visits. More than half (52%) of Aussies in our survey researched online to find their dealer, and 41% of them found it using a search engine.
Key takeaway
Aussies are clearly intrigued by a fully digital car-buying process. As digital technology continues to evolve the industry, OEMs should rethink their business models, dealer networks, and offline experiences to reflect new consumer behavior. It's important to set up a measurement framework to track performance and traffic from digital ads, and use those insights to and create a seamless online-to-offline transition based on consumer intent.
Taking a new road to reach Aussie car buyers
Making an impact in Australia's highly competitive auto industry is no easy feat, and the future of car buying is looking more digital every day. Having a clear strategy led by search and YouTube is key to keeping up with consumers and staying ahead of the competition. Leading Aussie brands have already seen the effects of taking digital-first approaches to their marketing. With the help of new tools and smarter tactics, Aussie brands and OEMs will be in a better position to capture the attention and consideration of new car buyers.
Methodology
Google partnered with TNS Australia to conduct quantitative and qualitative research to explore the automotive path to purchase (where consumers look for information, where they purchase, their brand loyalty, etc.).
We spoke to 495 Australian consumers aged 18–60 years old who bought a car in the last six months prior to the survey.