Christmas in the Philippines isn't just about merriment. There's a lot of hard work, too! From finding perfect presents to creating tasty festive Pasko treats, much preparation goes into the merry-making. For many Filipinos, this often starts online—and early. Here's how to stand out to Pinoys throughout the holidays.
To say that Christmas is an important holiday in the Philippines is like calling the Summer Olympics a track meet. The holiday season is a rich and vital part of Filipino culture and tradition, from generous gift-giving to extensive decorations, midnight mass, and lavish all-night Noche Buena parties on the Eve.
These things don't just happen at the snap of a finger, though. They take lots of preparation, and for Filipinos, this starts by going online to compare gift options, find recipe inspirations, and seek advice on makeup, clothes, and decorations for the many seasonal get-togethers. In fact, according to a Google Consumer Barometer survey, a higher percentage of Filipinos use the web for shopping than their counterparts in the U.S. or the U.K. (60% in the Philippines compared with 40% in the U.S. and 44% in the U.K.).1 But it's not just about Google Search—they're also heading to YouTube to get yuletide inspiration and advice.
This behavior represents a big opportunity for brands, especially given the length of the season (more on this below). Marketers need to gear up by creating the right content and incentives, and delivering them to their customers at the right time.
According to a Google Consumer Barometer survey, a higher percentage of Filipinos use the web for shopping than their counterparts in the U.S. or the U.K.
The season for gift searching is long
CNN has called Christmas in the Philippines "the world's longest festive season," and with good reason.2 Baubles and tinsel start going up in shopping malls as soon as the "ber" months hit, and some Filipinos celebrate well into February—that's half of the year!
Based on a study conducted by Google Philippines, shoppers tend to spend an average of five hours a day online and browse more than ten sites before actually making their purchase in the months leading up to Christmas.3 And in the early stages of their exploration, approximately 67% of Filipinos say they don't have a specific product or brand in mind when they begin shopping3 (read: brands, start building affinity with shoppers by meeting their needs early on).
As the all-important Christmas Day nears, searches become more focused. By then, many Filipino shoppers will have narrowed down a shortlist of products, often turning to the internet for pricing and reviews, with quality and affordability greatly influencing their buying decisions.3
Similarly, videos also play an important role in their research: 58% of online shoppers in the Philippines name YouTube as a "Christmas shopping influencer."3 Along with video reviews, unboxings, and buying guides, strategic placements of TrueView content can keep your brand top-of-mind as shoppers hone in on the perfect gifts. Once Filipinos are ready to buy their specially selected "pamaskos" for their loved ones, (typically during the first two weeks of December, with a spike of last-minute shopping on December 24th), they log off, opting for the bustle of brick-and-mortar stores decked out with tinsel and flashing lights. Eighty-nine percent said they buy Christmas presents at the mall, compared with 15% who said they buy online using a computer or laptop.3 Transitioning alongside these shoppers from web to store is crucial, so be sure to develop a multi-pronged approach that can reach your Filipino shoppers, gift-hunters, and all-around merrymakers across the various channels.
Filipinos search for much more than Christmas presents
The Pinoy Christmas goes far beyond the rituals of a simple family gift exchange. A big part of the yuletide season consists of elaborate holiday parties. Filipinos living abroad often fly home for the celebrations (and look to book cheap airfare as early as January).2 Searches for "party" and party-related terms start escalating as early as September and ramp up in the five days leading up to Christmas.2
As you may have guessed, when it comes to party prep, Filipinos go all out on decorations and food. In keeping with traditional Pasko cuisine, searches for meat and seafood recipes top the list (up 19% year over year), with "chicken" and "pork" recipe searches peaking three days before Christmas.2Overall, cooking and recipe searches hit the second-highest peak of the year on December 23, just in time for those all-night Noche Buena extravaganzas.2
Filipino party-goers generally dress to impress for a night on the town, but the celebratory season culminates in an even greater need to look their absolute best. Christmastime searches for makeup, hairstyles, and outfits spike. More specifically, Filipinos searching for beauty advice and products were most interested in unlocking the must-have looks of supermodels like "Adriana Lima" and "Barbara Palvin," as well as cool tips on makeup, hair, and "nail art."3 Trending apparel and fashion searches during the holidays focus on fashion brands, such as Michael Kors and Louis Vuitton, as well as apparel connected to sports icons like "Jordan," "Lebron," and "Kobe."3
The Ramp Up for Christmas Searches in Key Categories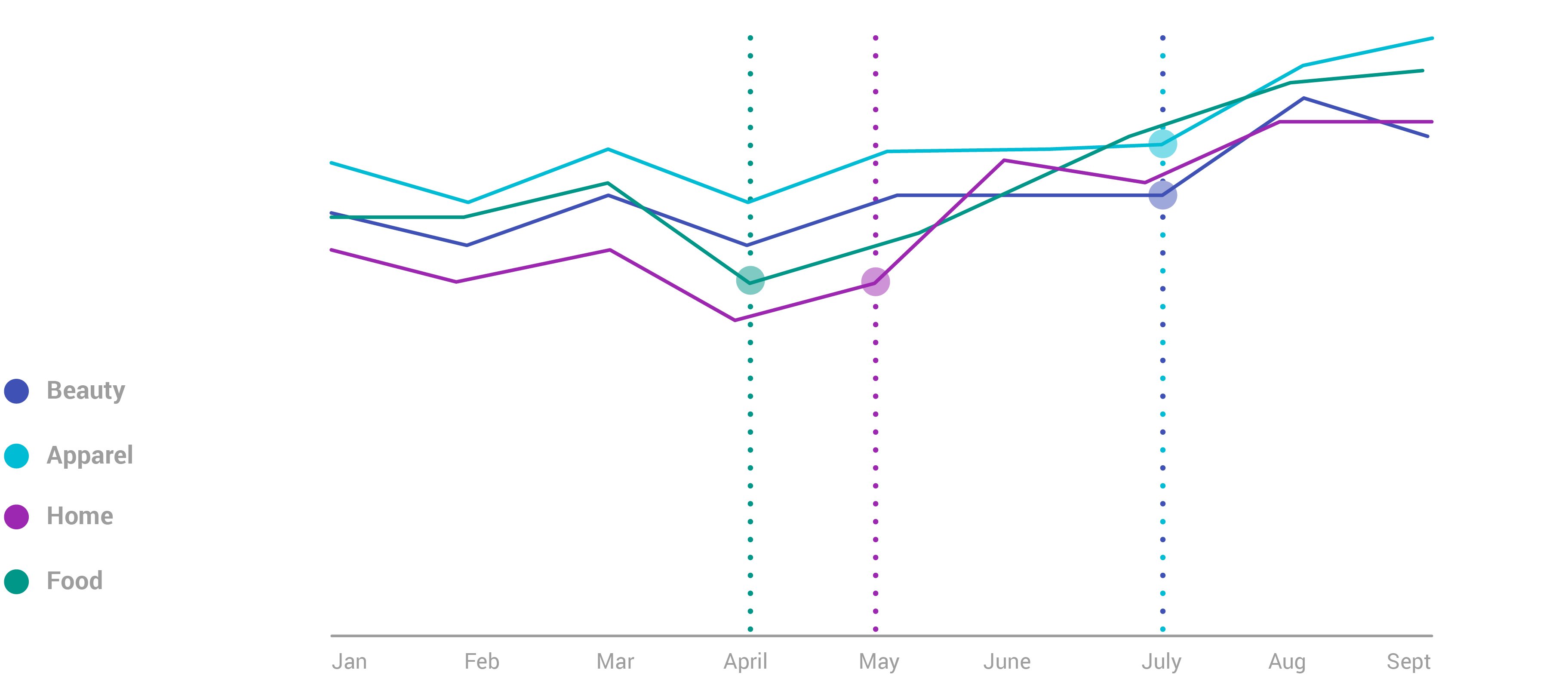 Yuletide takeaways for brands
For brands looking to grow audience and revenue in the digitally active Filipino community, Christmas is the best present you could ask for. It is the season for buying, and along with great holiday food, Filipinos are hungry for stellar content and deals. The competition is fierce, however, so having some Christmas-season search savvy will go a long way. As you plan, keep these four things in mind:
Build awareness early. The Christmas season starts months in advance, resulting in a much longer purchase journey than in other markets. The upside is that this presents more opportunities to connect with shoppers. Kick-start the season by creating a strategy that starts talking to Filipino shoppers as early as September.
Reach users where they are. Although Filipinos for the most part purchase offline, they tend to do research online before buying. Build your strategy accordingly, and play across channels and screens both big and small.
Be search diverse. Yes, Filipinos are searching for the perfect gifts, but they're also looking for help with the celebration—everything from the decor to the food to what to wear. So be fun, informative, and just as unique as Christmas is in this emerging market. After all, as the national tagline goes, "It's more fun in the Philippines!"