Malaysia's online users expect the internet to play many different roles, including personal entertainer, local restaurant guide, and all-around source of truth. To deliver the relevant, tailored information consumers need, marketers first need to understand what Malaysians are looking for when they go online — whether they're shopping for a new device, binge-watching "Setelah Terlafaznya Akad," or craving the best nasi lemak nearby.
This Year in Search 2020: Malaysia report reveals the major trends emerging across the country and offers guidance for brands looking to better serve their consumers in the moments that matter most.
Tailored to me
With so much information at their fingertips, Malaysians are now looking for more than just the highest quality product. "Near me" searches have grown 2.3X in the last two years (2.2X for "best" + "near me" and 1.2X for "terdekat," or "closeby"), while searches for "open now" have grown 1.8X — they clearly want options that are convenient, easy to buy, and on their terms.
It's especially apparent for bigger ticket items like tech devices and travel plans, when Malaysians turn to Search to make sure they're getting the best device available or making the most of their vacation days. They're equally demanding when it comes to finding personal products that meet their individual needs, as illustrated by a jump in searches for "best serum for ..." (+65%) and "best laptop for ..." (+70%) on Google Trends Malaysia 2020.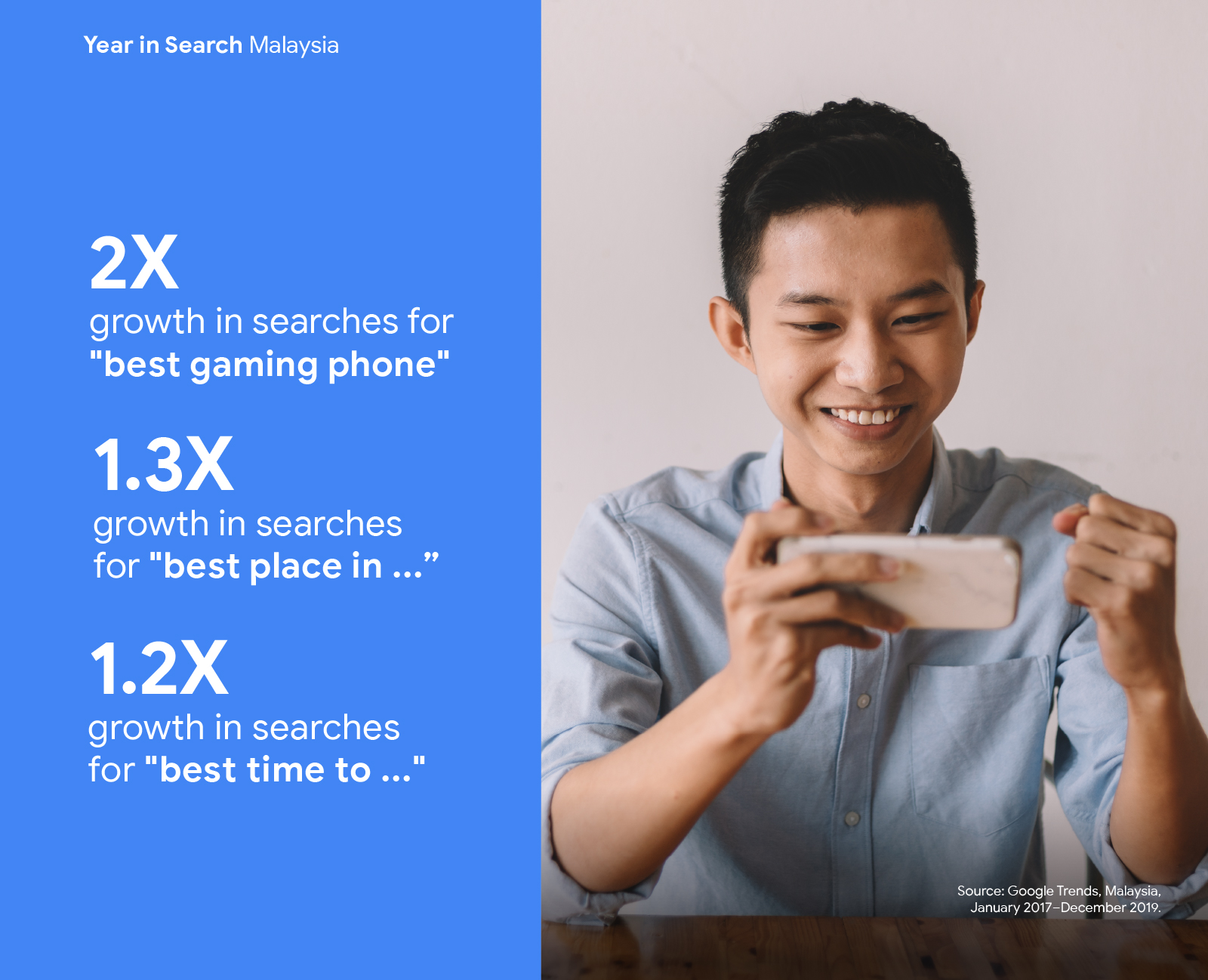 Consumers' quest for the best shows they want results that are tailored to their specific needs. And while "best" will mean different things to different people — be it best value, most efficient, or most beautifully designed — consumers will nonetheless expect brands to understand their intent and deliver precisely what they're looking for.
Offline starts online
With the ability to do online research ahead of time, Malaysians are more informed than ever by the time they enter a store. The growth of the mobile web has triggered more on-the-go searches from people in their moments of need, whether they want to satisfy a craving (+420% for "durian near me" searches), get a tune-up en route to their destination (+130% for "car service near me"), or indulge in a little self-care (+140% for "massage near me").
In an increasingly digital-first country, online and offline experiences are often one and the same. Whether they're spending time with friends or shopping in-store with a smartphone in-hand, every moment is a new opportunity for brands to show up and connect.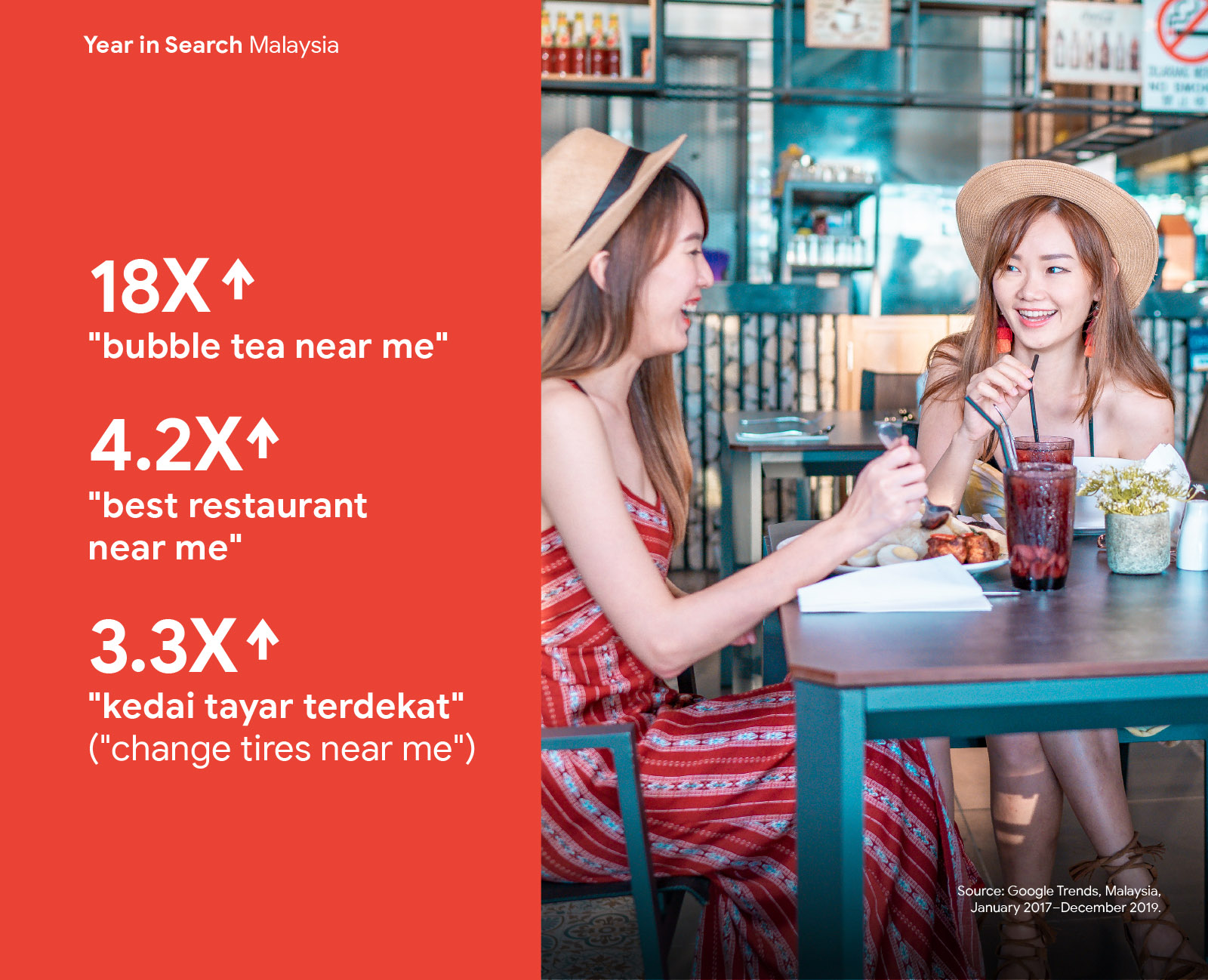 The non-urban opportunity
The internet has given Malaysians living in rural areas unprecedented access to urban conveniences. When shopping for smartphones, for example, 27% of non-metro users (outside of Kuala Lumpur and the Klang Valley) bought their devices online, compared to 23% of metro users. And while metro users are typically 3X bigger spenders than those living in non-metros, the number of online users in Malaysia's non-metros is expected to grow at nearly 2X the rate of bigger cities over the next five years.
The two groups also have distinct priorities and preferences. For instance, when shopping for hair care products, metro users prioritize functionality (73% search for products that address specific hair problems), while non-metro users are more price-sensitive (65% of non-metro users search for affordability). Similarly, search queries for new smartphones have also revealed some key differences: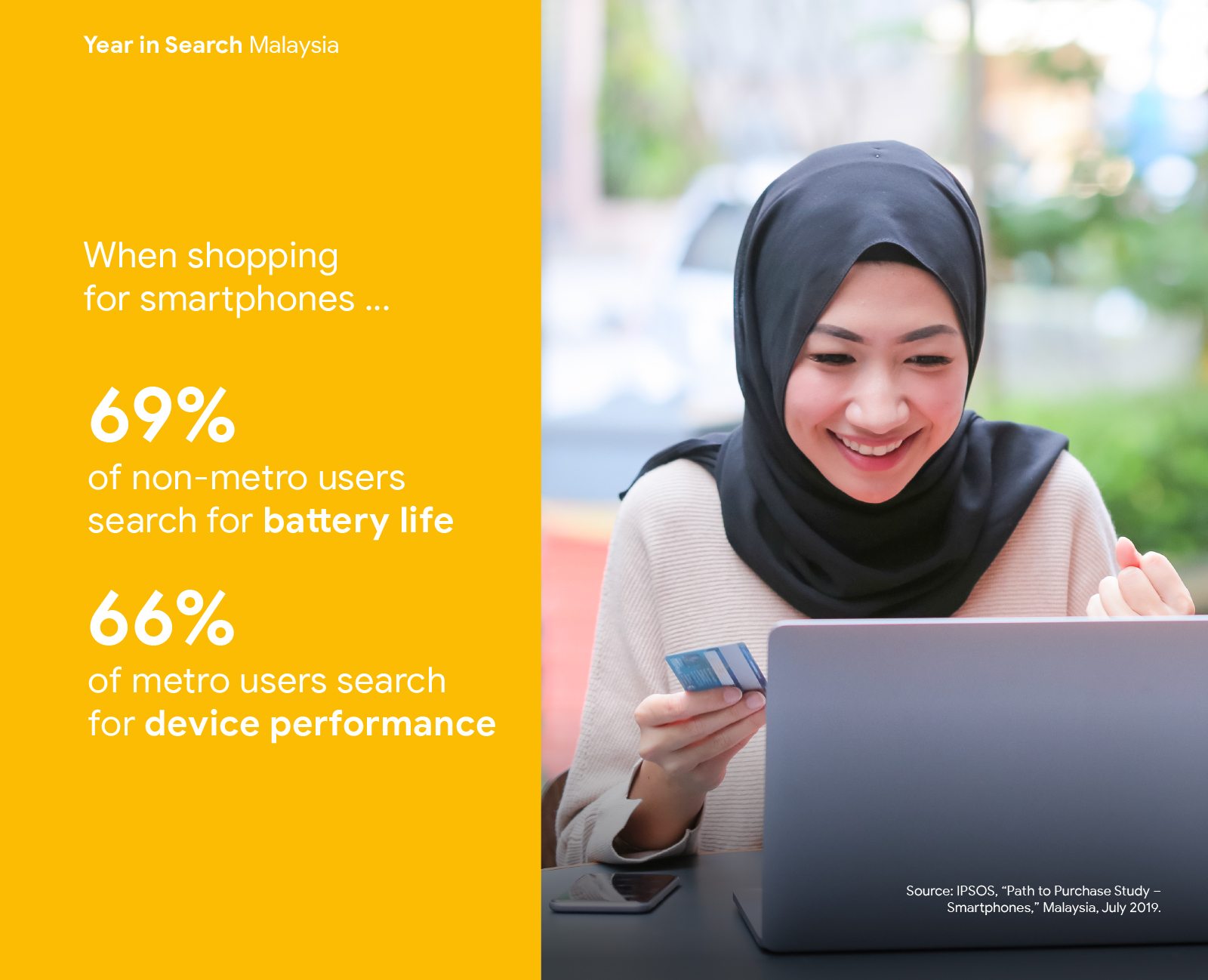 That said, both groups share one obvious commonality: an affinity for food. Malaysians pride themselves on being foodies, and no matter their race, religion, or proximity to a metro city, their searches clearly showed food as a common denominator: "Dining and restaurants" rank top three among Malaysia's top Search categories both in and outside of metros.
Primetime is personal
Whether they're on their phones waiting for the bus or in front of their smart TVs at home, Malaysians can choose what they want to watch, whenever they choose. As people gravitate toward creating their own personal primetimes, the demand for local digital content will only increase.
The rising popularity of music streaming, VOD (5X more searches), and subscription services (1.6X more searches) gives brands the opportunity to tell a cohesive, integrated story across more channels than ever.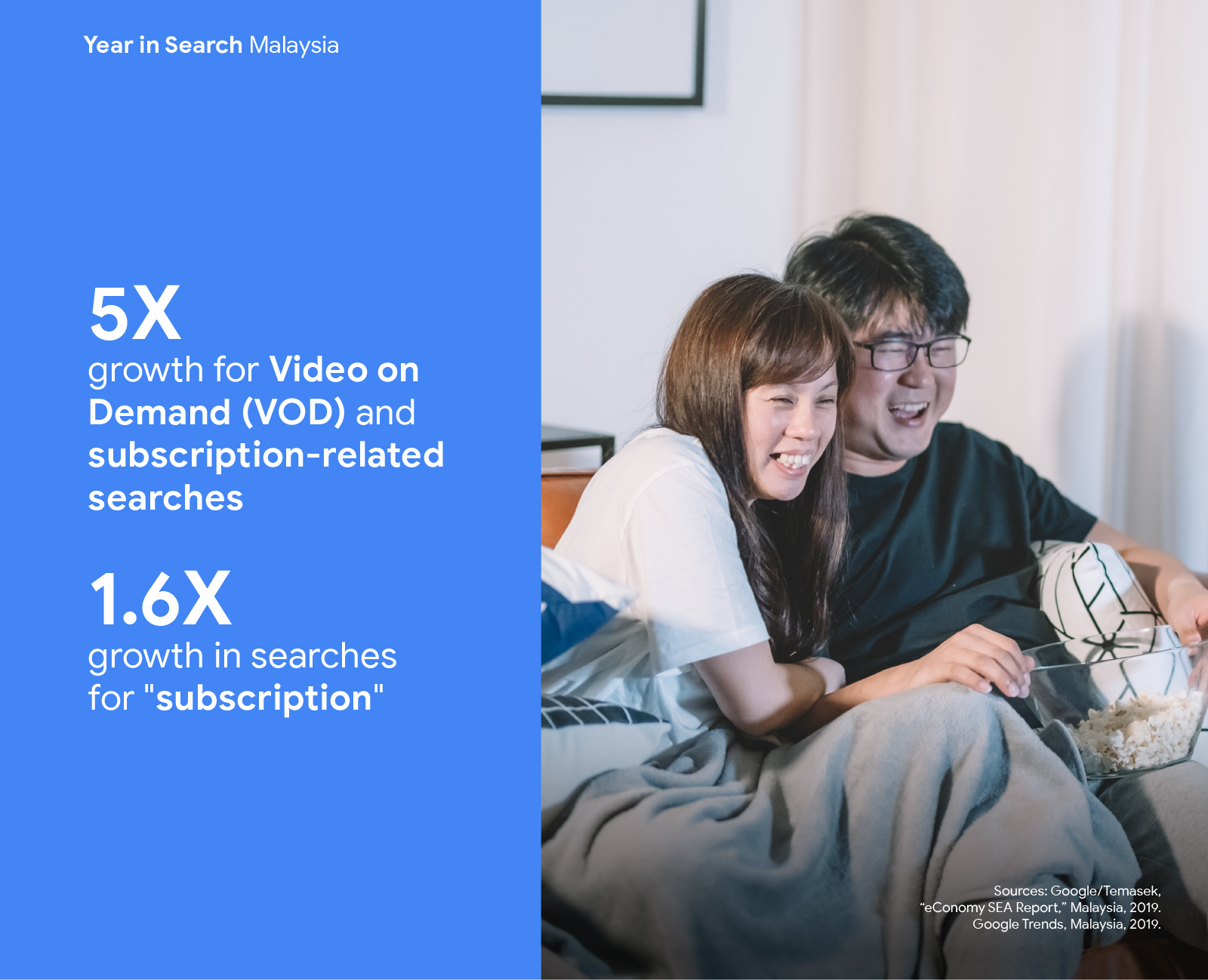 Eco-friendly economy
Fueled by recent government initiatives and local environmental NGOs and brands, the sustainability movement has influenced Malaysians' way of life and how businesses operate. Malaysians are increasingly looking for brands that take the lead on promoting products and services with low environmental impact, such as biodegradable plastic (+95%), secondhand furniture (+70%), and used cars (+25%).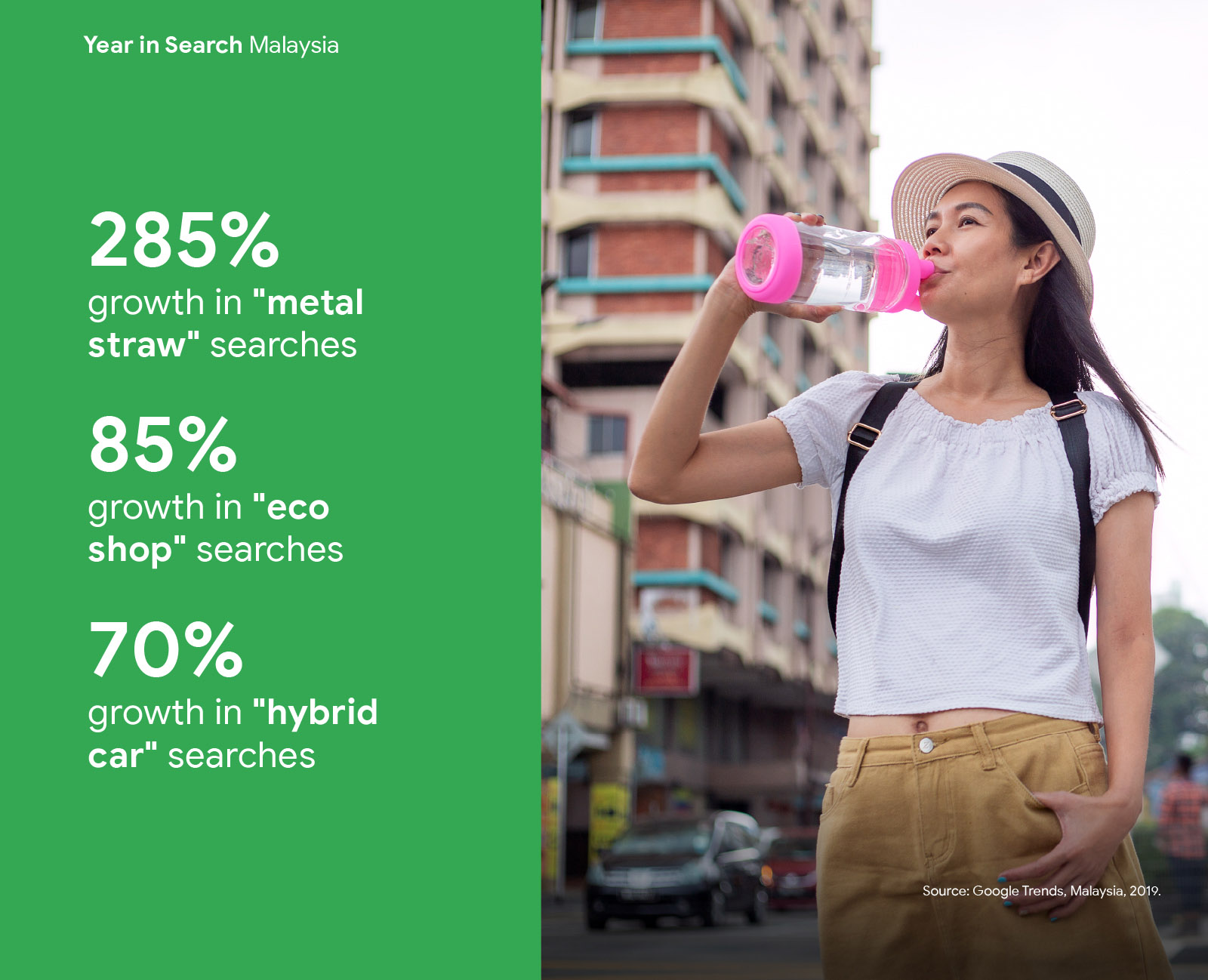 Google Trends for Malaysia 2020 also shows Malaysians are educating themselves on their impact on the environment, from limiting waste or water usage in their everyday lives (+75% in searches for "zero waste" and +34% in searches for "carbon footprint") to purchasing products that have a sustainable and ethical supply/production chain (+110% growth in searches for "sustainable fashion").