Within the challenges of complex digital journeys and heightened consumer expectations lie endless opportunities for brands to help shape consumer journeys. To do so effectively in a market as evolved and fast-changing as Singapore's, businesses first need to fully understand what drives consumers and what truly matters to them.
This Year in Search 2020 report, a Google and TrendWatching collaboration, reveals the major trends affecting Singaporeans' choices in recent times and provides some possible directions for brands looking to build effective strategies to better serve consumers.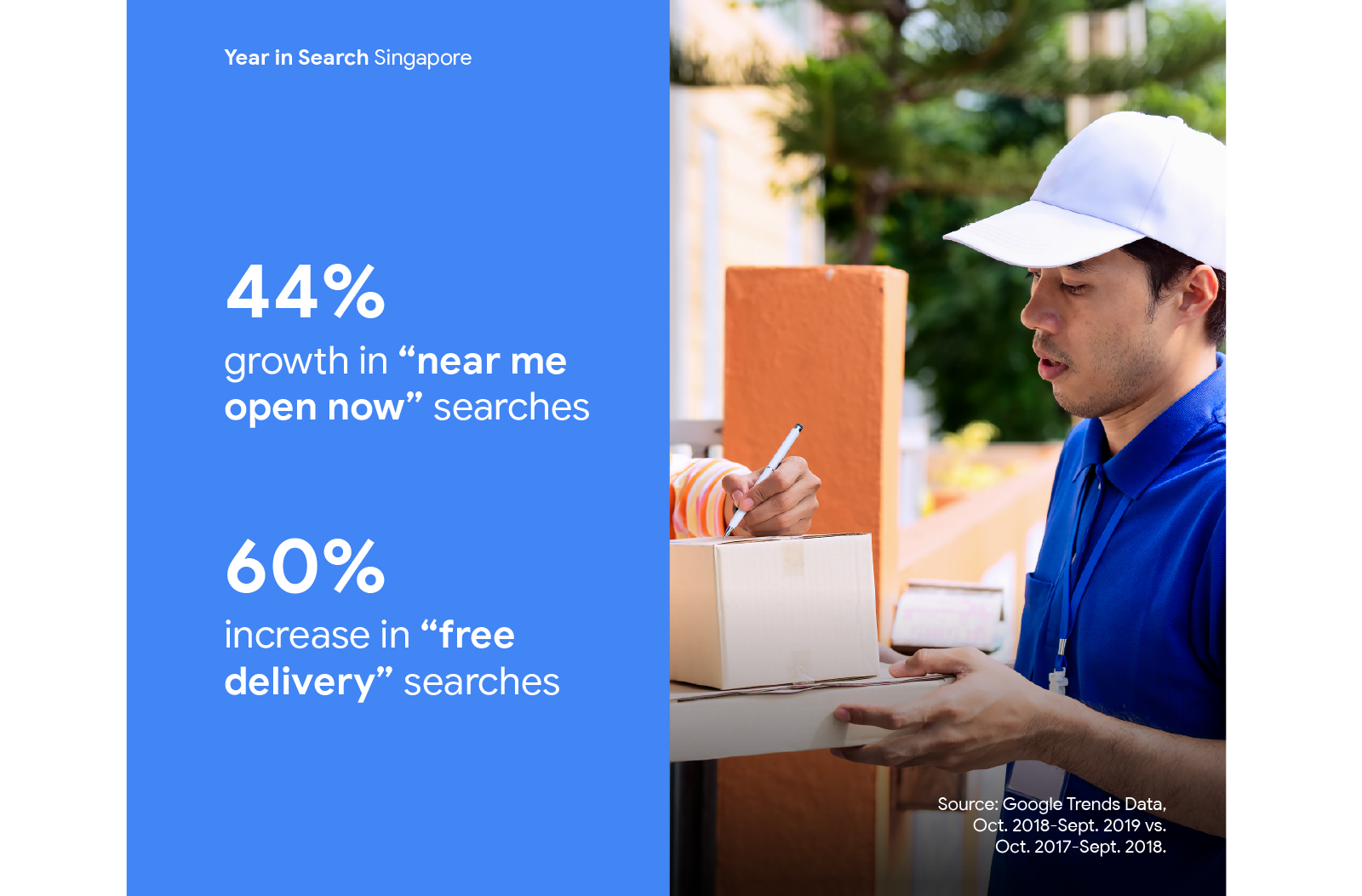 The tremendous increase in access to on-demand services like streaming entertainment and ride-sharing has set a benchmark expectation of affordable convenience spread across multiple categories, contexts, and needs.
Singaporeans are looking for delivery options in categories beyond fast food, as shown by the increase in queries like "flower delivery" (+49%) and "massage delivery" (+16%). For many, the on-demand mindset has also meant speed, convenience, and proximity outrank brand loyalty, with "near me open now" searches seeing a marked 44% rise last year, even in a dense city like Singapore where most modern conveniences are "never more than 20 minutes away".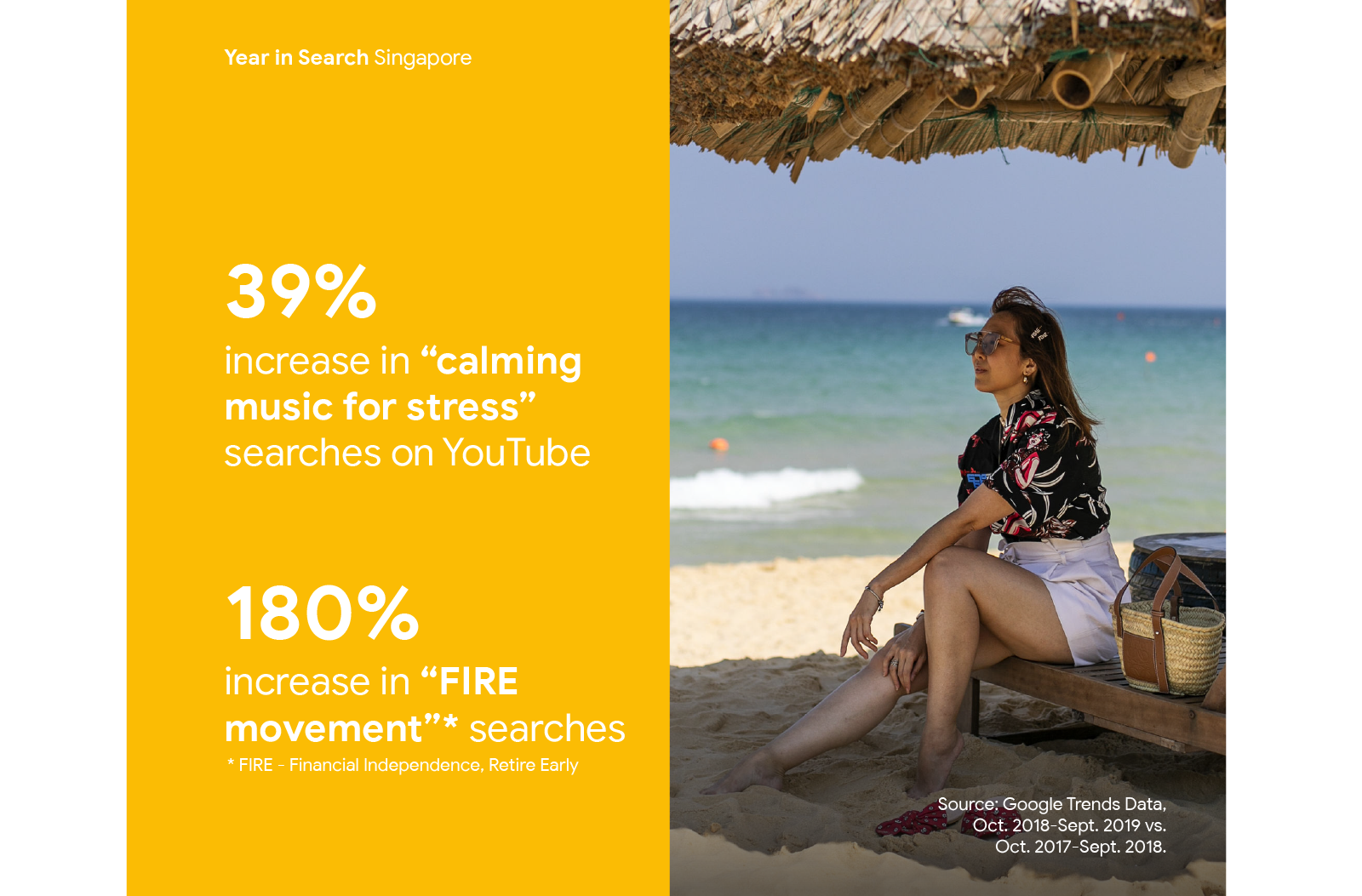 The dogged pursuit of the "5Cs" (Cash, Car, Credit card, Condominium, and Country club) is compelling many Singaporeans to look for effective ways to mitigate work stress. The growth in search terms like "being calm" (+60%) shows more and more of them are actively seeking ways to deal with daily stressors. Some are trying to cope with the rat race by taking short breaks, a trend made clear by the rise in searches for "Sentosa for staycation" (+20%) and "luxury escapes" (+100%).
Many Singaporeans are starting to look for more sustainable models of work, as evidenced by top searches in Singapore, which has the world's highest concentration of "work-life balance" searches and the world's second-highest concentration of "flexible working hours" searches.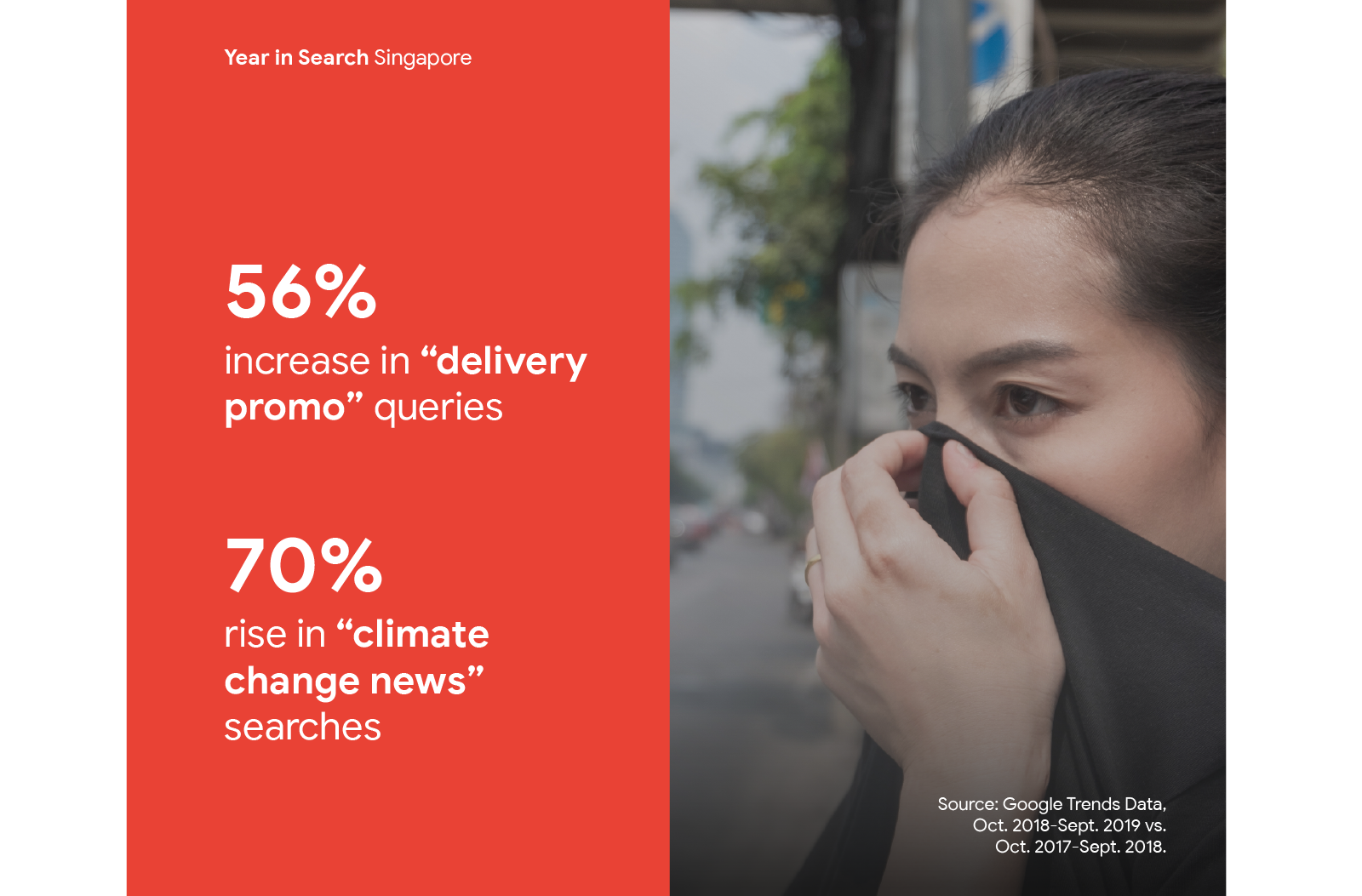 From the Great Singapore Sale to 11.11, Singaporean consumers are known for their readiness to queue for a good deal. As the growth of search terms like "cheap and good restaurants in Singapore" (+46%) shows, spenders are looking to maximize the value of each dollar without compromising on quality.
While quality and cost have always been important factors to Singapore consumers, there has been a new surge in the value placed on the environment and protecting it. Consumers across the country are increasingly concerned about sustainability, with more and more finding value in low-impact and eco-friendly products and services, as is clear from the growth of "zero waste" searches (+94%) from Google Trends 2020.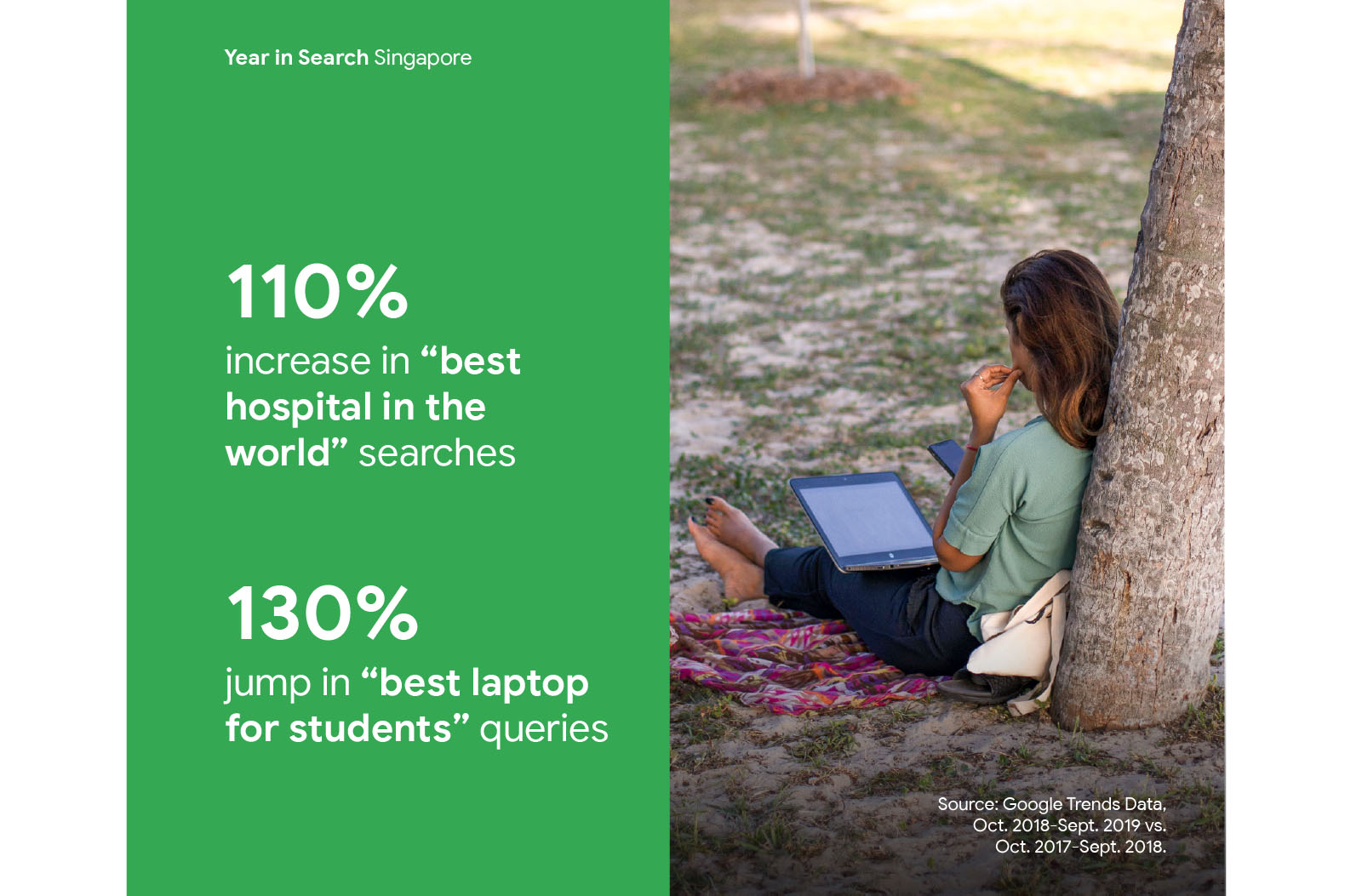 With access to a world of information at their fingertips, consumers no longer need to second-guess themselves before indulging in a purchase. Search is the top source of information among Singaporeans, with more than 95% turning to it when they have questions.1
Across geographies and product categories, shoppers are searching for the best life has to offer, from "best university in the world" (+70%) to "best exfoliator" (+16%). This readily available information has enabled a much savvier consumer than ever — one who will find the best the internet has to offer, including by way of comparison sites such as Expedia (+60%), Agoda.com (+50%), and SingSaver (+46%).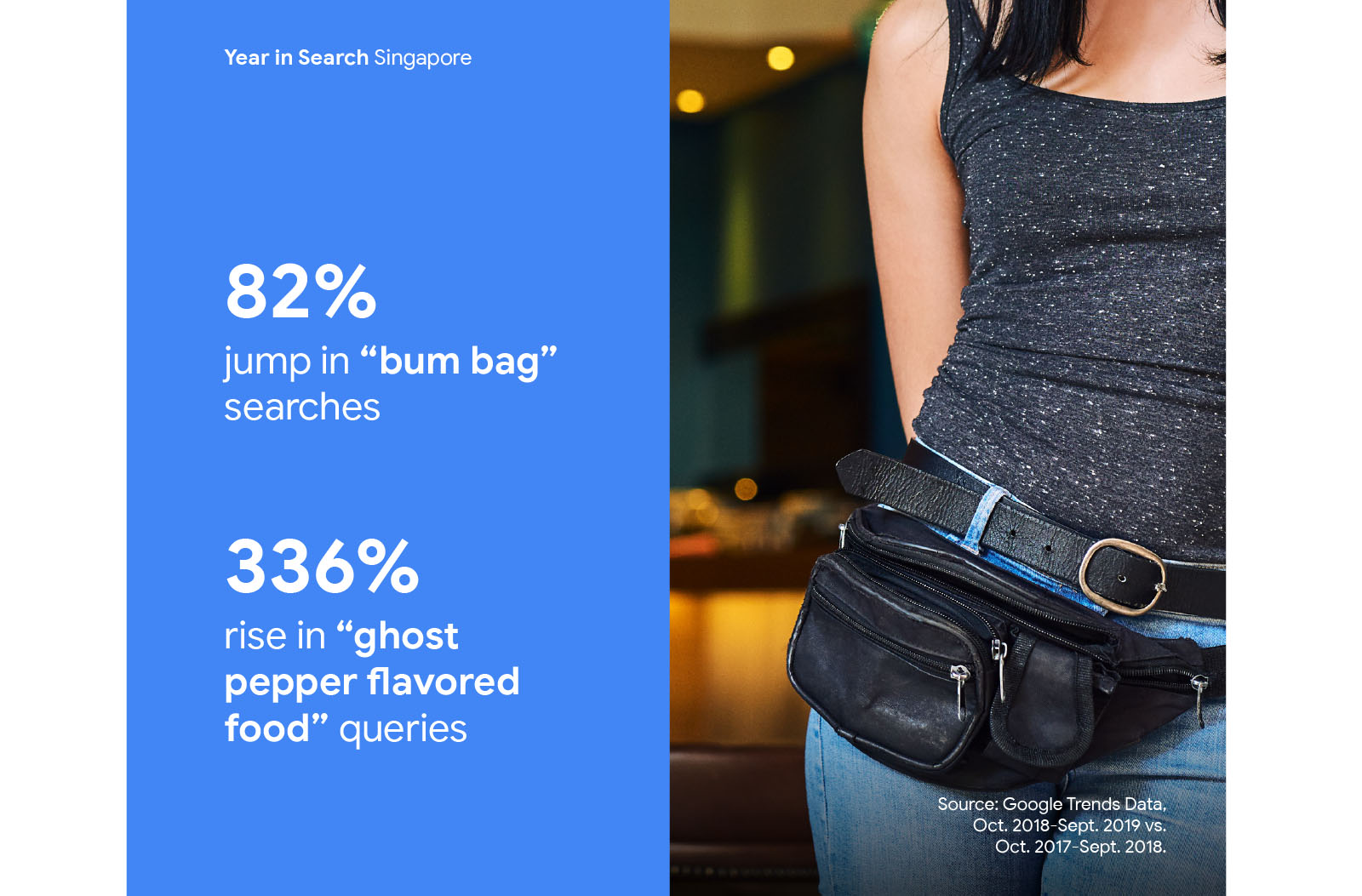 Singapore is a largely conservative society that holds on to its traditional values, yet it is home to an increasingly worldly population. Singaporeans have started traveling to far-flung destinations, welcoming all varieties of cuisines to their foodie haven, and immersing themselves in entertainment culture beyond English- and Mandarin-language sources. In other words, they're staying grounded in the familiar while embracing novelty.
As the rise in "Dior sneakers" (+400%) and "bucket hat" (+57%) queries on Google Search Trends Singapore shows, where practicality once took precedence over fashion, consumers are turning to the internet to seek out stylish iterations of essential accessories. Similarly, they are broadening their culinary horizons by searching for novel combinations like "Impossible Burger" (+1376%), "ghost pepper flavored food" (+336%), and "truffle chips" (+176%).