Whether for search, instant messaging, social networks, or gaming, Asia is one of the world's leading regions for mobile apps. High competition makes retaining users a top priority for marketers. Partnering with TNS, we surveyed over 10,000 smartphone users to better understand what drives their app behavior. Here are three insights and takeaways for brands looking to engage users through mobile apps.
It's 8:30 a.m. in Singapore, and chances are a typical Singaporean has already turned to her phone to complete a number of tasks: she's tracked her morning run, commented on a friend's holiday pictures, checked her schedule for the day, found directions to her meeting, and booked a cab to get her to work.
This list of morning tasks sounds mundane today—but ten years ago it would have been unthinkable. This remarkable shift in daily life has been made possible by mobile, and specifically, mobile apps. Mobile apps are useful, entertaining, and sometimes create magical experiences that help users get things done.
How exactly are consumers using apps in Asia today? Working with TNS, we followed up last year's popular app study and surveyed over 10,000 people across ten countries to find out.
We found that apps are the driving force of the mobile phone experience in Asia. In Korea, for example, the average user has 53 apps installed on their phone and uses 11 daily.1 Across all ten countries, the average smartphone owner uses six or more apps daily.
Users in emerging countries like Indonesia, India, and Philippines have a lower number of total apps on their phones, partly due to the prevalence of affordable, lower capacity phones.1 However, these countries have a higher proportion of apps that are installed by users themselves rather than those that are pre-installed.1
Number of Apps Installed and Used Daily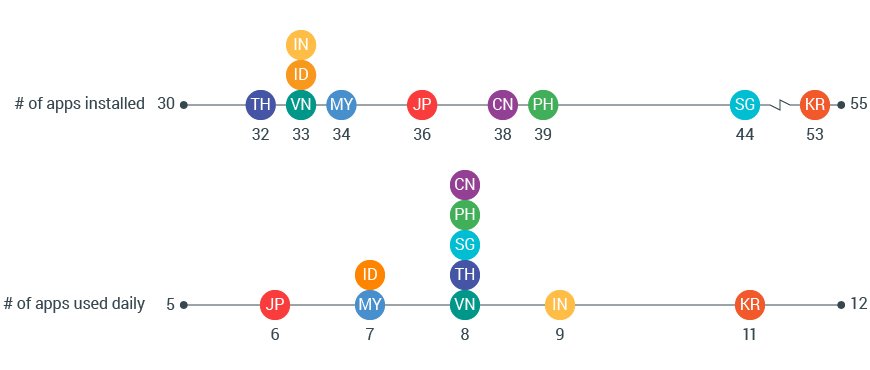 App usage is so prevalent in Asia that, in most countries, people turn to apps as often as the mobile web. In Indonesia and Philippines, people actually turn to apps much more frequently than the mobile web.1
Percentage of Total Time Online Spent on Mobile Web vs. Apps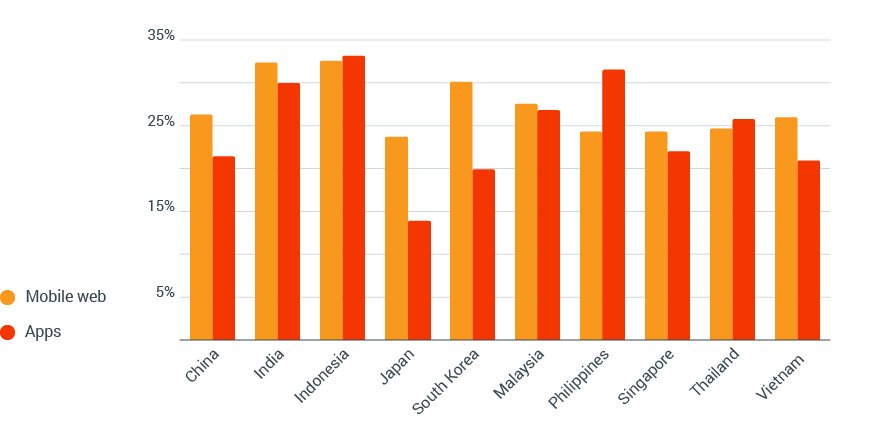 Here are three key insights into what's driving consumers to install and engage with mobile apps and how your brand can create a winning app strategy.
1. App stores aren't the only place to be found
App store searches and personal recommendations are top sources for new app discovery across Asia.1 In some countries, such as Vietnam, Malaysia, Japan, and Thailand, app store search ranks higher than even recommendations from family and friends.1
Top Three Places Users Find Out About New Apps

Although searching in app stores is the top way people find new apps, it's not the only way. Search on a web browser is another major source of app discovery, with at least 20% of app users in all Asian countries discovering apps through search.1 In some countries, this number much higher: 45% of users in Vietnam discover apps through search, 38% in India, and 31% in Korea.1
Take action: Reach more users in the moments that matter
Rethink where and when your users discover apps, and invest in scalable channels. Every time they search, consumers are giving out powerful signals of intent. Marketers can reach people right in the moments they're searching by serving relevant app install ads across the Google Display Network and the Google Play Store. You can reach people as they search, watch, browse, and play with automated Universal App Campaigns (UAC), available for both Android and iOS apps. Over 3B installs have been driven by Google's app promotion ads to date.
BaBe, a news app from Indonesia, for example, used UAC to rack up install volume. In the 18 months before using UAC, BaBe earned 130K downloads. After BaBe launched its UAC campaign, it saw 145K downloads with a 20% lower cost per impression in 42 days. This was in part due to constant optimization for trending topics keywords. UAC helped BaBe reach the right users at the right times across multiple touchpoints, ranging from Search and Display to YouTube.
2. Focus on "actions," not just downloads
Acquiring new users is important, but finding the most valuable ones is vital. According to a recent Radium report, 17% of an app's users drive 85% of app revenue.3
People who make in-app purchases are often the highest value users. In our study, 58% of app users have made an in-app payment via the app store.1Identifying what actions are valuable to your app and how users are making in-app payments can help your brand find and keep the right users. In gaming, for example, 51% of Asian users have made in-app purchases, but the kind of in-app purchases vary by country.1 The same holds true across entertainment and media apps.
Take action: Go beyond the install and find more of the right users
To your most important users, you'll first need to define which in-app actions are most important. Purchases are important, of course, but they're not the only type of in-app actions to consider. For a gaming app, a valuable action might be crossing a certain level in gameplay. For an e-commerce app, it could mean viewing a certain item.
Analytics tools like Firebase Analytics can help you understand which in-app actions drive business value. Once you've figured out which actions to focus on, you can share this data with Google to run more efficient campaigns. The newest generation of UACs will use these insights, while respecting user privacy, to not only help you find new users, but also the right users who create true value for your brand.
3. Stay relevant to stay installed
There are many reasons why users uninstall apps, but a common theme across Asia is that people delete apps that are no longer relevant.1 In a market where users' phones are bursting with apps, but also of limited phone storage, the competition to engage users and avoid being uninstalled is steep.
Top Reasons Users Uninstall Apps Across Asia

Just because a user has installed your app, it doesn't mean they're actively using it. For example, in Indonesia we found that one out of every five installed smartphone apps is never used.1 And if your app is seldom used, it's more likely to be uninstalled to free up storage space.
Fortunately for marketers, the vast majority of app users across Asia say they would likely use apps again if given a reason to do so, including 66% of users in Indonesia, 61% in India, and 51% in Vietnam.1
For marketers looking for high engagement, reaching users at the right time is key. Marketers commonly use push notifications to stay fresh in users' minds, but over time these notifications may prove to be ineffective. We found that this is especially true in countries like Singapore, Japan, and Korea, where users have turned off notifications for nearly half their apps.1
Percentage of Apps That Have Notifications Turned Off

Instead of using push notifications, we've seen brands increase engagement using targeted ads that reach users at relevant times and help retain them over the long run.
Take action: Give users reasons to keep coming back
Mobile app engagement campaigns can help remind users how your app can help. Games are the most popular type of app to install, but they also have the highest churn rates. Japanese gaming company Mixi addressed this using targeted app engagement campaigns with deep links. With 30 million users, Mixi XFLAG Studio's Monster Strike is the third-largest mobile game app in Japan. But Mixi wanted to increase daily usage by reengaging players who had abandoned the game. Mixi identified and segmented dormant players, then, using deep links, brought gamers right back to games they had left unfinished. After testing, Mixi found that reengaged users had a lower CPA, higher retention rate, and higher in-app spending. All this amounted to a reengagement strategy that was 10% of the cost to acquire and retain new users for 30 days.
By engaging your audience at the right time with content that's relevant to them, you can help your users make the most of your app—all while avoiding the "uninstall" button.
The secret to formulating a winning strategy with apps is to focus on the user. By understanding when and how people engage with apps—and using tools that help act on those insights at scale—marketers can stay relevant and become part of consumers' daily routines.
See the "Mobile App Marketing Insights: Asia" study conducted by Google and TNS for more information.
Methodology
Google partnered with TNS Australia on custom research to uncover insights about mobile app user behavior, including attitudes toward apps, apps installed (triggers and barriers), typical and recent app behaviors, and attitudes toward advertising and push notifications. In July 2016, an online and offline survey was conducted of 10,000 smartphone users ages 18–64. All respondents were screened to ensure that they had used smartphone apps in the past seven days prior to the survey as well as apps from various categories in the previous 30 days.