Over the last few years, mobile gaming has seen incredible growth — particularly in Asia Pacific — and by the end of 2020, mobile games surpassed $100 billion across all mobile app stores.1
As a more diverse group of gamers download, play, and spend money on mobile games, new "hybrid-genre" games are commanding their time.
Hybrid-genre games are a new mixed-gameplay experience based on the success of games that combine two or more genres — such as strategy and puzzles or action and simulation. Hybrid games first started appearing in 2019, with games such as Archero, an action role-playing game (RPG), pioneering hybrid-game success after earning $8.5 million in revenue in its first month.
According to some estimates, hybrid-genre games in Asian markets grew by almost 2X year over year in the first half of 2020.2
In research conducted with hybrid-genre gamers aged 18-49 in Japan, Korea, Germany, and the U.S., Google and Kantar found that the rapid growth in the hybrid genre was a result of its popularity amongst both casual and hardcore gamers.

Here, we look at five success factors from hybrid-genre games that marketers can implement to help attract a wider group of gamers to their own mobile games.
1. Understand what excites your audience to play
Gamers are naturally drawn to certain genres of gameplay, and when they look for hybrid-genre games, they tend to choose ones with gameplay that match their existing tastes. For example, hardcore gamers who would normally play role-playing games (RPG) or action games tend to choose hybrid-genre games with more challenging, hardcore gaming features they already like.
By understanding what their target audience enjoys, marketers can list their game in an appropriate category to attract a core group of gamers who will help to build the foundation of the game's popularity.
"If a game looks fun, I scroll down to the recommended apps in the Google Play store. That's how I discover new games." – RPG-based hybrid gamer, Korea
2. Capture gamers' attention from discovery to download
Different channels can play different roles in the way people discover and download a game. For example, when gamers are choosing which game they should play next, app store rankings (41%) and ratings (38%) play a part in this decision-making.3
However, equally important are the way people discover games. Word-of-mouth recommendations (41%) and social networks (40%) help to build awareness and create positive first impressions.4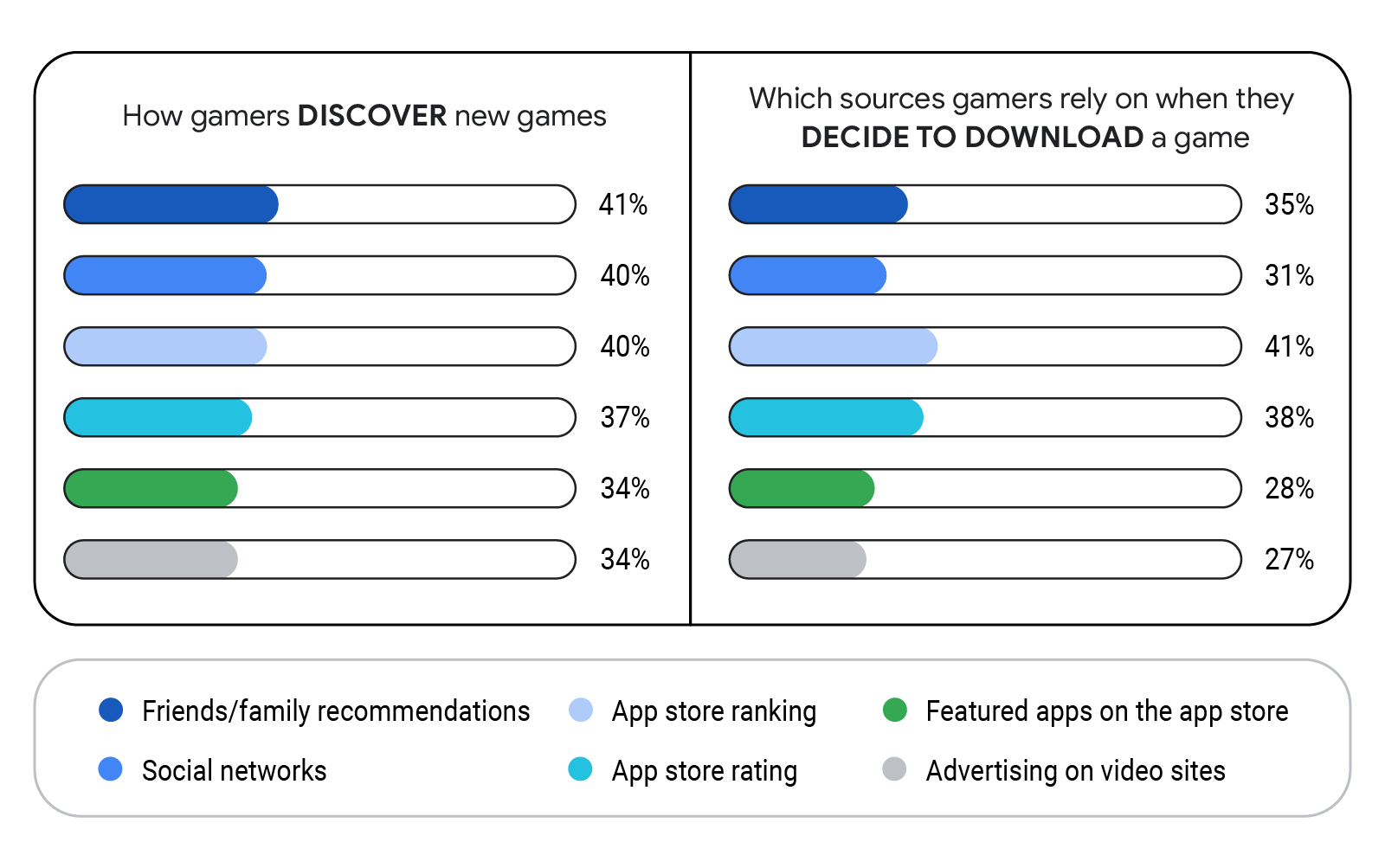 For example, the idle-RPG game AFK Arena collaborated with Korean actress Kim Yoo Jung in a TV and YouTube spot to help promote the game in Korea. Having a popular figure promote the game helped raised awareness of AFK Arena and drove the game onto the top download list just four days after launch.
3. Showcase your game's hybrid-element strengths
Marketers often find it difficult to strike a balance between keeping its core group of games highly engaged, while still piquing the interest of a wider group of gamers looking to try something new.
The top churn reasons for traditional mobile games are:

As hybrid-genre games strike a balance between the relaxing, easy-to-learn gameplay of casual games and the more challenging achievement mechanism of hardcore games, users would be less likely to churn.
Popular action-based hybrid-genre game Archero incorporates easy-to-use controls to attract casual gamers but introduces challenging levels that appeal to more hardcore gamers. To promote these cross-genre elements, Archero's creatives showcased action elements but emphasized the game's simple controls in order to also attract more casual gamers.
4. To keep players engaged, show them what lies ahead
To help players stay engaged, some hybrid-genre games introduce players to diverse gameplay and richer plots with content that stimulates their desire for exploration in an effort to avoid boredom.
For example, My Home is a hybrid-genre game that combines match-three puzzles and home decoration gameplay to create a more immersive experience that blends the common match-three puzzle levels with an engaging storyline and customizable home-design elements to create a more appealing game experience.
The game's ad creatives show the audience how these two gameplay elements come together, highlighting how players can continuously work on creating something of their own design as they advance through the game.
5. Use a mix of rewarded ads and in-app purchases to help gamers advance
When incentivizing gamers, it's important to look beyond just implementing in-app purchases. Rewarded ads can be adopted to encourage players to continue gameplay, complementing in-app purchases which usually enhance their gameplay experience.
There's a common misconception that introducing rewarded ads might irritate paying players, but we found that paying players are generally more accepting of rewarded ads compared to non-paying players, especially when it accelerates their gameplay progression.
"It's not a free reward, it's me giving them my time (by watching rewarded ads) instead of my money, and getting something in return." – Puzzle-based hybrid gamer
Among hybrid-genre gamers, 33% watch rewarded ads to get more lives and 28% make in-app purchases to get access to exclusive items.5 However, ads and purchases need to be relevant to the gameplay and contribute to players getting further in the game. According to hybrid-genre players, the preferred placement for rewarded ads is either at the beginning or end of gameplay to avoid interrupting the player's experience.
As hybrid-genre games grow in popularity, it's important for marketers to understand their target audience and address gamers' pain points when communicating with them. Creatives should go beyond simply showcasing the fun of the game, but also emphasize a stress-free and immersive gaming experience to help minimize churn and keep players coming back for more.