In Thailand, owning a mobile device has become the norm. Mobile device choices abound these days—and the competition is fierce for those vying for consumers' attention. Find out how an effective search strategy and great YouTube content can help cut through the clutter.
Thailand is a gadget-obsessed nation. Thais are increasingly relying on online search and videos to inform their lifestyle and purchase decisions—including decisions about their mobile devices. Online searches around mobile phones will only continue to increase.
Given this, it's no surprise that over the past few years there's been a rapid increase in mobile penetration, which has led to a fast-changing internet economy with 56 million Thais now connected online via mobile.1 And with this explosive growth comes big opportunities for brands to connect with mobile consumers across the country.
While consumer demand for mobile devices keeps escalating, the variety is expanding just as quickly. (Back in July alone, there were a staggering 1,800 models competing in the market.) The array of choices is not only overwhelming not only for consumers, but also for the original design manufacturers (ODMs) that are trying to distinguish themselves from competitors. The fact is, consumers can only retain the names of about 15 models, and 75% of search volume on the top 50 smartphones goes to the top tier of 15 devices.2 In short, only a fraction of what's out there gets remembered—"mobile prime real estate" is highly limited.
So given this new digital landscape, how does a brand connect with its consumers in a meaningful way? As consumers increasingly turn to the internet to research and to shop, your brand can stay top of mind with a strong search engine marketing (SEM) strategy and a consistent presence on YouTube. Let's find out how.
Consumers can only retain the names of about 15 smartphone models, and 75% of search volume on the top 50 goes to the top tier of 15 devices.
Strengthen your search strategy
Thais want to find the information they're looking for at the touch of a button. We call these pivotal occasions when a preference is shaped or a purchase decision is made "micro-moments". These moments are becoming increasingly frequent as mobile penetration surges in Thailand. To deliver on these critical micro-moments, ODMs (like Samsung, Apple, and Sony), telecommunications companies (like AIS, True, and DTAC), and e-commerce retailers (like Lazada, Tarad, and iTRUEmart) need to be present in those precise moments, and provide the information and answers consumers are looking for.
When it comes to mobile products, Thais are primarily searching for specs, reviews, and prices. Not surprisingly, 65% of Thais who are in the market for a new phone actually use their current phones or tablets to find one.2 To capitalize on this behavior, brands should ensure high visibility on search engine results pages by implementing a strong SEM strategy through paid advertising. After all, Google's 2014 Consumer Barometer (Thailand)indicated 74% of Thais research both online and offline during their pre-purchase journey. The first step should be to identify the key search terms that consumers are already using to find the products they want. Incorporate these terms into your strategy to leverage the power of SEM, as indicated by the 113% year over year (YoY) increase in "phone-telco bundle plan" search terms.3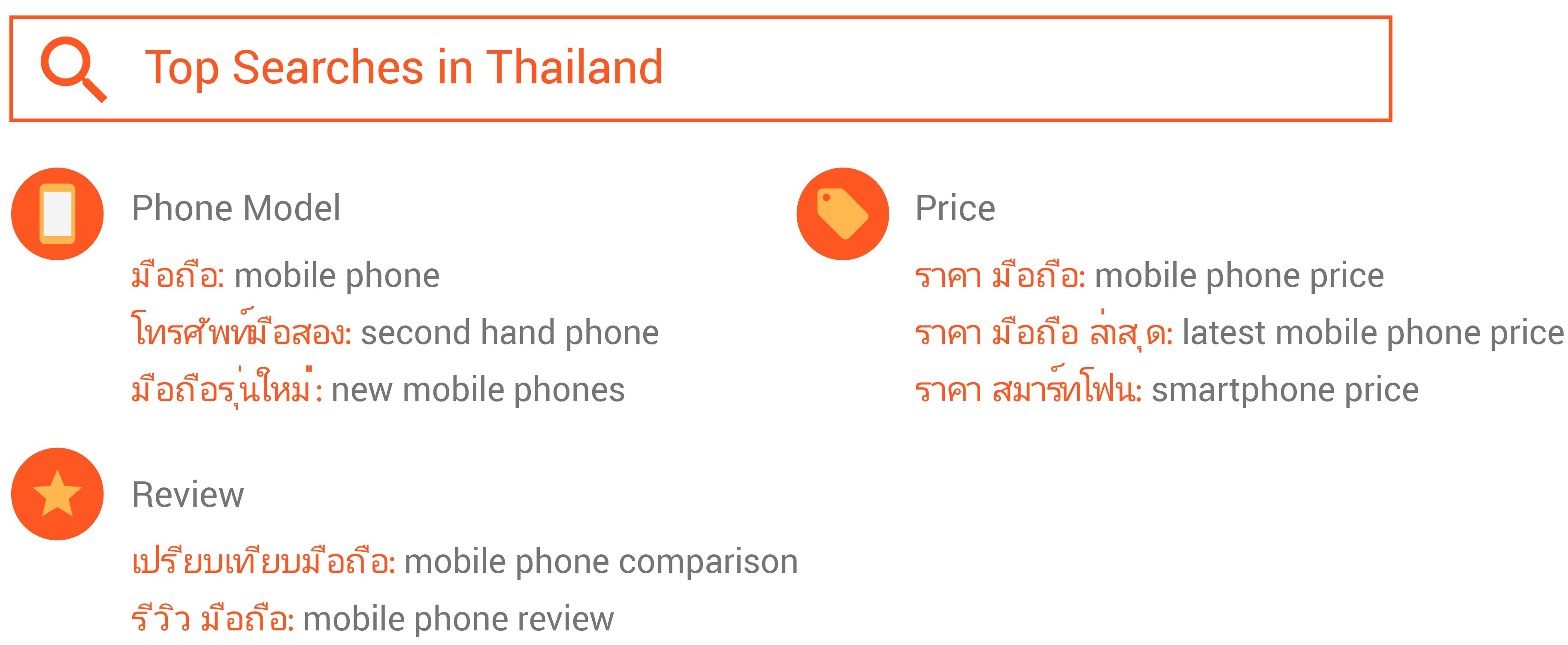 As Thais continue to embrace online shopping and e-commerce, they're increasingly buying mobile devices online. Most online shoppers in Thailand take action or start researching a product after seeing an online ad. Research shows that 68% of Thai online shoppers took direct action from ads, while 73% took into consideration the information provided by ads when it comes to researching a product,4 reiterating the importance of being present during these pivotal consumer moments.
Distinguish your brand identity with YouTube content
Search is one way consumers are researching mobile devices. Another is YouTube—68% of Thais say that watching YouTube videos helps them decide which products or brands to buy.4
In Thailand, and across the globe, shoppers are increasingly turning to mobile video to help them make purchase decisions. Online video has become a must-have for any forward-thinking mobile marketing strategy, and Thai brands that leverage this will stand ahead of the game. One way to do this is to upload content that offers real-life product reviews that highlight the differentiating features of various devices, or videos that answer post-purchase questions.

In addition to creating great content that addresses specific consumer needs, brands can also drive sales by leveraging YouTube's built-in tools and advertising solutions.
Brand success requires digital marketing
Major brands such as Samsung are already innovating to stay ahead of the Thai curve. Samsung's vice president of IT & Mobile Communications, Sitthichoke Nopchinabutr, commented, "Technology has changed the way we consume media, and brands need to quickly adapt. Without investing in new media like Google Search and YouTube, we will be left behind. There are moments when consumers see your ad on the street, or hear about your product from a friend. That's when they'll pull out their phones to search for you, and you definitely want to be there. Samsung doesn't want to miss out on an opportunity to interact with our customers when they want us!"
Mobile devices have graduated from status symbol to necessity. They've transformed the way Thais interact with one another—and with brands. As the internet continues to influence consumers' purchasing decisions, ODMs, telecommunication companies, and retailers are tasked with adapting strong digital presences in order to stay top of mind. Today, that means experimenting with new marketing methods, especially mobile strategies that focus on search and video. As Thai consumers evolve, brands that embrace digital will continue to see conversion rates that exceed those of the past.