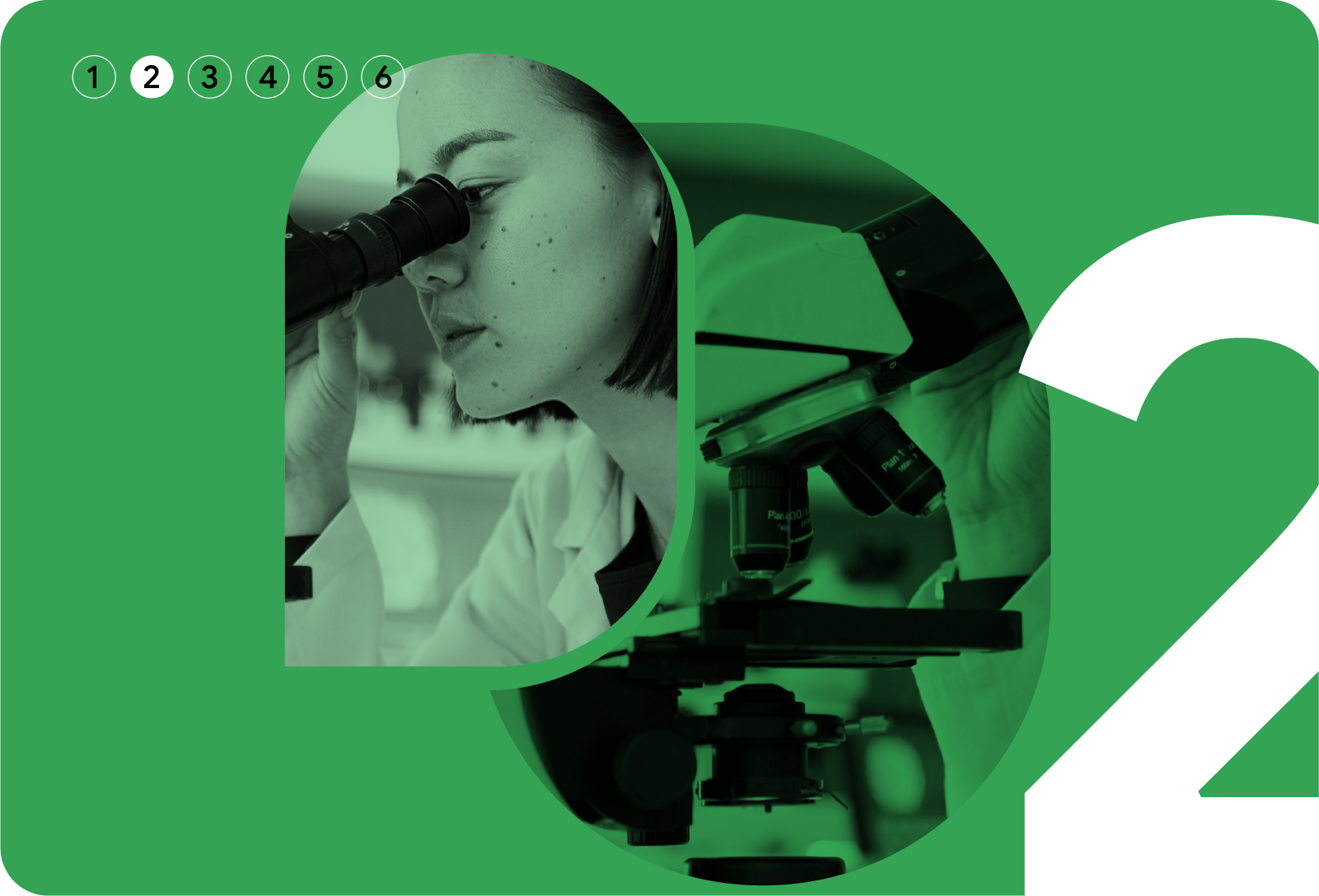 Design a data strategy
Agencies are learning that one of the most powerful applications of AI lies in its combination with brands' first-party data. According to Forrester, more than two-thirds of agencies said that making better use of first-party data is a high-priority or critical-priority initiative for their clients over the next 24 months.1
First-party data is:
High quality, because a brand receives its data right from the source — its customers.
Relevant, because the data relates directly to the products a brand sells and the customers who buy those products.
Unique, as no other company has the same customer data.

First-party data matters now more than ever amid shifts in user expectations, global regulations, and technology platform standards — such as device IDs and third-party cookies. It's critical for brands and agencies to work together to create a fair value exchange with consumers. Agencies can help unlock competitive advantages for their clients by responsibly leveraging insights from consented, first-party data and rooting that data strategy in business objectives.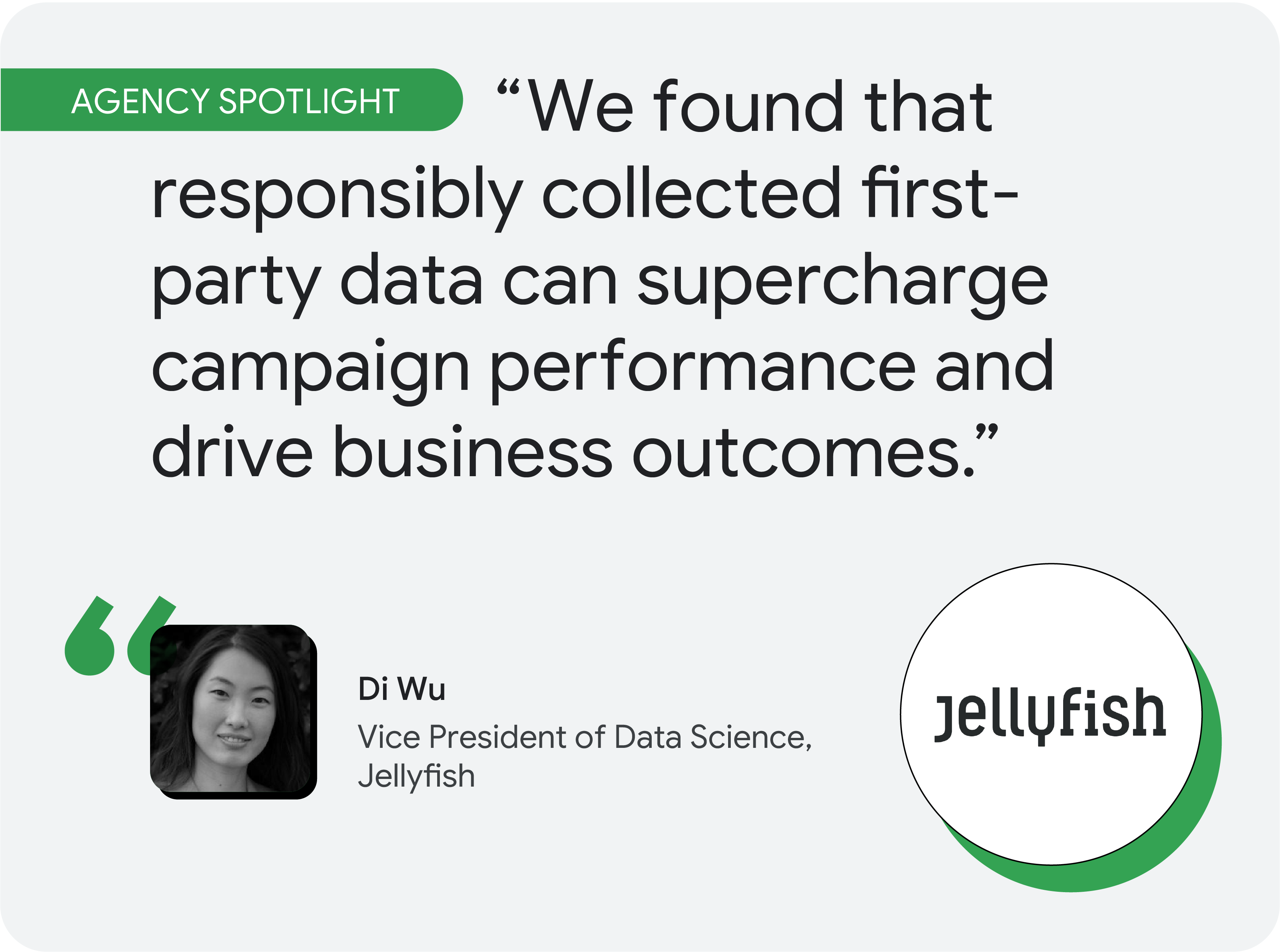 Fuel campaigns with first-party customer data
Jellyfish collaborated with Deckers Brands on a strategy to gain a more holistic view of customer data. The team used Google Analytics 360, part of the Google Marketing Platform, to visualize how people engaged with Deckers' websites. Then, they ingested customer data into BigQuery, part of Google Cloud, to better understand and predict customer buying behavior. Finally, the team brought those data-driven insights back into Analytics 360 to review them, create audiences, and deploy campaigns.
As a result, Deckers Brands was able to quickly spot and adapt to customer trends throughout the pandemic. It could also surface these trends throughout the company — influencing everything from media investments to supply chain management.
"We found that responsibly collected first-party data — when combined with human expertise and applied intelligently across key areas of digital like audience development and measurement — can supercharge campaign performance and drive business outcomes," said Di Wu, VP of data science at Jellyfish.
Future-proof measurement
Measurement with an eye toward privacy is another area where agencies play a key role.
Even with a solid foundation of consented, first-party data, the phaseout of third-party cookies may lead to a reduction in observable data. Agencies and marketers alike are very concerned about this. In fact, 85% of digital media professionals say cookie loss and accurate measurement are two of their top challenges.
Agencies can help solve for gaps in the customer journey in a privacy-safe way by applying conversion modeling, underpinned by user-provided, first-party data. More accurate measurement in turn fuels more relevant ads, stronger optimization strategies, and improved campaign performance.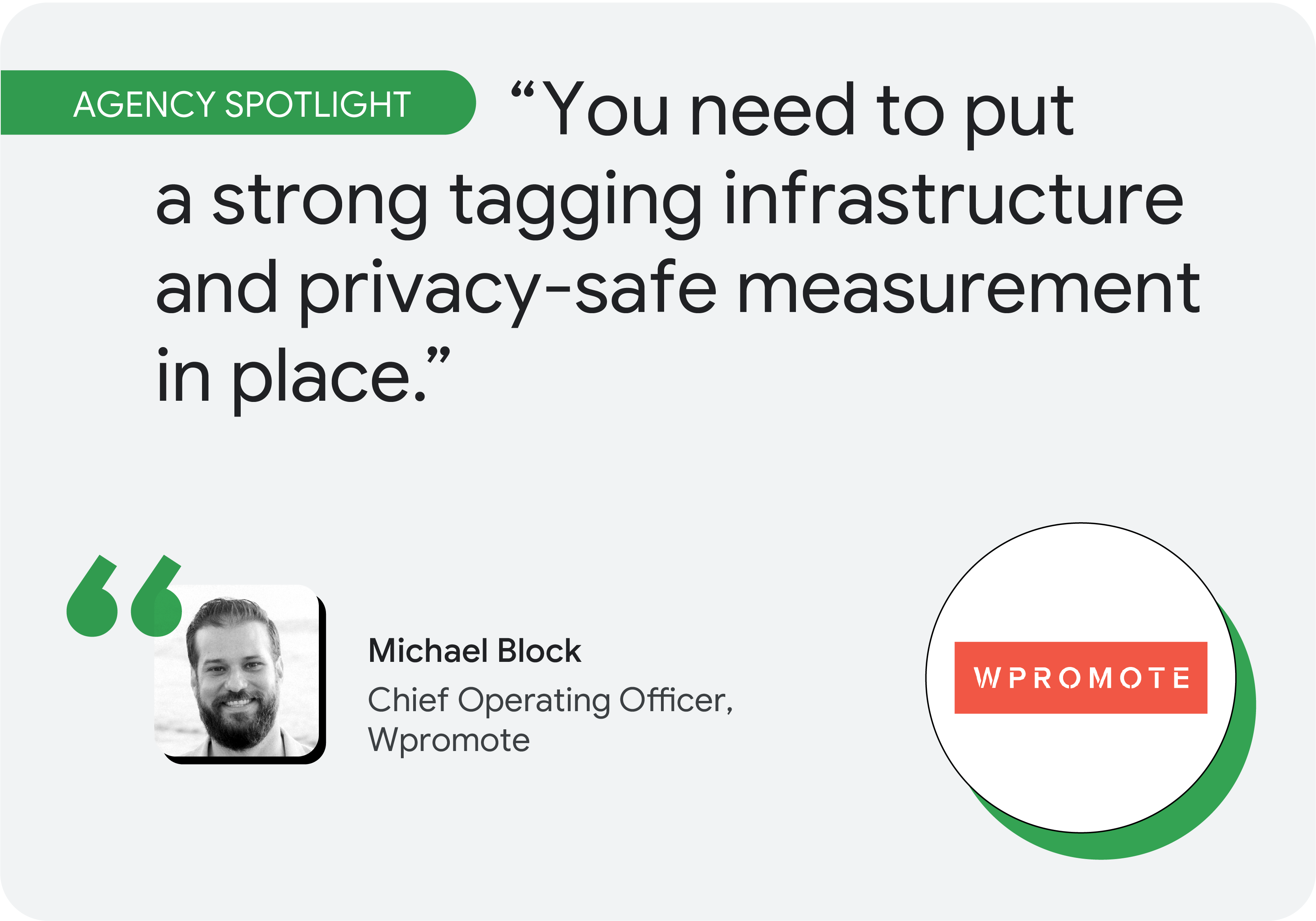 Lay a strong foundation with privacy-centric measurement
Wpromote worked with Taft, a direct-to-consumer men's footwear brand, to establish a robust, privacy-first measurement foundation early in 2022. Wpromote led the brand's implementation of Google's enhanced conversions for web and ensured complete tagging across all of Taft's properties. That early advantage unlocked better insights into customers' journeys while maintaining their privacy, resulting in a 6% conversion uplift.
"Our focus on privacy ultimately ensured that our clients and account teams were not just up to speed on the latest changes but able to quickly test and implement new privacy-compliant solutions, so they could outmaneuver the competition as data deprecation became a reality," explained Wpromote Chief Operating Officer Michael Block.
Block notes that when less user data is available, AI helps to fill in measurement gaps by intelligently combining a marketer's first-party data with other available signals. Once implemented, he says Wpromote sees direct performance improvement.
"To make Google's AI-powered solutions actually work for you and unlock better results from your campaigns, you need to put a strong tagging infrastructure and privacy-safe measurement in place," explained Block. "Our teams have been very quick to recognize the competitive advantage that unlocks for our clients."
Activate everywhere
Once you have a strong data and measurement foundation in place, it's time to activate that data across channels to optimize performance and reach more prospective customers. Forward-thinking agencies have learned to unleash new AI capabilities to help brands show up in more relevant ways at key moments.
These agencies are doubling down on AI-driven solutions, such as shifting keyword targeting to broad match to cover more search queries or creating Performance Max campaigns to find incremental conversions across more channels. Many agencies are also expanding beyond lower-funnel strategies to help brands drive more awareness and create new demand. Research shows that focusing on the full purchase funnel drives more conversions than just focusing on conversions alone. For advertisers running both direct response and brand video ad campaigns on YouTube, brand campaigns deliver 28% of conversion assists.2
To drive upper-funnel activations, many agencies are also developing new expertise in certain areas, such as video. Currently, 33% of agencies surveyed provide video offerings to clients, and another 17% plan to do so within the next 24 months.3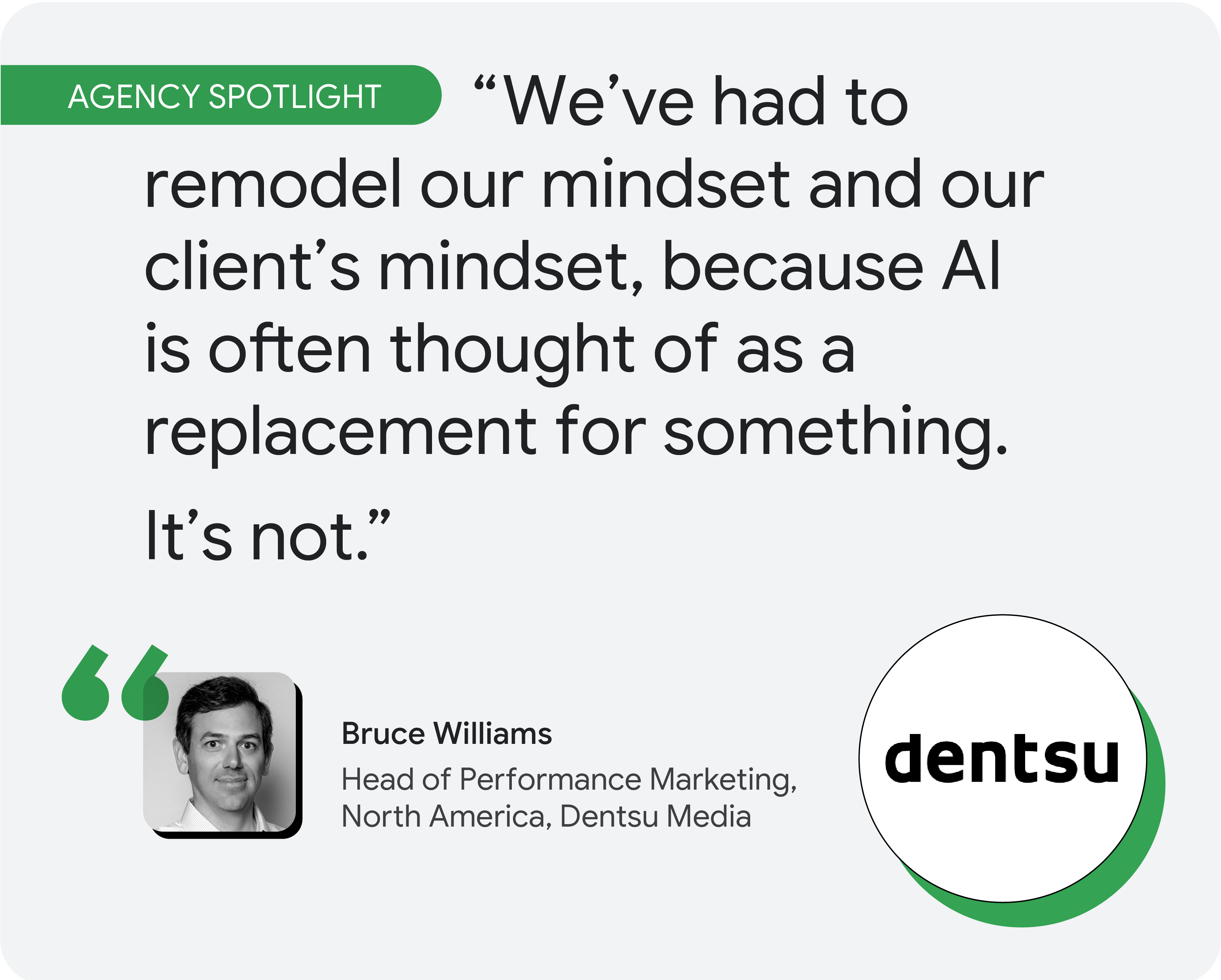 Invest in full-funnel strategies
AI, when paired with insights, has enabled Dentsu Media's teams to become more agile and holistic with their media planning and budgeting.
In the case of one retail client, the Dentsu team analyzed search data that showed an increase in consumer searches for a product where the client previously had limited brand presence. In light of this finding, the client decided to expand its performance campaigns to invest in more upper-funnel strategies to further increase awareness in this category.
The Dentsu team turned to AI to help scale these branding efforts further, using Video reach campaigns to maximize reach and brand awareness across video inventory. Video reach campaigns optimize video performance across skippable ads, non-skippable ads, and bumper ad inventory to get the highest maximum reach for a given budget and audience.
"We're investing in new disciplines to bring a strategic, full-funnel and cross-channel view to how we use AI," said Bruce Williams, head of performance marketing, North America, for Dentsu Media. "We've had to remodel our mindset and our client's mindset, because AI is often thought of as a replacement for something. It's not. It actually enhances the work of our teams who operate holistically and navigate across channels and formats."
Test and learn
Some brands might be cautious about going all-in on AI-powered solutions. Agencies often help brands take a more scientific, iterative approach, and encourage them to adopt a test-and-learn mindset.
Agencies can get brands started with simple tests, such as Experiments in Google Ads. With campaign experiments, agencies can implement A/B testing to measure the impact of a campaign change in a controlled environment and rely on statistical significance indicators to decide whether to take scaled action on results. They can start small by experimenting on a subset of locations or products before scaling.
Agencies can also help brands run more sophisticated tests to better understand the customer journey, break down silos between online and offline channels, and measure the causal, incremental effects of media changes. Geo experiments, which separate locations into treatment and control groups, can attribute any uplift in success metrics between the groups exclusively to the change in media strategy and spend.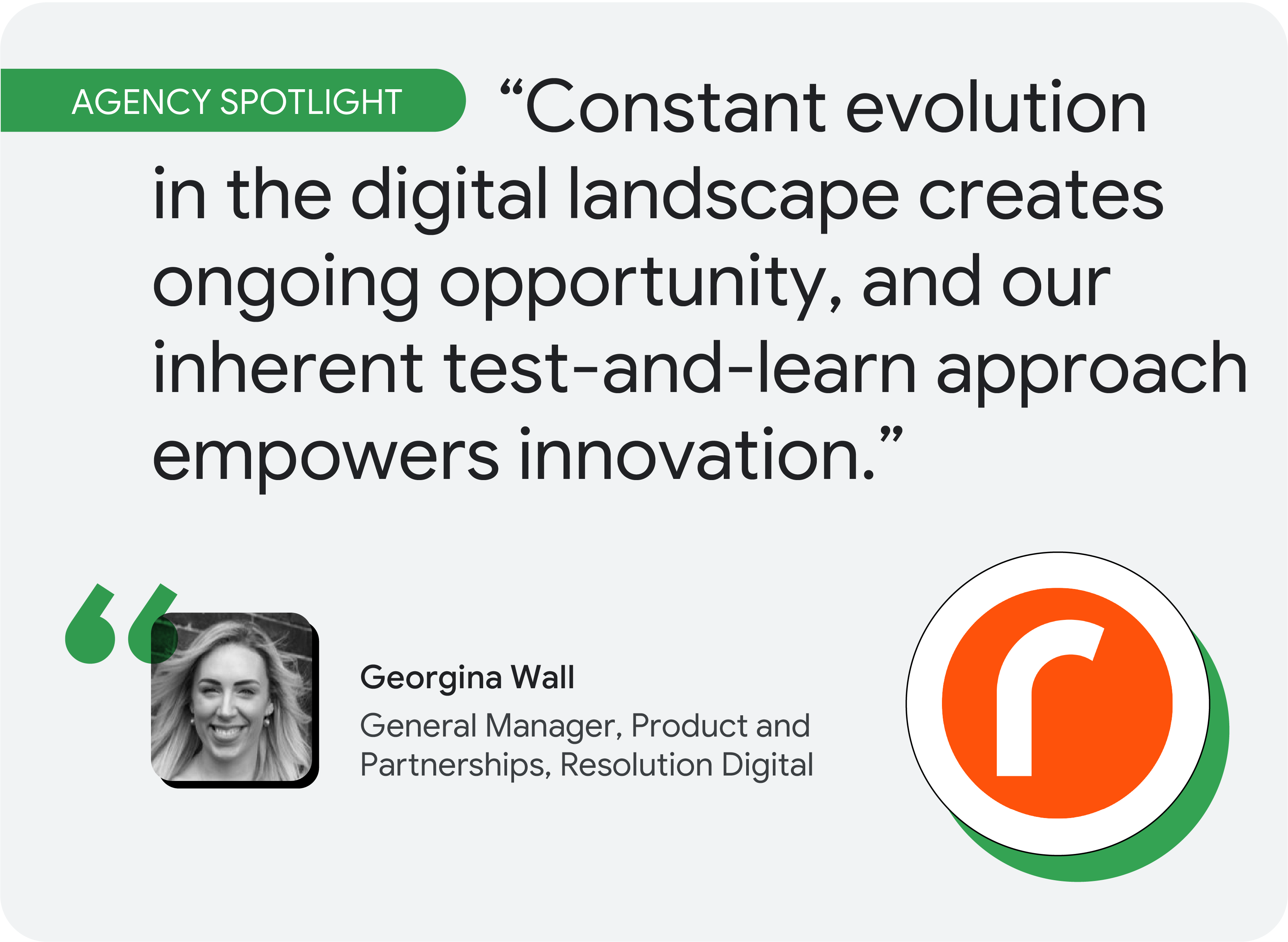 Experiment and iterate constantly
Resolution Digital worked with Virgin Australia to find new audiences and maximize airline ticket sales in a post-pandemic world. It decided to test the ability of broad match to generate incremental revenue on top of existing Search campaigns.
Resolution Digital set up a 50/50 A/B experiment to test how broad match campaigns would compare to exact match and phrase match campaigns. The result: Broad match campaigns delivered double the bookings and revenue at a similar return on ad spend.
"At Resolution Digital, our approach to testing is focused on driving actionable outcomes that align with our client's own business objectives," said Georgina Wall, general manager, product and partnerships at Resolution Digital. "Constant evolution in the digital landscape creates ongoing opportunity, and our inherent test-and-learn approach empowers innovation to continuously push for better, more efficient outcomes."