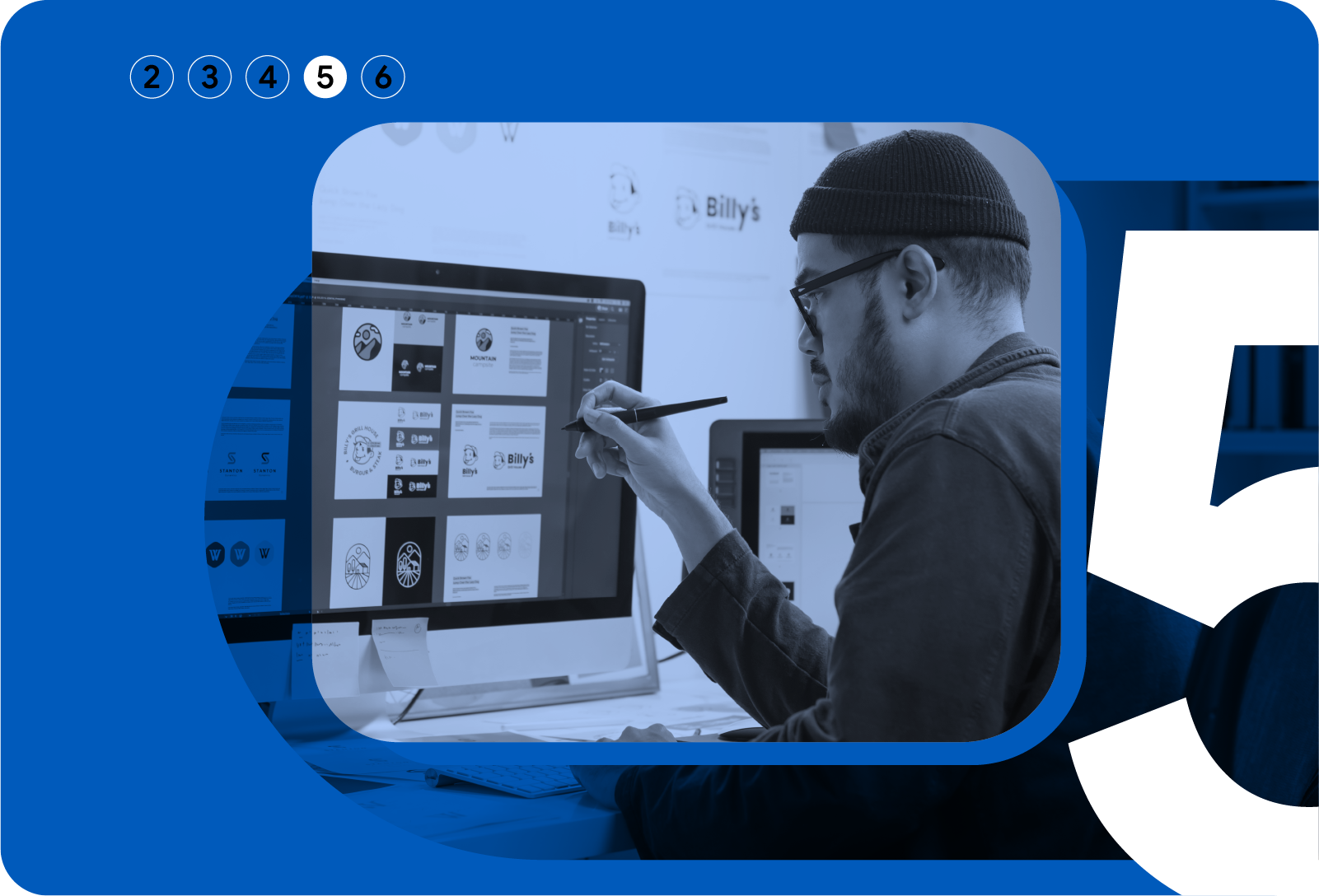 Unlock audiences
Leading agencies are using the latest innovations in AI not only to convert a brand's known "top audiences" and prospects, but also to uncover entirely new customer segments and pockets of demand. Over time, these new customers can become incremental sources of long-term growth. For example, many agencies have experimented with broad match, powered by Google's AI, to help brands unlock new search queries that drive performance.
In the past, marketers have sometimes avoided broad match keyword strategies out of concerns over lower relevance. But with AI now able to factor in a wider range of intent signals, broad match can understand more nuanced differences between search queries to better predict intent.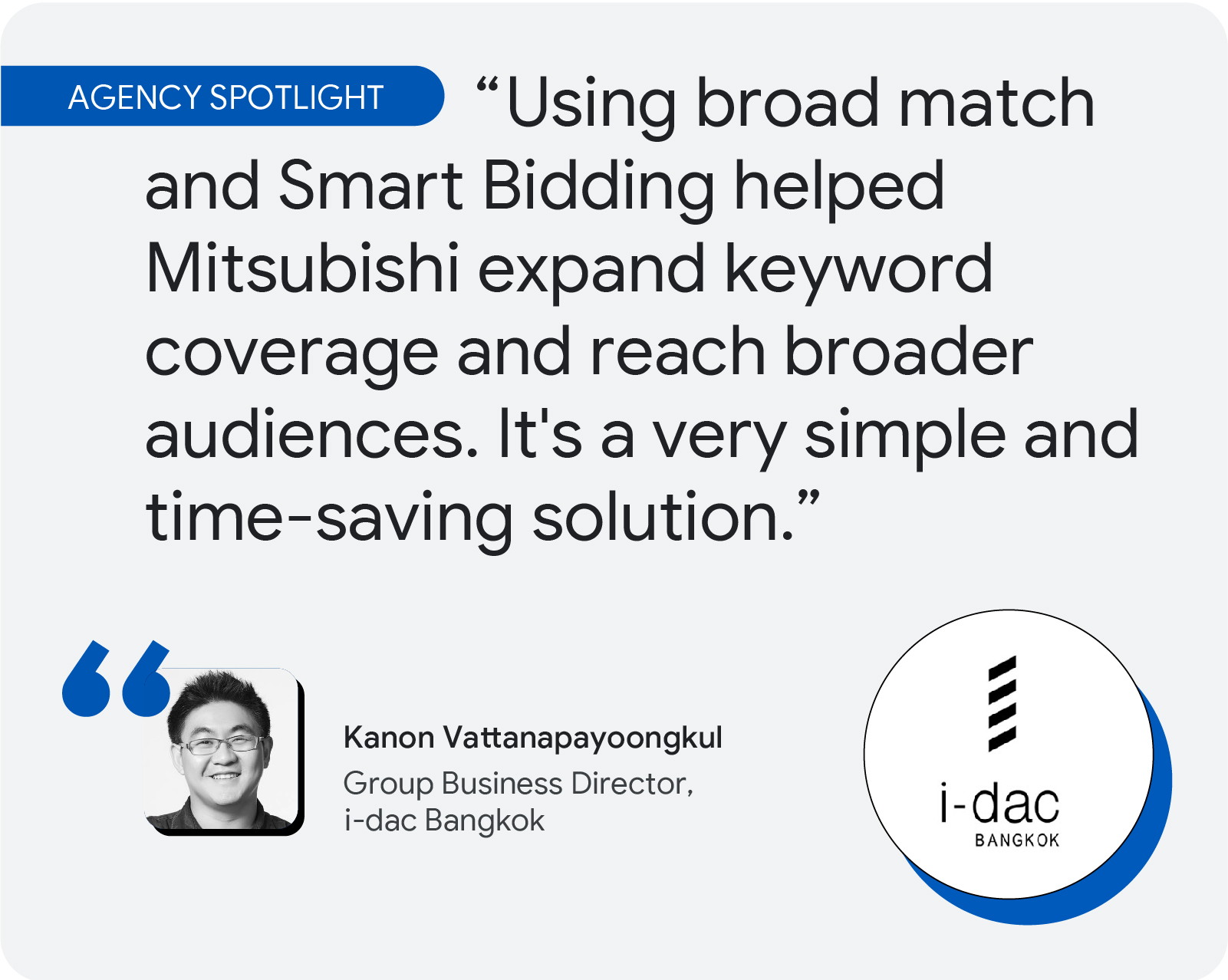 With AI's growing strength, i-dac Bangkok decided to explore if AI-powered Search campaigns could help its client, Mitsubishi Motors Thailand, acquire incremental high-quality leads while ensuring cost efficiency.
Combined with Smart Bidding, broad match keywords outperformed other match types by capturing evolving high intent keywords, driving a 191% increase in online leads at a 65% reduction in cost per qualified lead.
"Using broad match and Smart Bidding helped Mitsubishi expand keyword coverage and reach broader audiences," said Kanon Vattanapayoongkul, group business director at i-dac Bangkok. "It's a very simple and time-saving solution. We plan to scale this success to other campaigns going forward."
Find new customer segments
Using AI technologies, agencies are helping brands augment their consented, first-party data to find new incremental customer segments. These agencies are further accelerating AI's ability to learn from existing customers in order to find new valuable customers.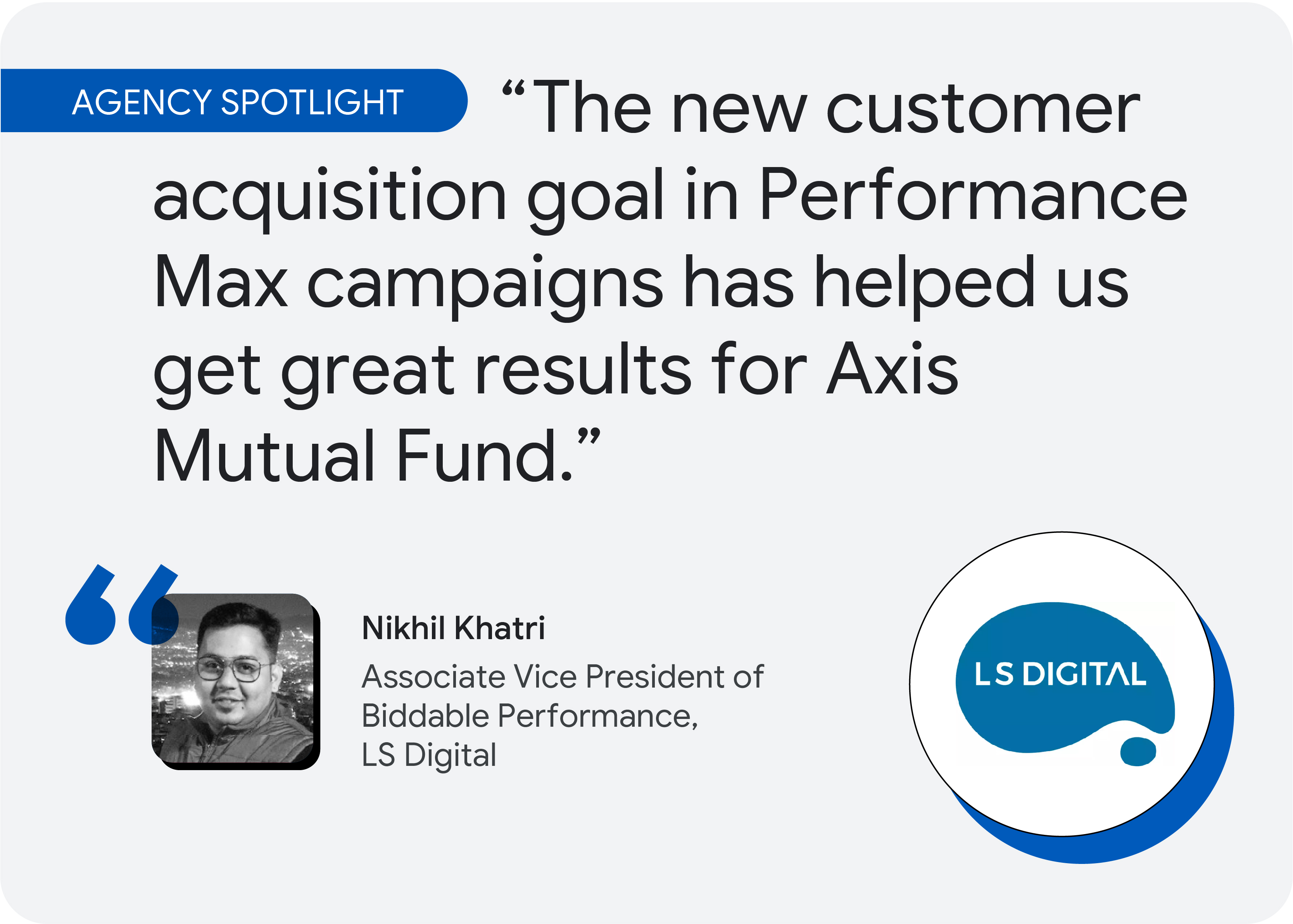 LS Digital worked with Axis Mutual Fund to use Google's AI-powered ads not only to drive verified leads who have a higher propensity to purchase mutual fund schemes, but to acquire new customers as well.
The team decided to adopt Performance Max with the new customer acquisition goal to efficiently acquire new customers. To support this goal, they used strong audience signals, like first-party data from verified users and in-market audiences, to speed up the campaigns' learnings in acquiring new verified users.
By taking the step forward to test the new customer acquisition goal on Performance Max, LS Digital and its client saw 45X growth in revenue from new users and a 250% increase in total registered users at a 58% reduction of cost per registration.
According to Nikhil Khatri, associate vice president of biddable performance at LS Digital, "We are always looking for new ways to scale our clients' businesses with a sharp focus on efficiency. The new customer acquisition goal in Performance Max campaigns has helped us get great results for Axis Mutual Fund, with 3X more registrations at 58% lower costs. Just by adopting a focused goal, we increased the growth in new user revenue by 45X."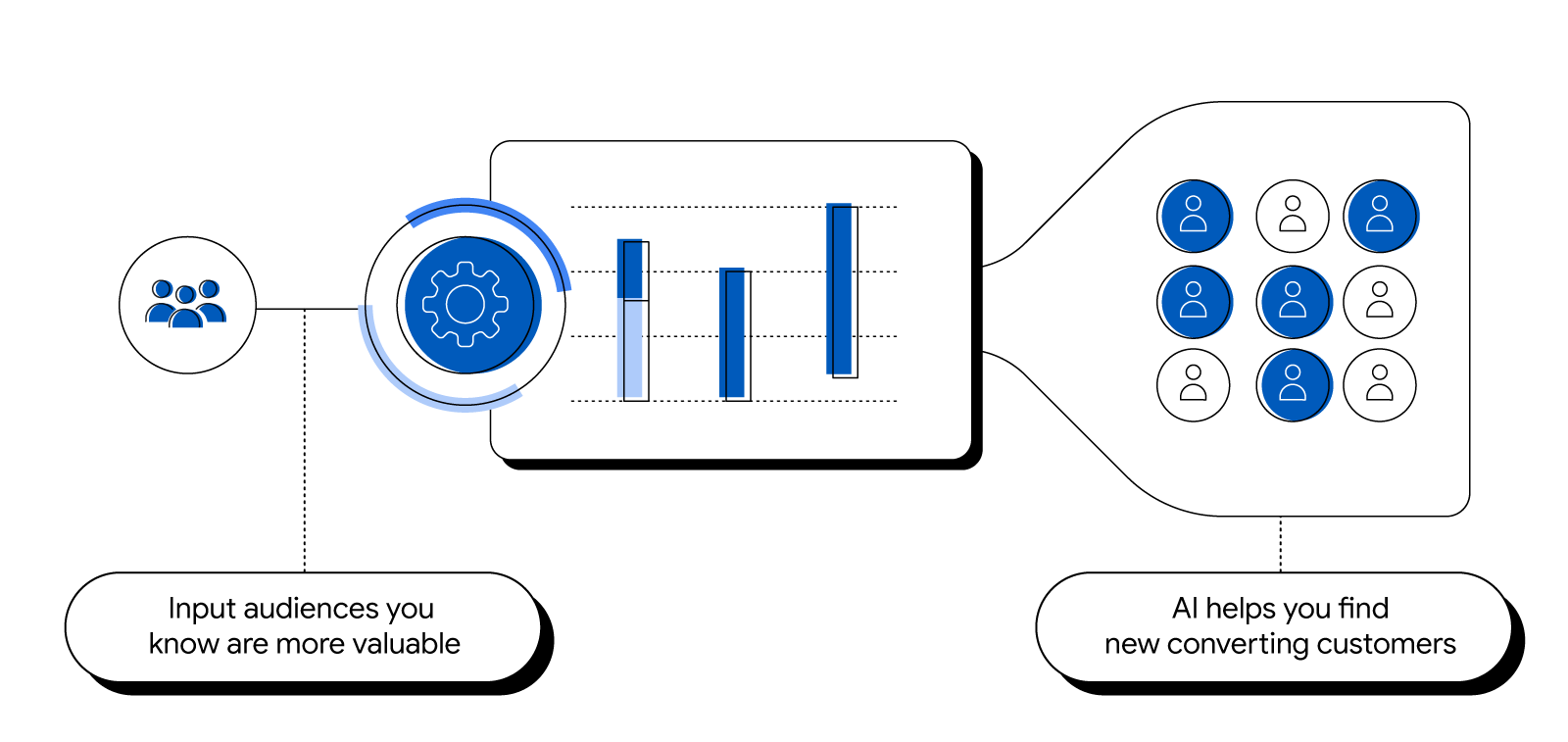 Optimize assets
Finding the right audience means nothing if a brand can't engage them with a meaningful ad experience. Agencies are in a prime position to help here, as well.
Agencies already have high expectations when it comes to AI and creativity. Agencies surveyed by Forrester expect the top benefits of AI to be increased capacity to deliver high-quality creative assets, an improved client experience, and improved results for marketing strategies.1
By providing the maximum number of creative assets and formats possible — including well-written copy, beautiful imagery, and attention-grabbing videos — agencies can get the most out of AI-powered features. AI benefits from having the widest possible range of assets in order to find the most relevant and best-performing combinations for a given audience and context.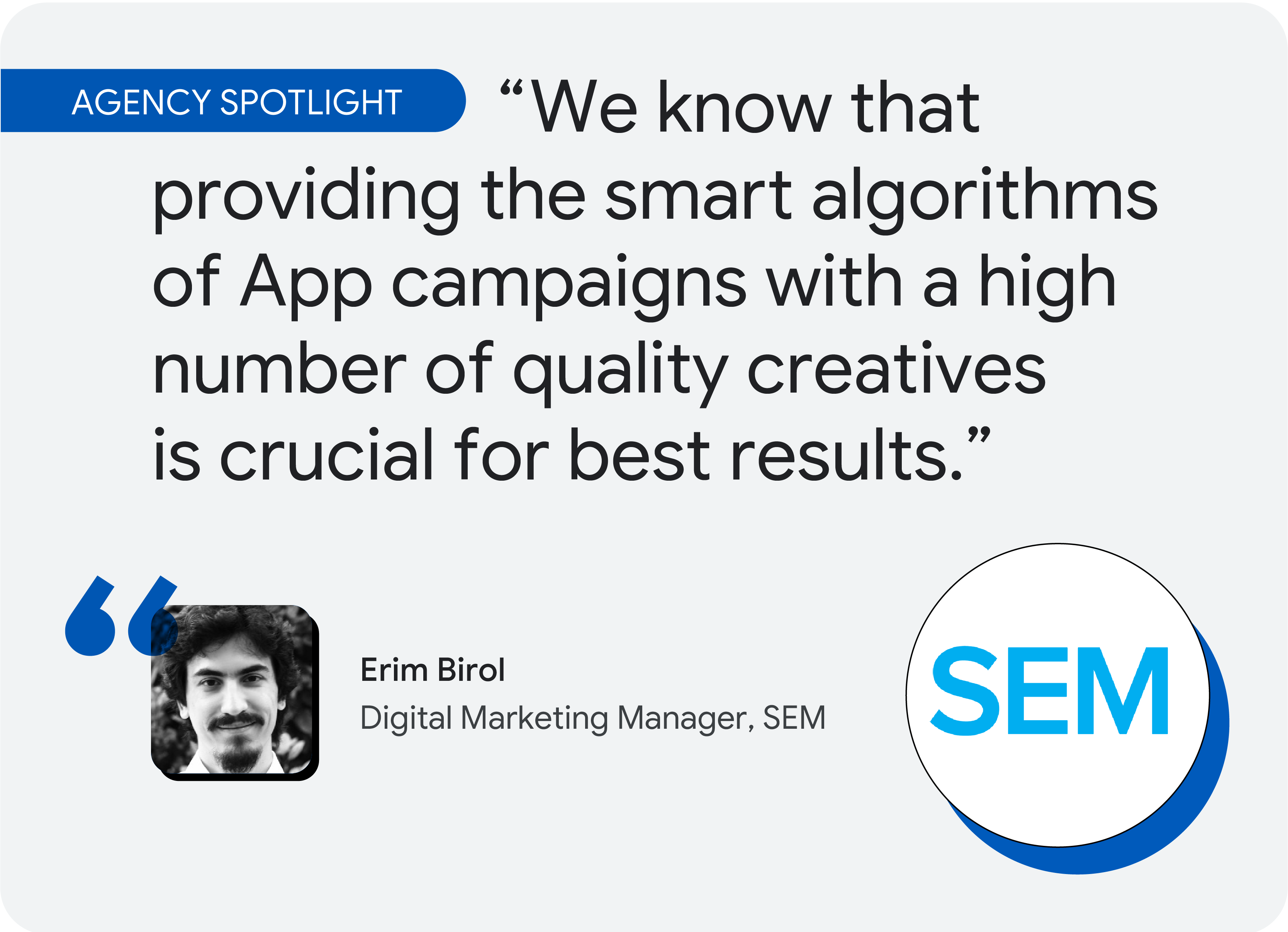 Increase conversions with new video creative
Agency SEM and its client LC Waikiki, a market-leading fashion brand in Türkiye, used asset testing functionality to deploy new video creative in Google's App campaigns for installs. The team designed an experiment with an equal audience split and a high 95% confidence interval threshold. They wanted to ensure the results would be as conclusive as possible since the test would have a lasting impact on their app creative strategy. They tested video assets that focused on their app's unique selling proposition and limited-time offers.
LC Waikiki's new video assets outperformed its evergreen assets, generating a 32% increase in installs and a 7% reduction in cost per install across video inventory.
"We know that providing the smart algorithms of App campaigns with a high number of quality creatives is crucial for best results," said Erim Birol, digital marketing manager at SEM. "With this experiment, we were able to observe the incremental benefits with tangible results."