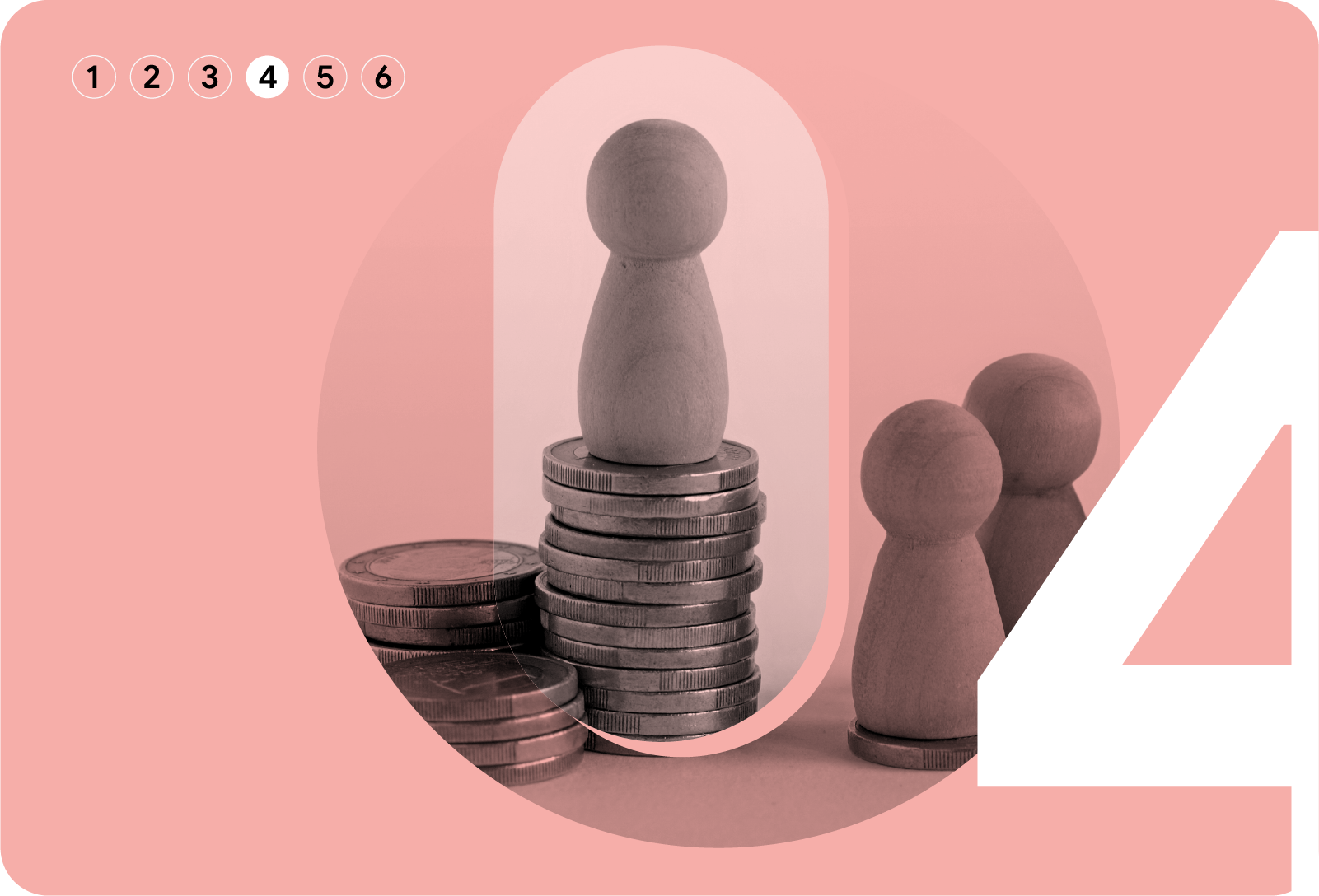 Budget fluidly
To help clients adopt and scale AI technologies successfully, agencies should partner with brands' marketing and finance teams to showcase how modern marketing isn't a costly expense on the balance sheet. Rather it's an investment that directly contributes to profit, revenue, and even growing lifetime value. According to Kantar, CMOs who translate their marketing metrics into business impact are 37% more likely to report revenue growth compared to leaders who communicate strictly in marketing language.1

Agencies are helping brands scale successful AI-powered campaigns using finance-approved ROI thresholds. This doesn't mean throwing early marketing planning and budgeting out the window, but it does require brands and agencies to rethink the artificial "caps" on digital media budgets that can limit campaign performance. Budget-agile marketers are 25% more likely than non-agile marketers to report their performance as stronger than industry competitors, and 42% of budget-agile marketers say their agency partners greatly influence adjustments they make after initial budget planning (compared to only 31% of non-agile marketers).2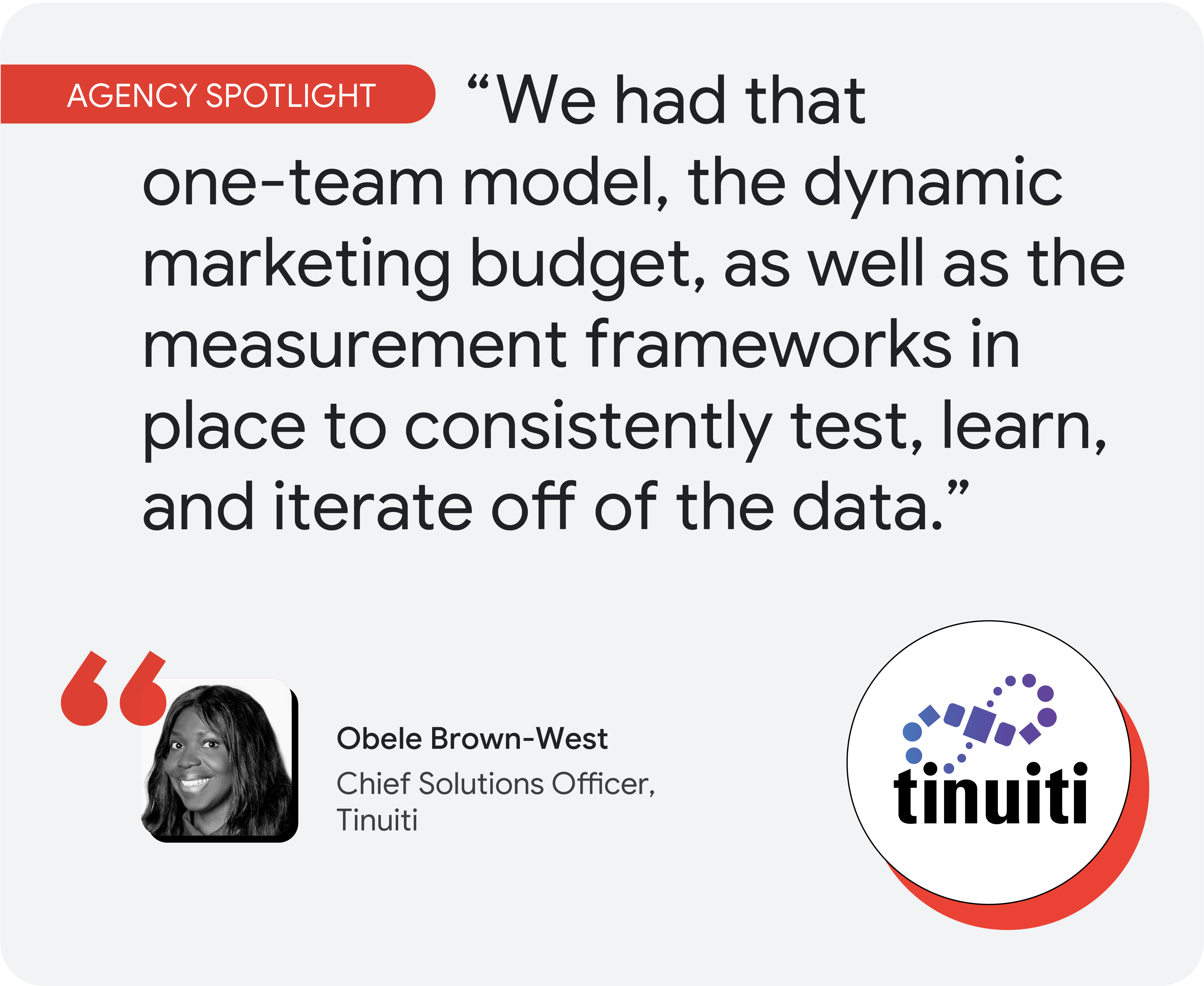 Accelerate sales volume with agile budgeting
Tinuiti is a great example of an agency working with brands to prove the incremental value of marketing. Tinuiti's client Etsy does not have a fixed budget for marketing. Rather, Etsy has data scientists on the analytics team and financial analysts who work with marketing teams. This model allows teams to respond to opportunities as they arise.

The approach was put to the test in early 2020 when the pandemic hit, and proved to be valuable. Etsy scaled marketing tactics and saw volume nearly double in many subsequent quarters.
According to Obele Brown-West, chief solutions officer at Tinuiti, "Etsy became one of the only places where you could find those critical supplies, like face masks. It was the unique challenge of seeing a ton of demand. How do we continue to grow and make sure that we're staying top of mind for all of the other things that they might need on an ongoing basis? We had that one-team model, the dynamic marketing budget, as well as the measurement frameworks in place to consistently test, learn, and iterate off of the data that we were getting."
Innovative agencies are leveraging AI to further maximize budget agility across channels in real time. By adopting cross-channel Smart Bidding, agencies can find the highest-ROI conversions across a wider range of channels, inventory, and formats.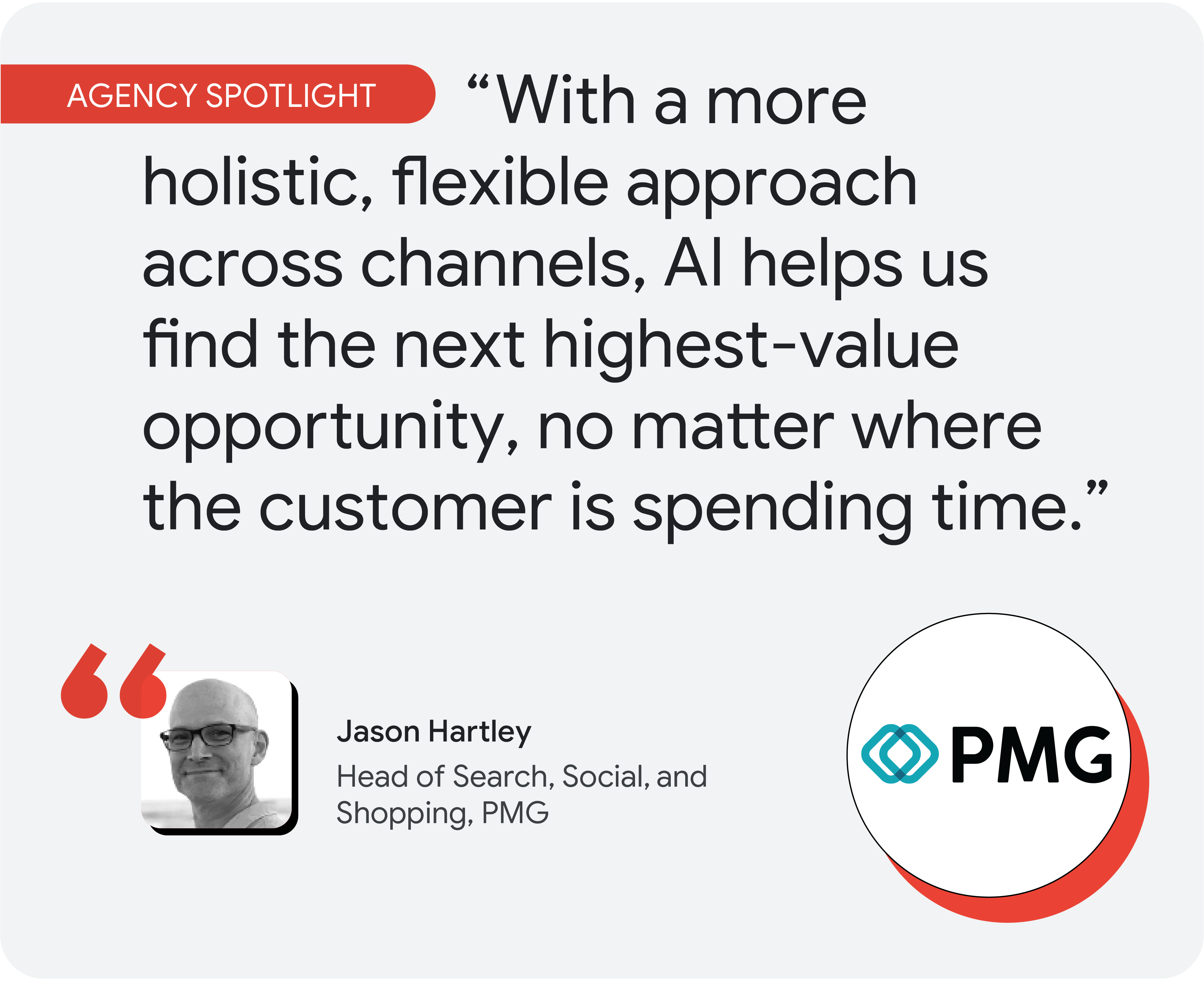 Agency PMG uses cross-channel bidding in both Performance Max and App campaigns. "We saw an opportunity to augment the single-channel approach to maximize performance," said Jason Hartley, PMG's head of search, social, and shopping. "With a more holistic, flexible approach across channels, AI helps us find the next highest-value opportunity, no matter where the customer is spending time."
Advance your AI-powered bidding
In addition to using cross-channel bidding to maximize budget agility, the next evolution of AI-powered bidding will focus on advanced strategies that are closely tied to real business outcomes.
More than 80% of advertisers are now using Google's AI-powered bidding to improve ad performance. But not every customer delivers the same value to a brand's business, and that's where agencies come in. Agencies can help brands accurately define which conversions deliver the greatest business impact, and can use this information to make new improvements to their clients' bid strategies.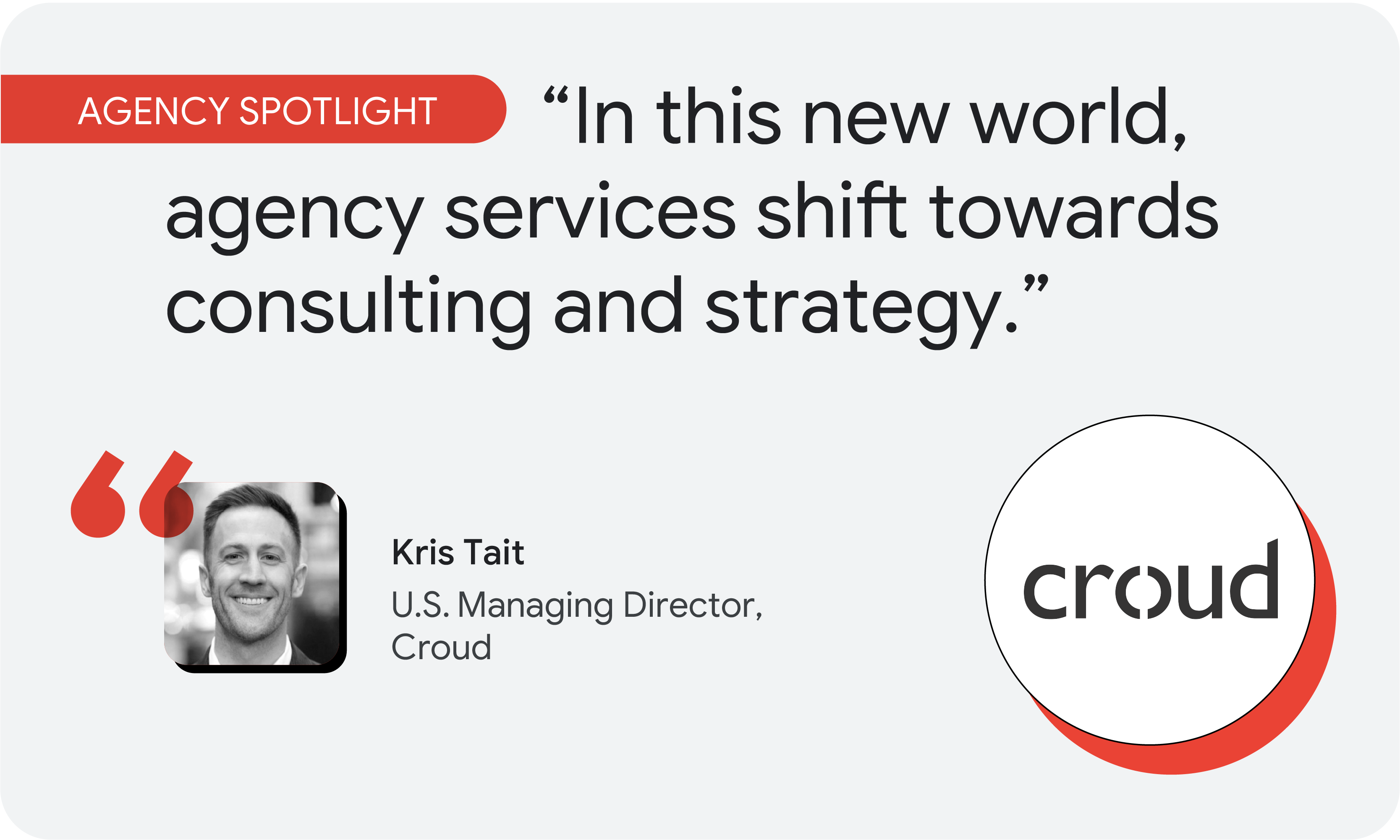 Grow qualified leads with value-based bidding
The agency team at Croud embraces the power of AI, actively partnering with brands to enable the most effective Smart Bidding strategies. Croud worked with one client, a leading global B2B company, to identify the differences in business value between the leads generated online and the leads generated by phone calls. Croud then assigned relative values to each conversion action, directing Smart Bidding to optimize toward value and not just volume.
With this additional context given to AI-powered bidding, and the adoption of Performance Max campaigns, Croud and its client drove 40% growth in incremental, qualified leads.
"Performance Max has allowed us to achieve effective and incremental growth at scale by automating the exploration, the testing, and optimization process of untapped Google properties," explained Conor Kingscott, PPC strategy director at Croud. "As all conversions are not equal, the synergy of then overlaying value-based bidding has ensured that the growth is validated and aligned to business goals and value."
Croud's U.S. Managing Director, Kris Tait, expands further on how AI is changing the role of agencies: "If you think about the last century, it was a knowledge economy. To be at the top of your field, you had to be a deep specialist in a specific area. With advances in AI, we are moving to the conductor economy. This means being able to find information and surface insights without knowing everything about what's going on in a field."
Tait continued, "In this new world, agency services shift towards consulting and strategy. This can be difficult for some agencies to understand, because they have been so focused on outputs and performance. But the future is reskilling people to think much more strategically."
Optimize for business outcomes
Cutting-edge agencies are helping brands go even further by using AI to optimize toward the customer lifetime value or profitability associated with every conversion. If a brand isn't able to share data like product margins externally, everything can be indexed to relative values. When agencies help brands understand the value of customers and combine that knowledge with AI, they begin to shift advertising dollars in real time to the most profitable pockets of demand.
Upgraded KPIs deliver greater business impact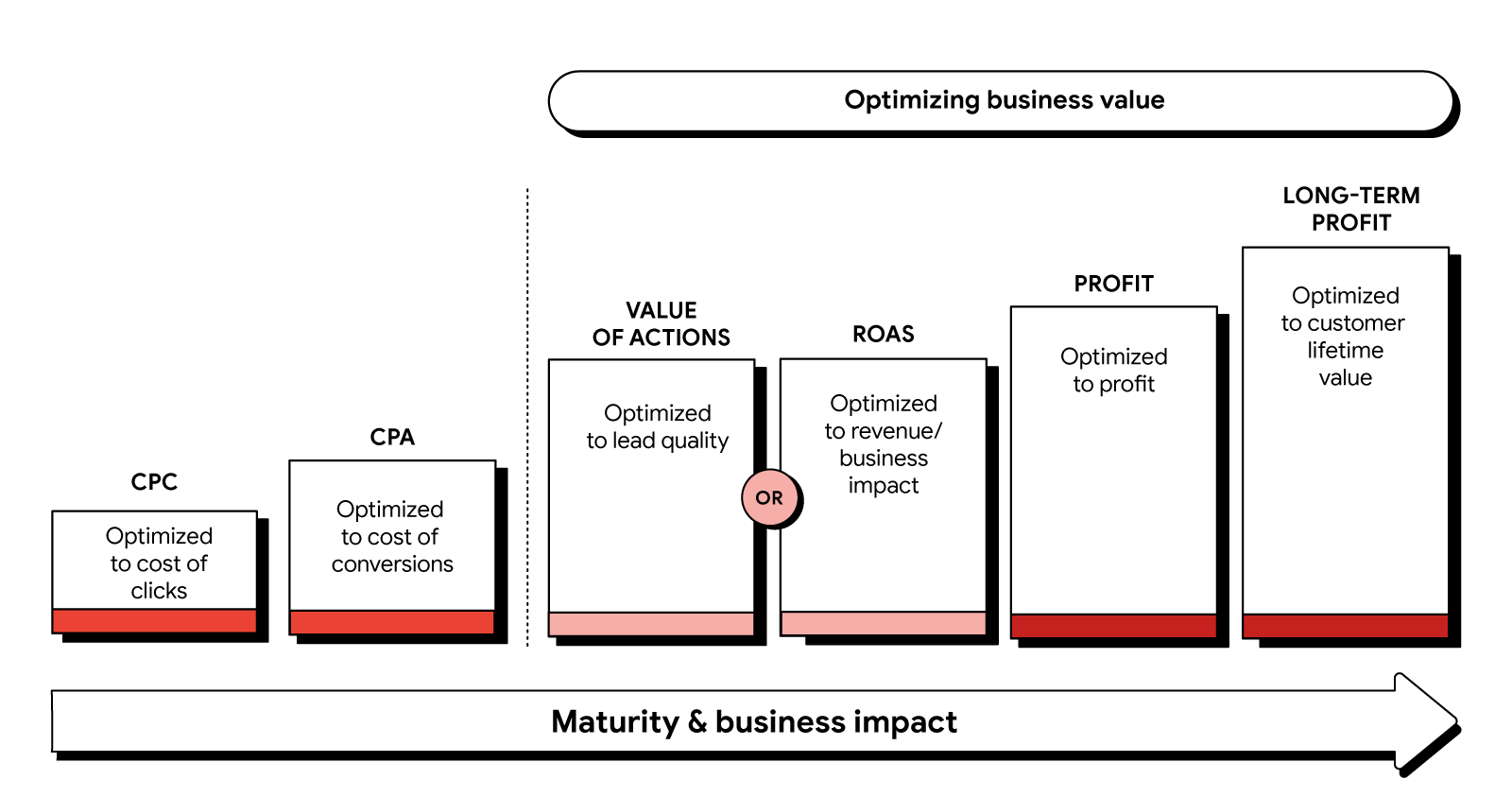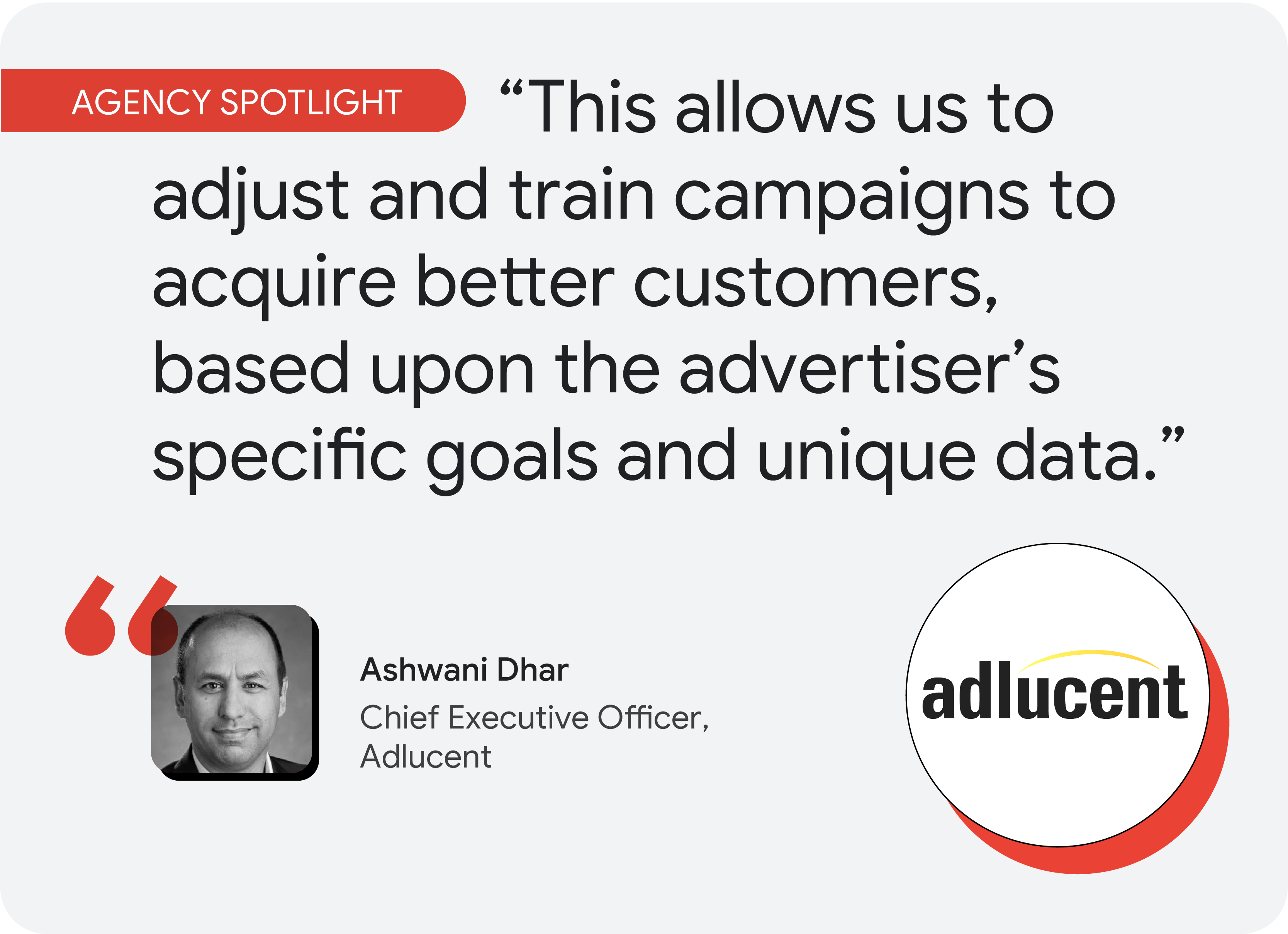 Enhance bidding with enriched signals
Performance marketing agency Adlucent has launched its own proprietary technology, Adlucent Index, that informs Google's AI-powered bidding to help clients reach their business objectives. Adlucent Index allows the agency to control and change how it values each conversion rather than merely bidding on clicks, according to Adlucent CEO Ashwani Dhar.
"We ingest and customize additional data sources, including, but not limited to, first-party data, product margins, and lifetime value, to feed enriched signals back into Google's automated algorithms," Dhar said. "This allows us to adjust and train campaigns to acquire better customers, based upon the advertiser's specific goals and unique data. So we leverage the best features from Google's AI while adding value to help advertisers optimize campaigns to the metrics that are most important to their business."