To quickly resonate among shoppers as one of India's premier online fashion destinations, Flipkart went beyond its usual even-paced strategy to reach a wide audience. The brand took a YouTube-led approach to make an immediate impact online, resulting in 100M users reached in the first 10 days of the campaign and a near 10% lift in consideration by the end.
Last year, if you'd asked most Indian consumers about Flipkart, they'd likely have told you about its broad array of consumer electronics at competitive prices. Behind the scenes, however, fashion was actually one of Flipkart's best-performing categories. In 2018, the brand set its sights on matching up reality with perception by aligning Flipkart Fashion as India's online fashion capital. This was no easy task given the highly competitive market, but the brand recognized an opportunity ripe for the taking.
To establish its identity as "India Ka Fashion Capital," Flipkart knew it needed to grab the attention of new fashion shoppers before their go-to stores were set in stone.
How ripe? By 2020, online sales for products including apparel and accessories in India is estimated to reach $40-45 billion. Improved infrastructure across India's non-metro cities has opened Flipkart's doors to a wider audience of online shoppers. But the brand was still challenged by a fundamental shopping behavior: frequent shoppers typically buy from their favorite retailers. To establish its identity as "India Ka Fashion Capital," Flipkart knew it needed to grab the attention of new fashion shoppers before their go-to stores were set in stone.
Flipkart is known to take experimental approaches to its campaigns, and this time was no different. Rather than steadily building up its reach over time, the brand quickly cast a wide net online from day one of the campaign, focusing on Tier-2 and Tier-3 cities where consumer growth was strong and steady. Along with immediately boosting awareness, this strategy gave Flipkart early insights from digital that helped personalize its approach in the following weeks. With Flipkart Fashion fresh on consumers' minds, the rest of the campaign eventually drove impressive lifts in consideration and interest.
Using digital to reach and nurture a wider audience
Flipkart kicked off its "India Ka Fashion Capital" campaign with a bang: the brand complemented its TV spot with a variety of YouTube ads to maximize its reach while running search and dynamic display ads in support. This ensured that Flipkart Fashion would be visible to consumers across multiple touchpoints, and using audience insights garnered in the first two weeks helped the brand hone its messaging to be more relevant at each stage of the journey.
Flipkart's video creative played off its previous "kidults" (kids as adults) campaign with a twist: the first ads teased the addition of two leading Bollywood celebrities, Shraddha Kapoor and Ranbir Kapoor.
On YouTube, Flipkart was able to use affinity audiences to reach shoppers interested in fashion apparel and then follow up with bumper ads (featuring both Shraddha and Ranbir) on fashion-related content. After the 10-day blast period, the brand tailored its search and dynamic display ads throughout the rest of the campaign to reconnect with consumers who showed interest in Flipkart Fashion.
Striving for early impact to make a lasting impression
Flipkart's front-loaded media strategy helped the brand reach more than 100 million users on YouTube alone in the first 10 days, whereas the brand's previous Flipkart Fashion campaign took a month to do the same.
Comparing cumulative reach over time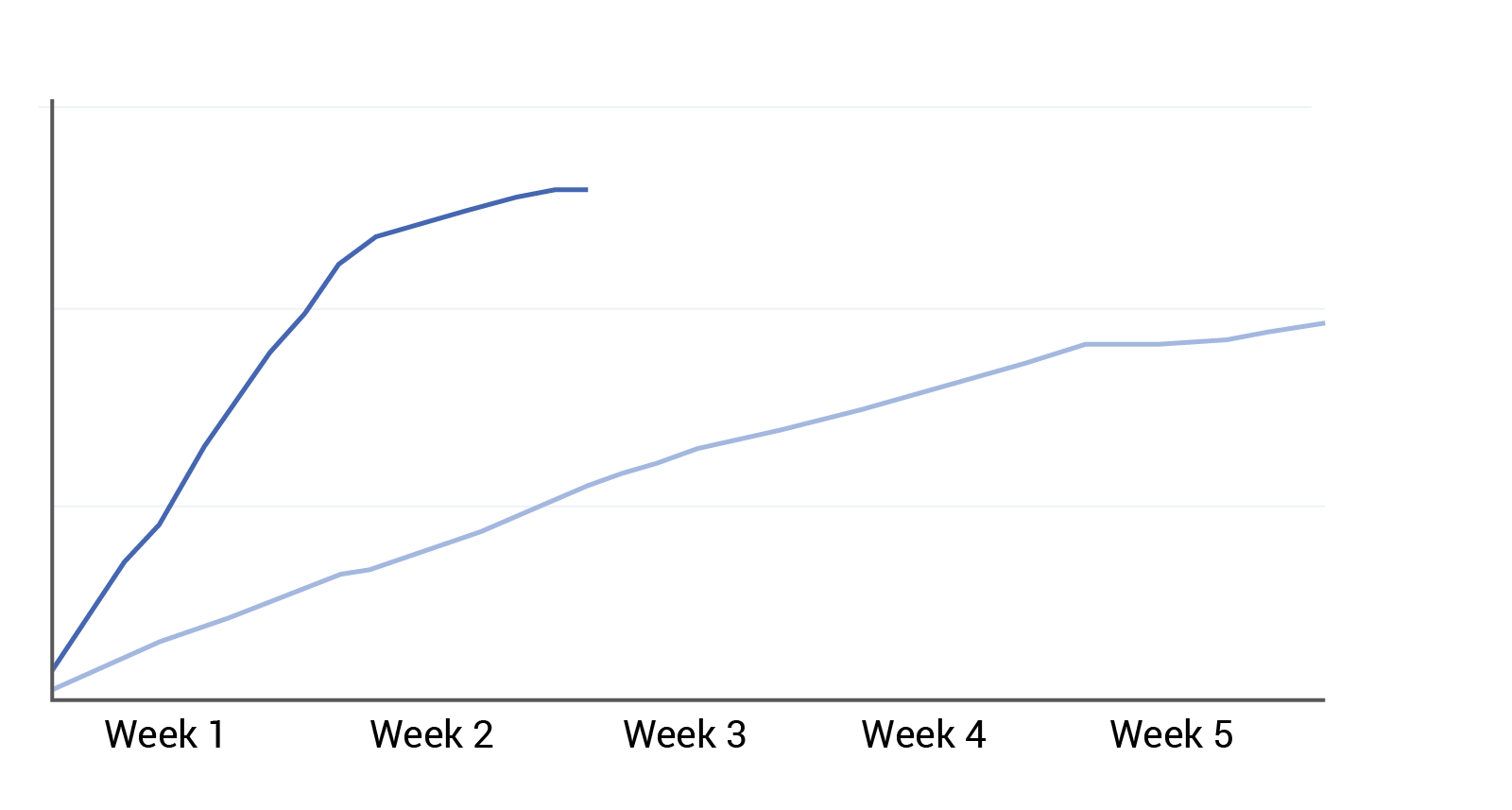 Digital blast strategy

Traditional strategy
But the best result wasn't just reaching millions of shoppers. By making an early connection, the brand was in a better position to develop meaningful, long-term relationships with its audience. And once the full campaign had finished, it had clearly resonated beyond initial awareness: Brand Lift studies showed results that exceeded Flipkart's past campaigns across the board.

Flipkart revealed that brands that go heavy on digital to make an early impression on a wide audience can drive even more impact with their campaigns down the line. Best of all, it showed how better results can arise from achieving the same online reach in a shorter period of time. "When we experiment and break barriers with our marketing, we've always seen great results," said Kunal Dubey, Flipkart's director of marketing. "This year's Flipkart Fashion campaign was no different. Frontloading our digital spend and using our audience signals to optimize over time turned out to be more effective than we could've ever imagined."