Branding and performance are often viewed as complementary but separate goals in advertising. We set out to learn if it is possible for video ads to both lift awareness and drive action. As part of our Unskippable Labs series, we partnered with Agoda in Indonesia to see if a single video ad campaign can do it all.
For advertisers and brands focused on performance metrics like conversions and sales, the primary goal of an ad campaign is ROI. For those dedicated to branding initiatives, changing consumers' perceptions is paramount. In many agencies, these efforts run parallel to each other so as not to confuse audiences or compromise the goals of either effort.
Does it have to be this way? What if de-prioritizing branding or performance efforts for the sake of the other is actually causing brands to miss opportunities to achieve both goals?
In our agile digital era, it seems achieving brand awareness goals and performance goals at the same time should be within our reach. And now that we can measure so much beyond last-click attribution, we thought it was time to put these commonly held beliefs to the test. Unskippable Labs partnered with Agoda, one of the largest online travel agencies in the world, to experiment with mobile video ads in Indonesia.
Experimenting with branding and performance
Agoda was seeking to grow its brand awareness in Indonesia and also wanted to encourage app downloads and travel bookings in a country that's booming with smartphone users.
"As we look to build our brand in a booming but highly competitive market, we're exploring ways to deliver advertising that's going to stand out and be creatively engaging but also make a difference to the business," said Andy Edwards, Agoda's global director for brand and communications.
With Agoda, we tested three versions of an ad based on an original piece of creative Agoda had on hand. The ads were run on TrueView, YouTube's skippable ad format, together with TrueView for app install downloads, which enables users to install apps directly from the YouTube player. The test ads were only shown on mobile devices.
After viewers saw one of the three ads, they were asked questions as part of a Brand Lift study to help us analyze and compare each ad based on its ability to impact branding (measured by brand awareness and brand interest lift) and performance metrics (downloads and bookings).
Three video ads, three approaches
We tested three different cuts of the ad:
"The Original" is a fast-paced ad that ends with a frame inviting users to download Agoda's newest app. Agoda's branding doesn't appear until the end of the ad.
"The Branded" differed from "The Original" by including a branded frame at the beginning and a logo overlay throughout the video.
"The Story" had the same branding elements as "The Branded" and also integrated a narrative to the dozens of impactful photos from scenes around Indonesia. The strong visuals were designed to catch users' attention and provide more depth to the viewing experience.
Based on previous data collected on how brand placement in the first five seconds affects metrics, we were relatively confident that both "The Branded" and "The Story" would have a positive effect on brand awareness. However, the impact on downloads and bookings was something we were testing for the first time.
Here are three things we learned:
1. Being bold and showing the brand early worked
"The Branded" and "The Story" both had branding elements in the first five seconds. They also both had best-in-class awareness lifts of 22% and 25%, respectively. "The Original" didn't have any branding elements until the end of the ad and saw no awareness lifts at all. We've also seen in previous studies that upfront branding can lead to lower view-through rates, but that wasn't the case here.
Brand Awareness Lifts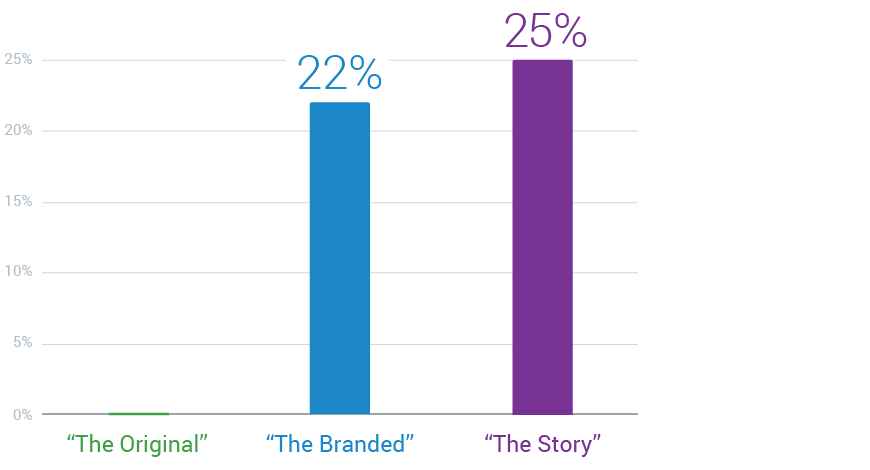 Brands that aim to lift awareness should think about ways to give users a reason to stay in the first five seconds while finding interesting ways to showcase their product or services. Studies have shown that close shots of on-product logos have worked well across brands and geographies, like this fun video made in Australia for TicTac.
2. Informative visuals boosted performance metrics
Adding informative visuals to the "The Story" (and telling the audience that all the pictures they were about to see had been taken by a professional photographer touring Indonesia) resulted in strong lifts across all measured KPIs. Not only did "The Story" have the highest awareness lift of the three ads, it was also the most shared—2X as much as "The Original."
And this may be most interesting insight from this experiment: "The Story" generated 60% more downloads and 4X more bookings than "The Original." Informative visuals really seemed to push people to act.

As APAC users increasingly use their phones to consume content on the go, it's crucial for brands to find the right balance between information and storytelling as well as the right balance between audio and video. While sound is critical in video ads, this experiment showed us that brands should also pay particular attention to the impact of visuals. In the case of "The Story," visuals helped immerse users in the story, driving important brand metrics.
3. Mobile viewers are engaged viewers
Lastly, all three cuts exceeded our expectations on mobile. On average, they drove a 40% lift in ad recall, which is best-in-class (top 25% of all travel campaigns) in APAC.
This is particularly important in Indonesia, where mobile watch time is growing 130% year over year1 and where more than 65% of YouTube watch time comes from mobile.2 Indonesian brands that can find effective ways to engage their audiences on mobile, like Agoda did here, stand to gain big.
Branding and performance can coexist
As our experiment shows, brands should look at YouTube as a platform capable of lifting traditional brand metrics (ad recall or brand awareness) as well as hard performance metrics (downloads and bookings). Both goals can be achieved through creative advertising that focuses on informative storytelling with branding that doesn't disincentivize viewers to watch the videos.
"The experiment we conducted with Google showed that this is achievable with YouTube. As a result, we feel more confident about how we can do this in the future," concluded Edwards.
If your brand has big questions on its mind or wants to understand better what works in APAC, you can get out there and start experimenting anytime. Play around with different creative levers—visual cues, branding, music, humor—and see what works. As APAC consumers continue to change their media consumption and behavior patterns, work to keep up with them by asking smart questions and continuing to experiment with what works.