The travel industry in Hungary has been experiencing a growth spurt since 20101. Tourism-related searches have increased year over year, rising by 9% in 2018 compared to the year before. By gathering and analysing Google Search data, we're able to identify trends in the Hungarian travel sector. And uncovering these insights offers opportunities for tourism professionals to better understand where, when and how to capture the attention of travellers.
So what do search trends tell us about traveller behaviours?
Earlier peak season
We see that the peak season for travel-related searches has shifted. In 2016 most searches were in August, but July became the busiest month for tourist browsing over the last two years. So Hungarians are searching for holiday travel one month earlier ⁠— and marketers can get a head start by providing targeted messaging at peak season.
Last minute searches on the rise
But that doesn't mean there's no room for spontaneity. The last minute search category has grown dynamically over the past two years. In 2016, volume was still relatively low without major fluctuations, but it has since spiked dramatically with six times more last minute searches in 2018.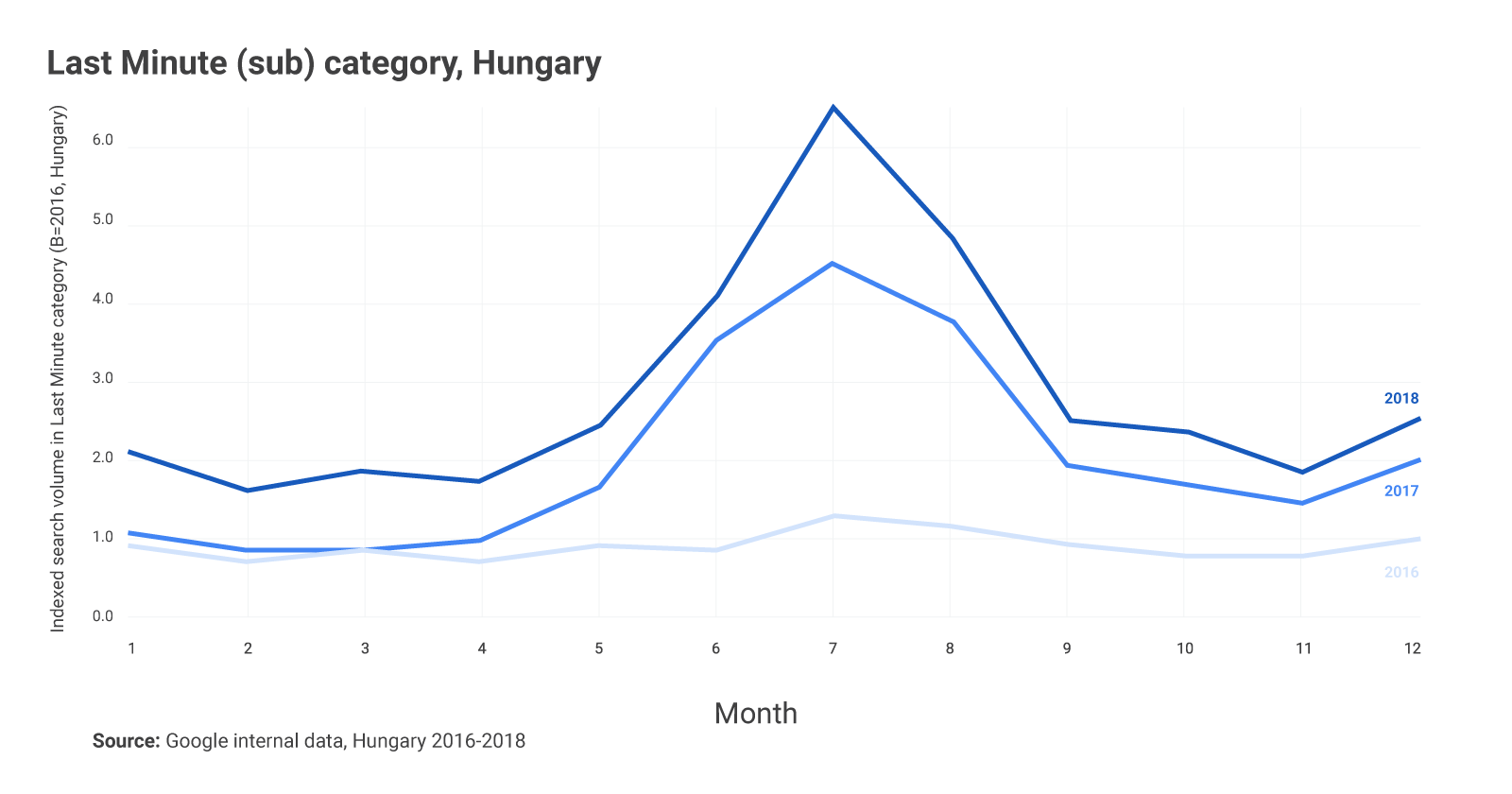 And users tend to browse in a more informed and targeted way. Searches related to specific brands and products increased in 2018 while the use of generic words and expressions declined steadily.
A mobile-first strategy is key
Data reveals that mobile continues to take on a more prominent role in terms of search ⁠— with smartphones becoming a preferred browsing device in Hungary. In 2018, almost half of all travel-related searches were made on mobile. Since a mobile site taking longer than 3 seconds to load loses 53% of its visitors — and a single second delay in load time can reduce conversion rates by 20%2 ⁠— brands that create a seamless mobile experience for customers will come out ahead. Test My Site tells you how fast your mobile site takes to load, offers tips on where to improve, and reveals the financial impact a faster site can have on your business.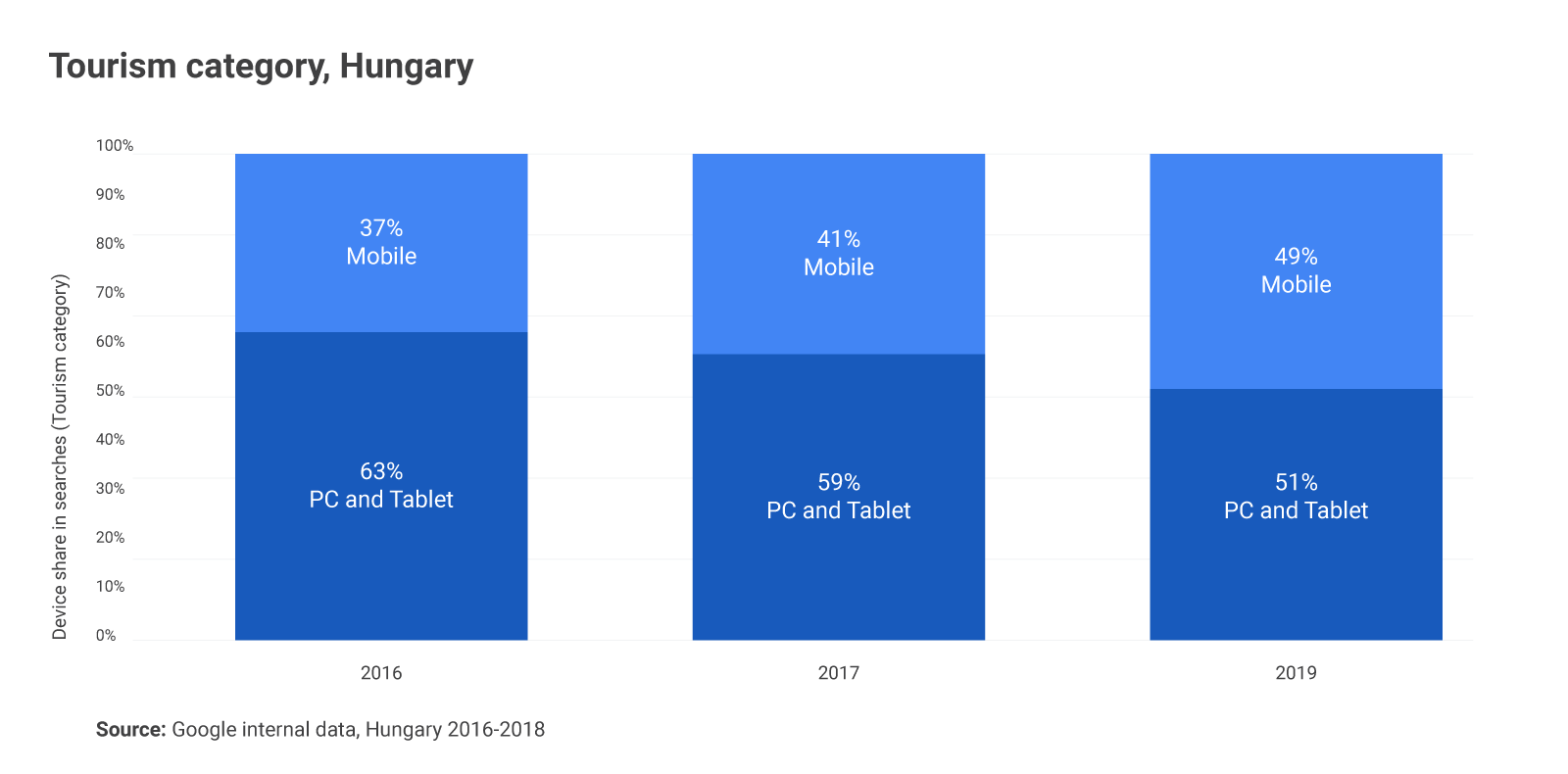 Travel destinations in and out of Hungary
When it comes to searches coming out of Hungary, 2018's most sought-after international destinations are led by Italy, Croatia and Austria ⁠— while Greece and Slovenia show growth rates over 15% from 2017 to 2018. As for cities, Vienna is noted as 2018's most searched international city, followed by Barcelona and London. And Barcelona stands out in terms of growth rates. From 2017 to 2018, searches rose by 33%.
Budapest has exponentially more searches than any other domestic city, and growth rates at 15% compared to 2017. The most frequently searched phrases include spas, aqua parks, and sightseeing trips.
Looking at international interest in the country for tourism purposes, Germany has the highest search volume with the UK trailing close behind. The fastest growing interest towards Hungary came from Spain and France⁠ — giving brands the opportunity to tap into this accelerated growth.
With inbound and outbound searches spanning a variety of cities and countries, tourism professionals can offer compelling ads for favored locations using geotargeting and dynamic content.
Tourism initiatives
Developing tourism has become a priority in Hungary. In 2017, the National Tourism Development Strategy 2030 was introduced with the goal of making Hungary the leading destination in Central Europe. Covering everything from local improvements to easier travel and better tech, the initiative is expected to make tourism the country's center of economic growth by 2030.
From airtight mobile strategies to finding the right time and place to get in front of your customers, there are many opportunities to uncover within the travel industry ⁠— and understanding traveller behaviours is a good place to start.