Halloween on October 31st is an emerging micro moment in the Middle East and North Africa (MENA), and the first celebration that consumers start exploring at the start of the three-month long Black Friday shopping extravaganza.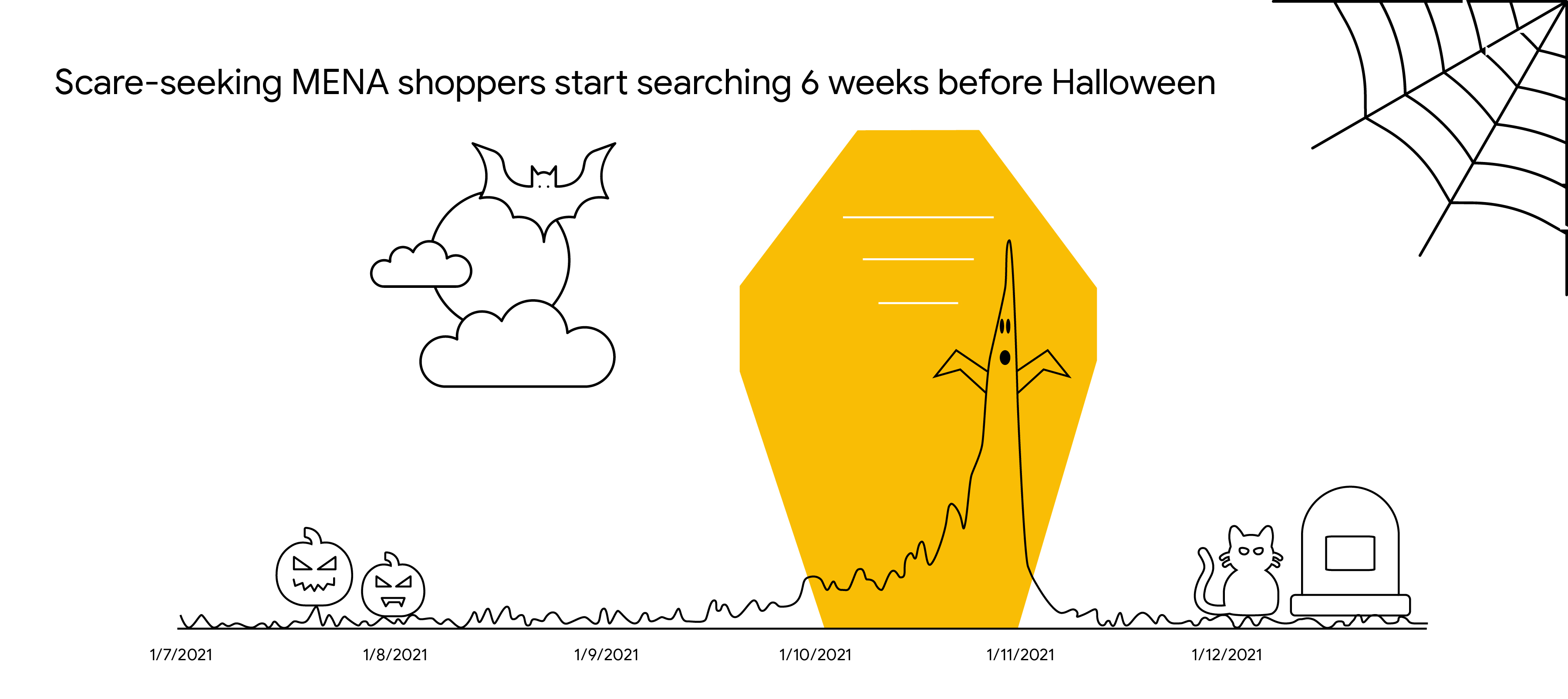 We saw a 26% year-on-year increase in search interest for "Halloween" across the region,1 with Saudi Arabia— a country that embraced the day for the first time last year — seeing 40% growth year-on-year.
With interest for Halloween only rising across the region, we expect 2022's holiday to be the biggest spooky celebration yet. Marketers have the opportunity to sink their teeth into this ballooning moment, and get to grips with who their consumers are.
Consumers celebrate the occasion in 3 ways
Regional shoppers get wrapped up in the moment searching for costumes, candy, and decorations.
Unleashing their alter-egos through dress-up
While we saw a 50% year-on-year and 60% month-on-month increase in search interest for the broad "costumes" and "costume ideas" categories, people also relish getting in character. Search interest for "Squid Game costume" and "Cruella costume" crept up 900% and 215% respectively year-on-year, likely on the back of those 2021 movie and show releases.
Search interest for Halloween classics such as "witch costume" and "pirate costume" rose 85% and 70% year-on-year. And "makeup for Halloween" clawed its way up 365%, with "Halloween dress" rising 125%.
Smaller scaremongers also love getting in on the action, with search interest for "kids costumes" increasing by 135% year-on-year.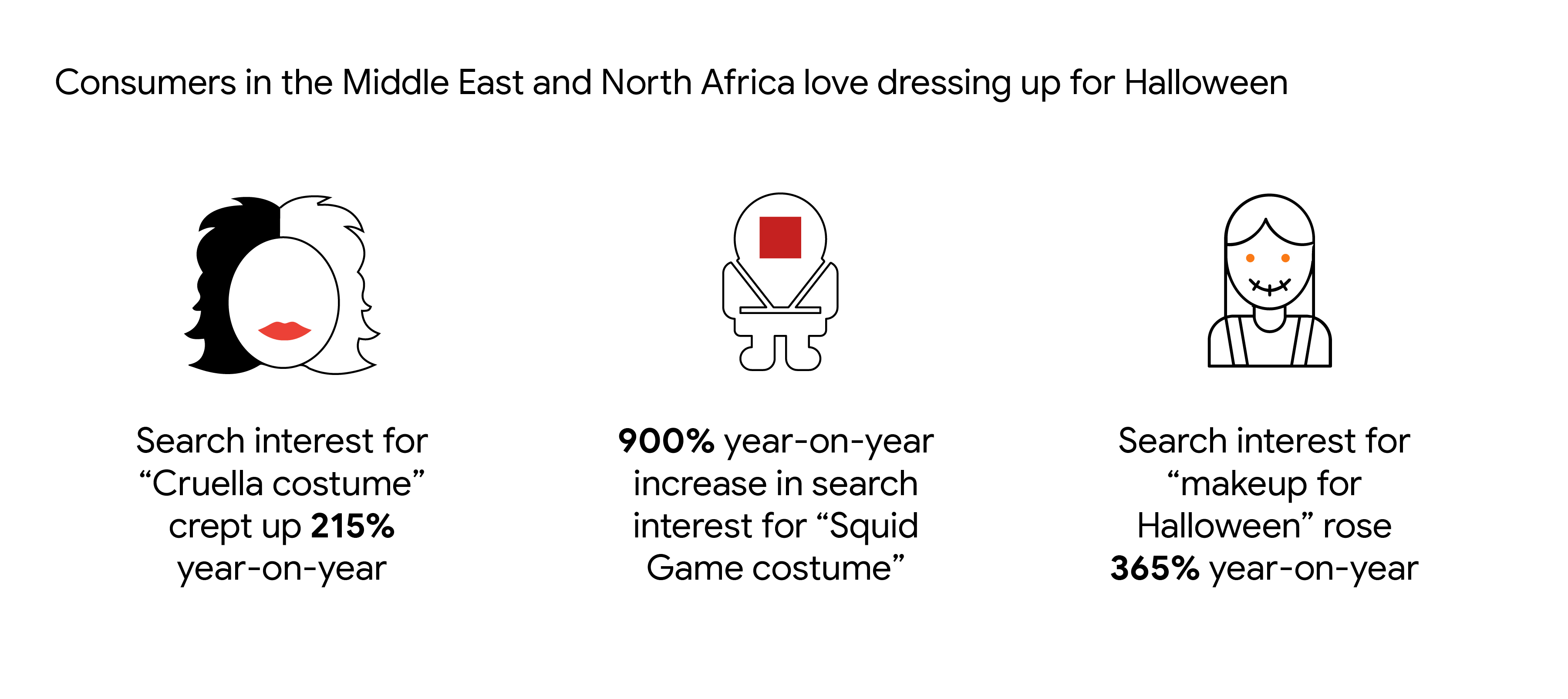 Indulging their sweet tooth (or should that be fang?)
Of course Halloween wouldn't be what it is without sweets. "Candies" saw a year-on-year spike in search interest of 205% across the region, with "Halloween candy" at 165%. And "candy corn" is a growing favourite, with search interest rising 150%.
Regional shoppers are super specific about the type of treats they want. Search interest for terms containing "chocolate" received over 11X more interest than "candy" in Saudi Arabia from October to November last year, and 2X more interest in the United Arab Emirates (UAE).2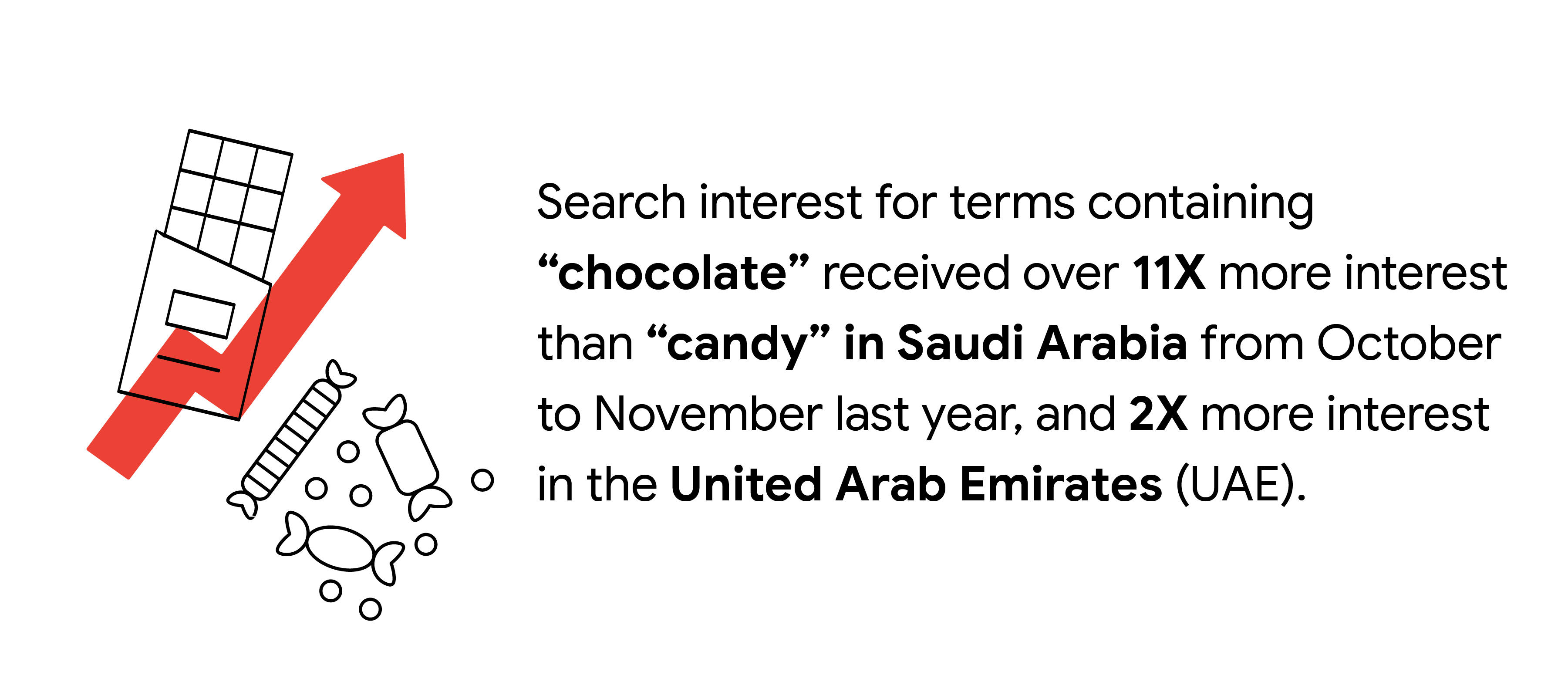 People aren't just looking to buy treats though. They're also keen on making their own, with search interest for "pumpkin cake" rising by 115% on YouTube.
Turning up the fear factor with decorations
What would Halloween be without a spot of "trick or treat"? That term's search interest came knocking with a 110% increase year-on-year.
People make the most of welcoming family and friends to their doors by decking up their environment. "Halloween party" saw search interest grow by 80% year-on-year, with "Halloween decoration" up 245%.
"Pumpkin carving" is also popular, with search interest sharp at 255%.
Tips to help marketers make the most of the scary season
Dig up insights on other seasonal moments with our Seasonal Calendar.