As the first generation to have grown up digital, it's an understatement to say millennials know how to shop online. But, while they're online-first, they're facing an increasing need to shop across categories for a wide variety of friends and family – and that means they're always happy to have a little extra help. Here's what you need to know about how millennials shop during the holiday season, and how to get in front of them.
1. Their spending power is on the rise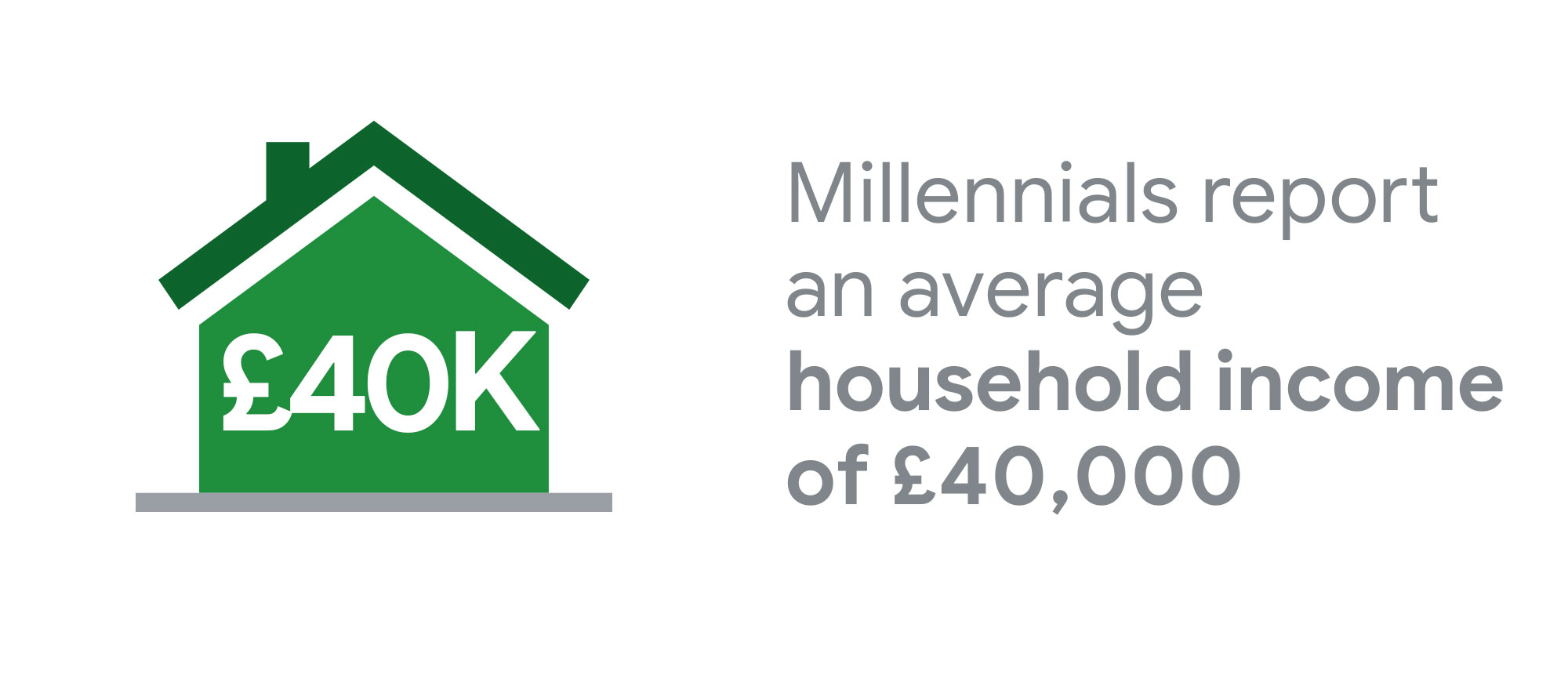 As the generation of millennials grows older, they're starting to out-earn their parents. Millennials – currently defined as between the ages of 22 and 36 –are reporting an average household income of £40K, slightly above the £36K for Boomer households.1 They're also maturing in other ways; 80% of millennials are employed, 58% are married or in a domestic partnership, and 44% are parents.2 And, for brands, that means they're an increasingly important audience to not only try to engage but to create bespoke content for.
2. They shop online more than anyone else
Perhaps it's unsurprising that this digital generation spend, on average, the largest proportion of their time shopping online. Spending 60% of their time shopping online, millennials are outstripping both Gen Z (56%) and Gen X (58%).3 That number is also increasing for younger generations. More than a third of millennial and Gen Z shoppers say they shopped online more (41% and 37%, respectively), purchased online more (37% and 36%) and researched online more (38% and 35%) over the 2019 Christmas period compared to previous years.4 Making it easy for millennials to find what they want online can help your brand convert active browsers to buyers.
3. They still shop in-store (but use their phones to help)
Even when millennials brave the holiday crowds, they're using online resources to make their shopping trips easier. Nearly three-quarters of millennials (72%) visited a store for their Christmas shopping over a two-day period – a figure comparable to older generations. The difference? Millennials are much more likely to have searched online (86%) beforehand for things like store information, product information, images, videos and recommendations.5
Help your customers get online quickly with free WiFi that is easy to access in-store and make information about inventories, locations and deals easy to find and you'll benefit from these better-connected shoppers.
4. They use video to make gift decisions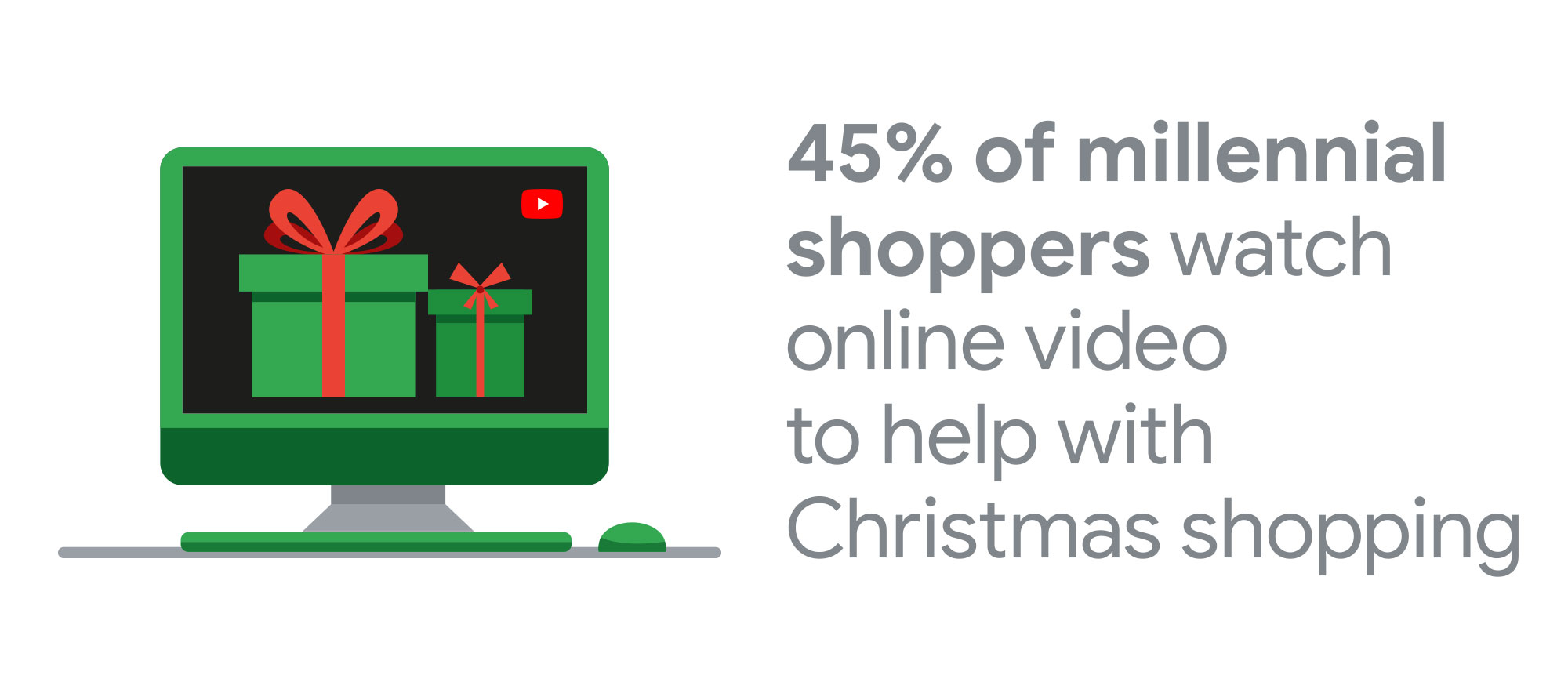 With the amount of inspirational, gift-giving video content ever expanding across YouTube and other sites, it's a key resource to help with purchase decisions for younger generations. Millennial shoppers watch online video to help with Christmas shopping more than older generations (45%) – engaging with how-tos, unboxing, shopping haul and holiday fashion content as well as more traditional ads.
To benefit, make sure your own video content offers helpful ideas for time-pressed consumers – or make it easy for creators and enthusiasts to create their own.6
5. They're shopping across categories
Obviously, you can't get chocolates for everyone – but millennials are more into diverse gift-giving than anyone else. In fact, millennials are shopping for home electronics (49%), furniture & home décor (39%), household items (39%), small appliances (28%), home renovations (22%) and large appliances (21%) more than any other generation.
Meanwhile, both millennials and Gen Z are shopping for clothing and footwear (69% and 70%, respectively), fashion accessories (49% and 51%), jewellery (40% for both), mobile devices (31% for both) and sporting/fitness goods (22% and 24%) more than older generations.7 They can't research everything alone, so be ready to help them out.
6. They've got a lot of people to worry about
As millennials get older, they hit the sweet spot of gift-giving, where they aren't just buying for family, friends and co-workers but also for their own children. Both millennials and Gen Zers spend most of their shopping time over Christmas shopping for others, including their parents (23% and 32% respectively), siblings (16% and 23%) and friends (20% and 24%).
One in five millennials (21%) also buys for their children – making them more likely than older shoppers to be on the lookout for recommendations and fast delivery. It's a growing trend – over a quarter of millennial and Gen Z shoppers say they had more gifts to buy (27% for both) and more people to give gifts to (28% and 25%) this Christmas season than in previous years.8
Planning now to take advantage of increasingly digital consumers can pay dividends – and it's never too early to start. Download our marketing cheat sheet to help you make the most of the Christmas season.