Mother's Day is nuanced in the Middle East and North Africa (MENA). Locals and expats show their mums the love across three days. (Or maybe they just love them three times more?)
Mother's Day is celebrated on 14 March in the U.K., 21 March in MENA, and 8 May in the U.S., which means that people celebrate at different times across the region.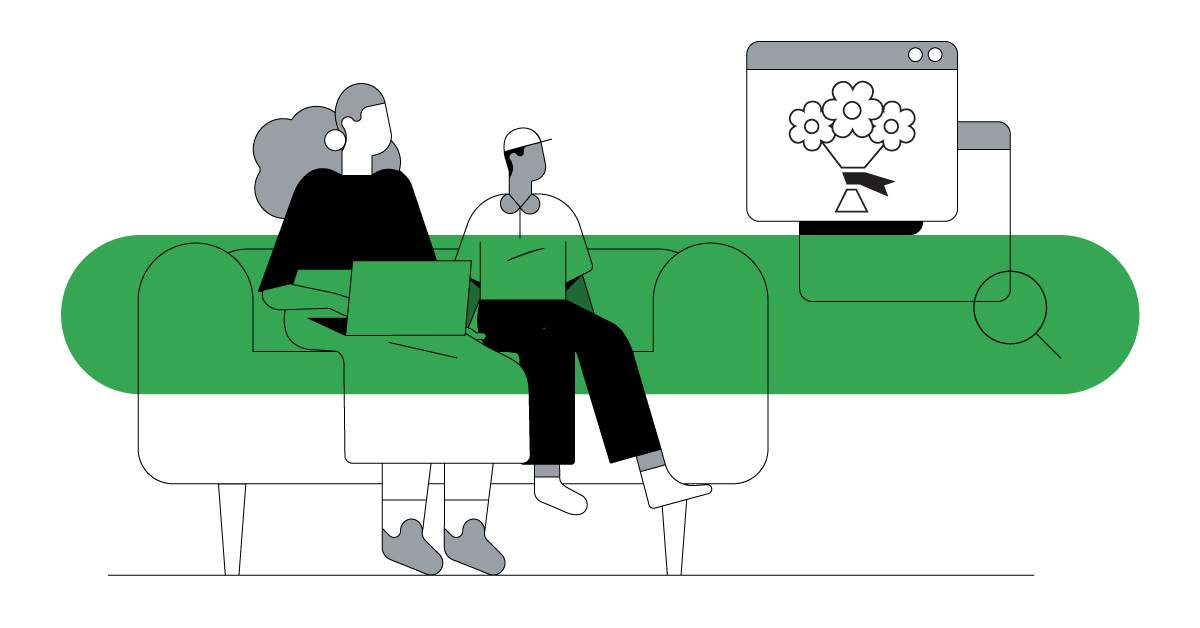 Shoppers start searching 4 weeks before the big day
Last year we saw a 41% increase in search interest for "Mother's Day" related searches in March. This was specifically driven by searches related to the same term on YouTube, a new trend that emerged last year.1 We expect this to continue this year.
We also saw a second spike during the month of May in Egypt, Saudi Arabia, and the United Arab Emirates (UAE).2 And — mothers would be proud of this — people start looking for Mother's Day gift ideas four weeks before the moment.3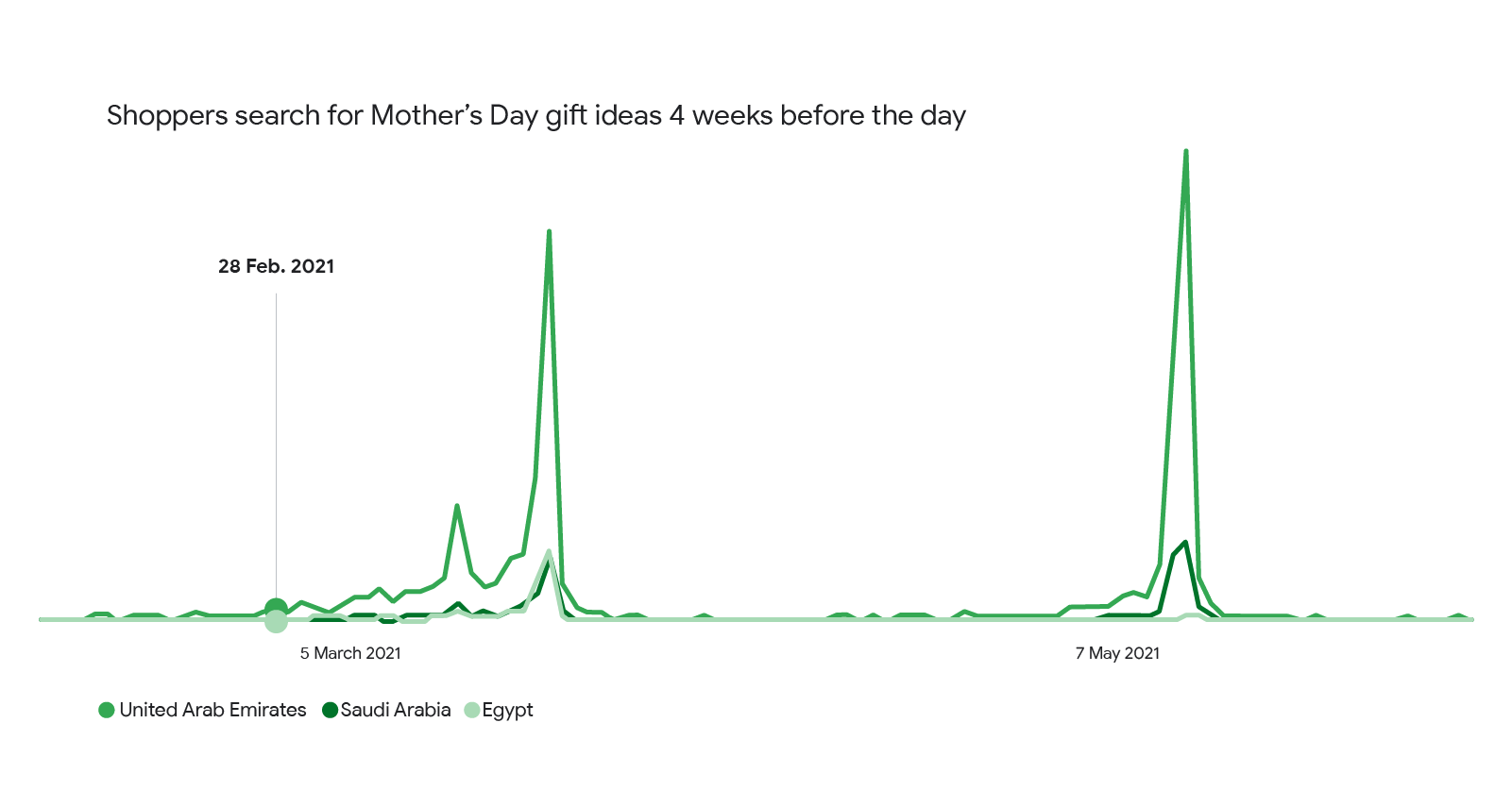 There are 4 main types of Mother's Day shoppers
People buy Mother's Day gifts (some last-minute), turn to DIY, and whip up cakes for mamas in MENA. There are four main types of Mother's Day shoppers in the region, and this is what they're searching for:
1. Thoughtful gifters
These considerate shoppers look to the sentimental to tell their mothers how much they love them. For this group search interest increased by:
2. Last-minute shoppers
These busy consumers are looking for speedy-to-deliver but still precious gifts that show mums how special they are. For this audience we saw search interest increase by:
3. DIY-ers
These savvy shoppers put extra effort into creating unforgettable moments for their mothers. For this segment we saw search interest increase by:
4. The stay-home celebrators
These shoppers prefer to stay-in and make memories for mamas on Mother's Day. In this group we saw search interest increase by: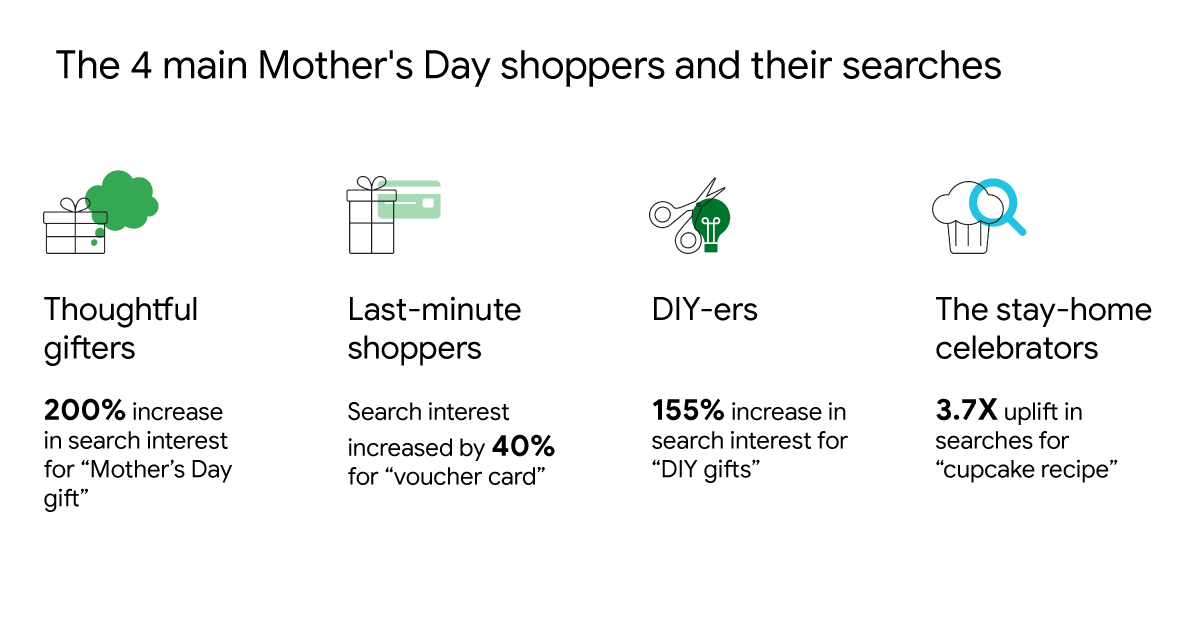 Mother's Day in MENA in a nutshell
MENA celebrates Mother's Day three times a year. There are four types of Mother's Day shoppers, and they start searching four weeks before the big day. They're on the hunt for gift ideas, flower and next-day deliveries, cards, DIY ideas, home party inspiration, and recipes.
Key takeaways for marketers
There are three Mother's Days in the Middle East. That means you have three chances to market your brand. Take time to double check that your website's customer experience offering is on top form. Your site should offer great navigation, chat support, a customer-friendly checkout process, a returns policy, clear pricing, and adequate product information, to name a few. Grow My Store is a free tool you can use to analyse your store's customer experience best practice. It also offers guidance on where to improve.
Shoppers start searching a month before the big day. Plan your marketing ahead to ensure your brand shows up in the moments people are searching. Smart Shopping can help simplify the process, with automation taking care of everything.
Engage last-minute shoppers by offering them something that's not only unique and special, but also convenient. Strategic calls to action and localised creative will help capture (and keep) attention, while driving conversions too.