If you've pivoted to new ways of shopping during the pandemic, you're not alone. From a surge in app use to taking window shopping online, how we discover and buy products and services is shifting. The big question for marketers and retailers is: which of these consumer behaviours will stick?
While search data has given us some early clues on what the future of retail could look like, new Google research is providing more details on long-term changing shopping behaviour at both a consumer and sector-by-sector level.
How consumer behaviour is changing
We partnered with Trinity McQueen to test the attitudes and behaviours of 5,000 people across the U.K. The results point to both opportunities for online retail and the value in-store experiences can add for an effective omnichannel strategy.
Below are five key findings from our research, plus associated actions to help retailers in meeting the changing needs of consumers — whether online or on the high street.
Online consumer behaviour is here to stay
Online consumer behaviour is increasingly important, with customers discovering products whether they are actively shopping or not. Our research signals that this seismic shift to online is here to stay. In the fashion, beauty, and telecommunications categories, the percentage of consumers saying they will shop or expect to shop online versus in-store in the next six months remains significantly higher than pre-pandemic levels.
In the fashion sector alone, we see a jump of 28%. While many people will choose to return to in-store shopping to look at, touch, and try on products, new habits have formed around online shopping that have irrevocably changed the way consumers buy.1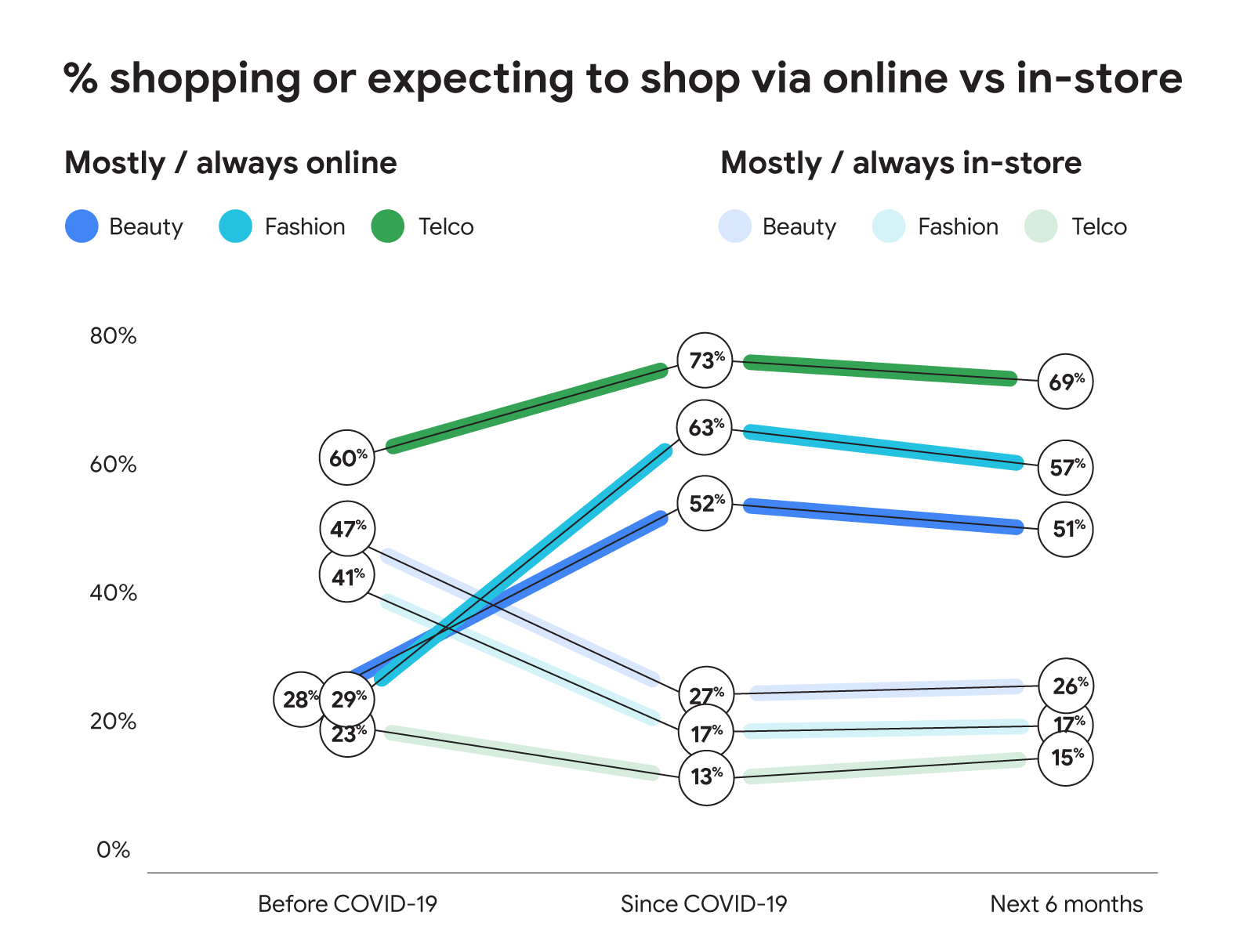 Action for marketers
Use compelling and flexible creative formats such as smart shopping campaigns to cut through online, embracing automation at every opportunity so you can plan and act based on real-time consumer insights.
Shopping attitudes have shifted across demographics
Our research also shows a consistent shift in views across age groups. While the younger end of the spectrum are still the most likely to shop online, the biggest increase in those switching to online retail over in-store is seen for consumers aged 35 and above.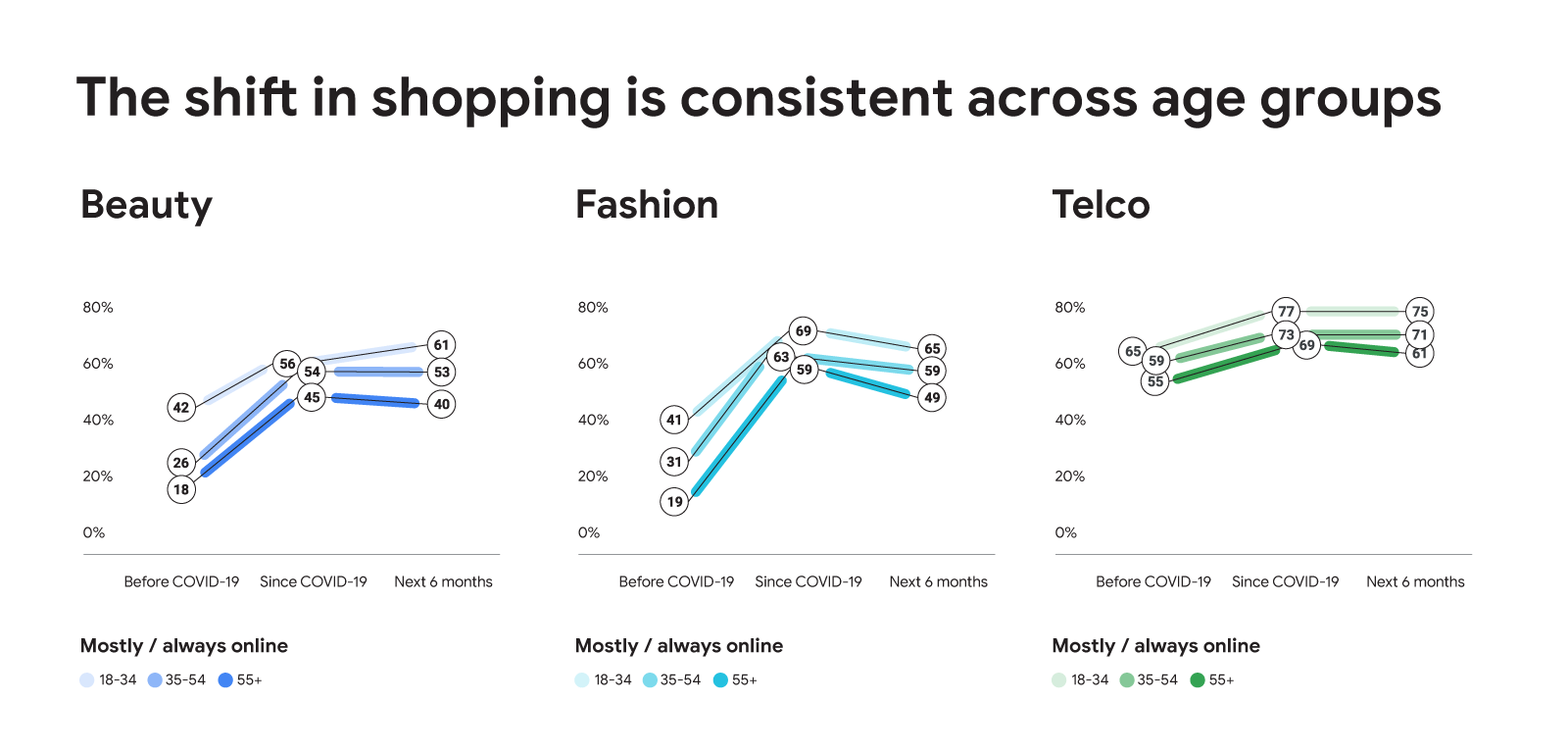 Action for marketers
For retailers who have previously relied on older demographics for footfall and in-store purchases, a reevaluation may be necessary in terms of how the physical store can complement, rather than compete with, online. For example, providing a destination to 'experience' and be entertained.
The pandemic is not the only reason people are choosing to shop online
While the pandemic has been a significant driver in these cross-generational changes in shopping behaviour, it is far from the only one.
For example, in the beauty sector, COVID-19 is only the fifth most important reason 18- to 34-year-olds are choosing to shop more online. In older segments, it is one of a number of key drivers.2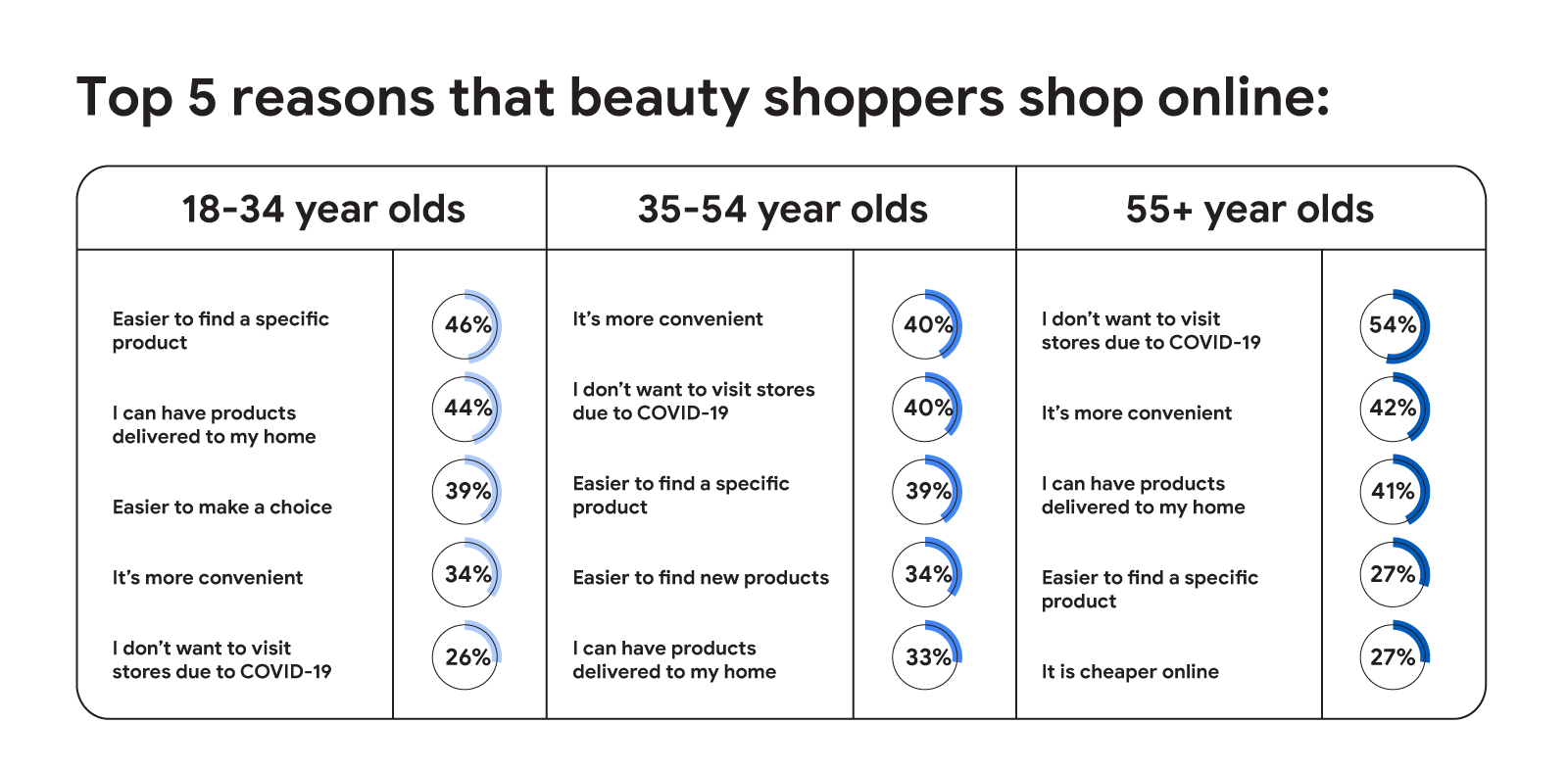 Changing trends in consumer behaviour indicate that all age groups will continue to value the convenience and ease of decision-making that online shopping offers, even after the pandemic.
This is even more pronounced in a mature online category such as telecommunications, where concerns about COVID-19 are an insignificant driver compared to the numerous perceived benefits of shopping for a mobile online.3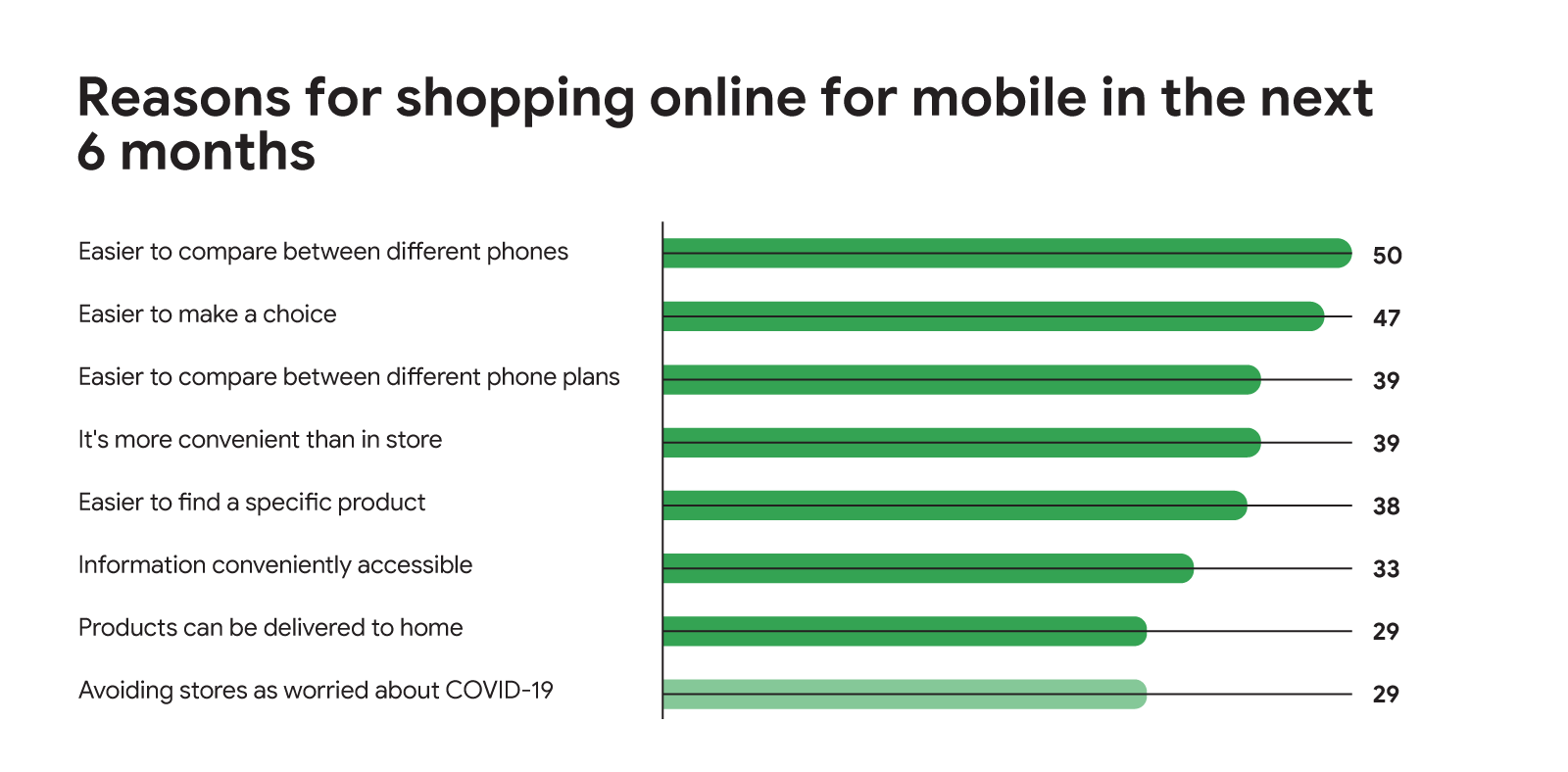 To retain existing and valuable customers, identifying and meeting rising online expectations (such as ensuring a flawless mobile experience) is key. Stay competitive by focusing your investment on reaching specific, high-value shoppers — for example, building audiences based on intent, or using a messaging app to communicate directly with consumers.
As inspiration moves online, new brand loyalties have formed
In the past year, 1 in 4 clothing UK shoppers have bought from a new brand or retailer as consumer purchasing habits continue to shift. In our survey, 75% of womenswear and 82% of menswear shoppers said they will continue to buy from these same new retailers over the next six months.4 A trend for discovery and trial we see echoed in other categories, such as home and beauty.

This supports previous Google research that — accelerated by the pandemic — consumers are exploring and evaluating their options in the 'messy middle' of the online purchase journey.
We see this reflected in search data, as consumers make the switch from looking for specific brands to seeking inspiration and ideas online. Generic searches are up across myriad categories, including "best electric car" (+80% year-on-year), "vegan meals" (+58% YoY), "best skincare" and "best paint". Consumers are less decided than ever when shopping online, presenting valuable opportunities for purchase choices to be disrupted.
Action for marketers
Make sure you're present and visible in the places where your customers are looking to explore and discover — namely, generic search and YouTube. With generic searches increasing faster than branded searches, challenger brands have an excellent opportunity to make their mark by investing in channels that were previously only associated with the end of the purchase journey.
The strategic role of the store has evolved
So what does this mean for the role of the physical store? Our analysis suggests that those who are newly converted to online shopping will seek a more omnichannel experience going forwards.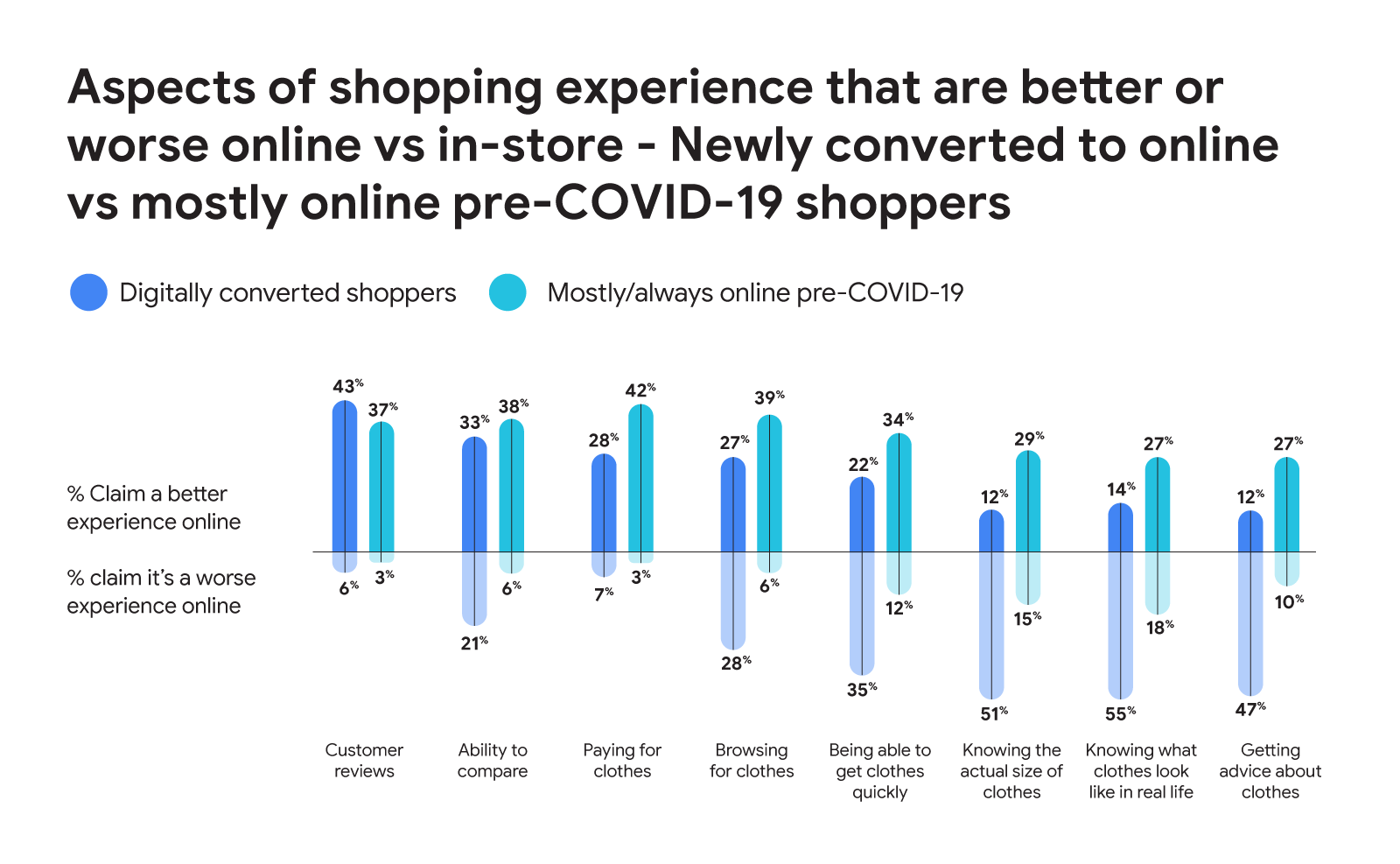 While those who have always made purchases digitally will continue to do so, there are some interesting unexpected findings. For example, younger mobile shoppers, despite being online more than any other group, show a preference for a more hybrid off-and-online shopping experience versus older shoppers.
These insights point to how in-person retail can find its place and thrive in a changing landscape, keeping pace with evolving customer needs and identifying what 'in-store' can do best. This might mean a fundamental rethink of the strategic role of different touchpoints, with discovery and inspiration happening online and fulfillment and aftercare more suited to the physical store.
Action for marketers
Ensure you're set up to understand how store outcomes are affected by the investment you put into reaching audiences during inspiring moments online. To assess this evolving relationship, effective use of first-party data is essential. If retail sales are a priority, engaging customers online is a key tool in delivering them.
Watch the full presentation of Insights Live: The Shift in Shopping