With consumers increasingly expecting joined-up online and offline experiences, retailers are having to break down traditional silos and embrace seamless, omni-channel models. In a first-of-its-kind benchmarking project, we've examined the cross-channel customer experience of 145 businesses across Europe and will be sharing the results and insights across a series of articles.
Over recent years, shifts in technology spearheaded by the growth of mobile have created an environment in which retailers can no longer afford to think about customer experience in terms of separate channels and silos. But while consumers find it easy to move seamlessly across devices and between the physical and digital worlds, it can be trickier for businesses to set aside the structures and strategies that have served them well for decades.
The omni-channel challenge 
At Google, we aspire to being a true partner and consultant to our advertisers, wherever they are in their omni-channel journey. To this end, we partnered with ecommerce consultancy Practicology on a benchmarking exercise looking at the omni-channel customer experience of 145 retailers across seven European countries. Established in 2009, Practicology have since become a leading voice in the art and science of ecommerce, helping retailers plan for the future while delivering exceptional customer experiences today.
The core of the benchmarking project is a set of eight omni-channel principles. These principles form the basis of the seamless, optimised experiences that customers now expect, allowing for frictionless movement between channels. In the course of conducting the audit, Practicology assessed the quality of omni-channel facilitation on mobile, made service enquiries, created accounts and signed up for newsletters and offers, as well as making physical store visits.
The state of omni-channel in Europe 
The average performance across the five markets in our study (UK, France, Netherlands, Scandinavia and Germany) reveals only 47.8% of test criteria in place, with the UK alone (52.5%) in utilising more than half of the recommended principles. Among individual retailers, the scores ranged between a high of 68% and a low of 18%, suggesting that from the best performers down, there is a real need for retailers across Europe to continue investing to remove friction and bridge the gaps between channels for their customers.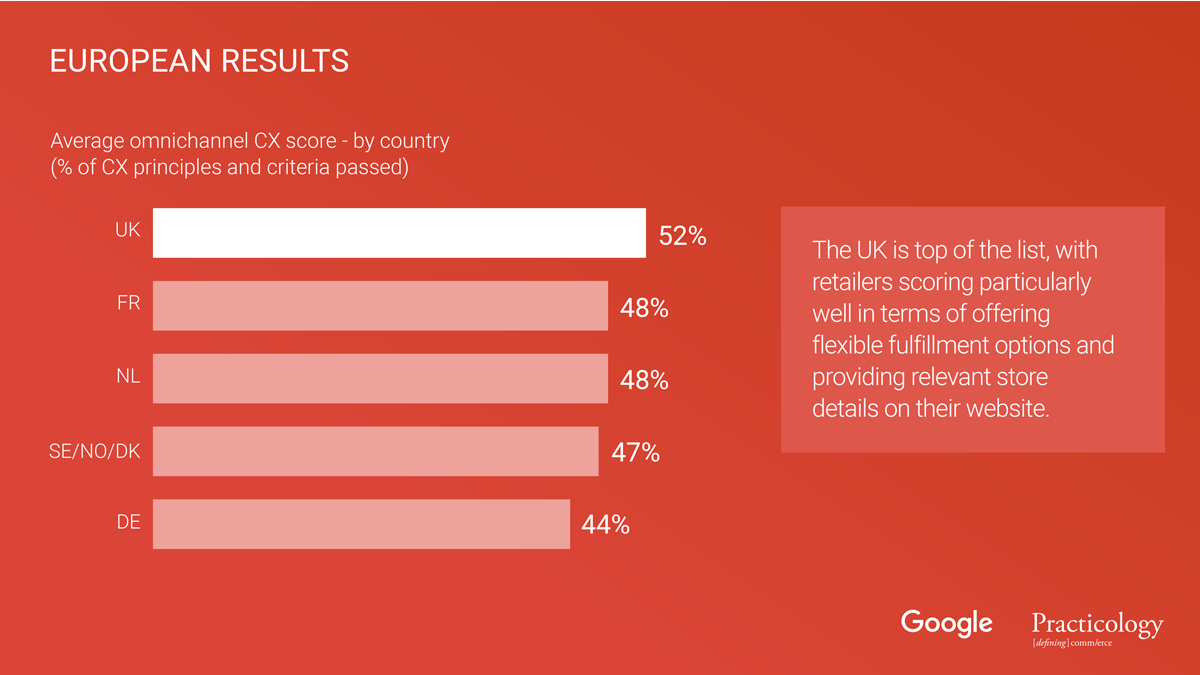 In particular, UK retailers proved strong on providing flexible fulfillment options and listing relevant store details on their websites. French retailers were strong on in-store aspects, such as offering digital kiosks and eReceipts at point-of-sale, while scoring poorly on customer service via phone, email and live chat. Scandinavian retailers scored top for Customer Service and product availability indicators, but were less good at providing flexibility in their fulfillment options. German retailers were great at removing friction and enabling movement between channels, but poor at utilising in-store technology. Meanwhile, the Netherlands showed the best performance in cross-promotion, while being less good at providing information about physical stores on their websites.
Europe's most omni-channel retailer
Of all the brands we assessed, Netherlands retailer Bever achieved the highest score across our criteria, with a total of 68%. In particular, they excelled at their use of in-store technology, and providing omni-channel customer service. Kiosks at Bever locations allow customers to scan product barcodes for more information and to place online orders, while the in-store wifi is fast and easy to access. eReceipts are available to any customers with a Bever member card, and the brand loyalty scheme is both simple and free to join. Customer service was superb regardless of the preferred channel, with live chat buttons on every page of the website and chat sessions initiated within 20 seconds. Responding to a store-specific question took four minutes on live chat, under a minute during a customer service phone call, while an email query received a personal, informative response within 24 hours.
During the coming weeks we'll be publishing a series of articles and infographics looking at the results of the benchmarking study in greater detail. We'll also be highlighting the stories of those retailers who've already successfully made the move to an omni-channel strategy, and sharing details of Google products and tools that can help simplify the transition.
Ranking