How can retailers truly stand out on Black Friday, one of the biggest online shopping days of the year? What was once a small American holiday the morning after Thanksgiving has become a global shopping moment, online and offline, in late November - and MENA has fully embraced it, too. In fact, more than half of top ten search queries around Black Friday in MENA recently revolve around when it occurs - as opposed to what it is - which shows that consumers are looking forward to it.
So how can retailers make the most impact during this peak moment? It's about understanding consumer needs and then leveraging those insights, as outlined in this guide to crafting a marketing plan for Black Friday. The good news is, you can tailor your creatives to speak directly to the heart of what consumers want. Here's our four step guide to creatives tailored around Black Friday in MENA.
Start early(er) and excite fast(er)
Black Friday research starts as early as October and, last year, there was a 40% spike in searches for this moment in the four weeks leading up to it. The key takeaway is that it's a shopping marathon, not a sprint, and retailers that connect with shoppers along the full journey will have a stronger impact. This starts with building awareness and consideration for your brand and products, all the way through to driving conversions during and after the peak shopping season.
Most retail advertisers in MENA do teasers only one week prior to Black Friday. Ideally, you want to start building anticipation as soon as interest for Black Friday starts - as early as October - and only stop when it ends - a week after the event.
Teasers are effective in the 'discover' phase to drum up awareness about what to expect, like this funny ad from Souq last year. Viewers get all the information they need, like when it is taking place, what kind of products are available for sale and that it's the biggest sale of the year for the e-commerce site.
As the date draws closer, promo blasts like this ad from Noon.com's Yellow Friday sale during the 'shop' phase are key to create a feeling of excitement about all the 'crazy deals' coming up so people feel like they don't want to miss out.
Pro tip: There are still opportunities to gain the week after Black Friday has ended. Ozone, an award-winning online retailer in Bulgaria, has run a successful dynamic remarketing campaign using TrueView for Shopping to encourage customers not to abandon their baskets - read all about the eyebrow raising return on ad spend and impressions as a result in this case study.
2. Make them feel like they can't miss out
You know that thrill that comes from a really good bargain - and how much you would hate to miss out on a good deal? You can deliver that sentiment through clever creatives online, too. India's Flipkart did this effectively with an online campaign that let customers haggle with a chatbot to get a better price. Not only did it allow customers to feel they had earned a bargain, but it successfully reflected a favorite shopping habit that typically only happens offline.
Similarly, Yoox Net-A-Porter, one of the world's largest online luxury outlets, dreamed up "The World's Most Exclusive Collection" campaign last year—a series of 25-second pre-roll video ads that dared viewers to buy a one-of-a-kind item. The catch? If a user didn't click on the ad quickly, the offer was gone forever. The clever 'get it before it's gone' approach drove hundreds of conversion and six-figure sales results. #FOMO.
Pro tip: In all of these instances, the customer feels like they are in the driver's seat and that they shouldn't miss out from the shopping fever. These ads are often short, sweet and to the point, like Myer's YouTube bumper ads that offered discount deals that disappeared after the 6 second ads were over. If you're looking to drive conversions straight from a video ad, learn from these unique approaches. It proves that delivering thoughtful creative to relevant audiences is key to a successful direct response video ad campaign
3. Boost relevancy to boost results
Advertisers in MENA have typically focused on building creatives that generate awareness. This is typically done in two ways:
Via creators: Retailers feature popular creators in their campaigns to appeal to their wide range of viewers as seen in last year's Noon ad
via clever storytelling: Souq's funny ad used humor to appeal to audiences and explain Black Friday deals
When we dig a little deeper, it's clear Black Friday is category specific and the popularity of these categories, ranging from homeware to apparel to electronics, varies by country. For example, more than a quarter of all retail related search queries are about electronics in the UAE and in Saudi Arabia. This kind of insight can better inform your creative strategy so you speak to consumers about what they want. A Google/IPSOS study conducted of video ads in 2017 proved that ads that were marked as 'relevant to me' were 3x more effective than generic ads.
You can also customize edits of ads to boost relevancy, as Unilever's Jif successfully did in this case study. They caught the attention of music lovers with ads about using Jif to clean guitar cases, and engaged with sports fans through similar ads of using Jif to clean dirty soccer cleats.
Pro Tip: Mega-retailer Walmart's grocery pickup business, planned ahead by filming the base creative on a green screen. They were able to easily customize the ad for their extensive array of unique audiences — including these examples for a general demo, people shopping for gifts, cooking enthusiasts and parents of toddlers. In addition to customizing creatives, you can customize copy tailored to different audiences. This results in less production costs, it's more easily scalable and tools and products exist to help automate this type of customization. The customized approach ultimately delivers better results at a lower CPA.
4. Create hype with YouTube content creators
Did you know that 92% of consumers trust creators more than advertisements or traditional celebrity endorsements1, according to a study by Forbes? Use this to your advantage by working with YouTubers who are native to the platform and already creating Black Friday content that their loyal subscribers want to watch. There are a variety of ways to approach this:
Challenges: Creators run challenges with friends and family incorporating the hustle of Black Friday
Shop Together: Creators take their subscribers on the full journey of Black Friday shopping from midnight showing all the madness
Hauls: Creators highlight the best deals and items they've got in this shopping hunt on Black Friday
Tide did this effectively by collaborating with different YouTube creators to engage with Millennials, one of the largest audiences in MENA, in this ad. The campaign reached varied audience with unique passion points, from science to comedy to beauty.
Have it all: Cheap, fast, good
No matter which approach you take, it's key to connect with what consumers really want out of Black Friday shopping. It's affordable, fast and good. Your ads can be, too.
Google has teams ready to help you build creative from your current creative assets of any type. In the US, there's a group called Premium Creative Services. Elsewhere, you can work with Ignition Labs.
You probably have more creatives than you realize. Most retail brands are awash in assets — from product shots to screen shots, print ads to social media posts. World class brands are making effective dynamic YouTube ads from static assets.
Case in point: fashion retailer Topshop believed they couldn't create effective YouTube ads without a new shoot. But Google's Unskippable Labs team pointed out that they were awash with static assets like photography and gifs from their social channels, site and catalogue.
The Unskippable team drafted a detailed plan and Ignition Labs produced YouTube ads that drove recall.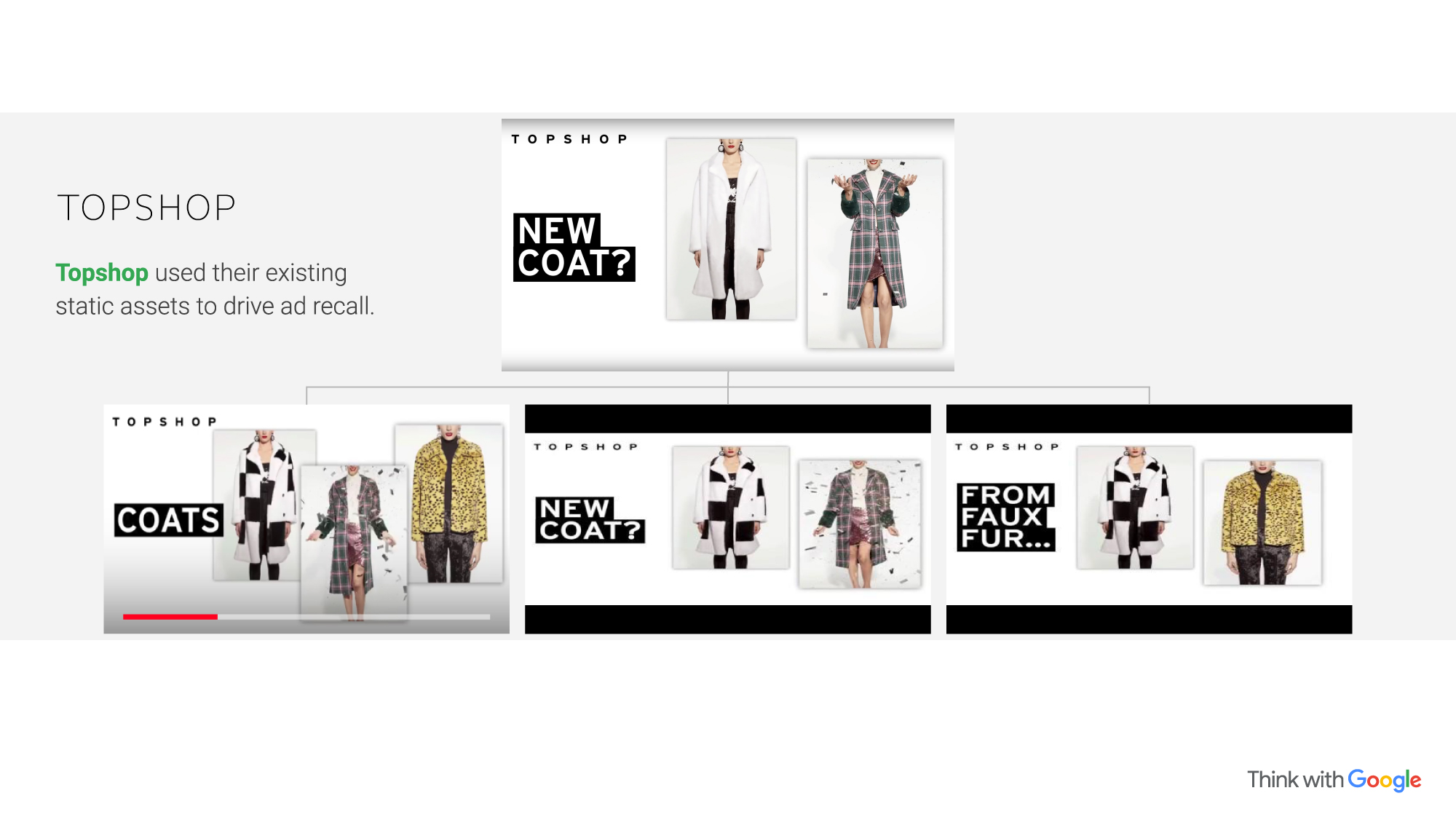 With a single video, you can also use Bumper Machine to make it work harder for you. This Google Ads tool uses Machine Learning to edit one video into a flock of bumpers. Converting a longer video into a flock of bumpers lets you make the most of Google's audience targeting. For example, the beauty subscription company Birchbox used Bumper Machine to create 6-second ads they could target by audience interest.
You already have everything you need to create effective YouTube ads. Transforming your assets into video is an effective way to create a stream of ads that can run during the 4-6 week period when it is key to generate and maintain interest in Black Friday across the marketing funnel. Start early and reach the right customers with the right message to effectively capitalize on this retail moment, as outlined in this four step guide to crafting a clear marketing strategy around Black Friday. Happy shopping!