Victoria Saniukevich is digital advertising lead at Belarusian digital consultancy, Viden, which helps global businesses leverage data to grow.
We're always on the lookout for ways to make data work for our clients and automation is a big part of that. We see it as a growth accelerator. By letting automation do the heavy lifting, it helps us and our clients be better at our jobs.
Automated solutions can get more relevant messages in front of quality customers at the right moment by simultaneously analysing millions of data points. It can save agencies time — allowing for more strategic and creative initiatives, like international expansion — and enable brands to grow and scale faster.
The road to expansion
When we teamed up with one of the biggest online bike retailers in Australia, Bicycles Online, they'd already been operating for over 10 years and were well established in the country.
With a successful online model, proven by a decade of domestic sales, we saw an opportunity to expand their business beyond Australian borders. Market Finder helped us identify the most prospective markets for the bike industry, and Google Trends allowed us to analyse the popularity of bike-related search queries across multiple regions and languages. By using these tools we identified the U.S. as the most promising market for the bike brand to expand to.
Taking the automated route ⁠
We knew going into a market much larger than Australia would be a big change, but it also meant big opportunities. We were already working with U.S.-based businesses and had a solid understanding of the market. However, we continued to gather data to prove our case.
We used Keyword Planner to analyse search volumes to project budgets and business growth over six months. We were able to predict a growth of at least 5X if they were to expand into the U.S. — demonstrating that the opportunity was there,⁠ both in terms of interest and potential earnings.
We'd seen automated solutions consistently drive results for our other clients, and so we focused on this for Bicycles Online's international expansion too. We used Smart Display and Smart Shopping campaigns as they help manage the many variables of display advertising by automatically optimising targeting, bidding, and ad creation — removing the need for many hours of manual work developing the right approach.
This helped us show the bike brands in various formats more efficiently and get more relevant messages in front of the right customers. This helped increase Bicycles Online's sales and return on ad spend(ROAS), and lowered their cost-per-click (CPC).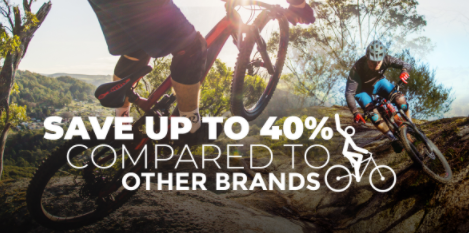 To stay on top of the data from traffic and conversions, we closely monitored Google Analytics and created custom reports and dashboards in Data Studio. We regularly reviewed these with the Bicycles Online team and made sure to keep a constant flow of communication around performance and potential opportunities.
We also made sure all store and product information, like sales prices and reviews, was up-to-date in the Merchant Center, which helps shoppers on Google find store and product information. This is a crucial step to increase click-through-rate (CTR), optimise Smart Shopping campaigns, and ensure customers receive accurate product details when it appears on a search engine.
Observing the differences
When operating within different markets, some differences are likely to pop up. We noticed, for example, the average time to convert ⁠— from shoppers' first interaction to buying a product ⁠— was longer in Australia. Where the average for the U.S. was 12 days, in Australia it was 17 days.
In the U.S., the majority of conversions came from 25-44 year-old shoppers, while in Australia most conversions came from 45-64 year-old customers. And women were purchasing at higher rates in Australia compared to the U.S., where men were more likely to buy a bike.
Adopting automated strategies across our Google Ads campaigns was the key to improving ROAS and scaling the business
We needed a solution that would scale our efforts and reach high-value customers efficiently, without having to invest a lot of time and effort. Since Search campaigns costs are higher in the U.S., we chose target return on ad spend, which sets bids based on the average conversion value you'd like to get for each dollar you spend on ads — with the aim of reaching 25-44 year old shoppers more likely to convert.
Smart Bidding, which is an automated bidding solution, was deployed across all campaigns as a way to optimise bids in real time and reduce the time spent on campaign maintenance.
In the span of several months, the implementation of automation to aid international expansion, along with the insights we learned from demand, led to a 23.8% increase in ROAS and 130% rise in conversions. And overall we managed to increase ROAS for Bicycles Online by 160% in 2020 compared to the year prior.

Rodrigo Sousa, marketing director at Bicycles Online, says: "Adopting automated strategies across our Google Ads campaigns was the key to improving ROAS and growing the business internationally."
Key takeaways when automating for growth
Automation doesn't mean autopilot. Stay close to the data by monitoring it on Google Analytics, so you can spot opportunities and make adjustments.
Set up the Merchant Center properly in Google Ads. Make sure all products are approved and include the necessary information, such as reviews and prices. This will help to optimise Smart Shopping campaigns.
Implement automated solutions, like Smart Bidding, that do the heavy lifting. This allows for more time to be spent working on other things, such as creatives or international expansion.