Spyros Louros and Liana Moschou are directors at Greece's largest mobile network operator Cosmote where they are responsible for new business development and marketing communications strategy. Here, they guide us through their strategic approach to growth and engagement for the company's food delivery app, Box.
Having food delivered to their door is part of everyday life for Greeks — even just a single cup of coffee. So when we launched food delivery app, Box, we knew there was an appetite for an alternative to the companies that had been feeding Greece for up to a decade.
What we did not anticipate was just how difficult it would be to convince their fiercely loyal customers to see the benefits of something new. A rush of app downloads marked our first few months, but after that, we had to think harder about how to establish our position within the Greek market.
Of course, we had no idea that soon after entering the market it would experience a pandemic-driven surge — as lockdowns meant people couldn't go out for food. But as people returned to restaurants and grocery stores last year, publicly traded food delivery companies in Europe watched their shares fall around 60%.
Yet even in the face of towering competition and a declining market, we managed to grow to more than 1 million users. By bringing together data, AI-led solutions, and the real-world rewards of our loyalty programme, we have been able to adjust our strategy to bring users to the app, and keep them there.
Capturing loyalty with data, AI, and real-world rewards
Cosmote may be Greece's largest mobile telecoms provider, but since its very beginning Box has been treated as a start-up. And that mindset gave us the freedom to be extra creative with how we approach our strategy. Establishing the Box brand and differentiating ourselves by creating new consumer habits has been crucial to its success.
First, we focused on boosting our app's download rate using Google's App campaigns for installs, which pulls information and creatives from our app's store listing to generate multiple ads in a variety of formats. With the power of Google AI, our ads are tested across properties such as Google Play, Search, and YouTube, as well as other apps and mobile websites, and prioritised according to their performance. This ensures our campaign remains efficiently optimised.
Then we moved onto the next challenge: how to turn all those installs into active users. We slowed down the push to bring in new customers and shifted focus to building strong engagement with our existing users, with help from Google's App campaigns for engagement. Our new goal was to creatively engage those already exploring the app — and we knew we needed a unique approach to set ourselves apart from competitors.

By adapting to changing user behaviour and offering a wide variety of rewards both inside and outside the app, we have the chance to prevent a user from uninstalling the Box app.
At the heart of this campaign is our loyalty programme. Customers collect points for every order made and can redeem them as discounts on future orders, or trade them for mobile data with Cosmote.
Together with our media agency Mindshare and our partners at Google, we devised a strategy that merges the AI power of App campaigns with predictive audiences created in Google Analytics 4 (GA4). By collecting the data of our users' in-app actions with Firebase to create these different audiences, we enabled our campaign to generate and send tailored custom ads to users with specific audience signals. By swiftly adapting to changing user behaviour and offering a wide variety of rewards both inside and outside the app, we have the chance to prevent our users from becoming inactive or uninstalling the Box app.
For example, if the algorithm predicts that a user is likely to leave the app within the next 7 days, they might get an ad with a generous, short-term offer — such as 25% off if they order from a certain restaurant soon. The benefits of our loyalty programme are presented to users across audiences with the decisive power of AI, which has become an important factor in keeping our users active.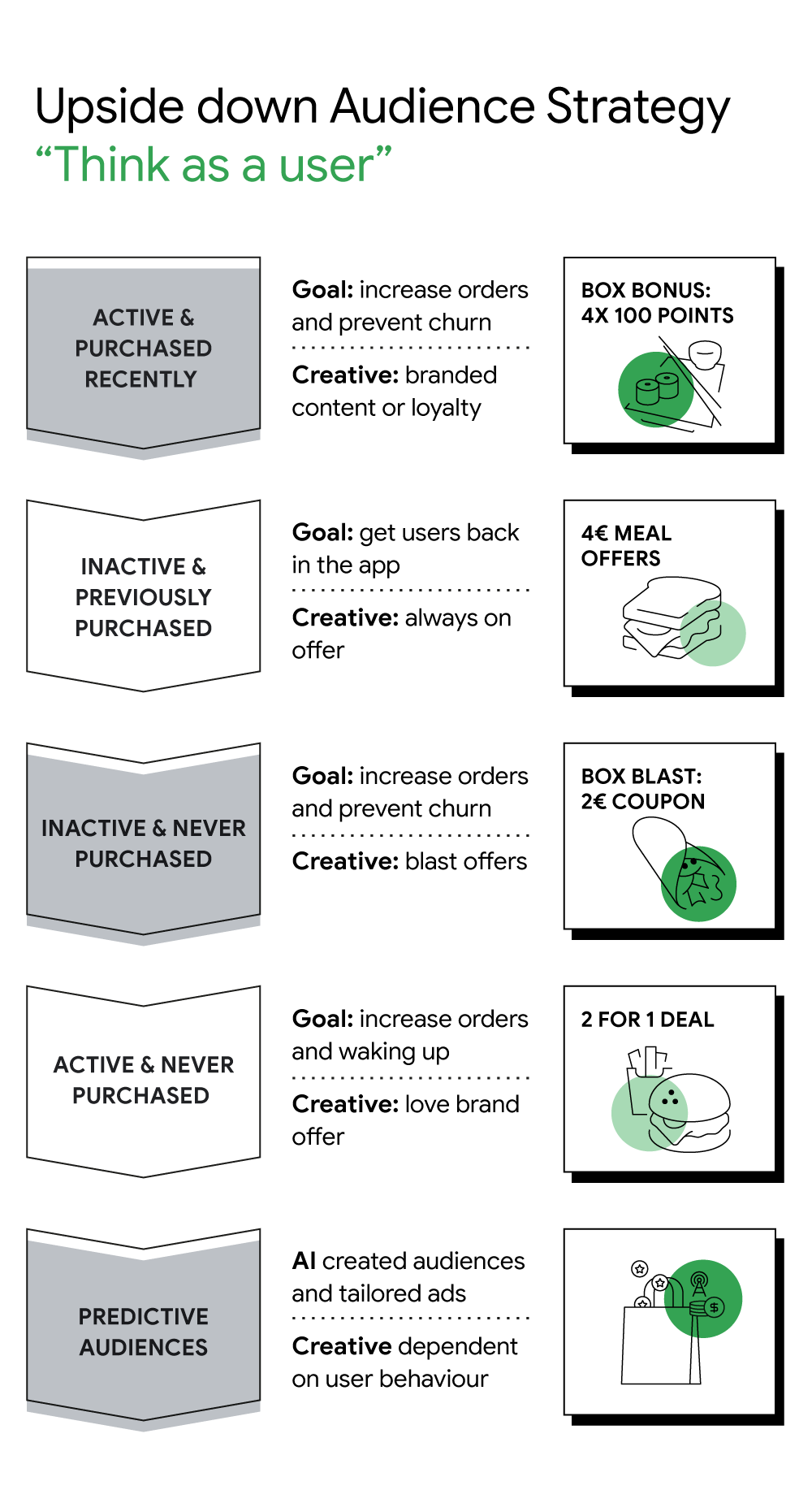 Standing out among the greats
With the use of tailored ads and rewards, we have been able to keep users engaged, build loyalty, and make the Box app a serious contender alongside Greece's food delivery stars. In 2022, we increased our daily active users by 59% and orders by 62% compared to 2021, all while keeping our cost per install and cost per new user acquisition stable.
After just three years, we were able to establish Box's presence as the second-most-visited food delivery app in the country. And despite facing a slowly declining industry as a new competitor, our strategic approach allowed us to achieve a 2X revenue increase year over year in 2022.
As we look at what's next for Box, we have learned we need to be constantly evolving and adding value to every aspect of our users' experience. That includes regularly coming up with new offers and products, and partnering with more restaurants and shops — we already work with more than 11,000 around the country. We've also launched our own delivery fleet and live order tracking. These services make it easier, faster, and more rewarding for our customers to get food brought straight to their doors.
We have been able to satisfy the appetite for something new in Greece's food delivery sector by creatively using AI ad campaigns and focusing on rewarding loyal customers. That strategy has made our app an everyday tool for so many people, whether they are ordering a stack of pizzas for a game night at home with friends, or a quick shot of caffeine.