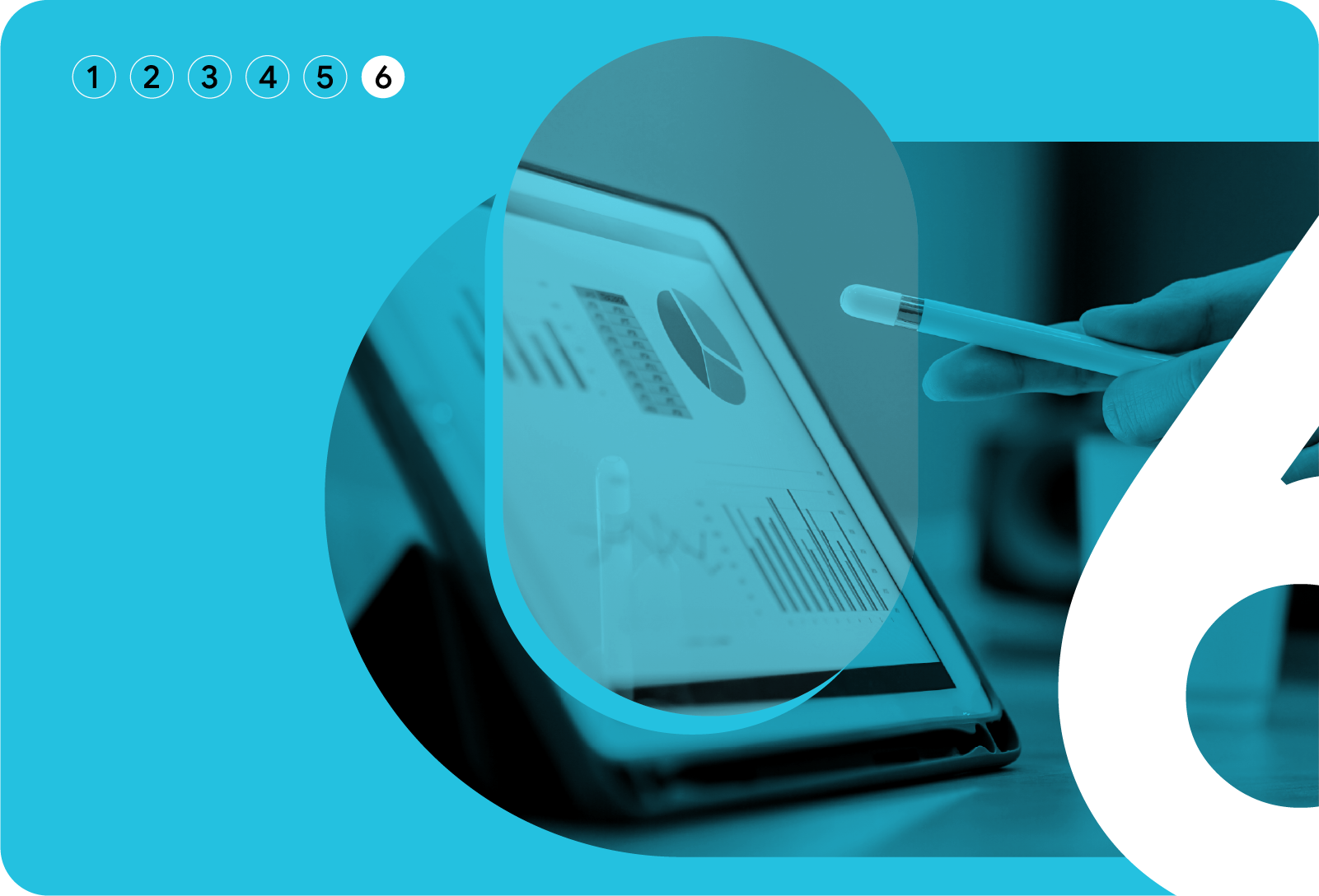 Find insights fast
Brands rely on agencies to understand the impact of their digital campaigns and to decide where to invest next. Forrester found that 56% of marketers rely on agencies for consumer analytics, intelligence, and insights, and that this cohort will grow to 73% in the next 24 months.1
To help their clients generate meaningful insights, agencies used to spend hours manually mining data-heavy reports. Now, they can turn to tools like the Insights page in Google Ads to quickly curate and surface learnings. These tools help them monitor campaign results, troubleshoot issues, and identify new performance opportunities.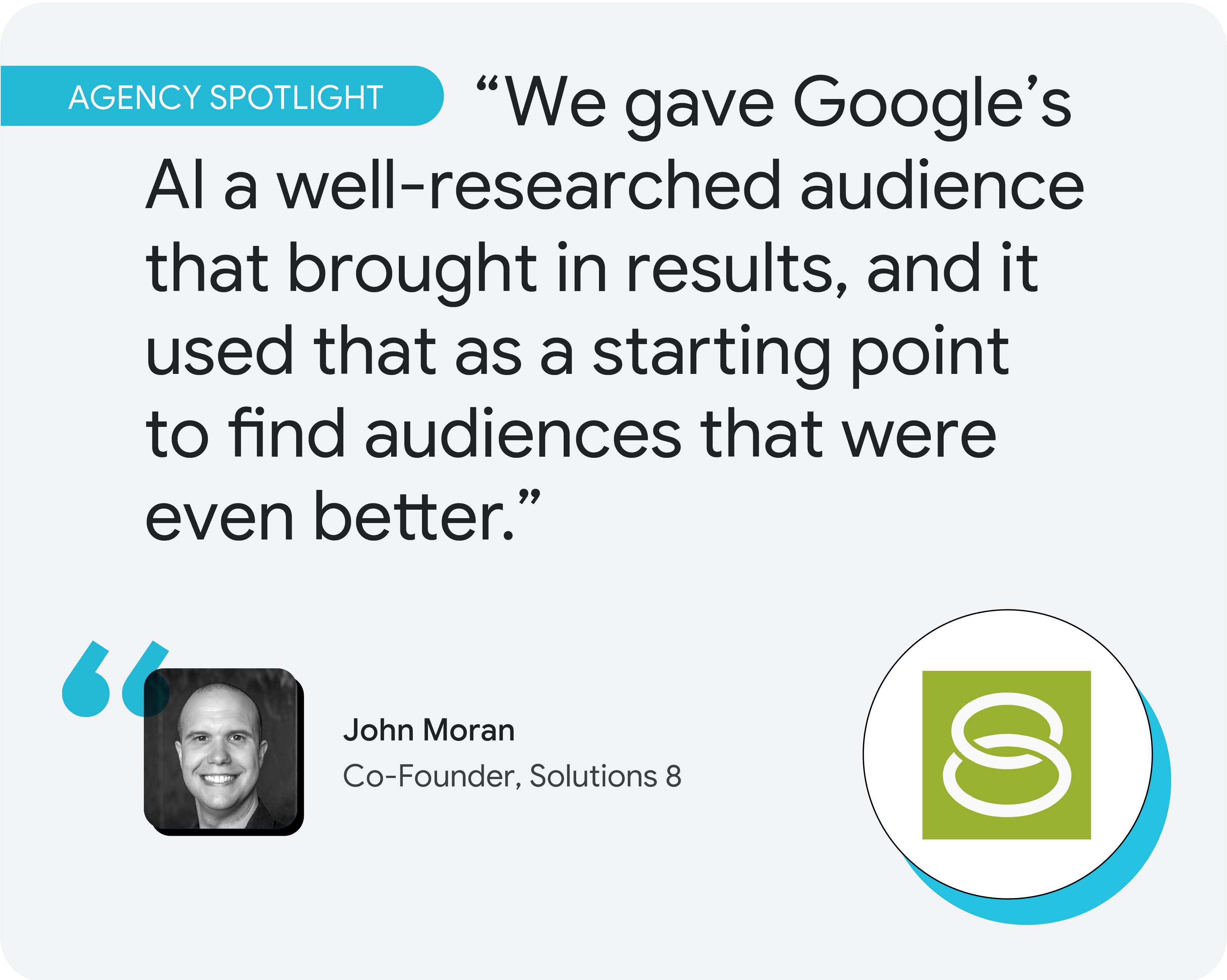 Uncover insights about valuable new audiences
Independent search agency Solutions 8 discovered such an opportunity after running a Performance Max campaign for one of its clients.
"We have a client who sells shelf-stable food products (think apocalypse-proof food). Now, this assured us that there was a very specific avatar we were going after (doomsday preppers). We advertised products to this audience using Performance Max," said John Moran, co-founder of Solutions 8. "After running the campaign for some time, we uncovered from the Insights page in Google Ads that audiences with an interest in boating and sailing had significantly outperformed the client's traditional audiences. When we thought about it, it made sense, because people going on long trips across water without access to grocery stores need shelf-stable food."
Moran continued: "We gave Google's AI a well-researched audience that brought in results, and it used that as a starting point to find audiences that were even better. We, of course, promptly created advertising assets specifically for that demographic and started a new campaign for the sailing audience."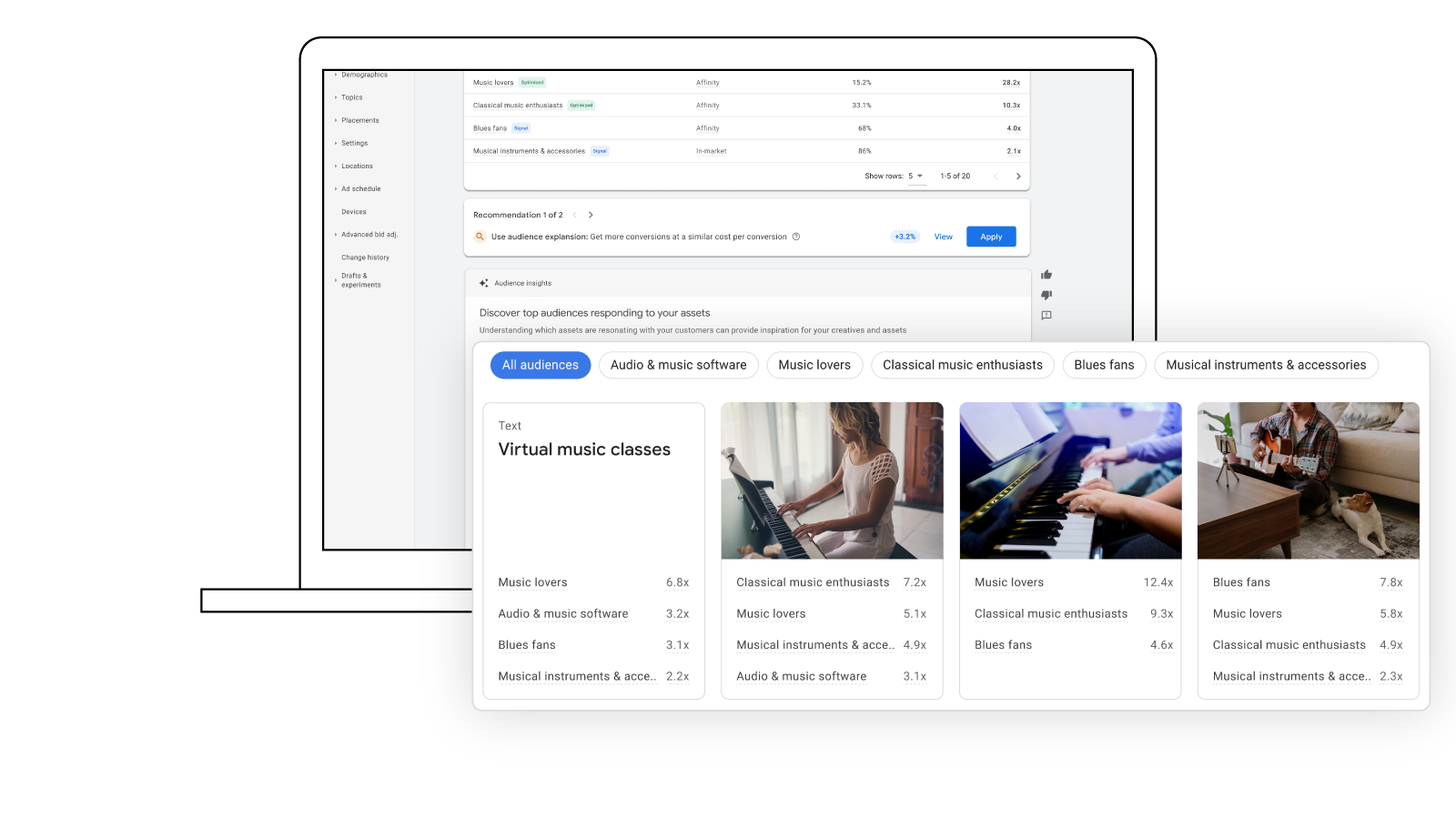 Make powerful predictions
Agencies are also using predictive modelling to forecast which users are most likely to purchase or churn based on historical information.
In the past, if a brand wanted to reach people most likely to purchase, a common approach was to build an audience of people who had added products to their shopping carts but didn't purchase. However, with this approach, brands might miss reaching people who never selected an item but are likely to purchase in the future.
Today, skilled agencies can use predictive audiences to determine which customer actions on an app or website might lead to a purchase — helping find more people who are likely to convert at scale.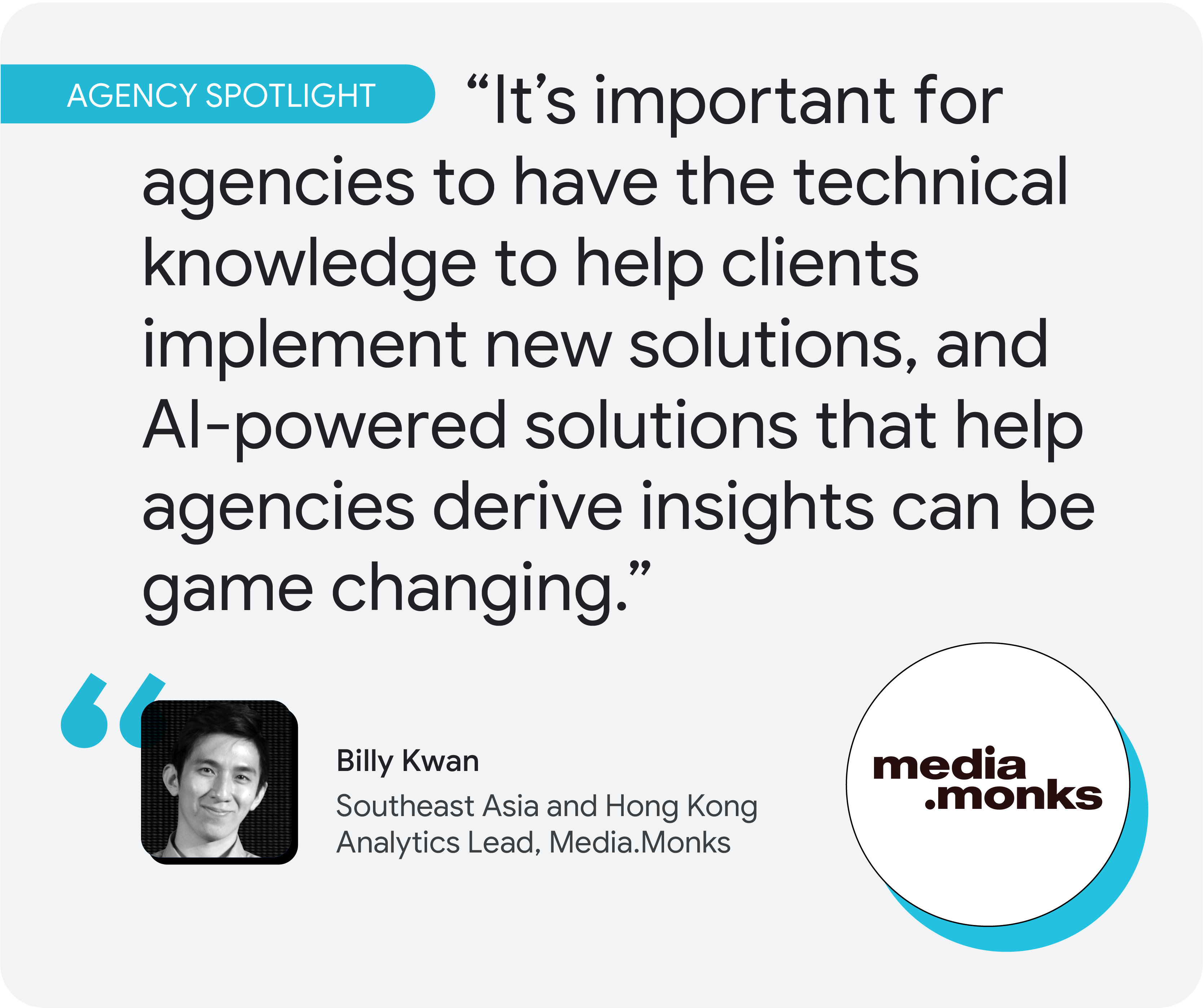 Quickly respond to changes in consumer behaviour
Agencies Media.Monks and OMD helped McDonald's respond to changing habits in Hong Kong during the pandemic. The two agencies enabled McDonald's to use AI-powered solutions to quickly gather customer insights and use them in ad campaigns to boost in-app orders and in-store pickups.
As the data analytics partner for McDonald's, Media.Monks worked with its client to implement Google Analytics 4 and start collecting real-time e-commerce data from the McDonald's app.
"It's important for agencies to have the technical knowledge to help clients implement new solutions, and AI-powered solutions that help agencies derive insights can be game changing," said Billy Kwan, Southeast Asia and Hong Kong analytics lead at Media.Monks. "We saw this when we helped McDonald's implement GA4 and uncover predictive audiences."
As a result of Media.Monks' analytics work, McDonald's determined that the "likely 7-day purchasers" segment drove the greatest ROI. Through the integration between Google Analytics 4 and Google Ads, predictive audience segments could then be seamlessly exported to McDonald's ad campaigns. At this stage, OMD, the media agency for McDonald's, took the baton. OMD recommended the client use App campaigns for engagement, a fully AI-driven Google Ads campaign type that prompts app users across Google advertising channels to take action.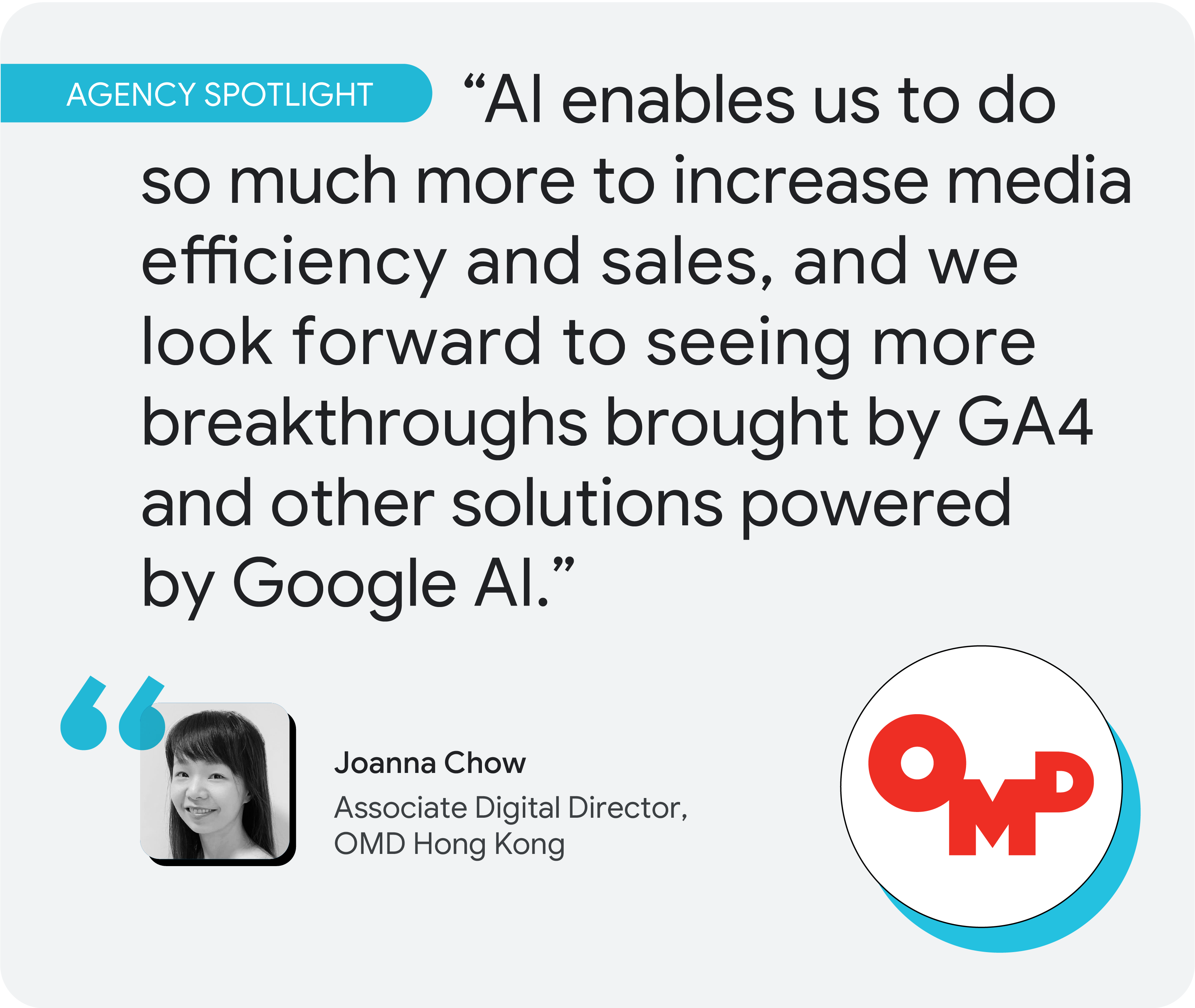 As a result of this work, McDonald's Hong Kong increased conversions 550% among "likely 7-day purchasers" and decreased cost per acquisition 63% among the same group. On top of that, McDonald's saw 560% increased revenue within that audience. With this new data-driven strategy in place and strategic partners by its side, the McDonald's Hong Kong marketing team continues to thrive in its digital transformation.
"By using the unique insights on likely purchasers and developing a value-based bidding strategy, we created a powerful tool for McDonald's to reach customers more effectively and drive in-app orders," said Joanna Chow, associate digital director at OMD Hong Kong. "At the same time, we were able to automatically test different combinations of text, images, and video to create optimised ads for relevant audiences."
Chow continued: "AI enables us to do so much more to increase media efficiency and sales, and we look forward to seeing more breakthroughs brought by GA4 and other solutions powered by Google AI."
Act on AI now
AI is enhancing the role of agencies, empowering them to multiply their expertise and shift their attention to additional strategic opportunities. For some agencies, this can mean a broadening of scope to include new areas, such as a first-party data strategy and privacy compliance. Other agencies are developing new centers of excellence to optimise AI and develop budgeting, bidding, targeting, creative, and insights strategies to drive stronger results.
In our current era of rapidly changing consumer behaviour, agencies are completely reshaping themselves to unlock the full potential of AI and drive measurable business outcomes for brands.